The dishwasher is one of the most common appliances in the house and due to its constant contact with water, it is susceptible to different stains including hard water stains. In this article, we're going to be exploring the different methods to remove hard water stains from your stainless steel dishwasher.
We'll also be discussing what hard water stains are and how much damage they can do to your stainless steel dishwasher if they are not removed as soon as possible.
There's no way you'll talk about the most important appliances in the house without talking about the dishwasher. Over the years, thanks to technology, people have begun to see the endless possibilities in our world. There's no doubt these appliances have made lives easier and more convenient for everyone and this explains why you see them a lot in every home and business. Generally, stainless steel appliances are not immune to stains despite having the name 'stainless.' One of the greatest advantages of stainless steel appliances is that unless something happens to the chromium oxide present in them, they are always able to resist corrosion and rust, unlike other metals. This explains the popularity of stainless steel appliances in most homes in the United States. Some dishwashers do not only have stainless steel material on the exterior but also on the interior which makes these machines more vulnerable. Hard water stains in the dishwasher can affect the machine's functionality because of the presence of calcium and magnesium in the interior. This in turn will result in unhealthy dish cleaning and that is not healthy in any way. This makes knowing how to get rid of hard water stains from the dishwasher very essential. Cleaning hard water stains in the dishwasher shouldn't be a difficult thing after all.
Cleaning is an important part of maintenance and that's why no matter how 'stainless' an appliance may be, you still have to clean it because it is also susceptible to stains. When you own a stainless steel dishwasher, you need to make sure you clean it regularly to avoid permanent stains. These appliances are not cheap and some cost a lot of money to own. Maintaining them properly will help avoid early replacement which means more money in the long run. One thing about cleaning is that the methods you often use are likely to have lasting effects on your appliances. Knowing how to remove hard water stains from your stainless steel dishwasher will go a long way in ensuring that the stainless steel appliance lasts longer. There are simple ways to get hard water stains off your stainless steel dishwasher and we'll be exploring some of these methods later in this article.
The statistics show the dishwashers brands used by most construction firms in the United States in 2015. GE Appliances was the biggest winner, having up to 31% of the respondents. Information provided by the Statista Research Department.
Before we get into those methods, let's discuss hard water stains, how they are formed and how much damage they could do to your stainless steel appliances, dishwasher included.
WHAT ARE HARD WATER STAINS?
When water contains higher mineral substances than it normally should, then the water is said to be hard water. It is common around the house, especially in the bathroom on metal surfaces. Hard water usually has a high content of magnesium ions and calcium and these substances cause it to leave white stains on the affected part of any appliances. When you have hard water stains on your dishwasher, they will change the kind of look that is only peculiar to stainless steel appliances and you might not like that.
Also, if you have hard water stains inside your dishwasher, it will reduce the effectiveness of your dish soap and detergent.
ARE HARD WATER STAINS HARMFUL?
We mentioned earlier that water becomes hard when there's high content of calcium and magnesium ions in it and these substances are not harmful. The only reason why so many people do not like hard water stains on their appliances is that these stains destroy the beauty of the appliances, especially when they are too much. This is why so many people want to know what to add to the dishwasher to prevent hard water stains. Thankfully, we'll be discussing those methods later in this article.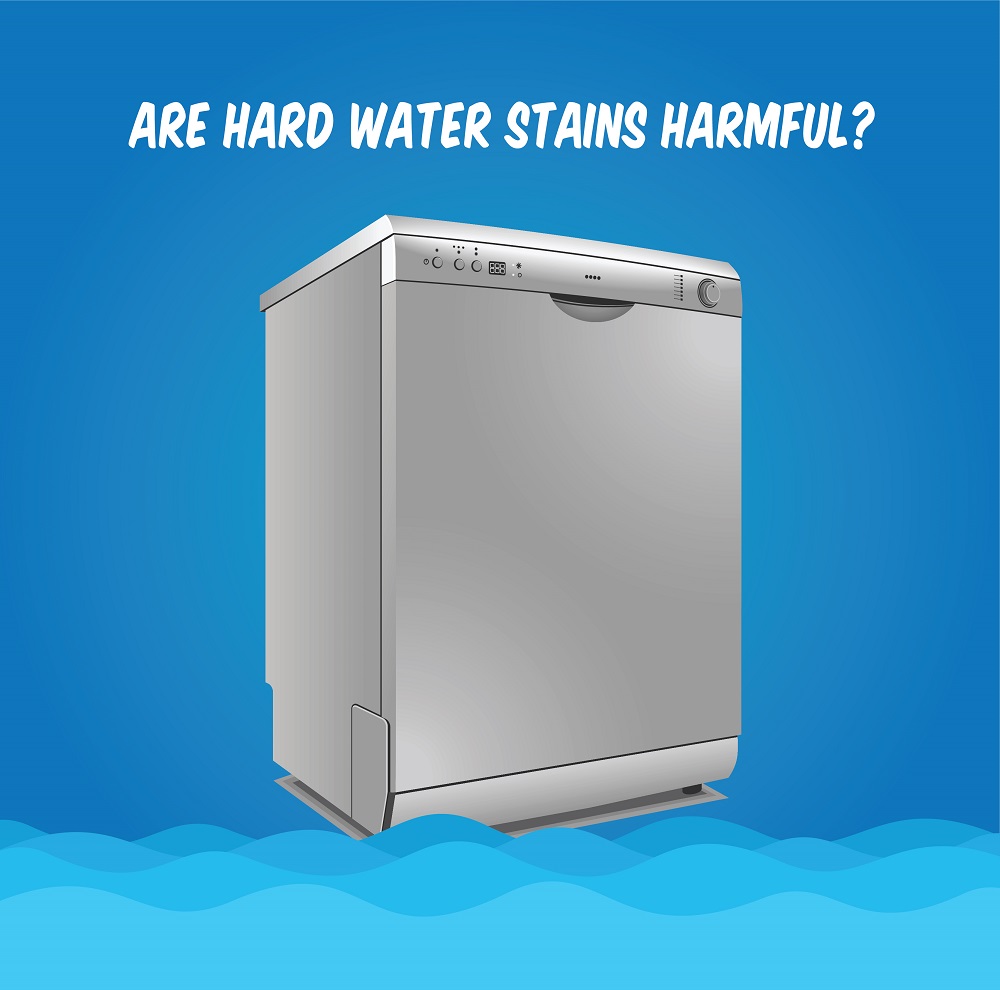 Let's take a look at some of the upsides and downsides of a stainless steel dishwasher so if you're planning to purchase one, you'll be aware of what you're getting yourself into.
PROS AND CONS OF A STAINLESS STEEL DISHWASHER
Every appliance has its pros and cons and the dishwasher is not an exception. The stainless steel dishwasher is great. You take a look at it and you're immediately head over heel with it. However, some parts will almost discourage you from not getting it. Let's look at some of the pros and cons of a stainless steel dishwasher below;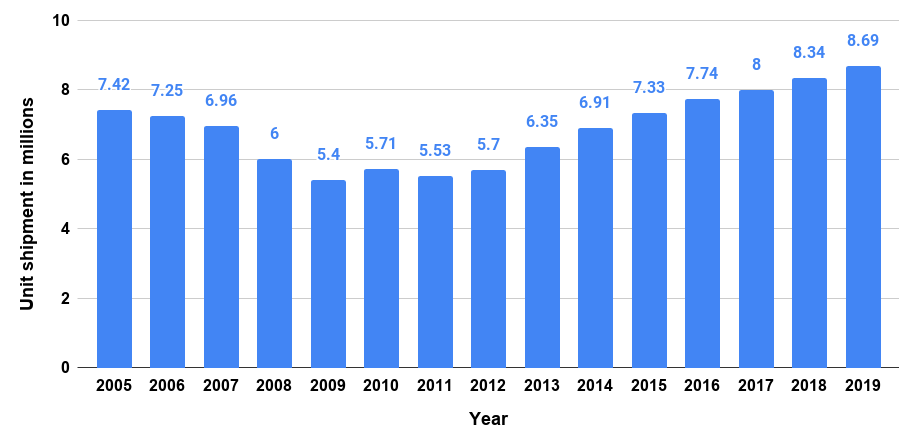 According to the information provided by Arne Holst of Statista, this chart shows the unit shipments of dishwashers in the United States from 2005 to 2019. These numbers reached an all-time high in 2019 when the unit shipments in the United States hit a staggering number of 8.69 million.
PROS
IT DOES NOT ABSORB ODORS
One thing you'll appreciate most in a stainless steel dishwasher with stainless steel interior is that it does not absorb unpleasant smells or odors. This means that anytime you try to open the door of the machine, there's never going to be unpleasant smells. This always leaves the inside of your dishwasher fresh and this is a healthy practice considering how often you use the dishwasher and its location in the house.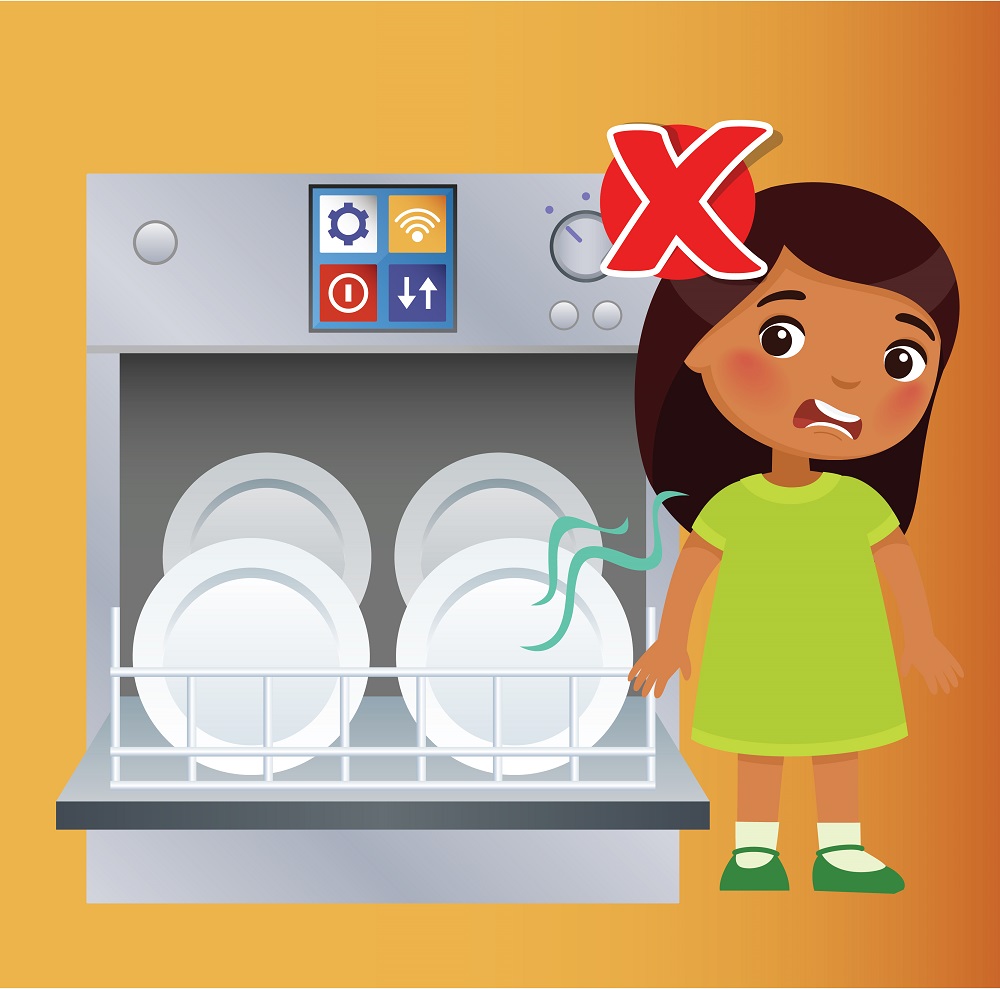 OPERATES MORE QUIETLY
According to an article published by Wise Geek, owners of dishwashers with stainless steel interior claim that these dishwashers are quieter than other units when they are in operation. This is good news for those who will most likely operate their dishwashers mostly at night. It means you can use your dishwasher without it disturbing you or the rest of the family.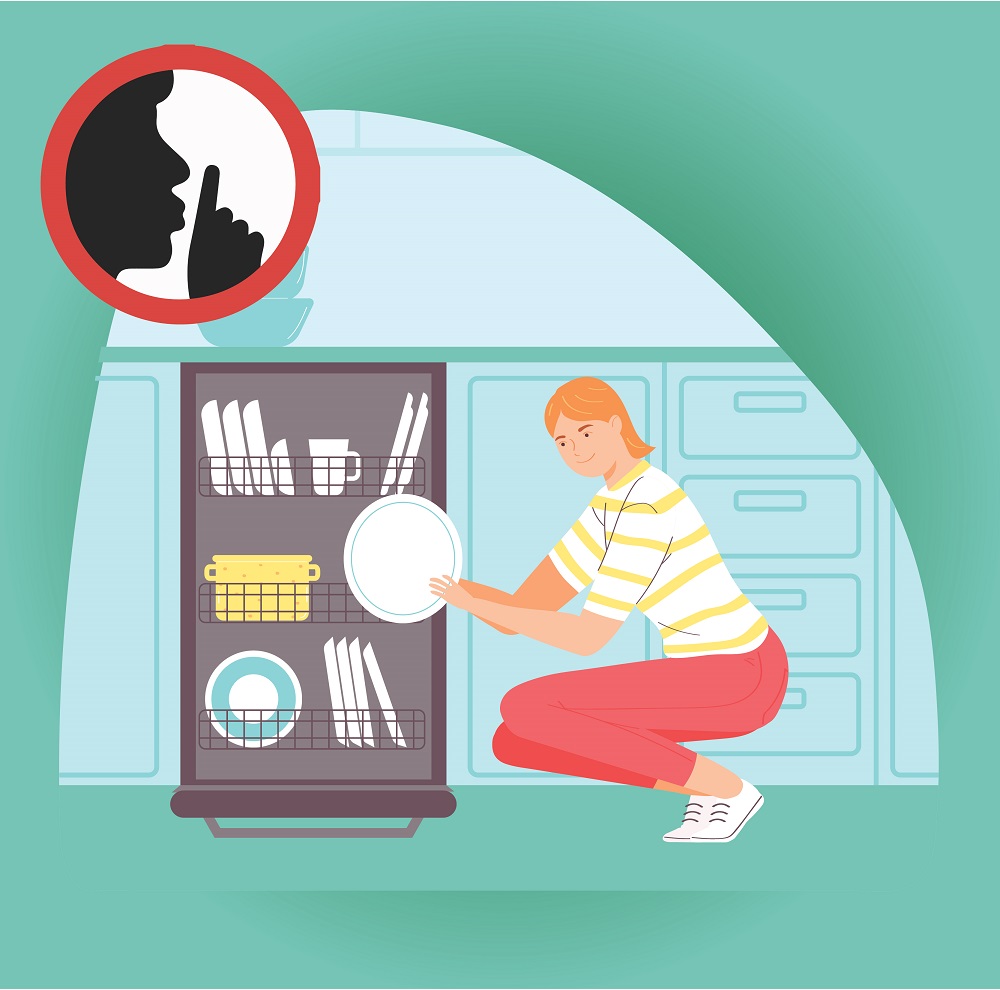 IT ADDS BEAUTY TO YOUR SPACE
If there's any reason a lot of people often opt for stainless steel appliances, it's because it makes their space look more beautiful than ever. A stainless dishwasher is no different. It gives your space a different look because of the brightness of the stainless steel material itself.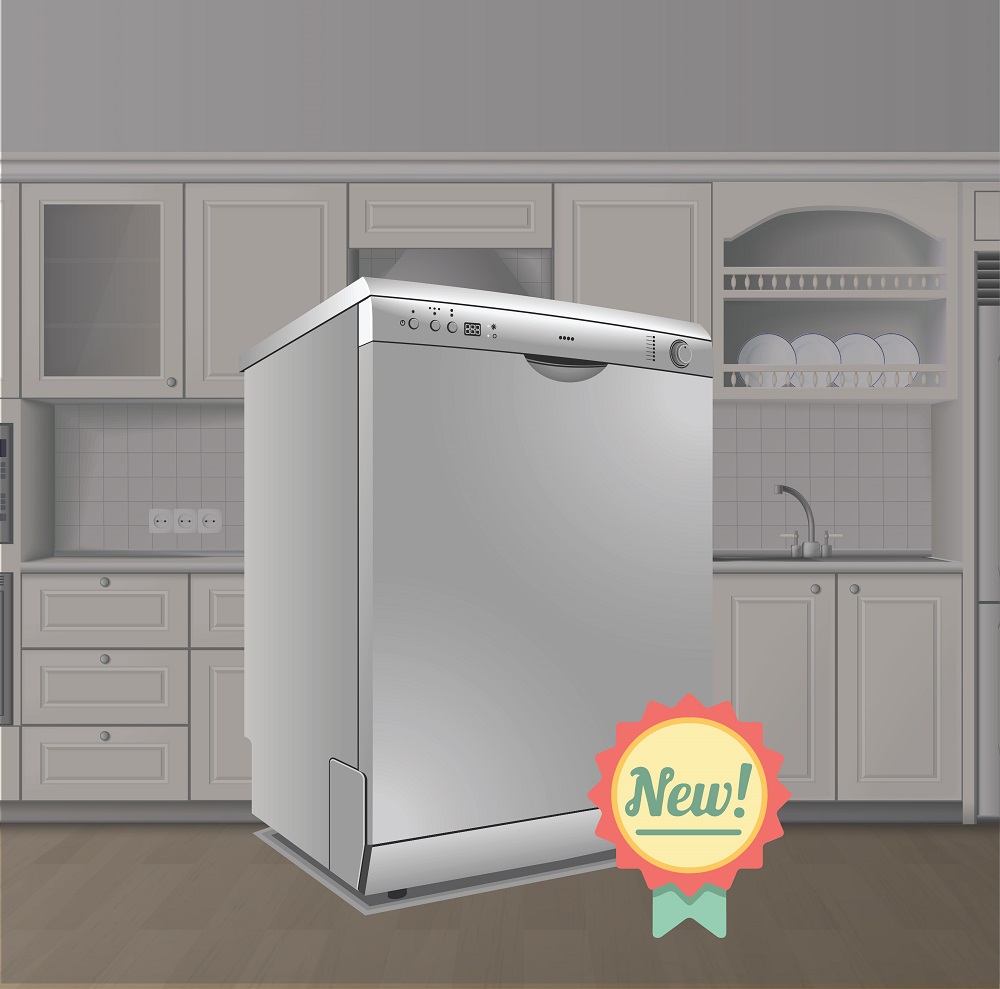 CONS
INITIAL COST IS HIGH
Everyone is aware of the benefits of having stainless steel appliances in the house but one of the biggest downsides is that sometimes, it is not always easy to churn out the money to get them. A stainless steel dishwasher is as costly as other stainless steel appliances and this might discourage people who are looking for budget-friendly products from buying it.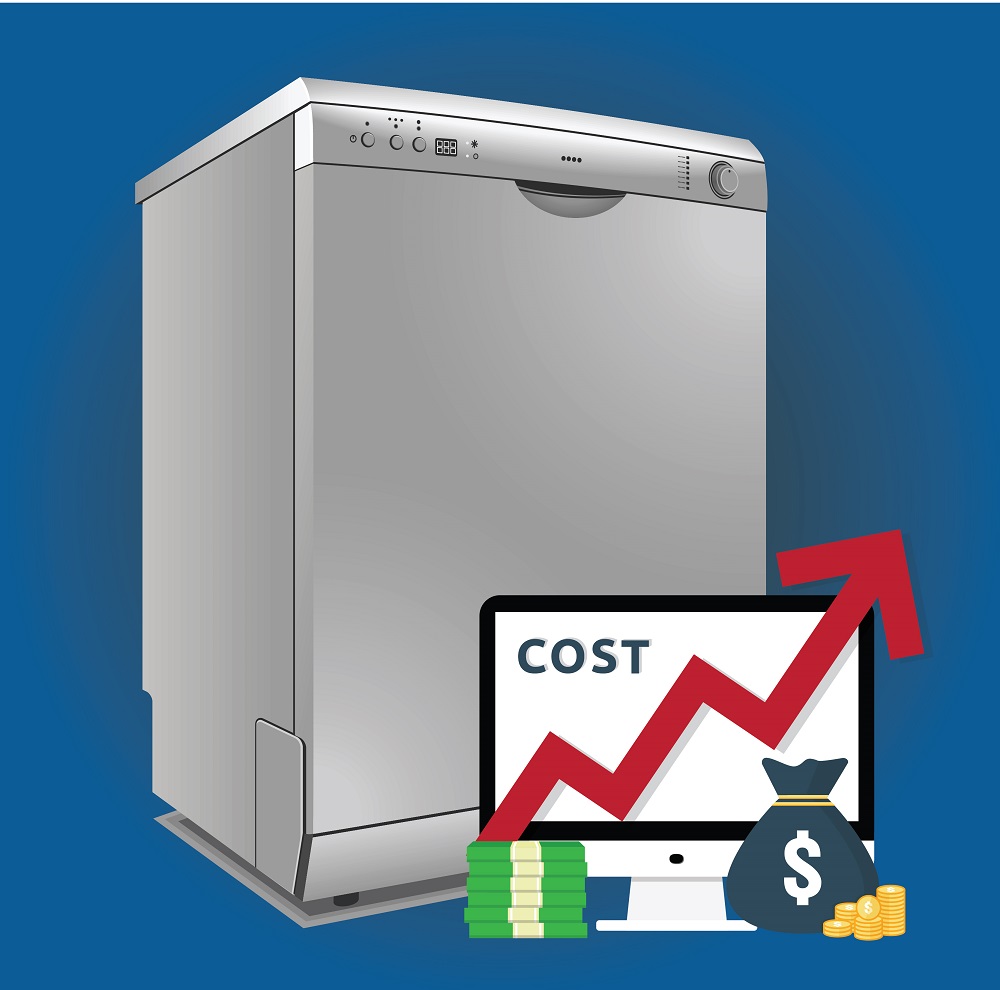 HOW TO CLEAN HARD WATER STAINS FROM THE DISHWASHER
There are several simple methods to get rid of hard water stains in the dishwasher. Hard water stains might not be harmful to your health but the effect on the stainless steel dishwasher is something most people can't condone. To make sure these stains don't destroy the shiny look that comes with the stainless steel material, you need to be right on top of the situation. Regular cleaning is one of the best ways to prevent these stains but they will always be around somewhere waiting for the right time to show up.
We will be discussing different effective methods to hard water stains in and out the dishwasher. These methods are pretty much DIY and you'll get to find out how easy they are to practice.
VINEGAR AND BAKING SODA
Hard water stains are not so easy to combat but that is when you combine two powerful natural cleansers like vinegar and baking soda. These two cleansers work effectively as far as cleaning is concerned and that's why you see them on top of any list related to cleaning. To get rid of those water stains, you'll need some other elements to support these two cleansers.
What do you need?
Vinegar
Baking soda
Olive oil
Lemon juice
Clean towel
Spoon (for measurement)
DIRECTION
STEP 1: Mix the right amount of vinegar (about ¼ cup) and baking soda (about ½ cup) in a bowl.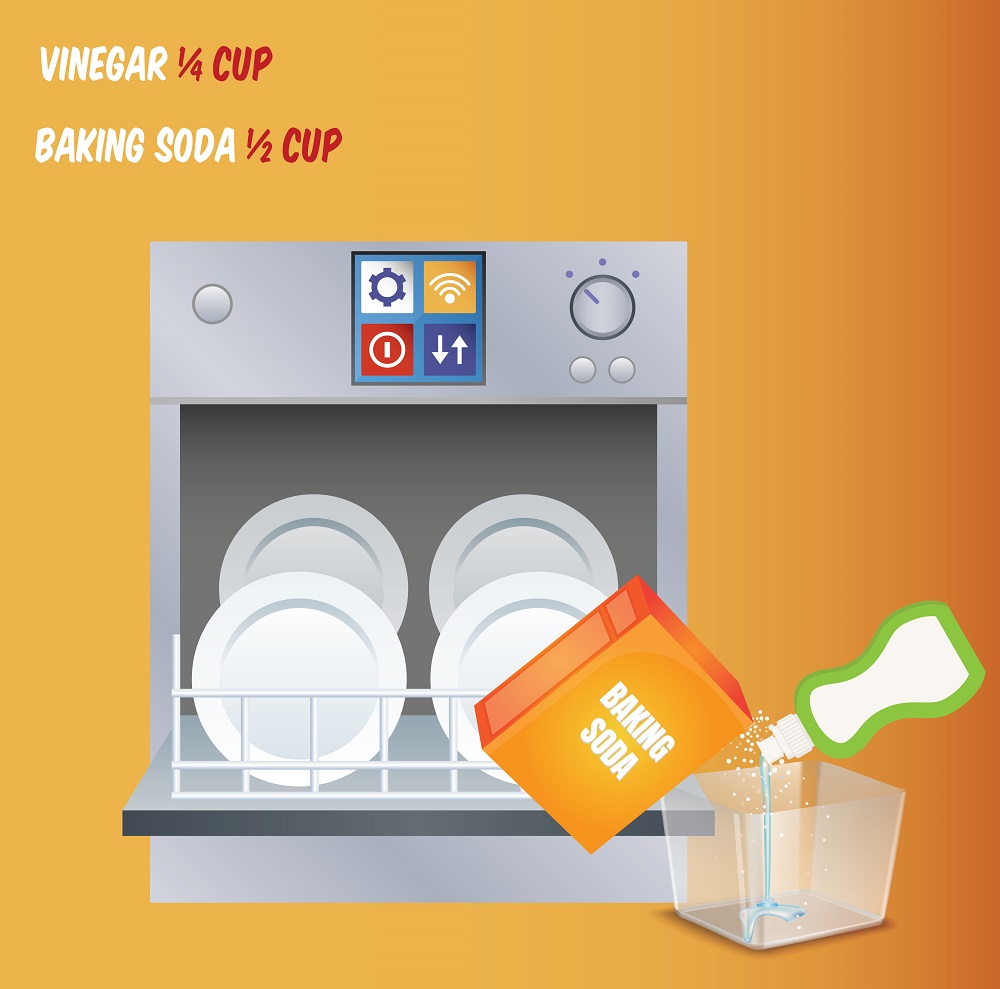 STEP 2: Add one tablespoon of olive oil and lemon juice to the mixture of vinegar and baking soda you already have in the bowl. Mix all these elements until you get a fine consistency (paste form).
STEP 3: Take your towel and put some part of it into the bowl (mixture) and ensure that there's the right amount of the mixture on the towel.
STEP 4: Rub with the grain of the stainless steel using the towel. This is to make sure that there are no scratches and stains are 10 times more likely to go when you rub with the grain.
STEP 5: Wait for about 10 minutes after the mixture must have settled it on the stained area properly. Add a little amount of water to your towel and wipe off the mixture until your dishwasher is looking clean again.
STEP 6: To give your dishwasher that shiny look, you might want to add a few drops of olive oil to a clean towel and just run through the surface.
DISH SOAP AND HOT WATER
This method is most effective when the water stain is not tough. This method is basic and it works effectively for different stains, including hard water stains. To begin with, you'll need hot water accompanied by your dish soap (detergent can work too in some cases).
DIRECTION
STEP 1: Mix the hot water and dish soap in a clean bowl.
STEP 2: You'll need to be extra careful with the hot water and make sure it's safe to be touched before dipping your clean towel in it.
STEP 3: Use this towel to gently clean through the affected part of the stainless steel dishwasher until you see no traces of hard water stains anymore.
STEP 4: Use an extra dampen towel to clean through once again so even you won't end up having soap stains on it again.
Frequently Asked Questions
1. Does vinegar damage stainless steel?
Vinegar is one of the best elements to clean stainless steel and we can confidently say that it's safe to use. However, when cleaning with vinegar, you need to make sure that you wipe clean every vinegar residue that might be on the stainless steel surface. Chromium oxide is what prevents stainless steel from rust and corrosion. Once it's exposed to chemical residues, it begins to wear off and it's only a matter of time before rust and corrosion start to set in.
2. What should I not use on stainless steel?
We know we told you regular cleaning is good and will save you a lot of money in the process. However, as much as cleaning is okay, there are some tools you should never use on your stainless steel and they include steel brushes and steel wool. They are abrasive and will cause all sorts of scratches on your stainless steel surface.
CONCLUSION
Your stainless steel dishwasher, just like every other stainless steel appliance, needs proper maintenance to get the best years out of it. Hard water stains are some of the stains that can cause your stainless steel dishwasher not to look like an idea stainless steel. We have discussed the two most effective methods to get rid of these stains. We also have an article on how you can get rid of stains from your stainless cooktop; you can read more about it here.
These methods are effective and we hope that they help you get rid of those hard water stains on your stainless steel dishwasher.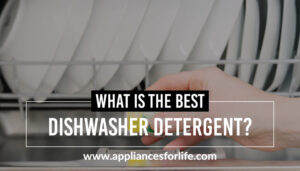 5 Best Dishwasher Detergent For Sparkling Dishes
Dishwashers do a remarkable job, getting your dishes cleaned up but they can not succeed without a solution of hot water and detergent and a pressurized spray action. Dishwashers have a special detergents designated for dishwashing, such that if any regular/random dishwaher is used, it
Read More »