Help me find a new range!
Are you considering purchasing a new 40-inch gas range for your home? Finding a great gas range doesn't have to be a difficult process as long as you're willing to do some work beforehand!
Big appliance brand companies are focused on selling electric ranges because of the prevailing thought in society that (new) technology is the future. Electric ranges tend to have a more modern design and are also statistically safer options because an electric range is usually fire-free. A gas range, on the other hand, needs fire to cook. It can be an automatic burner or a manually-lit flame depending on your gas range.
However, there are a wide variety of reasons that someone might not want an electric stove. First of all, electric ranges tend to be far more expensive than their gas counterparts. Another example of personal preference is that not everyone likes an electric-powered cooking stove in their kitchens, as the type of stove can affect the way the food is prepared. A 40-inch gas range is a go-to alternative for those looking elsewhere, away from an electric range.
40-inch Gas Ranges
| Image | | | | |
| --- | --- | --- | --- | --- |
| Name | Ilve UPDN100FDMPIX Nostalgie Series 40-inch Natural Gas Freestanding Range | Ilve UPDN100FDMPBL Nostalgie Series 40-inch Natural Gas Freestanding Range | Ilve UMD10FDNS3BKC Majestic II Series 40-inch Dual Fuel Range with Natural Gas | Ilve UMD10FDNS3WHP Majestic II Series 40-inch Dual Fuel Range with Natural Gas |
| Product Dimension | 39.37 x 37.99 x 21.65 inches | 39.37 x 37.99 x 21.65 inches | 39.37 x 34.25 x 26.38 inches | 39.37 x 34.25 x 26.38 inches |
| Oven Capacity | 3.98 cu. ft. | 3.98 cu. ft. | 3.82 cu. feet | 3.82 cu. feet |
| Color | Stainless Steel | Stainless Steel | Glossy Black | White |
| Trim | Chrome | Blue | Chrome | Copper |
Why gas over electric?
A gas range is a money saver. One gas tank can be consumed in 4-6 weeks, depending upon cooking use. Think about saving half your electricity bill if you use a gas range.
A gas range is easier to use. Unlike the electric range with complicated user procedure, the gas range is pretty simple. Turn the knob clockwise, fire will come out. Go to low or high for fire adjustment. The 40-inch gas range, even the smaller ones, is functioning in that way.
A gas range is friendly to the environment. It burns off natural gas. Did you know that?
A gas range will turn on as long as there is a gas tank connected to it. Even if there is no electricity, you can still cook food. This is something high-tech and electric appliances cannot surpass.
A gas range has that switch to an electric feature. One of the burners of a gas range with this feature can be used if the gas tank is empty. It is electric dependent and can act as a secondary mode of cooking until a gas tank is replenished.
Which 40-inch gas range do I purchase?
We'll be looking at different 40" gas range options by the popular kitchen appliances brand, Ilve. These options are not featured on this list because we think they have the best functionality. They are also priced fairly and you're going to get the best value for your money if you decide to invest in any of them.
Ilve UPDN100FDMPIX Nostalgie Series 40-inch Natural Gas Freestanding Range
The Ilve brand is popular in Italy and over the years, it has extended its reach to the United States and the rest of the world. This 40-inch Nostalgie Series natural gas range is one of the brand's most popular products in the market, going by the number of reviews it has garnered since it was released. This range comes in stainless steel with chrome trim and it is packed with a lot of amazing features that will make cooking more convenient for you.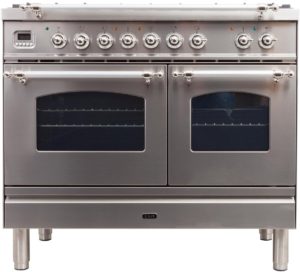 FEATURES
DUAL FUNCTIONS TRIPLE RING BURNER
The Italian-made 40-inch nostalgie gas range features the high-end dual functions triple ring burner that boils up water in just a couple of minutes. It doesn't matter the cookware you're using (large or small), this function will ensure that the cookware is heated up so your water can boil faster. It also supports the use of a simmer burner. All you need to do is to turn off the flames on the outer ring.
THERMOCOUPLE SAFETY VALVES
If anything ever goes wrong with any of the 5 burners featured in this range, this thermocouple safety valve automatically cuts the gas supply as a precaution. This is one of the most talked-about safety features in any gas range and fortunately, this Ilve range has it.
DIFFERENT OVEN COOKING FUNCTIONS
This gas range comes with several oven functions like Bottom Cooking, Multiple Fan Cooking, Close Door Grilling Cooking, Fan Grill Cooking, Defrost, Intense Cooking, Pizza function, Normal Static Cooking, Top Cooking, and many more. These oven functions make cooking very easy.
Ilve UPDN100FDMPBL Nostalgie Series 40-inch Natural Gas Freestanding Range
This Ilve gas range is a whole lot similar to the one we talked about earlier. Matter of fact, it is packed with the same features. The only obvious difference you can easily spot is the color. The range comes in blue color and it is greatly complemented by brass trim. The dual fuel range also comes with 5 sealed burners and double ovens to make cooking more fun and convenient.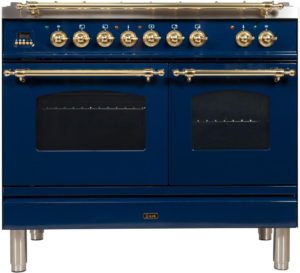 FEATURES
PROFESSIONAL PERFORMANCE
This Ilve gas range is widely known for its professional performance, thanks to its 5 sealed brass burners that are accompanied by a griddle. It's double ovens also make it a wise choice for commercial purposes. If you're looking to get a 40-inch gas range that can serve you professionally, this gas range should be right on top of your wish list.
ROBUST CAST IRON GRATES
This range has a cooktop surface that is made from heavy-duty cast-iron grates. This creates a perfect platform for stable cooking as you can easily move your cookware from one burner to the other without lifting them.
STORAGE DISH WARMER DRAWER
With this range, you have access to an additional storage option that always comes in handy in every home. The oven area features a storage space where you can store your pans and pots. Additionally, this space takes residual heat coming from your oven to keep your plates and cookware warm.
Ilve UMD10FDNS3BKC Majestic II Series 40-inch Dual Fuel Range with Natural Gas
Moving to the more high-end side of the 40-inch gas range options, we have this Majestic II series by Ilve. Unlike the two gas range options we've previously reviewed, this 40-inch gas range with natural gas comes with 6 sealed burners. This is enough to handle your large meals. Although an Ilve product, it is packed with more high-end features than the ones we reviewed earlier and you can tell that it's more pricey too. Its large oven is European convection, and you can be confident that it'll bring you the best cooking experience as far as gas ranges are concerned.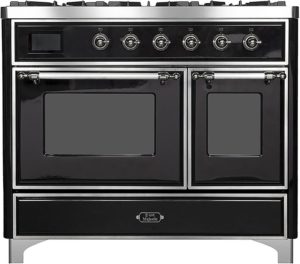 FEATURES
NANOTECHNOLOGICAL COATING
The brass burners are packed with a nanotechnological coating that makes cleaning very easy. Naturally, brass is a material that is widely known for its durability and that's exactly what you're going to get with these burners. Cooking has never been made easier!
TOUCH CONTROL
This range features a simple 4.3-inch TFT full touch screen that is packed with easy-to-read graphics. This provides easy commands to select functions like an automatic programmer, finish timers, selecting thermostat, and many more.
FAST PREHEAT
Every Ilve freestanding range is packed with a sealed oven cavity that helps trap moisture to ensure that your meat doesn't shrink while cooking. This means that the meat will remain succulent and also retains its nutrients in the oven.
Ilve UMD10FDNS3WHP Majestic II Series 40-inch Dual Fuel Range with Natural Gas
Ilve UMD10FDNS3WHP is another 40-inch dual fuel range that runs on natural gas. The range comes in white color and is greatly complemented by copper trim which gives it an outstanding look. Cooking with this range makes cooking a whole lot easier than when you use any other range. The Ilve range is packed with a convection oven that has the popular self-cleaning function. With this function, you don't need to go through the stress of scrubbing the oven until it's clean. All you need to do is add a dishwashing soap into the oven and the right amount of water; the oven will wipe itself clean.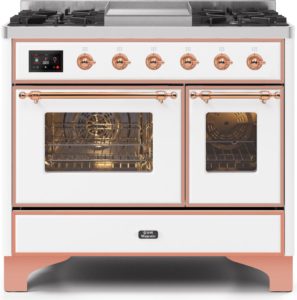 FEATURES
CONTINUOUS CAST GRATES
This Ilve range features cast grates that allow you to switch your cookware from burner to burner without stress.
COOL DOOR WITH REMOVABLE TRIPLE GLASS
This range comes with a perfectly insulated cool door, thanks to the triple removable glass panes. This makes the range safe for children and also makes it easy for you to clean.
36-inch gas ranges that can also get the job done
Having discussed the best gas ranges we think you can get your hands on at the moment, let's take a quick look at other alternatives that are 36-inch.
Users love this gas range because of the professional and classy aesthetic it gives their kitchen. The price is substantial since the quality of the gas range is concordantly high. While this is one of the more expensive options on our list, it is one of the only ranges with a professional aesthetic for a fraction of the cost of a professional range.
FEATURES
EVEN-HEAT TRUE CONVECTION
This 36-inch gas range features a bow-tie-looking design that circulates hot air throughout the oven with the help of a heating element and fan. This way, consistent temperature for baked goods, roasts, and caramelized vegetables is provided.
TWO 20,000 BTU ULTRA POWER DUAL-FLAME BURNERS
With these two 20,000 BTU dual-flame burners that provide powerful highs and lows, coupled with a range of temperatures in between, you can be confident with whatever it is you put on these burners.
SMART APPLIANCE
Thanks to technology, this Smart Appliance feature allows you to control your oven with either Google Assistant or Alexa using your device such that you can preheat, proof, bake, and roast without having direct contact with your cooking range. Also, you can save your favorite cooking instructions.
This is a professional style gas range configured so that even a beginner can use it. It appears as if this range spawned straight from your favorite cooking show because the look and feel of this cooking range and oven is superb. You can easily take a peek inside the oven because the glass is extra-large and the inside of the oven is all porcelain and blue, reflecting light and making your food perfectly visible! Add to that an infrared broiler and center grill, this range has everything you need at a moderate to high price.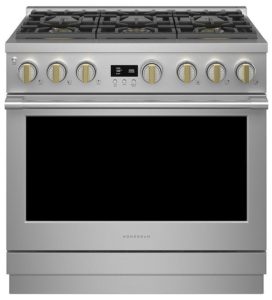 FEATURES
SEALED AND DUAL-FLAME STACKED BURNERS
The full spectrum of heating settings in this range makes it stand out among other cooking ranges, with the ultra-low 140 degrees helping to simmer to a powerful 15,000 BTU.
MONOGRAM STATEMENT COLLECTION
Polished stainless steel, large electronic control knobs, edge-to-edge handles, and smoothly-finished edges are what make up the authentic professional appearance of this cooking range.
LARGE TEMPERATURE AND TIME DISPLAY
This large temperature and time display makes the monitoring of your cooking progress easier than ever.
FULL EXTENSION RACKS
These racks are designed to help you glide smoothly in and out of the stainless steel ball bearings, even during the self-clean cycle.
This Bertazzoni manufactured stove is manufactured in Italy and is another dependable option for those on a budget.  Most reviews of this particular gas range state that it is reliable and durable with a simple aesthetic that can fit most kitchens.  This particular model is known for its longevity.
FEATURES
ALUMINUM SEALED BURNERS
Usually, the Bertazzoni brand always features power burners and this cooking range is not exempted. These burners have flamed rings that give maximum flexibility of operation.
SEAMLESS INTEGRATION
Every Bertazzoni appliance integrates seamlessly with each other and not just that, but also with countertops too.
TEMPERATURE GAUGE
Thanks to the temperature gauge, you can now see the heating progress of the oven which is displayed on the dial gauge.
When it comes to a gas range that ticks all the boxes, then this should be one of the first options to pop up in your mind. This gas range provides the necessary things you need to have a lovely and enjoyable cooking experience.
FEATURES
CAST-IRON BURNER GRATES WITH EASY-SLIDE FINISH
These cast-iron grates with a matte black and porcelain finish allow you slide your pots easily between burners.
INFRARED BROILER FOR QUICK SEARS AND FAST PREHEATS
This cooking range features a powerful 18,000 BTU broiler that lets you sear steak, salmon and more just like how it's done in restaurants. It is also perfect for homemade pizzas as the infrared heat generates higher temperatures than any other types of heat.
FREQUENTLY ASKED QUESTIONS
1. Which brand makes the best gas range?
Top appliances brands are up there because over the years; they have built a solid reputation for producing top-notch and problem-solving kitchen appliances. Through intense research, we've been able to select these products from the very best brands in this niche and it's safe to say you can trust them all.
2. What should I look for in a gas range?
When getting a new gas range, there are a host of essential features you should always look out for and they include; performance, oven controls, whether or not it has self-cleaning technology, range capacity, weight, and not to forget the most essential feature, price. Having prior knowledge of these things will help you make the best decision in getting the range of your choice.
Final Thoughts
While we believe these highly rated and affordable ranges could be perfect for you, we also encourage you to explore on your own. Arming yourself with knowledge and information is the key to making the best decision for you!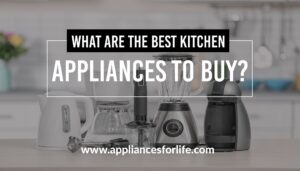 What Are The Best Appliances To Buy For Your Home?
It's not always easy finding out what the best appliances to buy in the market are, especially when you're on a budget but in this article, we'll be helping you solve that mystery by recommending some of the best budget-friendly kitchen appliances you can get
Read More »