Long before civilization, there were ways of preserving food, even if some of them now seem very ridiculous to us. Back then, these people didn't see beyond their current situation, making those methods of preserving food all they had. It worked for them and we only think they are ridiculous because we live in a modern age. Changes have happened, the time has passed, and machines have been invented to make this whole food preservation process a whole lot easier than it used to be. We are in an age where everything has been made possible. How the world has gone from heavily depending on the traditional ways of getting things done to having machines that would only require little to no human efforts is somewhat a good story to tell. A lot of people will tell you they feel blessed to have witnessed the amazing developments technology is bringing to us, and while things look so advanced now, they will be even more sophisticated in the next few years, meaning the best is yet to come.
The United States is a great spot for high-end appliances. Some of the country's biggest appliance manufacturers created many industry's firsts, leading to great inventions, some of which we still enjoy today. Many people believe that the country is home to the biggest appliance market in the world with an enviable market value. The country continues to smash records, and rightly so. People in the country appreciate basic home appliances, and how important they are to their daily lives, hence why they've invested heavily in them. This is the only explanation as to why the country continues to be the biggest appliance market in the world. These claims are backed by statistics that showed a market value for the appliance industry in the country to be estimated at $37.8 billion. These statistics prove that the U.S. is a big player when it comes to trading major household appliances in the world, and that's why it has a huge market value in 2018.
Commercial chamber vacuum sealers are machines industries and commercial businesses have heavily invested in. Chamber sealer machines are now becoming popular in households too as people who have a lot of food items to preserve often opt for the commercial vacuum sealer. Since vacuum sealers are popular around the country, even if you don't have one, you might have seen one in action so far, or maybe purchased a product that has been sealed with a vacuum sealer. Unlike external vacuum sealers that are more of domestic machines, chamber vacuum sealers operate differently and are mostly used in commercial settings due to their high-end nature. According to Henkelman, a company that produces vacuum systems that include vacuum sealers, despite the chamber vacuum sealer being used primarily for food, it can also be used to seal and preserve the quality of non-food products.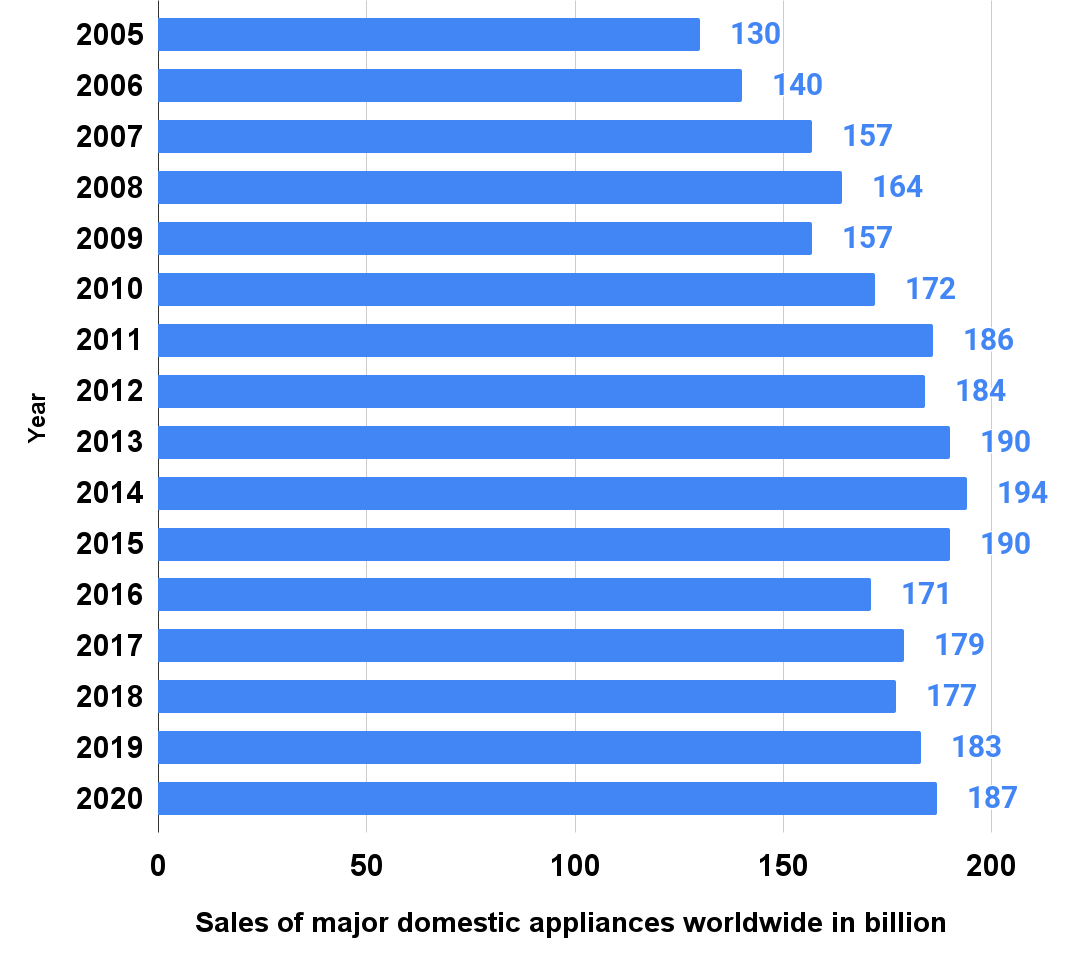 Using the information provided by Arne Holst of Statista, we were able to create this chart that shows the sales of major domestic appliances in the world from 2005 to 2020, with the figure provided for the latter being an estimate. As seen from the chart above, the global sales of major domestic appliances continue to skyrocket with each year that passes, although you can also see some fluctuations from the chart which are bound to happen considering the unpredictable nature of the market. Companies like LG Electronics, General Electric, Haier, Bosch, Samsung, and Whirlpool Corporation continue to lead the charge by contributing hugely to the growth of the global appliance market. The first half-a-decade (2005 – 2010) saw major improvements in sales but not as much as the past decade. 2011 welcomed a new era of huge sales improvement as a then-record 186 billion euros was recorded. The figure dropped by 2 billion euros the following year (184 billion euros) before increasing to 190 billion euros in 2013. A record-breaking feat was achieved in 2014 when an all-time high of 194 billion euros was recorded. The same feat hasn't been matched since 2014 but the future looks bright for that global appliance industry as a huge 187 billion euros was estimated for 2020.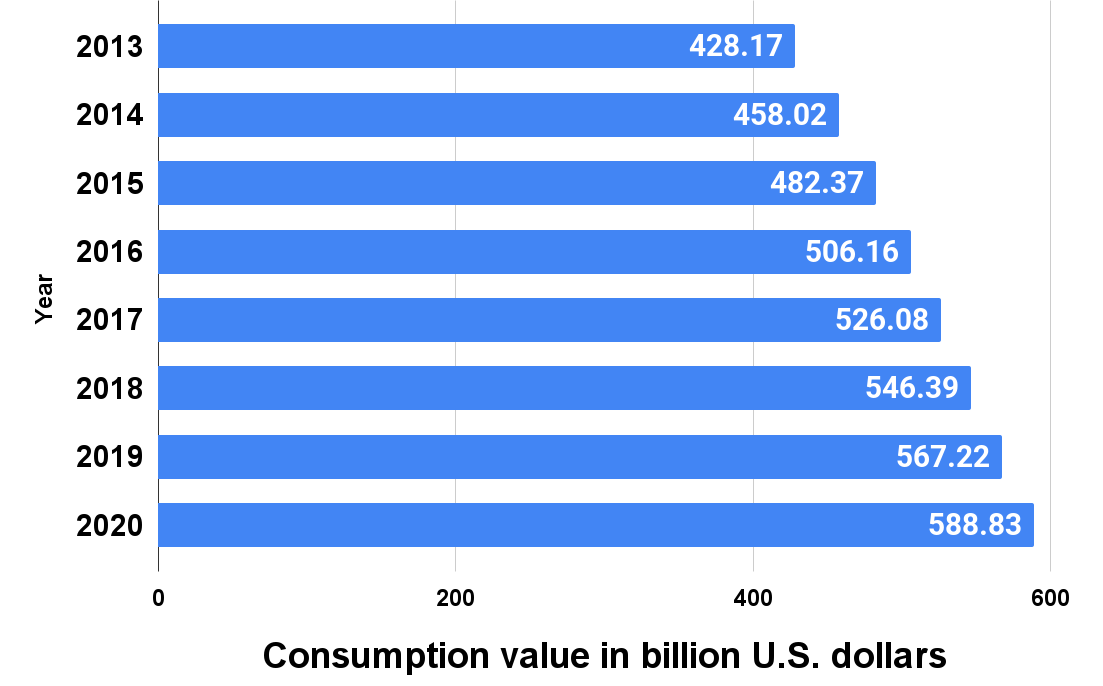 The statistics used in creating this chart were provided by the Statista Research Department, and the chart shows the consumption value of major household appliances in 2013 and the forecast of global consumption value of household appliances from 2014 to 2020.
What to look for before purchasing a new vacuum sealer
Investing in a vacuum sealer is a lot similar to when you're trying to purchase other household appliances. Going to the market to get something you're not sure of is always a bad thing, but remains one of the most common mistakes people make. Before purchasing any appliance, you need to take a good look at some factors, otherwise, you should be prepared to purchase something that won't serve you, except luck is behind you. It is very easy to make this mistake as much as it's tempting. Without having a clear idea of what you want, going into the market to purchase a new vacuum sealer might be the worst decision you'll ever make. Below are some of the factors you should consider before purchasing a new vacuum sealer;
Warranty
One of the greatest mistakes people make when purchasing a new vacuum chamber machine is not looking at the warranty that comes with the product they are willing to get. You should not trust a brand that is offering you their products without assuring you about the quality of the products they're offering you. You need to be clear on what assurance you have over the product you're buying before you decide to put your money on it. You need to make sure you're getting a chamber food sealer or sealing chamber that comes with a warranty. That way, you can be confident that you're getting a quality product.
Budget
There's almost nothing you can do without working with a budget except you have the financial capacity to pull it off regardless of what the cost is. Because the vacuum sealer market is also as big as every other market in the country. The big market means you need to conduct thorough research on prices and deciding which product fits your budget before purchasing it. Also, you need to make sure you read reviews from customers who have used the product before and understand what they're saying regarding pricing. Chamber vacuum sealers are high-end products but a plastic vacuum chamber won't cost as much as the one made of steel. All these things are what you need to seriously look into before deciding on the product you're purchasing.
Efficiency
Another important thing you need to seriously look for when purchasing a new chamber vacuum sealer is its efficiency, which many people know as power. You need to be able to count on your vacuum sealer to come through for you whenever you need it, and that means it has to be a powerful vacuum sealer to give you just that. We mentioned earlier that pricing is determined by many things, and efficiency is one of those things. An efficient vacuum sealer is usually priced higher than those who are not as efficient. You need to be prepared to pay a premium fee to land your ideal vacuum sealer which is the sacrifice you have to make on your part. An efficient vacuum sealer is packed with a powerful motor. This means that air removal and sealing are both done efficiently without mistakes. If you want an efficient vacuum sealer, you need to be prepared to part ways with more money than you'd have to spend if you were to opt for a product that is not as efficient.
Things to put in a vacuum chamber
Hard or soft cheese

Processed meat

Documents

Chocolate

Candy

Fresh meat
What does a vacuum sealer do?
The basic responsibility of a vacuum sealer is to help you preserve food and non-food essentials. It does the job by removing air from the bag you're putting your food in before sealing it off without air in it. It is one of the most effective ways to preserve food, especially when you have a refrigerator to further help preserve your food for months, or even up to a year.
How does a chamber vacuum sealer work?
If you're looking to purchase a chamber vacuum sealer, you need to get used to how it works to be able to use it properly and have it function just like you want. According to Sealer Sales, a vacuum sealer can process more than one bag at a time, depending on the bag size you're using. Chamber vacuum sealers are more of industrial machines which means that they can be used for bulk food processing, and that's one of the first few things you should know about the vacuum sealer.
Below are the steps to take when using your chamber vacuum sealer;
Step 1
The first step to take when using your chamber vacuum sealer involves inserting your product in the vacuum bag and putting the bag on the seal bar of the vacuum sealer. Once the machine is closed, air begins to be extracted from the vacuum chamber which means that air is coming out of the bag too. During this process, the chamber is under the vacuum such that the pressure in the chamber and the vacuum bag is equal. However, some vacuum sealers might have the pressure in the bag higher than the one in the chamber for a while. If your machine happens to be one of these machines, there's nothing wrong with it, it is normal.
Step 2
Once the air has been removed from the chamber and the vacuum bag, the machine starts to seal the bag. When this is happening, you'll realize the contra and sealing bars are closed as the process is about to begin. Once both bars are closed, it means the sealing wires are heating up to melt the layers of the bag such that they are glued.
Step 3
This is the last step of the whole process of using a chamber vacuum sealer, and it is the stage where the vacuum chamber decompresses. The chamber equalizes with the vacuum sealer, which means that the pressure in the chamber is equal to the pressure outside the chamber. Also during this process, the chamber vacuum sealer bag cannot put up with the pressure in the chamber, causing it to collapse and become vacuumed. The whole process of vacuum-sealing ends here, and it's a fascinating one because it doesn't take time and it is very easy to understand.
Frequently Asked Questions
1. What happens in a vacuum chamber?
Everything that happens in the vacuum chamber includes the whole process of vacuum sealing which we have discussed up there. The vacuum chamber helps remove air from your vacuum bag which contains your food to help preserve it from getting decayed.
2. How does a vacuum sealer work?
The machine works by removing oxygen from your food which is placed in the vacuum bag before sealing the bag off.
Conclusion
Vacuum-sealing is a very important method of food preservation in the world we live in today. People shop in bulk, which means they're trying to trim down costs on some of the things they're purchasing, but not only that. They're also trying to avoid taking frequent visits to the stores. One of the best ways to make sure those wise moves are worthwhile is by vacuum-sealing those food items. You can easily have them fresh whenever you need to cook them. The convenience that comes to using vacuum sealers is one of the reasons why a lot of people now opt for them. For those who have long asked the question; how does a chamber vacuum sealer work? We hope we've provided the right answer to your question, and we hope you find it helpful.
ESTIMATED TIME DESIGNING AND UPLOADING THIS ARTICLE
ESTIMATED TIME RESEARCHING AND WRITING THIS ARTICLE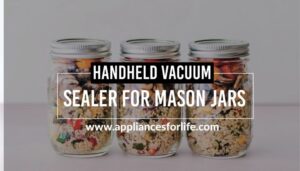 Top 3 Best Handheld Vacuum Sealers for Mason Jars
People may use different methods to preserve their food, but all methods are practiced to achieve a common goal, which is to keep the food fresh for a longer period. Over the past few years, vacuum sealers have played an important role in food preservation,
Read More »