Most people depend on their freezers to help preserve their meat, and they can be forgiven for thinking that, after all, that's why most of them purchase a refrigerator. However, freezers can cause your meat to get ruined, defeating the very purpose why you purchased it in the first place. It's not the freezer's fault. If you leave your meat in the freezer without having it wrapped around a proper vacuum bag that has been vacuum-sealed, you risk getting it burnt. It would be a painful thing to have spent many nights looking for meat, only for you to fail when it's time to preserve it. There's nothing more painful than having something you worked so hard to get, getting ruined right in your presence and there's little you can do to save it. That is one of the problems people have worked so hard to have a solution to, and we do have one for you.
People have since turned to vacuum-sealing, and it has proved to be one of the most effective food preservation methods. With a vacuum sealer, you can get a shelf life that will be 5 times longer than your conventional way of preserving food. We are talking about food spending months, and even up to a year without losing a single nutrient, or its fresh taste. People who lived way before vacuum sealers came into existence can only wonder how much they could have saved if these machines had existed back then. That's to show how helpless people were about food preservation because there was nothing they could do to preserve their hard-earned food.
As a hunter, having a vacuum sealer has become a necessity rather than the option it used to be. You cannot afford not to own a vacuum sealer because it has become so important that you can now find it in most homes across the U.S. Hunters are strictly into the meat business, and while most of them are used to counting their losses, others have sought knowledge on how to best keep their meat fresh for longer, and this is where the vacuum sealer comes into play. It's sad to hear that hunters wake up to see that the meat they spent almost all night trying to get is ruined or has freezer burn. Meat is not something you come by easily, and hunters have a special pride in being able to bring something to the table that is way different from what is sold in most stores. Although hunters are no strangers to meat spoiling quickly, nobody likes to see that happen, and there's no point making the same mistake over again when you can make it stop by purchasing a vacuum sealer.
A game like a deer can rot easily if it's not preserved as it should. That's why people always look to get the best vacuum sealers for hunters because they know they'll help them preserve their meat properly. According to A Subtle Revelry, both excessive heat and cold can cause your meat to get damaged. This is why you need the best method of food preservation, which is getting the best vacuum sealer for deer meat. As much as having meat until winter is hard to keep, making it one of the most constant headaches, but the new solution, the vacuum sealer, will make all those constant headaches go away. Thankfully, food preservation is not the only thing a vacuum sealer can do. It also helps you keep your freezer well-organized, and free of plastic containers. However, you can go into the market to get a vacuum sealer without getting yourself familiar with many options and choosing what you think is the best for you. Before start reviewing the best vacuum sealers for hunters, let's take a quick look at the benefits of vacuum sealers for hunters;
Benefits of vacuum sealers for hunters
People don't go ahead to make a purchase when they don't see how what they're trying to purchase can improve their lives. In this case, a vacuum sealer has lots of benefits for hunters that go beyond just preserving their food, although that's the primary benefit. Some of the benefits that come with using a vacuum sealer as a hunter include;
Effective preservation
One thing vacuum sealers are famous for is their ability to not just preserve food, but preserve it effectively. If you do not vacuum seal your meat and it has been touched, you will be compromising on the freshness of the food as well as its taste. A vacuum sealer will ensure there's no air left to affect the meat in any way as long as it's kept in the freezer. Most people believe in using just a freezer but even that's not enough. You won't love it when your meat has freezer burn. As long as you're storing different baits in different vacuum bags before putting them in the freezer, effective preservation is already guaranteed.
Organized storage
We mentioned earlier that a vacuum sealer does more than just preserving your food. Another benefit of having a vacuum sealer is that rather than leaving your freezer unorganized, it'll help you store your food items properly. This is because to vacuum seal, your items have to be placed in vacuum bags. This way, you can even label each bag to have a clear idea of what's in them. This is not a primary reason people often invest in vacuum sealers, but it's safe to say it is a very important reason, especially for people who love to have their freezers as well-organized as possible.
Protecting your materials
Hunting or fishing involves getting dirty, especially if that's what you love to do or a profession you've chosen. You can protect your materials from getting affected by water or whatever might happen when you're fishing or hunting by sealing your belongings in waterproof vacuum bags. A lot of hunters don't pay too much attention to this, and more often than not, they lose their smartphones or key in action. This can be avoided by vacuum-sealing the essentials that you know can get affected if you leave them in the open where something can easily get to them. You can have them sealed off in a bag and kept in a safe place where you can easily pick up the bag before heading back home.
What do you need in a vacuum sealer?
A lot of people make the mistake of going on the vacuum sealer market without having a clear idea of what they want in a vacuum sealer. Vacuum sealers may be affordable, but it doesn't mean you should still spend your money on what will not serve you. There are things you need to look for in a vacuum sealer to convince you it's the ideal product to buy. If these factors are considered carefully, and the vacuum sealer you're looking to buy doesn't have 70% of these qualities, you should consider looking elsewhere.
Power
If you're purchasing a vacuum sealer, you need to make sure you purchase a powerful one. A powerful vacuum sealer will give you effective results, and that's exactly what you need anyway. The big question is; how do you know a powerful vacuum sealer? The truth is that there's no indication of how powerful a vacuum sealer is because most manufacturers think it's a turn-off, and that will affect sales. However, one of the best ways to know how powerful a vacuum sealer is is by its price. They always say how expensive a product is doesn't determine its quality, but the same doesn't apply to vacuum sealers. If a vacuum sealer comes with a higher price than other vacuum sealers that seem to be in its category, then you should know there's a reason why it's priced higher, and that's power.
Warranty
Another thing you need in a vacuum sealer – not that a lot of people pay too much attention to it but it's important regardless – is a warranty. If you're purchasing a product, you need to be assured that it's a quality product, and one of the best ways to do that is by having the commitment of the manufacturer of the vacuum sealer you're getting. Don't forget, the warranty comes as an assurance from the manufacturer to let you know that what they're offering you is a great product, and if anything technical happens to it within the given time, they'll be responsible for fixing it. Knowing that will give you peace of mind on the vacuum sealer you're getting. Never purchase a vacuum sealer with no assurances that it's a quality product, and by assurance, we mean a warranty.
Durability
You don't want to purchase a vacuum sealer now only to start thinking of replacing it a few months later because it's not functioning properly. You need to purchase a durable vacuum sealer that will serve you for so many years. Durability is one of the things to look out for, and that's somewhat related to warranty, pricing, and many other factors. It's related to pricing because a durable product is made of good material like steel, which means it is priced higher than a vacuum sealer that is made of plastic. To get a durable vacuum sealer, you'll need to be prepared to pay the price. That's not to say the ones that don't cost as much are not durable. In the end, it all depends on your budget.
As an Amazon Associate we earn from qualifying purchases. We may earn a small commission for our endorsement, recommendation, testimonial and/or link to any products or services from this website. Thank you, your qualifying purchases help support our work in bringing you real daily gift ideas.
Best vacuum sealers for hunters
People who love quality vacuum sealers that also come with fair prices should consider this Nesco deluxe vacuum sealer. For hunters, this is one of the best inexpensive vacuum sealers they can get their hands on because it gets the job done and also comes with a fair price. This explains people rave about it online, especially those who have tested the product's quality first-hand. One satisfied user said, "It has performed flawlessly. I read hundreds of reviews for numerous sealers. I'm very pleased with this purchase." This only further highlights the quality of the product and how much people regard it.
Features
3 Seal Settings
It's always great when you have a versatile vacuum sealer that can be used in different ways, and that's one of the biggest advantages of having this vacuum sealer. This vacuum sealer comes with three seal settings; Dry, Moist, and Double. These seal options let you vacuum-seal your food items in different ways.
Clear View Window
There's nothing better than having a clear view of what's going on in the vacuum sealer. This Nesco vacuum sealer comes with a clear viewing window so you can have a good look at what's going on inside when the machine is in operation.
Double Vacuum Pumps
Another thing people love about this Nesco vacuum sealer is that it comes with double vacuum pumps that make the whole operation look better and more effective.
This commercial-grade vacuum sealer is another vacuum sealer hunters will find very interesting because of its heavy-duty construction. As a result of how this machine is built, it can handle heavy sealing with its pro performance, and that's one of the reasons why people love it. With 950 watts of power, this is one of the most powerful vacuum sealers you'll find out there.
Features
Ease of use
Everybody loves a machine they can easily use. This Weston Pro-2300 vacuum sealer is one of those machines that are very easy to use. All you need to do for the machine to give you an effective result is to press the start button and watch the machine do the rest.
Manual Seal Mode
Automatic sealing is not everybody's thing. Sometimes, people just want to be in control of how much vacuum pressure is piled on their delicate foods, and this is where the manual seal mode comes in handy.
Fan-cooled Motor
The Weston Pro-2300 comes with a fan-cooled motor, which means that you can use the machine confidently without worrying about overheating.
Foodsaver is one of the most popular manufacturers of vacuum sealers, and the fact that the brand has grown so big shows just how people love their products. This is one of the best vacuum sealers for deer processing. It is also a vacuum sealer that can work with any bag, and that's why people love it so much.
Features
Automatic Bag Detection
This Foodsaver 2-in-1 vacuum sealer comes with automatic bag detection. This feature makes the whole operation easier because once you insert the bag into the vacuum chamber, the machine takes care of the rest. The machine is ideal for people who love automatic machines.
Easy To Use
Another thing people love about this vacuum sealer is the ease of operation. People love machines they can easily use, and that's exactly what this machine offers. It comes with built-in roll storage and cutter as well as several led light indicators that guide you through the whole process of vacuum sealing your food.
Consistent Sealing
The consistent sealing you will enjoy throughout this machine's lifespan is another great reason to invest in it. It is one of the most durable vacuum sealers you can get your hands on right now.
Frequently Asked Question
1. What is the best vacuum sealer for deer meat?
All the products we've reviewed in this article are ideal for deer meat. We've helped review some of the best vacuum sealers for hunters, and we hope you find one of them worthy of a purchase.
2. Is a vacuum sealer worth it?
Not only will a vacuum sealer save you the stress of going to the stores more often than you have to. You'll also be saving yourself a lot of money because you're using a machine that can help you preserve your food items for up to 6 months, and in some cases, 12 months. So, a vacuum sealer is always worth whatever you spend to acquire it.
Conclusion
Hunters are not strangers to their hard-earned meat getting damaged as a result of a lack of proper food preservation methods. That doesn't have to happen too often because there are machines that can ensure your meat stays fresh as long as it's properly sealed in a bag. We've discussed the 3 best vacuum sealers for hunters in this article, and each vacuum sealer has its unique way of operation. Hunters will find vacuum sealers particularly helpful because they come with lots of functionalities that will help them preserve their food better.
ESTIMATED TIME DESIGNING AND UPLOADING THIS ARTICLE
ESTIMATED TIME RESEARCHING AND WRITING THIS ARTICLE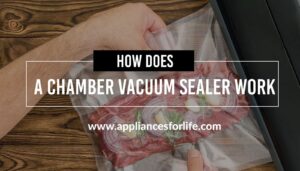 How Does a Chamber Vacuum Sealer Work
With demands for vacuum sealers rising like never before, a lot of people have often wondered if there was more to these machines than what they were made to seem like. In terms of functionality and operations, you could forgive those who think there was
Read More »