It's a great time in the world at the moment because we are moving into a fully-fledged tech mode that everyone will benefit from in the next few years. We are already experiencing big changes compared to how things were a few years ago. It's safe to say we're in a better place as technology is impacting everything that concerns us from work to our domestic lives. With the latter, we've already seen some big changes being made in regards to the appliances available to us at home, including kitchen appliances.
When blenders were first introduced for commercial and domestic purposes, they were only meant to help our overall health, a role they duly fulfilled, but top blender manufacturers knew they could do more than that. Without compromising on its basic responsibility, a blender's responsibilities go beyond making milkshakes and smoothies. The blenders in production today can be tasked with handling more complex jobs like crushing ice, processing frozen drinks, processing tough ingredients, and pureeing different foods, which is what we're going to be talking about in this article.
Looking for the best puree blenders? Check out this article on the best blenders to puree food.
Just like blenders, pureed foods don't also get as much recognition as everything else made in a blender. Naturally, pureeing food gives you a different way to have your food away from the conventional methods of eating which are more popular. According to Lisa A Young of Eat Speak Think, chewing and swallowing foods that are regarded as regular efficiency requires a great level of strength because a lot can go wrong in the process that can affect the swallowing process.
Medically, consuming pureed food helps you avert the risk of choking on solid foods into the lungs. Some people with some underlying medical conditions also struggle to eat solid foods due to a lack of strength and coordination. As a result, these people are always placed on pureed foods because they have minimal risk and these are foods they can comfortably consume.
With pureed foods, you don't have to boast the strength or coordination to chew, and they also help you reduce the risk of choking as they are not likely to be stuck in your throat after swallowing. That's not to say pureed foods are always safe for every situation. This is why it's highly advised for you to consult your doctor for a proper evaluation.
Knowing how to make purees will not only help improve your overall health but also gives you the chance to get more creative with whatever food you try to process in your blender. Experts would recommend a food processor as the most ideal tool for pureeing, but the machine is not as versatile as blenders which can also do the job comfortably. Ninja blender puree setting is what you'll have access to when you invest in a powerful blender such as Ninja.
Apart from food processors and blenders, two of the best food processing machines for different mixing tasks, you can also use a nutrient extractor such as the NutriBullet to puree food, especially when you're using fresh fruits and vegetables. In this article, we're focusing on how to puree food without a food processor and how to puree with a Ninja blender or any other high-performance blender. You can use any of the aforementioned machines to puree food, but we highly recommend high-performance blenders that have enough power to crush ingredients to give you the consistency and texture you need.
What does puree mean on a blender?
According to the International Dysphagia Diet Standardization Initiative, an organization that gives the best recommendations on the best diets to eat, pureed foods are simply foods that don't require chewing. The quality of pureed foods is largely dependent on how they are prepared. People are yet to get familiar with the whole concept of pureed food, because even when you mash potatoes, it may not qualify as pureed food if it has lumps in it.
In other words, pureed foods are foods that have a smooth texture with no lumps that are also not sticky. Some of the criteria that qualify your food as a puree is when it;
Is not sticky at all.

Is not separate from liquids.

Does not need to be chewed.

Can be eaten with a spoon.

Holds shape on a spoon.
What foods should you not puree with a blender?
As much as knowing how to make pureed food is great, you need to be aware of what ingredients you should avoid when you're making the perfect puree even if you're using one of the best puree blenders. Ideally, the best foods for puree aren't sticky or hard, so you should always look to avoid foods like these whenever you're trying to puree food. Going ahead to puree them knowingly or unknowingly will not only damage your blender if you're using an ordinary countertop blender that doesn't boast the strength of high-performance blenders, but also the texture you get out of the whole process at the end of the day.
That doesn't mean these foods are entirely forbidden to be pureed, only that you need to get your hands on the right tool, most likely a food processor or a high-performance blender. With the right equipment, some of these ingredients can be processed and you'll be left with great results at the end of the day. You just need to study your machine well by reading the instructions to know if it can process hard ingredients like the ones below;
Grapes

Crispy bacon

Hard candy

Potato chips

Popcorn

Dried fruits

Raw vegetables

Dry cereals

Nuts

Seeds

Dry bread
What foods can you puree in a blender?
Myhealth Alberta thinks pureeing is an amazing way to change solid foods into a smooth texture without lumps or sticks to make consumption very easy, comfortable, and convenient. The whole idea of turning solid foods into a smoother texture is to make your foods easier to swallow by not being able to chew them. The consistency you get at the end of the day will be a result of your preparation. If the texture is not appealing enough, you can add more food to adjust the texture. Some of the foods you can puree in a blender include;
Cooked rice

Cook meat

Cottage cheese

Ice cream

Canned fruits

Ripe avocados

Ripe bananas

Cooked cereals

Cooked pasta

Yogurt

Cooked chicken

Cooked potatoes

Cooked fish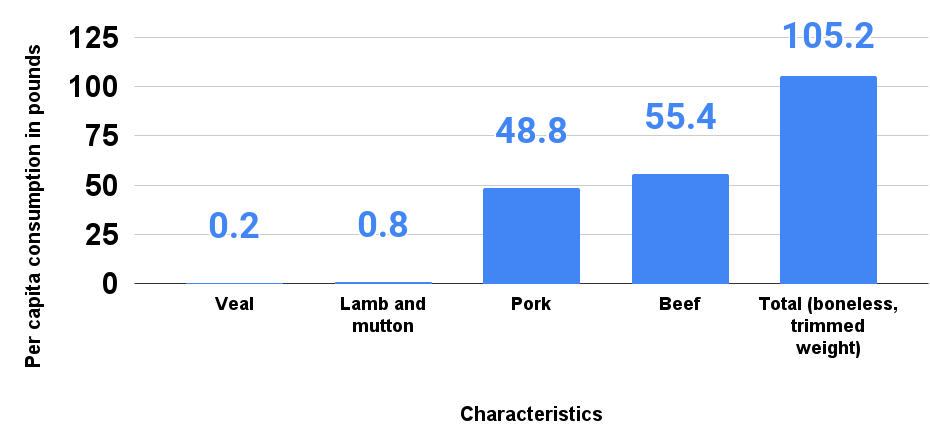 The consumption of boneless red meat in the United States has increased greatly over the past few years despite the growing concerns over how healthy it is for the human body. We were able to make the chart above using the information provided by M. Shahbandeh earlier this year, and it shows the per capita consumption of boneless red meat in the United States in 2019 by type. The report shows that the U.S. per capita consumption of boneless red meat amounted to a total of 55.4 pounds in 2019.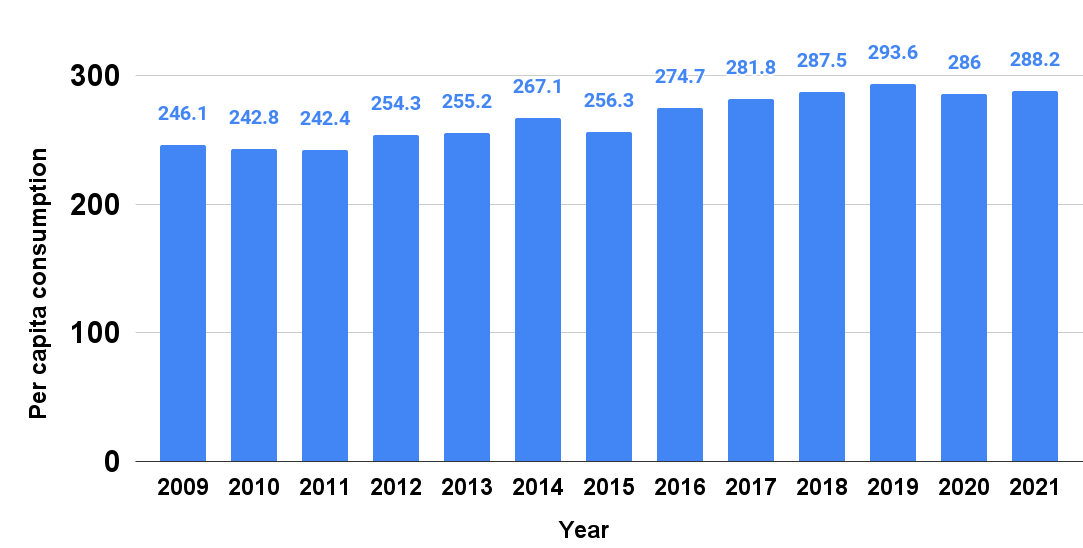 The egg industry in the United States has experienced steady growth over the past few years as the total number of laying hens in the United States has also increased greatly. In 2018, Iowa was rated as the U.S. state with the most laying hens, with the total numbers standing at 57.5 laying hens. As a result of the increased demand for eggs in the past few years, egg consumption in the country has also increased. In 2009, the per capita consumption stood at 246 eggs, meaning an average person in the country consumed 246.1 eggs only in 2009. The estimated value, according to M. Shahbandeh of Statista, for 2021 is projected to stand at 288.2 eggs per capita.
How to puree food using a blender
If you know how to puree with a Ninja blender or any other blender, then you're more than likely to be familiar with every process involved in making great pureed foods. We're going to be discussing how to puree food for adults as well as babies in our step-by-step guide below.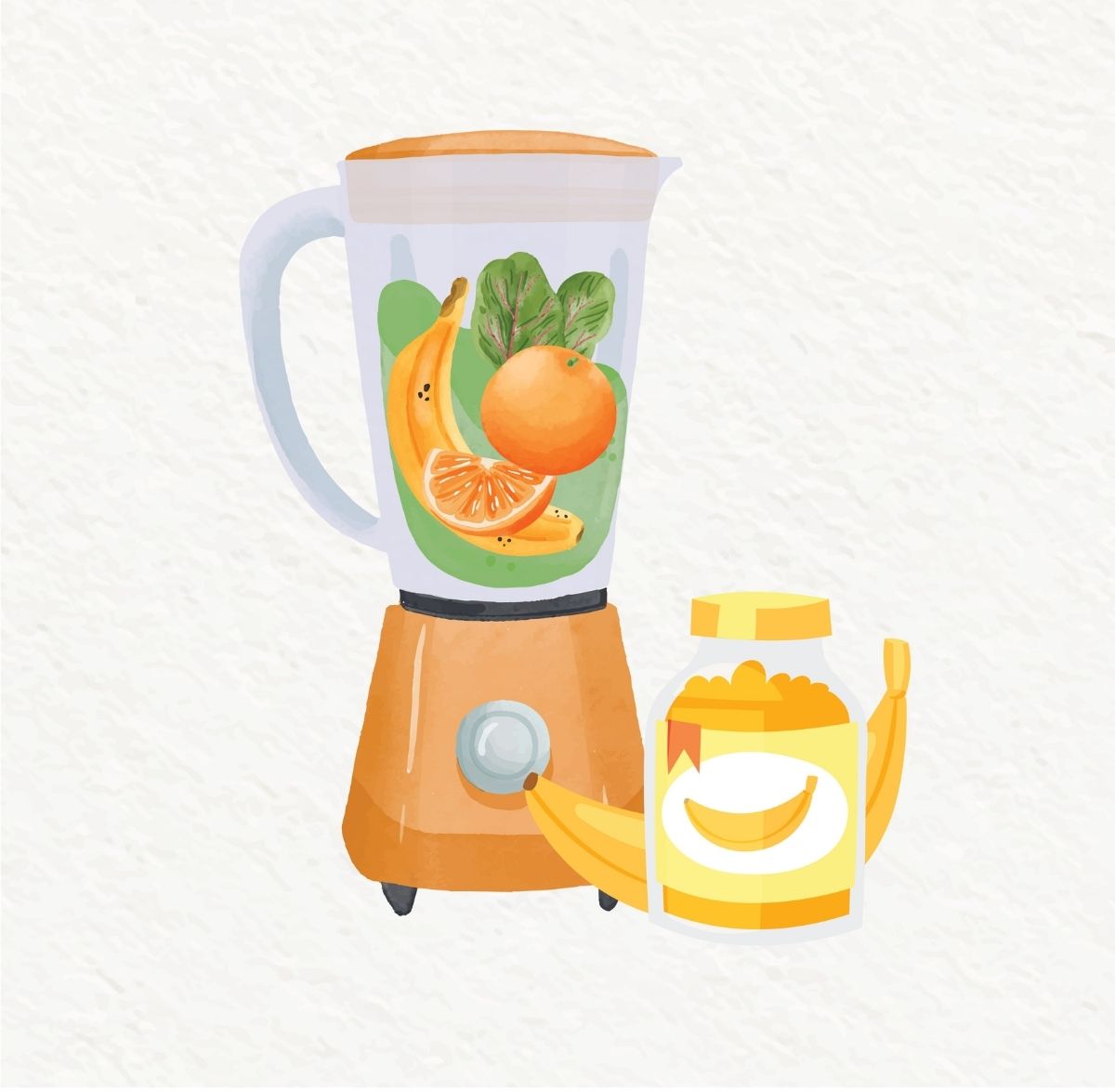 How to puree vegetables
Consumption of vegetables in the United States has taken a dip in the past few years, and one of the best ways to help create more awareness for the importance of vegetables in the body is to know how to puree vegetables, turning them into something you can easily consume without having to chew them. Naturally, vegetables have enough nutrients that are very important to our overall health. The best way to puree vegetables is to cook them before you start processing them. Check below for the step-by-step guide on how to puree vegetables.
Prepare your vegetables
STEP 1: The first step involved in pureeing vegetables is to choose the right vegetables to use. Experts always advise opting for fresh and ripe vegetables because they always give the best results. Make sure the vegetables are firm and have bright colors without bruising or soft spots. Frozen or canned vegetables may be ideal for purees, but they don't always give the best results because you won't get the best nutritional value out of them at the end of the day.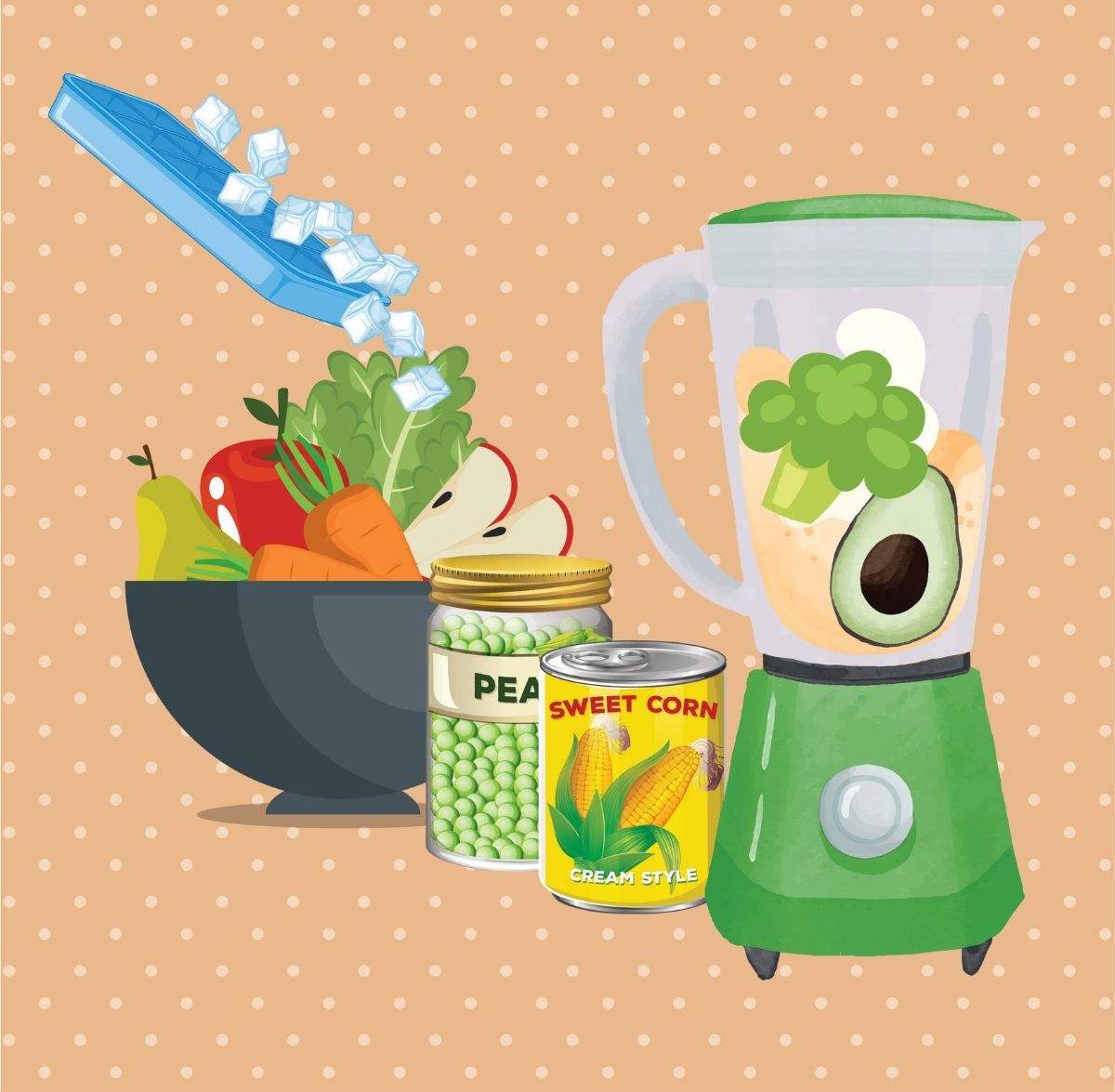 Puree the vegetables
Add 1 cup of the cooked vegetable into the blender at a time and blend in batches until you get a smooth texture.
Frequently Asked Questions
1. What is the best blender to puree meat?
There are lots of powerful blenders on the market right now, and some of the top brands include Vitamix, Blendtec, Ninja, and Oster.
2. Can you puree in a blender?
Yes, it's possible to puree in a blender as long as you have the right tools such as a powerful blender. You also need to cook your ingredients to be very soft before you start to puree them.
3. Can you puree with a hand mixer?
Immersion blenders are also great machines to puree different foods including meat, vegetables, and many others.
Conclusion
The knowledge of how to puree food using a blender is essential for everyone who loves to be in the kitchen trying different things. It's also a great way to maximize your blender's functionalities which many people are still yet to understand. We've discussed the different steps involved in pureeing food using vegetables as our point of focus.
ESTIMATED TIME DESIGNING AND UPLOADING THIS ARTICLE
ESTIMATED TIME RESEARCHING AND WRITING THIS ARTICLE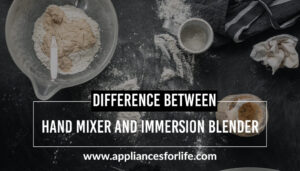 Differences between hand mixers and immersion blenders
Immersion blenders and hand mixers are built for separate purposes. And it is important to understand the function of each of these kitchen tools in order to properly use or appreciate them. Immersion blenders are essentially blenders immersed in a bowl of recipes. They differ
Read More »