Kitchen appliances continue to make a significant contribution to our survival as humans, but in the modern world, they play a more significant role than just helping us survive. They have now become a symbol of comfort and convenience rather than survival because that now seems far-fetched. People can live without a refrigerator or a microwave oven; people can live without some of these appliances and that's why they are not regarded as the key to our survival as humans.
As much as these appliances are not the key to our survival as humans, they continue to dictate the play and set the balance for the world because of the huge popularity they've gained over the past few years. Manufacturers have taken a huge advantage of people's love for comfort and convenience, hence the production of these appliances has skyrocketed over the years, making them rake in millions. Today, the United States remains the biggest appliance market in the world, and in 2018, the market value of the appliance market in the country stood at $37.8 billion.
Those numbers, according to a Statista report, are going to jump to about $57 billion by 2026 to show how progressive the household appliance market in the world is. The same report also shows that China is greatly competing with the United States as far as the sales of major household appliances are concerned, but that's not the whole idea, is it? The fact is that the market is growing rapidly, and only God knows what the numbers would be at the end of this present decade.
The blender is one of the world's most popular appliances despite being underrated, and from the number of sales the versatile machine has made over the past few years, it's easy to tell that people see it as an important machine to have at home. According to Grand View Research, the global portable blender market had an estimated value of $120.8 million with a growth expectation of 8.1% from 2020 to 2027. This shows the depth of how important blenders are in every household across the world, including the United States.
The improved sales of blenders worldwide can be credited to lifestyle changes, increased travel needs, adoption of healthy lifestyles, several food consumption behaviors, and rapid urbanization. That's why today, you'll see blenders in almost every household across the world because people are now beginning to realize how important blenders are to their everyday life. It's hard for anybody to come out in the open and talk about how blenders don't do a great job around the house.
There's a huge difference between having a blender and having a great blender. You can identify a great blender by its motor speed, design, and controls, and these are what make Ninja blenders different from the ones made by other brands. The brand has formed quite a reputation in the world for manufacturing quality blenders that are known to be reliable and powerful.
If you've paid enough attention to the trend in the appliance industry over the past few years, you'd have realized that people only stay loyal to the brands that produce quality products. Brands like Samsung, LG, Bosche, and Frigidaire have only made it so big in the appliance industry by consistently quality appliances, and even though Ninja is not enjoying as much success on that large scale, the brand is still quite famous as far as the production of blenders is concerned. Top brands have only been able to achieve success by producing quality appliances over the years, earning people's trust in the process.
Click here to learn more about how to use a professional Ninja blender.
Ninja continues to make waves worldwide for being a top manufacturer of home blenders around the world. The brand offers a wide range of blenders that make life easier for many families around the world. With people looking to improve their lives health-wise, it is only normal that blenders are becoming increasingly popular around the world.
Why You Need A Blender
People don't even debate on whether or not a blender is needed in the house because they're already familiar with the importance of the blender around the house. Despite the blenders' popularity, some people are still not sure whether or not they need the blender around their house. Some folks know they want to get a blender but want to be sure if they're going to get the best value for their money before investing in it, but for some reason, some people only need that little push before making the big decision.
If you happen to be in that category, just know that there's a lot you can do with your blender, and we're here to help you realize how important the blender can be to you. A lot of folks don't also know that the blender can be used for so much more than they're using it for now because they've limited its functionality to a single purpose; who are we to blame them? If you're contemplating buying a blender, below are some of the benefits of having a blender in your kitchen.
They Aid Productivity
If you love to spend a lot of time cooking in the kitchen, then you'll realize it's not the easiest of tasks. However, when you have the right appliances, cooking can be fun because these appliances will aid productivity and also help save you a lot of time. The blender is one of those appliances that help you achieve more productivity because it has more than enough features to help you achieve that.
Time is one of the world's most important commodities now, and people don't like to waste it. With the world moving at a very fast pace, people are looking to get themselves appliances that help them get things done in minutes. When you own a blender, you can do a lot more than you ever imagined in the kitchen with blending, chopping, and pureeing.
They Are Energy Efficient
The blenders in production now are modern, and the fact that they're built with the latest technologies makes them more energy-efficient than their old counterparts. Naturally, modern appliances are more energy-efficient than old, conventional appliances which are popular for consuming a lot of energy. If you're worried about blenders consuming more power than they should, you should not be too concerned because the blenders in production now are energy-efficient.
You'll seldom realize how much you're spending on electricity until you begin to invest in energy-efficient appliances. They help you save a lot of money on your electricity bills, and thankfully, some of them even come with Energy Rating stickers that show just how much power they're going to consume over a given period. These stickers help you make the best decision when it's time to purchase the ideal blender for your kitchen.
They Are Durable
Blenders do not cost as much as other major household appliances, so they do not get enough attention when it comes to durability. Some high-powered blenders cost as much as $1000, so when you're getting one of those, you'll need to get all the assurances you want that you'll get the best value for them. When it comes to durability, once you maintain it right, you can get as much as a minimum of 8 years out of it.
If you invest in a sustainable blender, you can use it for as long as you want because high-quality blenders are built with quality, BPA-free, dishwasher-safe materials. You don't have to worry about purchasing another blender for a few years as long as the blender is maintained right.
Versatility
Most folks purchase a blender for a single purpose, and once it looks certain the blender can fulfill that purpose, they'll seldom explore the possibilities of doing more than just which they have bought the blender for. The reality of the whole concept of using a blender is that it can do more than just making baby food, or what people use to make soup. The sooner people realize how versatile the blender is, the better it'll be for all parties involved because only then will they truly start to get the value for whatever money spent on acquiring these blenders.
Whether you want to crush ice, make milkshakes regularly, puree baby food, prepare soup, or make healthy smoothies, you can have all that in one machine, and the blender's versatility is what makes it a great option on the market. Rather than having many appliances, taking up more space in your kitchen than what's necessary, the blender can serve as an all-in-one machine that can do almost everything as far as food processing is concerned. It aids a more organized kitchen. You can read more on kitchen organization ideas here.
Other Benefits of Having Blenders in Your Kitchen
No complications

They're easy to maintain

They are easy to operate

They make your kitchen look more organized

They are easy to carry around

Only a few of them are priced outlandishly
Ninja Blender Not Working?
Ninja blenders are seen as some of the best home blenders on the market right now because they're always packed with powerful blade systems. But as good as they are, they're not susceptible to technical problems, which is why getting used to the Ninja blender troubleshooting process is always very important. Ninja blender blinking red, Ninja blender power blinking, Ninja blender light blinking, and Ninja blender button flashing are all parts of the many issues you can encounter with your Ninja blender.
You may also run into issues like your Ninja blender not blending smooth, Ninja blender lid problems, but some of these issues are not as serious as they might seem because they're always solutions to these problems. In this article, we'll be looking at how to fix a Ninja blender if your Ninja blender isn't blending or not working at all.
Ninja Blender Lid Won't Lock
The lid is an important part of every blender, and as irrelevant as it may seem, the blender won't function until it's properly locked. If you notice your Ninja blender lid won't lock, it may be caused by a few reasons, one of which is human error. The basic function of the lid is to protect the content of the pitcher, and sometimes add ingredients through it. Once the blender detects that the lid interlock is not completely set, a flashing light indicator will show on the control panel, telling you that something is wrong with it.
The best thing to do in this case is to check the owner manual that comes with the blender to have a proper explanation of what the light indicator means. You will also get the visual description of what the lid should look like so you'll know whether or not it's in the right position.
NOTE: The most important thing to know when you're troubleshooting any electrical appliances is that you should always unplug them from the power source to avoid electric shocks.
Ninja Blender Starts Then Stops
This is a common problem amongst Ninja blenders, and the most popular cause is that it's not always properly plugged. It may look like it's properly plugged but there's something wrong with either the cord or the electrical outlet. When you discover this problem, try to check if the power cord is properly plugged in to know if the problem is with the power cord or the electrical outlet so you can know the next line of action to take.
Ninja Blender Stuck In The Base
Your Ninja blender getting stuck in the base is not a big deal; as a matter of fact, it is one of the most common problems with any blender even if it's not manufactured by Ninja. It could be caused by a jam inside the base unit. The base unit usually features a rubber connector that helps connect the rotating part of the base to the removable pitcher. This problem can only be solved by an expert, so if your blender is stuck in the base, you should contact an expert immediately to help you have a look at it before it further damages the motor.
Frequently Asked Questions
1. Why is my Ninja blender single serve not working?
Single-serve with your Ninja blender not working is not abnormal, and according to Miss Vickie, it's mostly caused by the lid not being locked properly. You'll confirm this by checking your power button if it's blinking. Try to have the lid fitted properly on the pitcher to solve this problem.
2. Is there a reset button on the Ninja blender?
Most blenders don't have a reset button, and the same can be said of Ninja blenders. It's safe to say you can't reset Ninja blenders with a button-pushing sequence.
3. Why is my Ninja blender not turning on?
This can be due to a lot of reasons ranging from wrong connection, faulty power cord, faulty base, and many others.
Final thoughts
It's no news anymore that Ninja blenders have become some of the most effective blenders in the world, but even the best blenders on the market can malfunction. The causes range from human errors to internal problems, and they can cause your machine not to function properly or even turn on at all. These issues don't make Ninja blenders less efficient than they are, because even blenders from other brands can develop some of these issues.
We have provided what we believe are the right causes for some of these problems, and we are confident you'll find them very helpful. Always remember that the first step of every troubleshooting process is to unplug the machine from the power source to avoid electrical shocks. You can conduct more extensive research if we weren't able to discuss what could be the cause for the malfunctioning of your blender.
ESTIMATED TIME DESIGNING AND UPLOADING THIS ARTICLE
ESTIMATED TIME RESEARCHING AND WRITING THIS ARTICLE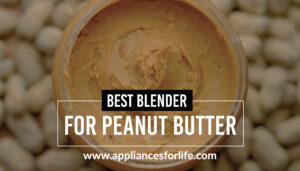 Best Blender for Peanut Butter
Peanut Butter contains more nutritional benefits than you think. From maintaining body weight to preventing heart disease, peanut butter can save your life by consuming it moderately. Unfortunately, how to make perfect peanut butter may always be a lingering concern if you do not get
Read More »