Ninja blenders are some of the best blenders on the market right now, and people are paying more attention to the brand more than any other brand because it offers what other brands don't. Most people who manage to get their hands on high-powered blenders like Ninja blenders don't often maximize their blenders' functionalities, leaving them to only use these blenders for simple kitchen tasks like making smoothies or soups. However, we've seen over the years that blenders play a more important role than just making smoothies, and knowing how to make ice cream in your Ninja blender is another way to get the best value for your money.
Generally, blenders are underrated, and more of that can be traced down to the simplicity in the operation of the versatile machines. In the world we live in today, we need versatile appliances that can make life easier for us, and that's exactly what we have available as many top appliance brands have made it possible to have machines that make our day-to-day activities easier and more convenient. Today, we have blenders that serve many purposes such as the ones that are strong enough to process hot and cold liquids, the ones that can make soups, and the ones that can crush ice among many others.
As years go by, people's love for the Ninja brand continues to grow stronger because the brand won't stop producing mid-priced blenders that people find generally affordable, but still manage to pack them with enough power to compete with some of the top high-end brands like Vitamix and KitchenAid. The Ninja brand has introduced many blenders to the market including personal blenders, high-end blenders, and even food processors, and many other food processing machines. Give the brand a few more years and it'll be one of the best on the market if it continues to be consistent with the production of affordable blenders.
Making ice cream in your Ninja blender should get you excited, after all, you can completely trust something homemade rather than what's available in different stores. Making ice cream with a Ninja blender is not what a lot of folks are familiar with, but once they get hold of it, it will benefit them a lot in the long run because homemade ice cream is a whole lot better. Knowing this hack will go a long way in your bid to maximize the functionality of your Ninja blender which is what a lot of folks have struggled with in recent years.
Think about those hot summer afternoons when you crave something cold to match the temperature, and the only thing you can think of is ice cream. The stress of having to go all the way to the store to get what you want when you can easily make some from the comfort of your kitchen with the right ingredients and machine. According to Food14, ice cream can be a great substitute for lunch on days when the temperatures are very high and cooking doesn't seem all that suitable.
Maybe many people only think ice cream is made for only children, but we've seen over the years that ice cream is meant for people of different ages, and it's a great way to cool off in those hot summer afternoons. Things will even be easier when you know how to make ice cream in a Ninja blender if you own one, and once you get hold of the hack, you'll almost be able to make whatever ice cream you want anytime you want it. Ninja blenders like the Ninja Foodi Cold & Hot Blender can make you whatever ice cream you want, leaving you to try out different recipes in your blender.
Thankfully, there are lots of Ninja blender ice cream recipes you can conveniently try out in your kitchen, and the good thing about most of these recipes is that they're very easy to make. Come to think of it, it is more important for some people to prepare their foods at home rather than getting them at the supermarket, and teaching the children that will play a huge role in making them think that's also more ideal. You may not even need a Ninja creamy ice cream maker, which is why it's very important to know how to make fruit ice cream in a blender.
According to Box Your Lunch in a blog post that discusses different ice cream recipes for a Ninja blender, there are lots of ways to make ice cream in a Ninja blender, depending on the flavor you're looking to get at the end of the day. For some ice cream recipes, you'll need puddling at the base, while for others, you'll need to layer the ice cream with frozen fruits. Whatever base you decide to have in your ice cream, you're promised great results at the end of every process as long as you use the right ingredients and you follow the recipe instructions.
Before we get into a detailed guide on how to make ice cream in a Ninja blender, let's quickly take a good look at some of the factors you should put into consideration before purchasing a Ninja blender for this purpose or any purpose whatsoever. This will help you purchase the best Ninja blender when you're on the market for a new blender, and when you make the right purchase, it means the whole process will be worthwhile at the end of the day, and you can get the best value for your money.
5 Factors To Consider When Purchasing a Ninja Blender
Ninja blenders are becoming increasingly popular because the Ninja brand has found a new way to make quality blenders affordable to people, and that's why people will continue to purchase Ninja blenders as long as they remain affordable. It's only a matter of time before the brand catches up to the likes of Vitamix, KitchenAid, and Blendtec, some of the best blender manufacturers in the industry at the moment. If the brand continues to manufacture quality blenders that people find generally affordable, it's going to be very hard to knock the brand off the perch.
Ninja blenders are great, but you can go on the market without being prepared to choose the right blender for your kitchen. Without putting some of these factors into consideration, it's very easy for you to go on the market and end up purchasing a blender that won't be all that ideal for your kitchen. To make sure you don't make that mistake, we've rounded up 5 important factors you need to consider when purchasing a Ninja blender.
Power Rating
One of the most important things to consider when purchasing a Ninja blender is the power rating because power determines how efficient the blender is going to be. Although to determine the power you want in a blender, you have to consider your needs such as what you're going to be doing with the blender. Do you just want a blender that can make smoothies or do you want a blender that can crush ice, process hot and cold liquids, and make frozen drinks?
You need to find answers to these questions, and when it's clear what you want to do with the blender, proceed to choose the one with an appropriate power rating. If you only want a blender that can make smoothies, you don't need a 1500-watt blender that is very powerful and can perform premium tasks easily. Likewise, if you want to crush ice and prepare hot and cold foods with your blender, you need a high-powered blender and not a personal blender that will get damaged if you try to force it to perform the aforementioned tasks.
Features
If you're purchasing a blender, you must be purchasing it for some reason, and one thing you should also look out for is the important features you want in the blender. Most folks know what they want in a blender and what features can help them achieve what they want conveniently, and that's why it's very important to put this factor into serious consideration when purchasing a new Ninja blender. Thankfully, Ninja blenders are packed with lots of features that you will find very useful whenever it's time to use your blenders.
At the end of the day, it depends on what features you want in your Ninja blender. If you want a Ninja blender that is easy to clean, you should get a Ninja blender that is packed with a self-cleaning feature. Don't compromise on the important features you want in a blender, although you could be affected by your budget.
Counter Space
If you're purchasing a new Ninja blender, another important thing you should put into serious consideration is your counter space. Knowing the right dedicated space for a blender to be accommodated will help you choose the right blender size on the market when you're shopping for a new one. Some people won't consider this and will end up buying a blender that won't be properly housed on their countertop, leaving them to start looking for another space in the kitchen to put the blender.
You need to avoid getting caught up in this by always measuring your counter space before you go on the market for a new blender. Also, if you don't need a large-capacity blender, there's no point getting it. If you're only going to be making smoothies and soups, then you can get some handy Ninja blenders.
Your Budget
The most important to consider, and what seems to be connected to all the other factors we've highlighted so far is your budget. If your budget is $50, you can only dream of owning a high-powered Ninja blender that has up to 1500 watts of power because blenders like that cost a lot more than that. You need to properly evaluate your needs in line with what your budget is so you don't end up making big plans without the proper financial backing to execute them.
Evaluating your needs means prioritizing the things you need most in a Ninja blender and finding the blenders that have those features that also happen to be within your budget. Thankfully, the Ninja brand is famous for producing affordable blenders that are packed with enough quality to get you what you want at the end of the day. On some days, however, you might be forced to go a little beyond your budget to help land your dream Ninja blender without compromising on any features.
Blender Type
Lastly, you need to decide on the blender type you want before going on the market in search of a new Ninja blender. There are different basic blender types including personal blenders, high-powered blenders, and countertop blenders. Again, you need to properly evaluate your needs as well as your budget before you decide on the type of blender you want in your kitchen.
How To Make Ice Cream in a Ninja Blender
Ninja Blender Ice Cream Recipe
Not all ice cream recipes require you to own an ice cream maker. A simple but powerful blender like a Ninja blender can help you get creamy and tasty ice cream. You can use your Ninja blender to prepare this creamy ice cream as long as you have the right ingredients which we'll be looking at below. The ingredients for this ice cream recipe are enough for four servings. The total time for this recipe is 1 hour and 15 minutes, so you should be prepared to get it done by that time if you follow the instructions properly.
Ingredients
300 grams of milk

Fresh seasonal fruits

250 grams of liquid cream
Instructions
STEP 1: Get ice molds and get both the milk and cream in them before placing them in the freezer. This is to help reduce the volume of the elements (milk and cream) so they'll be easier to blend after they're frozen.
STEP 2: Prepare your fruits by washing them and checking them for cores and stalks. Blend the fruits and keep the result in a container.
STEP 3:  Wait for an hour and check for the milk and cream if they're frozen. Once they freeze, blend them and put one part of the mixture into a bowl, with the other part being mixed with the fruit.
STEP 4: Now that your ice cream is available in two flavors, it's time to enjoy!
Ninja Plain Vanilla Ice Cream Recipe
Making ice cream shouldn't be daunting, especially when you have a Ninja blender that can make you almost anything you want. You can make this delicious ice cream with your favorite topping. The mix-ins can be added after blending the basic ice cream and before removing it from the blender.
Ingredients
3.4 ounces vanilla instant pudding mix

2 ½ cups and 2 tablespoons whole milk

2 teaspoons of vanilla extract
Instructions
STEP 1: Pour two cups of whole milk in a large mixing bowl before adding the vanilla pudding mix into the mixture. Mix the mixture using a wire whisk until it's dissolved for about one minute. Be careful while mixing so you don't overmix.
STEP 2: Pour the mixture into two ice cube trays and make sure the mixture is evenly distributed between the two trays.
STEP 3: Freezer the mixture for eight hours or if you're doing it at night, leave the cube trays in the freezer all night.
STEP 4: Place all the frozen vanilla ice cubes in your Ninja blender and add the remaining ½ cup and 2 tablespoons of whole milk plus the vanilla extract. Use the crush function for about 40 seconds.
STEP 5: Remove the lid and proceed to serve the ice cream.
Frequently Asked Questions
1. Can you make ice cream in a Ninja?
If you're using a Ninja blender or food processor, you're guaranteed great results for making ice cream at the end of the day. Ninja blender blades are so powerful that they can be used to crush ice and frozen drinks.
2. Can you put ice in a Ninja blender?
Ninja blenders are strong, and the high-powered models can comfortably crush ice without fear of getting destroyed or their blades getting damaged.
Conclusion
If you've ever imagined trying homemade ice cream recipes in your kitchen, you can bring that dream to life by getting your hands an efficient Ninja blender that can conveniently make you ice cream. Making ice cream with a Ninja blender will be one of the best things you'll ever try in your kitchen because it is healthier than whatever health benefits the ones you'll get in different stores promise you. In this article, we've tried to discuss how to make ice cream in a Ninja blender using two easy and healthy ice cream recipes. We've also discussed some of the things you should consider before purchasing a Ninja blender to make ice cream or for any other purpose.
ESTIMATED TIME DESIGNING AND UPLOADING THIS ARTICLE
ESTIMATED TIME RESEARCHING AND WRITING THIS ARTICLE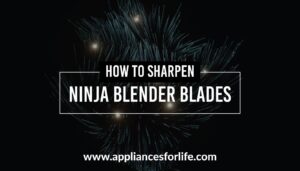 How To Sharpen Ninja Blender Blades
Having a blender in your house is one of the things you can do to yourself as a homeowner. Even if you're living in a rented apartment, you still need a blender to keep your kitchen activities in check. Ninja produces some of the best
Read More »