Nutribullet 1200-watt Blender Review Comparison Table
| Image | | | |
| --- | --- | --- | --- |
| Name | Nutribullet ZNBF30400Z Dark Gray 1200-watt Blender | Nutribullet ZNBF30500Z Dark Gray 1200-watt Blender | Nutribullet N12-1001 10pc Single Serve Blender with a Travel Cup |
| Brand | Nutribullet | Nutribullet | Nutribullet |
| Color | Dark Gray | Dark Gray | White |
| Material | Stainless Steel/Plastic | Stainless Steel/Plastic | Stainless Steel/Plastic |
| Motor Power | 1200 Watts | 1200 Watts | 1200 Watts |
| Voltage | 110 Volts | 110 Volts | 120 Volts |
| Special Feature | Three Precision Speeds | Pulse Function | Automatic Shut-off |
| Weight | 9.22 Pounds | 10.33 Pounds | 8.38 Pounds |
| Editor's Rating | ✸✸✸✸✸ | ✸✸✸✸✸ | ✸✸✸✸✸ |
| | | | |
Whether it's a Nutribullet lean 1200-watt blender or a Nutribullet full-size blender, you can be confident of getting the best value for your money whenever you invest in any Nutribullet blender to show how credible the brand is. The trend now is that people are moving from traditional blenders to high-tech ones, which is such an effortless transition because you don't need to be Albert Einstein to know how to operate these high-tech blenders. On that note, Nutribullet has gracefully been involved in all the big changes we see in the blender market today.
It's very okay for a brand to be versatile, taking on different things and excelling in them. However, Nutribullet's goal has always been to take over the global blender market, which is becoming clearer because the brand focuses on blenders more than other kitchen appliances. You can tell from the brand's global customer base of over 80 million that it's one of the biggest appliance brands in the world, and the blender market is where it's best at.
If you have a Nutribullet blender, but you've been struggling with using it, we have a detailed guide on how to use a Nutribullet blender. You can check it out here.
Blenders are a little kitchen equipment that may help you get the most out of your food with excellent results. Depending on how you use them, they can enhance or detract from the flavor of a complete meal. Every blender has its own set of qualities and peculiarities that make it ideal for various tasks.
Blenders may be used to make a variety of gourmet combinations. They're high-precision machines that can make a large variety of ingredients. Some blenders may be used to make bread, cakes, and sweets in addition to typical culinary methods. They can be deployed in a restaurant, a kitchen, or a household, making them very useful, not just in the house but even in commercial spaces.
Blenders have existed for a long time. They were mostly employed to break up the meal we ate for a long period. They were mostly utilized for residential blenders in the early twentieth century. Later, they were predominantly employed for large-scale industrial manufacturing in the late twentieth century.
Blenders that existed many years ago didn't have the high-end functionality the current ones are being packed with, which illustrates how far technology has led us. The top blenders on the market today can do previously unthinkable feats, and they do it with the same high level of quality and performance that we've come to expect from blenders. Technology promises to push the limits of what is possible and exceed our expectations. It's similar to a blender. The blender is a fantastic illustration of what technology can do when applied correctly.
Investing in a decent juicer or a good masticating juicer will allow you to create a smoothie or cocktail to your specific tastes and health needs, not restricted to high-end models. Masticating juicers extract juice from fruits and vegetables slowly and steadily, resulting in more nutritious beverages. High-powered juicers can process a wide range of goods, but they lack the flexibility to personalize the result. On the other hand, masticating juicers are great for leafy greens and other hard vegetables, while centrifugal juicers are best for softer fruits and fruit juices that don't need much processing.
For all it's worth, while juicers can get you the perfect results when making your favorite juice, there's nothing better to use to create smoothies than a blender. Blenders are the most efficient devices for blending fruit and vegetables into beverages, so they're a wonderful investment for individuals with limited space or who want to take their favorite drinks with them on the move. They're also less expensive than juicers, with several versions costing around $100.
From fruit and vegetable juices to milkshakes and protein shakes, blenders can prepare a variety of beverages and smoothies. If you want to make a somewhat more unique drink, combine your favorite fruits and vegetables in a high-powered blender to produce a smoothie that may be served in a glass or container. This is a terrific method to boost your fiber intake, which is especially useful for youngsters and adults trying to lose weight. It's also a wonderful method to cut down on sugar in your diet, which may help you maintain a healthy weight.
Blenders are not only less expensive than juicers, but they also provide superior results. If you make a lot of juice, investing in a juicer may be worthwhile. Nut milk, baby food, sorbets, and other healthful beverages and sweets may all be made. They can process practically everything you throw at them, even hard and green vegetables. Nutribullet blenders are renowned for producing the best-tasting smoothies and nut milk. Their most recent versions now have a creamer and a range of add-on accessories, allowing you to produce everything from gourmet coffee beverages to baby food. You can also prepare fast sauces, dressings, and dips with a blender.
Simply add some fruit, fiber, and other nutritious ingredients to a blender and turn it on for a healthy, quick, and simple smoothie. The magic happens as the blender's blades chop, ground, and combine the ingredients into a smooth and healthful drink. There are many various blenders on the market, each with its own set of features, speeds, and functions, so if you're searching for the best blender for creating smoothies, do some research and pick one that meets your requirements. A food processor can also be used, but it's not ideal for creating smoothies because it's meant to chop rather than mix.
5 Factors To Consider Before Purchasing a Blender
If you buy a certain model but don't do your study to find which one is superior to the others, you've made a mistake. If you spent more money on a blender that didn't have the features you wanted because you didn't conduct your homework first, you'd be making a mistake. If you bought a specific brand but didn't do your study to understand the benefits and downsides of utilizing that brand, you'd be making a mistake. The list of errors goes on and on, and it's all due to a lack of research.
Purchasing a blender sometimes comes with a lot of patience and research as there are many products on the market. Buying without having a clear idea of what you want or the things you need in the blender will only result in you getting your hands on the wrong product.
This will not only result in a waste of money but also a lengthy wait for the correct product. You will be able to find the correct product for your requirements at the right price if you take the time to go through our buying guide. This will save you money and time, both of which are critical considerations when purchasing a blender.
After you've decided what you want or need in a blender, the next step is to research the various products and brands available. This will offer you a clear understanding of what you should be looking for and what to pay attention to when selecting a product. This will also allow you to purchase a product without receiving the incorrect one.
Capacity
The capacity of a blender is one of the most important factors to consider when you're purchasing one. A decent rule of thumb is to look for a model with at least 1.5 liters of capacity (1 gallon). This will allow you to produce smoothies, sauces, and other tiny batches of food without watering them down, which is vital if you're making Caesar dressing or other thick dips with your blender. It's worth noting that certain blenders are built to handle both liquids and solids, so make sure you read the description to see whether it's right for you.
The more frozen or liquid cups or glasses you can prepare at once, the better. Most blenders hold between 2 and 12 cups; however, some hold up to 18 cups. Look for a high-capacity blender if you want to frequently blend huge quantities of frozen drinks. On the other hand, a lower blender capacity is not as important if you plan to use your blender mostly for smoothies, soups, and other small quantities.
Power
The power of a blender determines its speed, which is how quickly you can process your food. A strong blender may pulverize everything from fruits and vegetables to ice and protein shakes. Variable speed controls and pulse choices are available on the top blenders, allowing you to adapt your recipe. If you wish to purchase a blender, you have various possibilities. A high-powered machine with numerous speeds and a huge jar is the most popular form of a commercial blender.
The faster, the better, as it helps you process your materials more quickly and get the maximum value from them. The best blenders can process whole food ingredients without transforming them into puree, which is ideal for those who dislike the texture of pureed foods. The best blenders can also prepare hot soups and other delicacies, a terrific feature for folks who want to cook in large quantities. The greatest blenders may also be used as a food processor and can deliver the same amount of power as a food processor, making them an excellent addition to any kitchen.
Price
When you're buying a new blender, you have to work with a budget; if not, you'll find yourself spending more than you probably initially planned. When you first start out, it's sometimes advisable to buy a less expensive blender that will suffice, and then work your way up to the more expensive blenders as your demands develop, so you get the most bang for your dollars. An excellent blender for ice is your best bet if you want to get the most bang for your buck.
When working with a budget, the most important thing to remember is that you need to select a blender that can satisfy your needs for the amount you're willing to pay. You only need to research to locate high-quality blenders at reasonable pricing. You should also evaluate your blender's purchasing power, as high-powered blenders are more expensive. You should start with a low-powered blender if you're just getting started.
Online Reviews
You would be making a mistake if you had it in mind to buy a blender, but you didn't take your time to read what people are saying about the product online. This is something you should have done because individuals are generally more honest about a product's drawbacks than its advantages. However, this is a positive thing because it will enable you to make a more informed decision about whether or not to purchase a specific piece of technology. Not all products are created equal, and some are constructed of inferior materials that are not worth your money. You can find out if a product suits your needs and budget by reading what other people have to say about it.
You may have read some customer reviews, but you should also watch what others are saying about the product on social media. You may learn a lot about a product by simply looking at what people say about it on social media. This is because social media is not only a great way to gather people's feedback on your product, but it's also a great way to spread the news about it. Customer feedback may be found on social media, which is something you should definitely take advantage of.
Blender Type
What type of blender do you need? This is a great question to ask yourself when you're on the market for a new blender – you need to ensure it's the type of blender you need in your space.
Some blenders can be used for various tasks, while others are better suited to a single purpose. A high-powered blender, for example, can be used to produce smoothies and juices, while a small-capacity blender can be used to make soup and chili in small batches. It's better to figure out what you're going to do with the blender before you get it, so you know what you're getting yourself into. This will also allow you to browse for the greatest price and quality for your requirements.
Stick blenders and countertop blenders are the two primary types of blenders. Countertop blenders have greater space and may be used at the counter, while stick blenders are smaller and used on the move. When searching for a new blender, take in mind that the size of your blender will influence the size of the container you'll need. A pitcher can also be used as a blender; however, this is only recommended for limited areas.
The Best Nutribullet 1200-watt Blenders
What we know about Nutribullet blenders is that if people are not searching for Nutribullet Pro 1200 watts, they're on the internet trying to read the best Nutribullet blender 1200 watts review. This is the second most searched consumer product on Amazon in 2018, indicating that customers are interested in learning more about it. People who are inquisitive about a product are more likely to investigate it further. The Nutribullet ZNBF30400Z is one of the highest-rated Nutribullet blenders, and that's because people who have used the blender only have good things to say about it. With 110 volts and 1200 watts, only a few blenders can boast better numbers.
1200-motor Base
For most folks, power is the most important thing in their blenders, and if you happen to be one of them, this is the perfect blender for you. Its 1200-motor base is more powerful than most blenders you can get your hands on right now, and that only shows how good of a blender this Nutribullet is.
It can handle everything you throw at it, and it does so considerably faster and more effectively than other blenders at blending ingredients. This is the blender for you if you want to get the most out of your ingredients while saving time. This Nutribullet not only performs admirably, but it also looks amazing while doing it. It features an ultra-modern design that will look excellent in your kitchen, and it not only blends in but also looks good while doing so.
A Powerful Stainless Steel Blade
The Nutribullet blender comes with a powerful stainless steel blade that is strong enough to cut through anything, even ice. The blade is made to endure a long time, making it easy to clean and preventing food waste. Food is pulverized into a smooth, creamy consistency by the strong motor and gear system. The end result is the healthiest smoothies, soups, and sauces you've ever had. Simply combine your favorite ingredients in the glass jar, and the Nutribullet will take care of the rest.
A BPA-free Pitcher
You'll also get to use the BPA-free pitcher that comes with the blender. The pitcher is manufactured of FDA-approved Eastman Tritan copolyester and may be used to hold both hot and cold beverages. It also has an integrated carrying handle and a wide base for stability when blending and pouring. It's also simple to clean the pitcher. It's as simple as rinsing it with warm water and soap or putting it in the dishwasher's top rack.
The ZNBF30500Z 1200-watt blender by Nutribullet is not so different from the one we mentioned earlier. The only difference between these two blenders is the capacities of their attachments, like the jar and the cups that come with them. This package comes with a 1200W motor base, an easy-twist extractor blade, a recipe book, two to-go lids, one tamper, one 32 ounces cup, and one 24 ounces cup. It is the perfect Nutribullet 1200-watt blender combo.
Easy Twist Extractor Blade
Every blender's blade is crucial, and the easy-twist extractor blade in this Nutribullet blender is no exception. The blade was created to break down difficult materials into a velvety, smooth consistency. The blade can also be washed in the dishwasher, making cleanup a breeze. This is a fantastic option for individuals who wish to use the entire container but don't have enough room for a larger one. It's also a wonderful option for anyone with arthritis or restricted hand strength.
The blade is significantly quieter than a regular blade, making it ideal for creating smoothies without waking up the rest of the family. The main drawback is that the blade doesn't have a high capacity, so if you want to produce a large batch of something, you'll have to make smaller batches. However, because the Nutribullet comes with a large pitcher, you can create a large batch of smoothies at once.
Three Precision Speeds
The Nutribullet blender also has three precision speeds, allowing you to completely control what you're blending. You can blend everything from smoothies and soups to baby food and frozen treats using high-speed, medium-speed, or low-speed settings. Because some blenders only have one or two preset speeds, getting the texture you desire for certain recipes might be challenging. You can change the texture of your mixes using the Nutribullet to properly match the dish you're cooking. Because of the three different speeds, you may make thicker or thinner soups and sauces.
A Pitcher and Two Cups
The cups and pitcher are two further features of this Nutribullet blender that you'll appreciate. The cups are BPA-free, which is essential if you're blending anything other than smoothies. Cleaning the pitcher is also a breeze. You may put your hand through a little hole in the bottom of the pitcher and then hold it under the faucet and run it under water to quickly get all the stuck-on items out.
Even though it's a single-serve blender, this Nutribullet blender has a lot of positive ratings, so you can tell how good of a choice it is. It's small, compact, and light, making it simple to store or even transport when you travel. This blender is quite versatile and can be used to prepare various things, including smoothies and sauces and soups, and even bread. It comes with a recipe book with various recipes to test out with this blender to better understand the benefits and potential of having a Nutribullet in your home.
This blender is a great choice for people who want a small, easy-to-store blender that is also powerful and versatile enough for various kitchen tasks.
Auto Shut-off Feature
Many purchasers are interested in the blender's auto shut-off feature, so this Nutribullet blender is an excellent choice for them. When you switch the system off, it stores the current blend setting so that when you turn it back on, it'll be ready to blend at the same pace and with the same components as before. This is useful if you're creating a large batch of something and don't want to risk the blender overheating and destroying your ingredients. This is particularly useful if you're preparing one smoothie and want to make another simultaneously without stopping and restarting the first.
High Torque Power Base
Another important feature of this Nutribullet 1200-watt blender combo with single-serve cups is its high torque power base. This function guarantees that the blades rotate at the appropriate pace. This is critical because it keeps the motor from overheating, shortening its life. This is an excellent function to have while making hot beverages because you don't want your drink to be watered down.
This also means you may produce larger batches of smoothies and other drinks without the blender's engine overheating. The blender's high torque power base also allows it to blend frozen items without additional time or preparation. The 1000-watt blender is ideal for individuals who want to prepare large amounts of smoothies, but the 1200-watt blender is better for making drinks, such as milkshakes and protein shakes. Both blenders are simple to operate and clean, making them ideal for anyone who wants to mix their protein shakes and beverages.
Frequently Asked Questions
Is Nutribullet a good blender?
The Nutribullet is an excellent blender. Smoothies, ice for drinks, and soups and sauces can all be made with it. The Nutribullet comes with a recipe book that includes a variety of dishes that use the Nutribullet's other components, including the blade, cup, and feed tube. The blender is also simple to clean and comes with a cleaning brush to keep it in good shape. The warranty is a wonderful addition.
Can you put ice in a Nutribullet 1200?
If your Nutribullet blender has adequate power, you can use it to crush ice. Adding a few ice cubes to the jar and seeing how long it takes to blend them up is the best way to evaluate if it has adequate power. The faster your blender can process ice, the more powerful it is. You don't have enough power for ice processing if it can't process ice. If your Nutribullet has adequate power, you can also use standard store-bought ice cubes.
Can a Nutribullet 1200 crush ice?
Yes, you can use a Nutribullet 1200 to crush ice because it has enough power and a strong blade to pulverize the ice.
Conclusion
The efficiency with which Nutribullet blenders prepare food has made them very popular. They can convert fruits and veggies into smoothies in only a few minutes. Unlike conventional blenders, which need you to pour the contents into the cup, the Nutribullet only has to be loaded with the ingredients and then turned on to process them. This tool saves you time and keeps your counters clean. They're also simple to clean, which is a plus.
In this article, we've reviewed the best Nutribullet 1200-watt blenders, so if you're looking for power in a blender, you should consider buying one of them.
ESTIMATED TIME DESIGNING AND UPLOADING THIS ARTICLE
ESTIMATED TIME RESEARCHING AND WRITING THIS ARTICLE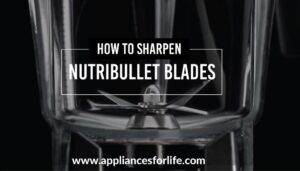 How to Sharpen Nutribullet Blades
If you own a blender and you don't maintain it properly, it's only a matter of time before the blender becomes damaged due to lack of proper maintenance. In this article, we're going to be discussing how to sharpen Nutribullet blades. There's no better way
Read More »