An immersion blender is also called a stick blender or a hand blender because of the way it is used. In the same vein, the larger category of immersion blenders for commercial use is called boat motors. From their usage, one can conveniently assume that they have some distinct features when compared to regular blenders. The immersion blender was invented in Switzerland by Roger Perrinjaquet, who patented the idea on March 6, 1950. An immersion blender comprises an electric motor- (It can not be ordinarily seen because it is housed by a container that is held by hand) driving rotating cutting blades at the end of a shaft that can be completely immersed in the food being blended. 
An immersion blender is a very effective kitchen tool that blends and purees perfectly. It can be used for blending soups, sauces, and other liquids in very large quantities. A newbie to immersion blenders will most certainly how to differ from regular blenders because, just like regular blenders, immersion blenders are used for blending. Despite the similarities, immersion blenders are made to serve distinct functions from regular blenders.
Differences between an immersion blender and a countertop blender
What makes hand mixer different from an immersion blenders is not always far-fetched. There are several noticeable differences between an immersion blender and its countertop counterparts. Speaking of the very basics, an immersion blender is a handheld blender and does not have a jar and you can insert its blades into almost any container including a large pot of soup, however, a countertop blender, from its looks one can point out that they feature a jar on top of a motorized base that sits on top of your countertop while blending.
An immersion blender comes in really handy when there is soup or other ingridents in large quantity to be blended or pureed. Usually, when ingredients are more than a blender full, a user will be forced to blend in batches. Yet again, you have to use another container for holding the blended soup when the job is done and this means using three separate containers, including the container for the unblended item. The second container for the blended item and the blender itself. However, with an immersion blender, all you need is a container where the item to be blended is contained, then, completely immerse the blender, swirl it around and you will find your ingridents properly pureed after a while of swirling.
The benefits of an immersion blender
Blend conveniently in one dish
A hand blender allows you to blend conveniently in the dish you are using to prepare your recipe. And this is why blending foods on a stovetop with an immersion blender is so easy. Moving recipes around for blending will not be necessary.
Unlimited Capacity
A good immersion blender is generally powerful enough to process nearly all kinds of recipes. They can puree foods like cooked meats, potatoes, vegetables, and so on without any difficulties at all. In addition to this feature, immersion blenders just conveniently fit into near containers, including; Whether jars, mixing bowls, or pots, Indeed, you can use immersion blenders in a variety of containers with ease, Hence, blending in large batches is never a concern.
An Immersion Blender allows for a quick cleanup
Regular countertop blenders may require a relatively long procedure for cleaning. In fact, some Vitamix blenders have a built-in self-cleaning system because of the complications that may be encountered in the process of getting them clean. However, an immersion blender does not need any of such designated cleaning procedures. Cleanup after using an immersion blender can be quick and easy by simply rinsing the blender arm and blades. 
Compact Storage
Unlike regular blenders, immersion blenders do not occupy a lot of space. They can easily be tucked away in a small drawer in your kitchen and they will be properly kept and safe. 
Variable Speeds 
Use lower speed settings for softer or liquid recipes like ultra-smooth gravy, batter, frothed milk, and more. Increase your speed for pureed soups with harder vegetable chunks, smoothies with fibrous greens, and even homemade nut batters.
Cordless Availability
With an immersion blender, you have the option of enjoying a hassle-free blending experience when you opt for the cordless type. This type of immersion blender is a great solution when you have a kitchen with limited outlets or multiple work areas. However, with a regular blender, you may just have to get a location with sufficient outlets before your blending can be done conveniently. 
The KitchenAid Cordless Variable Speed Hand Blender features a powerful rechargeable Lithium-Ion Battery to deliver optimal run time and performance, so you can cook wherever1, whatever, and however you choose. 
Versatile Attachments
An Immersion blender offers some versatility by affording a user the opportunity of fitting different blades for various suitable blending conditions.
You can sometimes buy Immersion blender attachments, like these available from KitchenAid, that can transform it into a handheld food chopper, powered whisk, and more.   
A hand mixer is a versatile addition to any kitchen as it effectively mixes, Whipps, blends, and even beats nearly any variety of foods. A hand mixer is an electric handheld mixing tool that works at variable speeds. Due to its compact design, it is very convenient for handling and it is indeed portable.
The Electric Hand mixer was preceded by a rotary non-electric egg beater. This appliance was really cherished in the kitchen decades ago but once the invention of the electric hand mixer was announced in the early 1900s, most users never looked back since then. This evolution was not a surprise because the electric hand mixer technology was significantly better than the former. Electric portable hand mixers are more efficient because they have constant power, thereby making the task of mixing much less stressful and time-consuming. However, note that rotary egg beaters have not been completely jettisoned as they are still available today. They're quite popular among campers or in remote areas where this is no electricity. Many households still have a vintage egg beater and use it occasionally.
Hand Mixer Uses and Benefits
A hand mixer can mix nearly anything that requires mixing. It is an excellent tool for whipping cream or eggs, mixing cake batter and cookie dough, and making things like icing and salad dressings. If you have ever had to mix cake butter by yourself, you will realize how tedious and time-consuming this task can be. However, with this very efficient tool for mixing, mixing becomes an enjoyable experience. Another very common use of an electric hand mixer is whipping boiled potatoes. This is so because it is simply the easiest way to achieve a completely mashed potato.
Undoubtedly so, hand mixers have earned a solid reputation as a versatile and practical food prep tool for the kitchen. Even those with a stand mixer may be reluctant to let go of their handheld model because it's more convenient for small mixing and blending tasks. Apart from that, it is easily maneuverable. You can swirl throughout every inch of your recipe bowl effortlessly. 
When it comes to caring for your hand mixer and cleaning it, a hand mixer has detachable metal beaters than can be easily cleaned in a dishwasher. If you do not own a dishwasher, a damp sponge or foamy material can conveniently wipe this device clean without any hassles. After wiping it with a sponge, place it under running water for rinsing and it is sparkling clean again.
That said, there are some limitations that may be encountered in the use of a hand mixer. Batters or foods with a heavy consistency can be difficult to mix with a hand mixer. It depends on the softness of foods and the power of the mixer. In addition to that, it is just standard practice that some ingredients should never be mixed using a hand mixer. A good example is a chocolate chip cookie, the chips should be stirred into the dough by hand at the very end. If your electric hand mixer were to be used for that task, the motor may be destroyed in no time.
Buying a Hand Mixer
With all the benefits that a hand mixer affords, one will think that it comes at an exorbitant market price but this is not the case. You can often buy a good-quality hand mixer for less than $50. Unless there is a design advantage, it's not necessary to pay a lot for a basic unit, which would include three or four speeds and one set of beaters. Things that influence price are the number of speeds, the power output, and additional accessories.
A hand mixer and a hand blender are two separate appliances with varying functionalities, although there are some tasks than can be effectively performed by both appliances. Immersion is best used when cutting, pureeing, and blending are necessary. An immersion blender can effectively chop vegetables. In fact, it is one of the easiest ways to achieve an even-sized veggie cut. It produces a fine texture that is easy to insert into dishes like a casserole. An immersion blender also has blades that puree an entire batch of veggies at once and can also further break the same into the semi-thick liquid texture.
On the other hand, a hand mixer utilizes a technique called "direct-drive" because they employ the friction of two different surfaces for thorough mixing. The friction is caused by an arm that is connected directly with an electric motor using gears engineered to boost torque even at lower RPMs. It is a perfect appliance for those who love baking and cooking. It is also utilized for making dough and some cookies. Most importantly, hand mixers are great for those who have limited mobility or arthritis as they require less muscle power than some other equipment, such as the stand mixer. 
From the above, you will find out there are fundamental differences between a hand mixer and an immersion blender. You'll observe that a hand blender is more of a liquidator, as it renders the food liquid. That's why using a blender you can make smoothies, milkshakes, or sauces quite easily than in a mixer. Hence, they are also called food processors.  On the other hand, a hand works nothing like a liquidator, rather, its job is to mix ingredients together so that they completely blend. Note also that, from the apparent features of an immersion blender, you will discover that it is quite suitable for processing foods. Hence they can also be referred to as food processors but a hand mixer works on very different principles.
FAQs
Can you use a hand mixer and an immersion blender interchangeably?
Frankly, whether or not a hand mixer and an immersion blender can be used interchangeably depends on the particular task at hand. In some cases, both devices can be used interchangeably, especially when your goal is to whip cream and egg whites You can use an immersion blender and a hand mixer to achieve the desired results.
Can Immersion Blender Replace Hand Mixer? 
No. An immersion blender cannot replace the hand mixer. Powdery ingredients or loosely chopped ingredients are best for a hand mixer. Blending ingredients is not ideal with hand mixers but is suitable for immersion blenders.
How can I sustain the Longevity of my Immersion blender?
Most immersion blender owners want to maximize the lifetime of their appliance. Chances are, so do you. In order to maximize the lifetime of your blender, follow all care instructions that come with your blender. Remember not to immerse the blender in water, and do not fully immerse the unit into any type of liquid. Do not plug the machine up except on those occasions when you are using it, and keep it clean. These are things that greatly enhance the usage and the lifetime of your unit. 
ESTIMATED TIME DESIGNING AND UPLOADING THIS ARTICLE
ESTIMATED TIME RESEARCHING AND WRITING THIS ARTICLE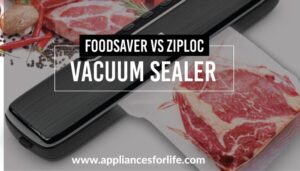 FoodSaver vs Ziploc Vacuum Sealer
Comparison will always be drawn between the biggest brands in every industry just like we've seen over the years. When it comes to the production of quality vacuum sealers, the Ziploc brand has been a big contributor. The Foodsaver brand has not contributed less either,
Read More »