Blender usage has taken a great turn since the start of the 21st century, with technology coming into play heavily to impact every household appliance including the blender. As a result, we've seen the sales of blenders in the United States and the rest of the world skyrocket over the years, and brands like NutriBullet, Ninja, Vitamix, and Blendtec have been in the middle of the great popularity blenders are enjoying. These brands have contributed greatly by consistently producing quality blenders that consumers find very appealing, hence why they spend so much money acquiring them.
Today, there are overwhelming options on the market as long as blenders are concerned, and that's to show how big the industry has become. Coming from a place where blenders were only famous for milkshakes and smoothies to living in a modern world where they're tasked with greater things like crushing ice, preparing hot and cold liquids, pureeing baby food, and many more – the transition may have caught a lot of people off guard, but it had been coming. If you've been following the progress of blenders over the years, you'll realize that they were bound to be very popular because they were created just when people needed something to make their domestic operations easier for them.
Struggling to crush ice with your blender? Check this article to learn more about how to crush ice in your blender.
With people looking to improve their health, blenders have been at the center of that positive change. That explains why blenders are now very popular in the world today, in the United States and the rest of the world. High-performance blenders like Vitamix, NutriBullet, and Blendtec are now dominating the blender market, with those manufacturers experiencing great revenue turnovers realized from sales.
High-powered blenders are the Ferraris of blenders, with unmatched power (usually measured in wattage), blades, and capabilities that set you on course to do things personal blenders would not even dare. A lot of folks will argue that a blender is a blender, and while that's true, there are levels to how you can process your food ingredients as different blenders promise different results. According to Simply Recipes, high-speed blenders are a beast, and they can process ingredients in seconds, leaving you with great results at the end of the day.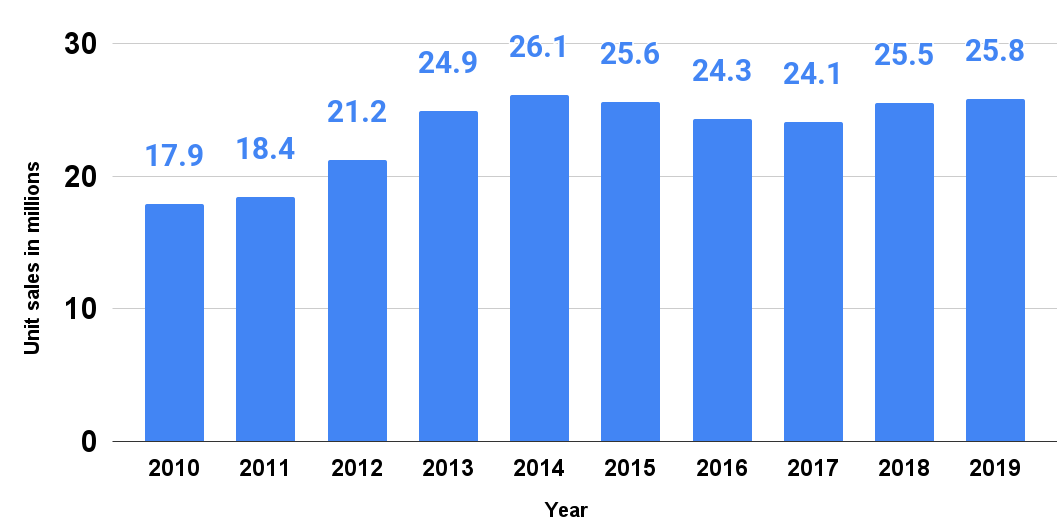 Over the past decade, people have gotten so used to blenders that they now regard them as "must-have" in every household not just across the United States, but also the rest of the world. As a result, sales have gone over the roof with many people coming to terms with the fact that they need blenders in their homes to help keep their domestic dreams alive. The fact that blenders also help you maximize the time spent in the kitchen, giving you the chance to focus on other parts of your life, makes them an important tool to have in the house.
If you take a good look at the chart above, you'll see that it indicates the unit sales of blenders in millions in the United States from 2010 to 2019. The best year for blenders so far was 2014 when 26.1 million units of blenders were sold. The years before and after that year show just how improved the blender market is, and unsurprisingly, things look bright for the market as many blenders are expected to be sold in the coming years.
The chart was created using the information provided by Statista's lead researcher for communications and technology, Arne Holst.
Knowing how to use a Bullet blender which also includes how to put together a NutriBullet blender is something everyone that owns a NutriBullet blender has to know. The best NutriBullet blender instructions/directions or Magic Bullet instructions are the ones you'll find you'll find in a NutriBullet manual pdf (for those who can have access to it) because that's where you can get a detailed guide on how to operate your NutriBullet blender. Your knowledge of how to work a NutriBullet blender will always help you through certain situations. Before we get into how to use a NutriBullet blender, let's quickly take a look at the things that make up a high-performance blender which is exactly what you should look out for when you're on the market for one.
What Makes A High-powered Blender?
A few decades ago, there was nothing like a high-powered blender because all the blenders were more or less functioning the same way, and the only difference was how each was designed. However, over the past few years, a new category of blenders has broken into the market, and with this, manufacturers have a chance to showcase their prowess, with the top guns using this category to claim bragging rights. People have taken a special interest in this category, and today, high-powered blenders remain one of the most popular blender types on the market.
You won't know how much a high-performance blender is needed in your kitchen until you find yourself in a situation when one is indeed needed. High-performance blenders have what it takes to help you get through some situations in one piece, leaving you with perfect textures whenever you try to blend different ingredients, regardless of how tough they are. Are you wondering what makes high-powered blenders different from the rest? Check below for the answers you need.
Power
Power is one of the things that set high-performance blenders apart from standard blenders. Blender power is usually measured in wattage, and the higher the wattage, the more powerful the blender is. They're called high-powered blenders because they are more powerful than every other blender type on the market today.
We often see high-performance blenders come with up to 1,560 watts of power, an extraordinary feat that can only be achieved by blenders manufactured by Vitamix, NutriBullet, Ninja, and KitchenAid, and Blendtec. In terms of power, some blenders are more powerful than some other household appliances like washing machines, microwave ovens, refrigerators, and many more. While wattage is often the most considered factor when choosing a high-performance blender, the motor speed is also very important, although many people don't pay attention to it.
According to Nutrition Refined, the best way to compare high-powered blenders is to sometimes convert wattage to horsepower by multiplying the watts by 0.00134. Take for example a blender that has 1,560 watts of power, to determine the motor speed, you'll have to multiply 1,560 by 0.00134 which gives us approximately 2 horsepower. With the example, we hope you now know that the higher the wattage, the higher the horsepower.
Capabilities
Once you're done looking at the power, you might want to check out the capabilities. High-performance blenders are always more capable than ordinary blenders as the latter can only handle little food processing tasks like cutting soft fruits for smoothies and making simple soups. People invest heavily in high-powered blenders because they can do more than just handling soft fruits for smoothies or making simple soups.
People never thought heating soup in a blender was possible until high-powered blenders were produced and people began to realize they could be used to process hot and cold liquids just like the ones we have here. You can cold food ingredients into hot soup in less than 360 seconds with a high-performance blender. Blendtec claims that its blenders can heat room temperature ingredients to 120 degrees F in just 90 seconds, while it takes other blenders about 6 minutes to get this done.
High-performance blenders can also be tasked with grinding grains and coffee beans. All required of you is to add about 1 and ½ cups of wheat to your high-performance blender before blending at a high speed. Most people are opting for high-performance blenders to help get their hands on gluten-free diets that are growing very popular in the United States today.
Controls
When you invest in high-powered blenders, you'll have access to more controls than you would if you opted for conventional blenders. Blender controls are what sets high-performed blenders apart from traditional blenders. Experts believe that a three-speed blender is enough to do whatever it is you intend to do in your kitchen, but have you seen a high-performance blender in operation yet? Some of them are packed with as many as 10 speeds with several pre-programmed functions that are specially made for some ingredients.
Some high-powered blenders come with automatic operations that don't require your presence when the machine is in operation. All you have to do is to set the machine to a particular function, and with the right ingredients, the machine will automatically stop as soon as the cycle is done. High-powered blenders like the Vitamix A3500 are packed with many program settings and blend speeds. The A3500 features five different program settings and a 10-speed dial which are perfect for common recipes like soups, purees, smoothies, frozen desserts as well as a cleaning cycle.
Another powerful blender, Blendtec Designer 725, offers about 100 different speed settings as well as six pre-programmed settings that include cycles specially made for ice cream, hot soups, smoothies, salsa, whole juice, and self-cleaning. This blender can get your smoothie ready in less than a minute (precisely 40 seconds). To crush ice, you only need a few pulses to get the result you want. Those who think investing in high-powered blenders is not a necessity need to look at these things properly before making their decision.
Other factors include;
Design

Containers (blender jars)

Quality of blades

Lids

Technologies

Warranty
What Can You Use A Nutribullet Blender For?
Nutribullet blender tutorials often consist of how to start a Nutribullet blender, different Nutribullet blender settings, Nutribullet directions for use, and how to load a Nutribullet blender, but what's always missing out are the things you can do with your Nutribullet blender. When you're planning to own a Nutribullet, one of the most important things you need to know about the blender are the things you can do with it. This way, you'll be protecting your investment at all costs, getting the best value for your money while also maximizing the blender's functionalities.
Some of the things you can do with your Nutribullet blender according to Kitchen Seer includes;
Grind coffee beans, seeds, herbs, and nuts.

Blend cocktails, shakes, punch, and smoothies.

Liquefy veggies, nut butter, yogurt, and fruits.

Puree sauces, soups, vegetables, and fruits.

Froth milk.

Mill spices and grains.

Emulsify sauces and dressings.

Make frozen desserts and crush ice.

Make baby food.
How To Use A Nutribullet Blender
Nutribullet blenders are some of the best blenders on the market, and not only can they whip up your smoothie properly – they can also do a whole lot more than just making your favorite smoothie. What a Nutribullet blender does is to help process your ingredients such that you get the best nutritional value from every blend process. If you're planning to get a Nutribullet blender, or you already own one but you're not familiar with how it operates, then our ultimate guide on how to use a Nutribullet blender is what you need. Check out the important steps below.
Pick the right jug and blade
Nutribullet blenders come with a couple of jugs and blades, leaving you to choose which sizes best suit whatever you're trying to make before going through with the whole process. The smaller jars are often more ideal to make smoothies while the larger blender jars are more ideal for soups. Just like with the jars, you can also choose the perfect blade for every food you're trying to process. The choice of tools with Nutribullet blenders is what makes them better and more ideal to some people than other blenders, and that's what you'll also get to enjoy.
Wash your ingredients
This is something most users are guilty of, but for their own sake, they should pay more attention to it just like every other step on this list. Before putting your ingredients in the blender to be processed, try as much as you can to wash them properly. Washing them will help you get rid of any dirt that may be on your ingredients, especially if you're using fresh fruits and veggies.
Chop the ingredients
Putting whole ingredients in your blender without chopping them will not get you the texture you need at the end of the day. Since the goal is to have the healthiest meals possible available to you, always make sure that you cut the ingredients into smaller pieces before putting them into your blender.
Add your desired liquid
Liquids are important in layering your smoothies and other meals you're preparing. As soon as you're done chopping the ingredients into your blender, proceed to add your desired liquid into the blender.
Shake the blender if you have to
Sometimes, some ingredients may be stuck between the blades. When this happens, shake the blender slightly to get the ingredients back into the liquids.
Clean your blender properly
One of the best things you can do to keep your blender in good shape is to always clean it properly after every use. Do this to your Nutribullet blender to ensure longevity.
Frequently Asked Questions
1. How do you turn on a Nutribullet blender?
The first step is to plug the power base into an electrical outlet before pressing the power button which is located some 90 degrees to the left side of the blender base.
2. Can you put ice in a Nutribullet blender?
Nutribullet blenders are perfect for ice. You can use it to crush ice and frozen fruits to make your smoothies and frozen desserts.
Final Thoughts
Nutribullet blenders are rated very highly on the market because they're some of the best blenders today. Sadly, a lot of folks who own them are not so familiar with how they operate, leaving them not to fully maximize the blender. In our step-by-side on how to use a Nutribullet blender, we've highlighted the steps involved in properly using your Nutribullet blender.
ESTIMATED TIME DESIGNING AND UPLOADING THIS ARTICLE
ESTIMATED TIME RESEARCHING AND WRITING THIS ARTICLE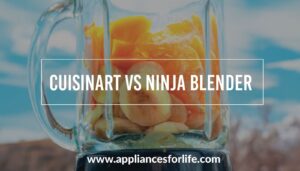 People drawing comparisons between two of the biggest blender brands has now become a norm, and that's why these days, we see topics like "Ninja vs Vitamix blenders" and "Cuisinart vs Ninja blenders" gaining lots of attention from blender users on the internet. On the
Read More »