Blenders today cover a range of tasks which would otherwise be difficult to create without this gadget. You can make soups, sauces, smoothies, cocktails, baby food and literally anything that needs to be blended down. By making these homemade dressings, sauces, soups and smoothies you are getting a load of healthy goodness in one place. Smoothies are really nutritional and fruit cocktails will give you that burst of energy you need in the morning. When you are considering buying a blender you need to consider power, size, style and most importantly budget. If your budget is under $100 then we have you covered because our team of experts have chosen the top blenders in this price range for you to choose from.
As an Amazon Associate we earn from qualifying purchases. We may earn a small commission for our endorsement, recommendation, testimonial and/or link to any products or services from this website. Thank you, your qualifying purchases help support our work in bringing you real daily gift ideas.
Get the Best Blenders Under $100. Check the comparison chart below:
| Image | | | | |
| --- | --- | --- | --- | --- |
| Item | Hamilton Beach 59765 2-Speed Hand Blender | Ninja Professional Blender (BL610) | Oster Core 16-Speed With Glass Jar | KitchenAid KSB1325BM Blender in Matte Black |
| Color | Silver | Black | Brushed Chrome | Matte Black |
| Other Details | One-touch control, 2-speed multi-tool, Chopping bowl. | 1000 watts, 64-ounce maximum liquid capacity. | 16 different speeds, Food processor attachment, 700 power watts | Optimal ice-crush setting, Soft-start feature |
| Weight | 2.7 pounds | 7.1 pounds | 9.0 pounds | 8.13 pounds |
| Editor's Rating | ✸✸✸✸✸ | ✸✸✸✸✸ | ✸✸✸✸✸ | ✸✸✸✸✸ |
| | | | | |
Hamilton Beach 59765 2-Speed Hand Blender
Our top immersion hand-held blender which is great value for money is the hamilton beach. It can be used to chop easily in the bowl and has removable blades to make for easy cleaning which you can pop right into the dishwasher. One tool can be used for a multitude of jobs which include chopping, blending, mixing, whipping and is really powerful and practical.
This hand blender is really convenient and compact to store away which means in the smaller kitchens you can make the most of the space you have and as we have already stated it is great value for money.
Try out this amazing, healthy, detox soup recipe in your blender.
Ingredients:
2 1/2 cups (600ml) filtered water

1 cup firmly packed baby spinach leaves

1 small avocado, pitted and peeled

1/2 English cucumber, roughly chopped

1/2 cup firmly packed mint leaves

2 tablespoons fresh lime juice, plus more to taste

1 1/4 teaspoons Celtic sea salt, plus more to taste

1/4 teaspoon freshly ground black pepper, plus more to taste

1 small garlic clove
Put every bit of your ingredients in the blender and set the machine to blend on 'high' for about 30 to 60 seconds until you start getting a creamy and smooth result. If you notice the soup is too thick, you might decide to add more water (this is a matter of choice). Add salt, pepper, lime juice, and mint; then serve immediately. Enjoy!
Ninja Professional Blender (BL610)
This professional blender by Ninja is a popular choice for people who blend in large bulks. It has a sleek, modern design and runs on 1000 watts of power making it powerful, practical and pretty. This is a commercial grade blender and is really great value for money. It features a crushing technology which makes pureeing, blending and processing easier than ever before. You can crush ice, fruits and vegetables literally within a matter of seconds with this blender used by the pros. You can make smoothies for the whole family with the generous 64 ounce pitcher and all parts can come detached easily so you can conveniently pop in the dishwasher for an easy clean up process. The design is black with stainless steel accents which make it modern and elegant. We love this model and it really does get all those blending tasks done quickly and with ease. This is also a five star rated model and customers who have purchased this are more than satisfied with the durability and quality with which Ninja makes their blenders.
Baby Food in the Blender – Banana and Raspberry
Ingredients:
1 banana

½ c raspberries (rinsed)
Directions:
You definitely know the type of finish you want. How do you get it? Put all your ingredients in your blender and puree till you have your desired result. This is an ideal recipe for everyone in the family, both old and young. Make a batch and freeze it for future use.
Baby Food in the Blender – Healthy Oats
Ingredients:
⅜ c water

1 tbsp oats (non-instant)

1 tbsp raisins (chopped)

½ small banana (very ripe, mashed)

1 small pear (peeled, cored, and diced)

½ tsp milled flax seeds (optional, to help relieve constipation)
Directions:
Put all your ingredients in a pan and boil over medium or low heat after which you'll allow it to simmer for about 10 minutes. Transfer all of the mixture to your blender and puree until you get your result.
This is a very helpful recipe for a baby who's having constipation. Even children who do not have digestion complications will still benefit greatly from this as it is filled with vitamins and nutrients without added sugar.
Oster Core 16-Speed With Glass Jar
Again in the mid-price range we think this blender is great value for money. It has a really sleek design with a five speed control that ensures the correct speed is maintained during blending. It is made from shatter resistant and BPA free material and we love the LCD timer on it with illuminated buttons for ease of control.
We can't fault the design either, it is sleek and easy to clean and the stainless steel finish completed the modern look. Most blenders blend unevenly but this blender has the technology which has blades which pull down the food from the top to the bottom so you get smooth results every time. The whole family can rely on this stylish blender for everyday use which is easy to use and easy to clean. If you purchase this great gadget then have a go at these amazing recipes to try at home.
Fruit and Yogurt Smoothie
1/4 cup pineapple juice

1 cup strawberries

1 teaspoon orange juice

1 teaspoon milk

1 banana

1/2 cup yogurt

1 ½ teaspoons of sugar
Directions:
Put banana in the blender and blend it with pineapple juice, orange juice, milk, yogurt, sugar, and strawberries until you have a smooth texture.
Parmesan Balsamic Vinaigrette
Ingredients
2 Tablespoons (30 ml) balsamic vinegar

1/2 lemon, peeled

1 small garlic clove, peeled

1 teaspoon salt

3 Tablespoons (8 g) blend of fresh basil leaves and fresh thyme leaves

1/4 cup (20 g) finely grated Parmesan cheese

1/4 teaspoon ground black pepper

1/2 cup (120 ml) extra virgin olive oil, divided use
Directions
Put your fresh herbs, lemon, balsamic vinegar, salt, garlic and olive oil into a Vitamix container before locking the lid.

Choose 'Variable 1' turn the machine on and slowly increase the speed to 'Variable 6'.

Blend this mixture for about 5 seconds before you remove the lid plug.

Add the remaining oil through the lid plug and increase the speed to Variable 10.

You can blend for extra 15 minutes until you have your result.
KitchenAid KSB1325BM Blender in Matte Black
We really like the style and design of this blender and it is in the mid price range. You can get it in dark grey, black matte, blue velvet, passion red, white, and onyx black. The thing we love about this blender is that you can get to all the places you need to with these different lengths which make it more practical. It also comes with Intelli Speed Motor Control that helps sense. You can choose your desired speed, two speed, three speed or five speed so you can get flawless blender results each and every time.
The Best Blenders For Money
First of all we have to say a blender is a versatile kitchen tool that every kitchen should have. It can do so many things from soups, sauces to baby food and smoothies and we love them. If you browse around the market and get the right blender then you will be re-born. Buying a blender is a really good investment and one you will be happy with. Before you go on and purchase the first blender on amazon here are some things you need to know.
First of all there are two types of basic blenders, a countertop blender and what is known as a stick blender or an immersion blender. From these two types of blenders there comes many variations but always keep in mind its original function – to blend. If you will only be using a blender to make soups and milkshakes then a stick blender will do you just fine but if you have other things in mind then go for the more durable countertop blenders which have more power. Blenders start at around 200 watts in power and go up to around 1,000 which is the most powerful and will blend the harder foods like nuts for example.
After some heavy research and all night reading our experts have found the best blenders regarding first price and function and then style and size. Check out our list of best blenders for smoothies and best blenders for green smoothies if that is the exact function you want it for.
Immersion Blenders – Best for Small Spaces
Even though immersion blenders are small it really is amazing what you can do with it. It might not be as versatile as a countertop blender but it actually does more than you think. It can be used to puree food, make milkshakes, smoothies and even aerate wine! An immersion blender can do most things that the more expensive professional blenders can do. We are talking about homemade mayonnaise, whipped cream, butter, salad dressings, sauces, fruit smoothies, pesto, mash potatoes and various baby foods. The sky really is your limit. The one thing we love about immersion blenders is they save a lot of space. If you have a small kitchen with limited countertop space a blender will take up a lot of room and is hard to store away. So, if space is an issue in your kitchen then going for the immersion blender is perfect. Most good models have attachments that come with them or ones that you can buy separately which will turn the blender into a food processor or a whisk for example.
Countertop Blenders – Best For Heavy Duty Blending
Although we love immersion blenders because they are so versatile it won't get every job done as well. For example it won't blend ice to perfection or make silky smoothies from chunky veggies. For those more heavy duty tasks you will need a countertop blender. After you have considered what your budget is then you next need to consider power, speed and the jar size as these are all key factors in choosing the right blender for your kitchen.
When you consider the power of a blender don't forget they are measured in watts so the higher the wattage the more powerful the blender will be. If you are looking for a blender that blends everything super smoothly like nuts, ice, vegetables and grains then purchase the highest wattage you can find.
Countertop blenders because made for heavy duty blending can sometimes have up to ten different speeds but not everyone uses that many so if it has ten different speeds it might not be practical for you. Unless you are looking to do something extra specific with the blender then a blender with a pulse mode and three or four settings of speed should be enough and if you get one with the ability to crush ice then that is a plus too.
Last but not least the jar size is important and something else you need to consider. The standard jar size is usually around six cups but a lot come in smaller and also larger sizes. Sometimes a shorter jar that is wider offers a better blending experience than the taller, slimmer jar sizes because you can fit larger sized veggies into it and also increases the overall stability of the blender.
Frequently Asked Questions
Can I put glass in my blender?
High-end blenders come with powerful blading systems that are capable of crushing ice to pieces without causing your machine damages. However, if you are not using a blender that comes with this feature, you shouldn't try crushing ice with it; hence, your blender might get spoilt.
How many watts does my blender need to have before it can crush ice?
For your blender to comfortably crush, it needs to have 300 watts and higher. Might be 450, 500, 700 or 1000 watts. The higher the watts, the stronger the blender's blade.
Blend, Blend and Blend Again
We have shown you our top three choices of blenders under $100. Although inexpensive these models are powerful and practical and perfect for everyday use whether it's for a smoothie or a soup. Get creative and have a go at our recipes or just chuck everything you have in the fridge in the blender and see what happens! Impress your guests and invite them over for a smoothie party and get everyone trying out new recipes. You will love your blender and it will change the way you work in the kitchen forever.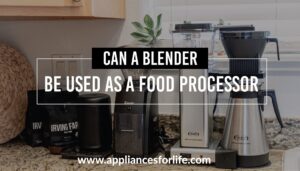 Can a Blender Be Used as a Food Processor
For every homeowner or anyone who's in charge of a family, food processing is always seen as a big deal, and rightly so. Food is one of the most essential things we need to survive as humans. Moreso, food is needed to keep both our
Read More »