The popular saying "You don't know the value of what you have until you lose it" applies to the concept of a water heater in a great way. You won't know just how important the water heater is until the morning of a cold winter season and you can't get it to make your water warm. The need to have a good water heater in the house hasn't changed over the years. You will argue that there are other ways to get hot water around the house but we bet there's not a single one that offers the same convenience a water heater offers. The convenience that comes with having hot water readily available is one of the things that make the water heater an important component in the house. The integration of technology in the plumbing system has even made things more modern since that's what technology is supposed to do after all. There are now water heaters that don't consume as much energy when compared to the older ones, but that's not the point. Before you begin to see signs your water heater is going out, you must have skipped a couple of maintenance routines that could have kept the water heater in good shape.
A lot of people don't actually see the importance of the water heater until something goes wrong. People believe that the water heater is not one of those elements that need to be properly looked after to keep them in proper shape, but that's where they're wrong. The water heater needs the right amount of maintenance to keep it running in good conditions and working at the highest level. People need the water heater installed in the house for different purposes that range from bathing to washing clothes. Knowing the water heater creates a convenient way for you to get all these things done is enough reason to maintain it the right way. There are common hot water heater problems but before these problems are signs of a bad water heater.
A lot of folks believe that the water heater doesn't play any significant role in keeping the activities in their homes together, but that's such a wrong thing to live with. The water heater needs the right amount of maintenance that you would give to the other components in the plumbing system in your household. Before we get into the different signs your water heater is going bad, we'll take a quick look at some of the best methods to maintain the water heater and keep it in great condition so it can serve you for a long time.
Maintaining your water heater
Maintaining anything in the house is very important because apart from keeping that tool functional, it'll also ease the stress on your pocket because you're not going to have to spend money either fixing or replacing the water heater. Some of these maintenance methods are things people need to get used to because they will be important in keeping the water heaters in their respective homes in good shape. According to Greens Plumbing Co., a properly-maintained water heater can serve you for up to 10 years without having to make some big changes.
Flush the water heater regularly
This is one of the most important parts of every maintenance process as long as the water heater is concerned. Experts have advised that flushing the water should be done every 6 months to help keep it in good shape. This way, every unwanted mineral, solid residue, or accumulated dirt in the tank will be flushed out of the water heater. If you let these particles dwell in the water heater for so long, you'll be doing more harm than you'll ever imagine, and the worst-case scenario would be to replace the water heater which will cost you more money. The good thing about this process is that it is very easy to do. It can be achieved by draining a couple of gallons of water from the bottom of the water tank. By doing this, you'll be getting rid of those unwanted elements like sediments and accumulated we talked about earlier. You can also decide to drain the water through the drain valve which is a great alternative.
Look out for the anode rod
Another great way to ensure the proper functionality of your water heater is by regularly checking the anode rod. The anode rod can be found in the tank, and its job is to prevent corrosion. The best time to check the anode rod is a year after installing it for the first time. After the first check, a check should then be performed every three years. To know if the anode rod is still functioning properly, you're going to have to drain about 5 gallons of water from the heater, after which you'll unscrew the anode rod and pull it out. A functioning anode rod won't look out of shape and won't also appear corroded. Otherwise, you should know the rod has been compromised and it's time to get a new one.
Wash the tank weekly if it's a new water heater
This is an important thing a lot of people are guilty of out of the excitement of getting their water heater running as soon as possible. It is advisable to get your water tank washed weekly for the first three months after getting a new water heater. The reason is that sediments can build up in the water tank if you refuse to wash regularly for the first few weeks after getting it, and since that's where the water heater takes water from, it will most likely affect the water heater. Part of the maintenance procedure is to check the condition of every component in the plumbing system in your space.
Signs Your Water Heater Is Going Bad
If your water heater stopped working, you must have missed a few signs indicating that something was about to happen to it but they were ignored. The water heater doesn't just break down out of the blue. Team Homeserve thinks that the earlier you can recognize these signs, the sooner you can get things fixed and avoid bigger damage to your water heater. Troubleshooting hot water heaters is not as complicated as people think, and the best way to start is by identifying the problems. It won't have to get to that stage if you look out for the right signs that something might be wrong with the water heater in your plumbing system, and below are some of the most common bad water heater element symptoms.
Unstable water temperature
This is a very common sign your water heater is going bad, and if you don't move to fix it as soon as possible, it might cause your water heater to be damaged. is is one of the most popular signs your water heater is going bad, and if it's not corrected as soon as possible, it can lead to great damage to your water heater. Unstable water temperature is when the water heater produces cold water now and hot water the next minute. The fluctuations in the water temperatures can easily be ignored because some people consider them normal. What most folks don't know is that the irregularities in the temperature might cause the water heater to shut down completely and not work ever again until it's fixed or replaced.
SOLUTION
The best way to correct this is to make sure that the water heater thermostat is set to your desired temperature.
Leaking water heater
Water leaking from your water heater is another sign your water heater is going bad and it is one of the most common problems with the hot water heater. It sometimes shows that there's a serious internal failure that needs to be sorted out as soon as possible. Leaking water happens around the bottom of the tank or from the unit, but moving as soon as you find out something could be wrong with it would help you curtail whatever internal problems could be wrong with the water heater.
SOLUTION
Since safety is an important part of any troubleshooting process, it is advisable to start the process by turning off the electricity connecting to the unit. Proceed to the next step which is checking the pipes and other things that are connected to the unit to ensure none of them is not fitted wrongly. If you notice any irregularities in the way these elements are fitted, you need to tighten them back properly.
Smelly or discolored water
Getting strange colors or smells from the water coming out of your water heater is another water heating symptom that needs to be taken very seriously. This usually indicates that there is either rust or bacteria in the water tank. In other cases, it may mean that the anode rod, which is usually found in the tank to kill bacteria or corrosion, is damaged.
SOLUTION
Since this might be a problem from the water source, you might want to get it checked out because it'll leave bacteria or sediments buildup in the water heater and cause it to be damaged if you don't move to get rid of the problem from the source.
Constant need of expensive repairs
If the water heater is making your spend more money on repairs than it should, then you should know that it's high time you found a replacement for it. Only two things can be the culprits for a problem like this; the water heater was never a good one or it's getting old. Old age can cause the water heater to start malfunctioning, and it's only normal if this is the cause. According to David Leroy Plumbing, most water heaters usually have a lifespan that falls between 8 and 10 years. Once they reach this point, they start to wear out and the best thing you can do in this case is to replace them. Once you notice you're spending more money than you should on repairing water heaters, it's time to get them replaced and get quality ones.
SOLUTION
The only thing you can do in the case where you have your water heater wearing out as a result of old age and you're having to spend more money repairing it is to get it replaced with a new and more efficient one.
Other signs your hot water heater is failing
The water heater is on the older end of the spectrum

Creepy sounds

Reduction in water flow

The water heater isn't producing enough hot water
Frequently Asked Questions
1. How do you identify hot water tank issues?
Hot water tank failure is not so hard to figure out if you follow the right steps. Firstly, you need to be on the lookout for important signs that may indicate that something might be wrong with the hot water heater. Some of the signs we've discussed in this article are great to be considered.
2. How do you tell if your water heater is going bad?
It is always important to take note of the early signs given by the water heater that indicate that something may be wrong with it. These signs have been explained in this article, and we hope that they help you find the answers you're looking for.
Conclusion
There are so many common water heater problems that include the top of the hot water being very hot or the water heater is not filling up at all. These problems always come with early signs, or may even be the early signs themselves sometimes. Thankfully, the troubleshooting procedure is not as complicated as most people think. When detected early, some of these problems won't even cost you a penny to fix. We have highlighted some of these common signs and how they can be fixed if they are detected early.
ESTIMATED TIME DESIGNING AND UPLOADING THIS ARTICLE
ESTIMATED TIME RESEARCHING AND WRITING THIS ARTICLE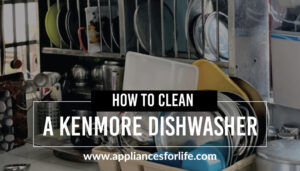 How to Clean a Kenmore Dishwasher?
It is convenient to assume that dishwashers are a luxury that are not needed since handwashing does the job pretty fine. However, it is certain that an individual or a group who has to wash in large numbers will have a contradictory opinion. Dish-washing has
Read More »