Using a vacuum sealer comes with a host of benefits, although a lot of people haven't realized that yet. When you compare traditional food preservation methods, some of which still exist in the modern world, to the new tech-inspired ways of preserving food spearheaded by refrigerators and vacuum sealers, you'll realize how far we've come, and the essence of technology in the world we live in today. That's not to brush the traditional methods aside or render them obsolete.
We still have traditional methods that still work effectively today, but the difference between them and the tech-inspired methods is so glaring. After all, we have Mylar bags that still combine well with vacuum sealers to produce amazing results. That is a confirmation that even the old methods can be combined with the new ones to produce effective results. However, those who have adopted the different methods from two different times in history can tell the obvious differences between these methods.
The role modern appliances play in the world we live in today cannot be overemphasized, and even that would be an understatement because it doesn't do enough justice to the claim. From smart refrigerators that can combine well with other smart appliances in the house to make life easier to portable vacuums sealers that can be used for clothes, we can all agree that it's a great time to be alive because we have modern appliances to help us get through each day in one piece, especially our domestic obligations. If you think having modern appliances in the house is one of people's many ways to show off wealth, you should think about it twice.
According to Heather G. Haight of Medium, in her words, "Most of the people, who want a good lifestyle, will agree that having modern appliances are not a luxury but a necessity." Her idea of what modern appliances are is something we also strongly believe in. In a world that is filled with hectic lifestyles, where we now barely have time for our domestic obligations, you'll agree that having these modern appliances in the house does more than the basic things. Life automatically becomes more enjoyable with these modern appliances. After all, you'll have enough time to focus on other things in your life because you know the domestic aspect will leave you with enough breathing space.
Benefits of modern appliances
When you're looking to fill your kitchen with appliances, you should always consider purchasing modern appliances, although you should be prepared to spend more than you would have if you were to opt for their traditional counterparts. There are a host of things you can benefit from having a kitchen full of modern appliances, and some of them include;
Modern Design
People don't often admit it, but one of the reasons people try to have as many modern appliances in their homes is to make their spaces look modern. It may not always be the primary objective, but this comes to the minds of a lot of people when making the conscious decision to fill their spaces with modern appliances. You'll argue that, perhaps, design should not be a major factor in deciding on which appliances to purchase. That may be right, but what's also right is that a lot of folks are very conscious of how these appliances can help make their kitchens or homes look better than before. Needless to say that one of the many functionalities modern appliances are packed with is to help lift your space. Today, appliances now come in different designs and styles that will add that different look to your kitchen, giving it that modern look you've always wanted.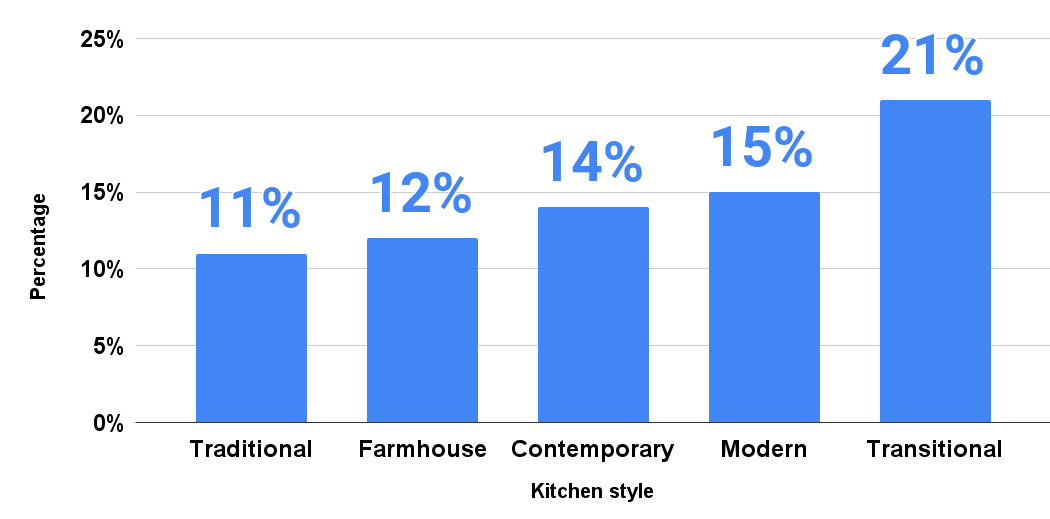 The chart above was made using the information provided by one of Statista's research experts, Koen van Gelder, and it shows the different kitchen styles adopted by Americans in 2020. Leading the charge for the year under review was the transitional kitchen style, which was adopted by 21%. The modern kitchen style is followed by 15%, and this proves that the style is one of the most popular kitchen styles in the country.
Energy Efficiency
Energy efficiency was a major problem amongst old appliances because of the way they were built and designed. Some of those appliances had negative impacts on electricity bills because they weren't built to be energy-efficient. The narrative has since changed because modern appliances have improved greatly on energy efficiency, and that's why people invest heavily in them regardless of their heavy price tags. They always know that they are the best kinds of investments they can make when they think of the long-term. Thankfully, some modern appliances also come with Energy Star ratings that let you know how much energy they are going to consume over a given period.
Durability
People who invest in modern appliances have one thing and only one thing in mind; long-term. They know these appliances are built to function at the highest level for so many years, and even if their initial costs seem to be on the high side, people still push through with the deals because they know what's in store for them. However, when you're making a long-term purchase, you should always look for as many assurances as you can get in terms of a warranty. This shows that the manufacturers are confident enough to offer that to you because they know the quality of the products they're selling to you.
A brief history about Nesco
From comfort to convenience to ease of operation, we can't speak highly enough of the role these modern appliances play in our lives today, and one of those appliances happens to be the vacuum sealer. Whether you're purchasing a Nesco deluxe vacuum sealer, Nesco vacuum sealer bags, Nesco vacuum sealer jags, or a Nesco vacuum sealer hose, knowing how to use any of these things is as important as purchasing them in the first place.
Nesco is a subsidiary of Metal Ware Corporation, a company located in Wisconsin that manufactures small kitchen appliances. The company's appliances are usually marketed under the brand names; American Harvest and Nesco. Metal Ware Corporation was co-founded in 1920 by Joseph Koenig and Willaim H Ellis II. The company officially succeeded Rivers Plating which was founded in 1902 by Henry Mixa, after it was filed for incorporation on August 18, 1920.
Estimated electronics and appliance stores* per capita sales in the United States from 2000 to 2018. Source Statista.com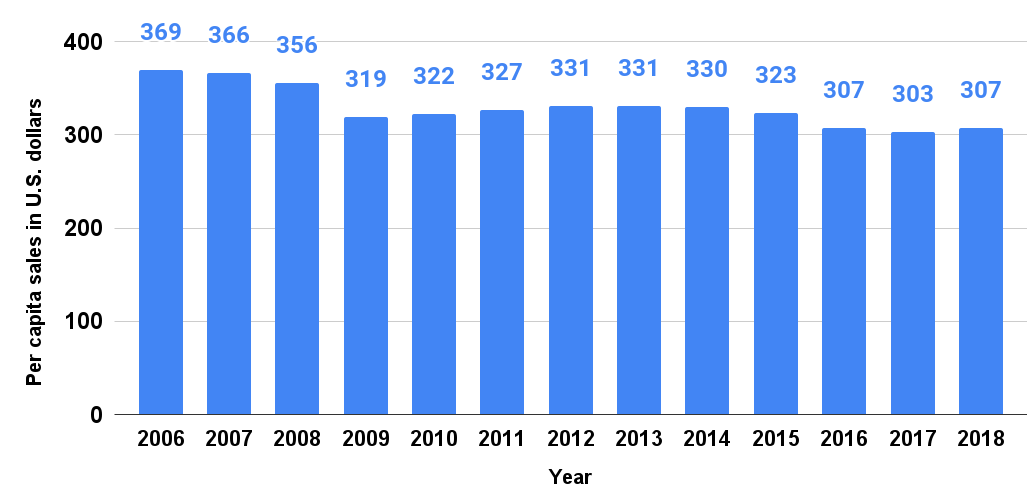 The chart above was created using the information provided by Lionel Sujay Vailshery, Statista's research expert covering the consumer electronics industry based on the data from the 2016 Annual Retail Trade Survey. The chart shows the estimated electronics and appliance per capita sales from 2006 to 2018 in the U.S.
Safety precautions to take when using Nesco vacuum sealers
Safety should always be prioritized when operating any machine, and the vacuum sealer is no different. Whether you're using a Nesco handheld vacuum sealer or a Nesco vacuum sealer with a bag cutter, you should always prioritize safety to avoid accidents or damage to the machine itself. Below are some of the important safeguards as outlined by Nesco;
1. Since the appliance is recommended to be used by children, you should always try to keep it away from children as much as possible. Moreso, you should pay extra attention when you're using the vacuum sealer near children.
2. If your Nesco vacuum sealer is designed for household use only, there's no point using it for commercial purposes.
3. Nesco warns against immersing vacuum sealers in water to prevent electric shock.
4. When you're not using a Nesco vacuum sealer, you're advised to unplug it from the power outlet. Always avoid cleaning the vacuum sealer when it's plugged.
5. Under no circumstance should you operate any Nesco vacuum sealer with a damaged cord. When the power cord is damaged, you should reach out to the company for another power cord. Nesco also strongly warns against using any power cord from another brand to power their vacuum sealers.
6. Do not operate Nesco vacuum sealers anywhere near a heated oven or an electric burner.
7. If you're using accessory attachments with Nesco vacuum sealers, you should always get the ones recommended by Nesco. Nesco vacuum sealer accessories are very important, and they help make the machine function properly and more effectively.
8. It is always recommended to operate your Nesco American Harvest vacuum sealer only when all its parts are tightened.
9. When operating a Nesco vacuum sealer, you're advised to keep it in a flat position.
10. Always ensure to keep the power cord away from hot surfaces or the edge of a table to avoid damage.
11. If you're sealing hot food, you should always try to leave it to be cooled before vacuum packing it.
12. Under no circumstance should you vacuum package sharp objects or objects with sharp points like fish bones. They'll end up tearing the bag.
13. Wet bags are always difficult to seal, so you should always avoid getting the open end of the vacuum bags wet.
How to use a Nesco vacuum sealer
If you're looking to get a vacuum sealer, you might as well get used to how to use a Nesco vacuum sealer which is almost the same as every other vacuum sealer out there. Our detailed guide will let you in on everything you need to know about how to use Nesco vacuum sealer rolls to make a vacuum bag, and how to always vacuum seal your filled bag.
How to use Nesco vacuum rollers to make bags
STEP 1: Put your vacuum sealer in a flat position so you can get the best result at the end of the day. Once your machine is stable, proceed to plug it into a power source.
STEP 2: Lift the vacuum sealer's handle, open the lid, and place the bag roll in the roll storage compartment.
STEP 3: There's always a cutter blade in the vacuum sealer. Move it to the end of the rack, lift the cutter rack, and continue the process by pulling the material from the roll. Once you're done pulling the material from the roll, close the cutter rack, and press gently on the cutter rack as you slide the blade in the direction of the rack to cut the bag material.
STEP 4: Add the open end of the bag material to the sealing strip and close the cover before pressing down the handle gently until it's closed.
STEP 5: To start sealing, press the "Manual Seal" button on the vacuum sealer.
STEP 6: You can track the progress of the process on the display screen of the machine. Once it reaches zero, it means the process is complete, and the machine will automatically shut off.
STEP 7: Open the top cover of the machine before taking out the bag.
Vacuum packaging your bag
STEP 1: Fill the vacuum bag with the items you want to seal.
STEP 2: Open the lid of the vacuum sealer, straighten the end of the bag which you're going to insert into the machine. Always ensure there are no wrinkles on the bag.
STEP 3: Insert the open end of the bag across the vacuum sealer area.
STEP 4: Cover the vacuum sealer and press the front handle to get the cover locked.
STEP 5: Choose your preferred sealing mode (dry/moist/double), depending on the type of food you're trying to seal.
STEP 6: Proceed with the process by pressing the "Vacuum/Seal" button after which the machine will automatically seal the bag.
STEP 7: Remove the sealed bag by lifting the handle and the top cover of the vacuum sealer.
Frequently Asked Questions
1. Does the Nesco vacuum sealer seal jars?
Yes, a Nesco vacuum sealer can be used to seal jars as long as it is efficient enough to carry out the task. Ensure you get the one with enough power, and you'll be able to achieve this task easily.
2. Do Nesco vacuum bags work with Foodsaver?
If your Foodsaver model can be used with any bag, then you shouldn't have a problem using a Nesco vacuum bag with it.
3. How thick are Nesco vacuum seal bags?
Nesco vacuum bags are thick enough to protect their content.
Conclusion
With vacuum sealers gaining huge popularity across the globe, it is normal that demands are growing and so are the revenues. Nesco is one brand that has benefited hugely from the popularity of vacuum sealers over the past few years. Knowing how to use a Nesco vacuum sealer is something you shouldn't compromise on if you're looking to achieve an effective food preservation method in the busy world we live in today. We've highlighted some of the safety precautions to be taken when operating a Nesco vacuum sealer. We've also discussed the different steps to take when creating a bag using the bag roll as well as the steps to take when using the machine to seal your food items.
ESTIMATED TIME DESIGNING AND UPLOADING THIS ARTICLE
ESTIMATED TIME RESEARCHING AND WRITING THIS ARTICLE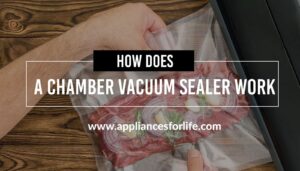 How Does a Chamber Vacuum Sealer Work
With demands for vacuum sealers rising like never before, a lot of people have often wondered if there was more to these machines than what they were made to seem like. In terms of functionality and operations, you could forgive those who think there was
Read More »