There are numerous similarities between a wall air conditioner and a window air conditioner, but the main intention of the former is not to place it on a window. Wall air conditioners are placed directly within the wall of the building. Well, if you already have an air conditioning unit at your home, no worries! The only difference between the wall air conditioner and the central air conditioner is that the former can be mounted to the wall of the building. It also comes with a remote control for controlling the operation. This air conditioning system makes use of outdoor air to aid airflow, while still retaining its eco-friendly features. Similar to a window conditioning system, wall air conditioners pull out hot air to circulate the conditioned air. It offers some benefits like compatibility and portability. This implies that the conditioning unit does not occupy large spaces. Due to the fact that it is a through-the-wall air conditioner, the cool air circulates randomly around your house and rooms.
Top Wall Air Conditioners
| Image | | | | | |
| --- | --- | --- | --- | --- | --- |
| Item | GE AJCQ12ACH Through-the-Wall Air Conditioner | Friedrich UCT08A10A Uni-Fit Smart Series Wall Air Conditioner | Frigidaire FFTA123WA1 Wall Air Conditioner | LG LT1236CER 11,800 BTU In-Wall Air Conditioner | GE AJCQ08ACH Wall Air Conditioner with 8300 Cooling BTU |
| Manufacturer | General Electric | Friedrich | Frigidaire | LG | General Electric |
| Cooling BTU | 12,000 | 8,000 | 12,000 | 11,800 | 8,300 |
| Wattage | 1130 Watts | 755 Watts | 1140 Watts | 1110 Watts | 780 Watts |
| Product Dimensions | 26 x 22 x 16 inches | 14.5 x 24.19 x 20.3 inches | 20.6 x 24 x 14.5 inches | 24 x 20.1 x 14.4 inches | 26 x 21.81 x 15.6 inches |
| Weight | 101 pounds | 93 pounds | 90 pounds | 82 pounds | 82 pounds |
| Special Feature | Rotary Compressor | Advanced Air Flow Design | Programmable Timer | Fiter Check Reminder | Filter Reminder Function |
| Editor's Rating | ✸✸✸✸✸ | ✸✸✸✸✸ | ✸✸✸✸✸ | ✸✸✸✸✸ | ✸✸✸✸✸ |
| | | | | | |
The Installation Process of a Wall Air Conditioner
Air conditioners attached to a wall perform the same function as window air conditioners; they are self-contained, single units that expel humidity and heat from the room to the outdoors. Louvers (located on either the sides or the back of the unit) work by bringing in the fresh air. The coils act as a passage to the air, which is transformed into a cool air by the compressor with the use of the refrigerant, and then the fan helps ensure the circulation of the cool air around the room. They pass through the hole of an exterior wall and are used for the cooling of a single room. In addition, a sleeve is attached to the wall to aid the support of the weight of the unit.
How do I choose a through-the-wall air conditioner?
When it comes to purchasing the best wall AC, you could have so many thoughts; no one wants to buy a cooling unit that breaks down in a short time or does not cover the space you need it for. In choosing the best wall AC, the three most important things to consider are BTUs, wall measurements, and plug type(voltage).
BTUs (British Thermal Units)
BTUs are simply units of power. You need more BTUs for a larger area. This implies that the larger the area you want to cool, the increase in the number of BTUs needed. To get the exact number of BTUs you need, we will advise you make use of a BTU calculator. It will be of huge benefit to you if you find the right size, however, it is not advisable to opt for a higher BTU air conditioner than the amount required by your room size. Not only will this action be a waste of money, it will also lead to having power you cannot and should not use. The preferable choice is to opt for the correct size air conditioner and to allow it run for the proper removal of humidity from the room.
Wall Measurement
The exterior wall must be used due to the fact that the air conditioning unit installed on it needs to vent to the outside surroundings. Another thing to consider is the thickness of your wall to help determine the type of wall air conditioner to opt for.
Plug Type
For plug type, two things are involved: voltage and amperage. Most rooms run on a circuit rated for a maximum of 15 amps of electricity, and many units are designed with 125V/15A plugs that can be used in the majority of homes. If you are looking to install a higher unit with features like 15 amps capacity or more and (125 volts and more) then you need to hire an electrician to replace your circuitry with an advanced model. If you want to replace an already existing unit, select a wall cooling unit with similar plug size features to determine correctly the exact amount of voltage and amperage.
What are the advantages and disadvantages of a through-the-wall conditioner?
This air conditioning unit is a good alternative to the window A.C especially if the room doesn't have a window or you don't wish to give it up. They have numerous ranges of capabilities and are reasonably energy efficient. However, if the wall doesn't have an existing hole – which can be a disadvantage to some -, then you might require the services of an expert to help install it. 
Maintenance of a wall air conditioner
Keeping your through the wall air-conditioner maintained is of utmost importance, we will not want you to purchase one of the sweet models we have reviewed and end up not enjoying it due to lack of maintenance. Doing this will not only save money on energy, it will also extend the lifespan of your cooling unit therefore, saving money on costly early replacement. For perfect use, follow the tips below.
Check for insect/animal nests
If you forgot to cover the wall air conditioner over a long period, you have to check for bees' nests and wasps inside the unit. They love to stay there. 
Clean the air filter
To clean the air filter, all that is required of you is to remove the front panel of the unit. Remove the filter and clean it with white vinegar or a combination of dish soap and warm water. Ensure that the filter is well-dried before the reinstallation. Endeavor to perform this task once per month during the season you use it less or don't use it all. If you have allergies or pets consider cleaning it at regular intervals and replace the filter when damaged. If your unit is designed with a foam filter, you can opt for replacement electrostatic filter material. 
Clean the condenser coils
Due to frequent use, there will be the build-up of dust and dirt inside the air conditioner's condenser coils. This build-up will increase the work rate of your AC causing it to utilize more energy which will cost more money in the long run. During any season that you wouldn't use it often, endeavor to clean the coils. You will need to completely remove the air conditioner cabinet in order to get through to the coils. They can be cleaned by using a spray bottle of household cleaner or a soft bristle brush to wipe off the dirt. You can also blow compressed air in them. It is also vital to remove the lint or dirt buildup at the base of the air conditioner so as to allow the proper circulation of the condensate water by the condensing fan blade.
Clean the water pan
To prevent the buildup of musty odor or mold in the air, use a combination of dish detergent or white vinegar, and warm water to clean the pan at the bottom of the unit at least once every cooling season. 
Inspect cooling coils for frost or ice buildup
If the outdoor temperature where the air conditioner is installed becomes cool (around 15 degrees Celsius or lower or 60 degrees Fahrenheit), check the coils positioned at the front of the conditioning unit for icing. If the coils have iced up, turn off the unit until the temperature drops to the normal level (60 degrees Fahrenheit or 15 degrees Celsius). 
Check the remote control
You need to replace the batteries of the remote control on an occasional basis. If the remote control fails to function after replacing the batteries, endeavor to check reputable stores or enter your unit's model number at certified online stores.  
Air conditioner sleeve –  what are the functions and do I need to get one?
A sleeve is described as the metal device that supports the air conditioner in the wall. You need to acquire one if you are attaching the unit to a wall because the wall cannot provide all the support needed to hold the weight of the air conditioner. An air conditioner installed through the wall can have a through-the-wall sleeve or a slide-out chassis sleeve. Slide-out chassis air conditioners are designed as one unit (the chassis and the sleeve) and pass through the back and sides of the unit. They can be attached to a window or wall, and are a good choice for a wall of about 8 inches thick or less. Through-the-wall sleeves are a more durable application; these air conditioners are the ideal choice for thicker walls and have rear vents. However, you must note that sleeves come as a single unit and are not designed with through-the-wall air conditioners; you have to buy the sleeve as a single unit. Most sleeves are designed with an exterior grille, but for some models, you can select different grille settings for a different look.
Wall air conditioners vs. Window air conditioners
We have been mentioning similarities and differences between having these two units from the beginning of this article, it is therefore important to address it. The main distinguishing factor between the both of them is the mode of installation. While the wall air conditioner is installed through an opening or hole in a wall, the window air conditioner is installed via the window. Although both share numerous factors, such as pricing, coverage area, and efficiency. Both conditioning units are cheaper and affordable when compared to central air conditioning. Let us look at the major differences between these two cooling units.
Firstly, most wall ACs require a hole in an exterior wall, others can easily be mounted, though we only have few of them. After the installation, the unit is permanently sealed to heat or warmth, preventing any leakage of air to and from the room. Due to this feature, they may become more economical in the long run. However, as highlighted above, the installation involves the creation of an opening in the wall, making the installation a complex task that requires the assistance of an expert.
In addition, this operation may not be allowed in rental buildings. You also have to consider the construction costs and the installation fees. You must also support the weight of the unit with sleeves or supporting brackets. A major benefit of this process is that you don't have to give up your window for installation, which means that fresh air can flow in whenever you are not using the unit. On the long run, they will also prove economical
For window air conditioning units, they are more popular because they offer high energy efficiency at an affordable rate. Also, you don't need professional help for installation thereby reducing the costs of installation. In addition, the unit can fit into any kind of window irrespective of its configuration. They are not installed permanently but it must be removed and adequately protected to prevent damage especially during the winter period. This can lead to inconveniences if you reside in a small rental building without storage space. However, it is a good long-term investment especially if you are changing location. The downside of this unit is that you have to give up one of your windows, thereby reducing sunlight and natural ventilation in the room.
Wall air conditioners vs. Portable air conditioners
The portable air conditioners can be moved from one place to another but that is not applicable to wall air conditioners because they are permanently fixed to the wall. This is a huge advantage to those residing in rental buildings because they can easily carry the conditioning unit with them. Also, they are cheaper and more affordable and it doesn't come with any installation cost. Some portable air conditioners can be used for different operations like humidifying, heating and cooling. You can opt for any operation of your choice just by pressing a button on the remote control
When looking at the rate of energy efficiency, the wall air conditioners come out on top. It will also give you a cooler air when compared to the portable A.C. Due to its efficiency, the wall A.C is cheaper to run. In the long run, these costs may cover the loss incurred in the installation. Another upside is that the wall conditioning unit produces less sound. Well, if you are undecided about the conditioning unit to opt for, you are advised to consider these factors; the size of the rooms, budget, and whether you are residing in a rental – that is if your landlord doesn't agree with it – or permanent home. 
The Best Wall Air Conditioners
So far, we have considered the installation process of a wall air conditioner, factors to consider before opting for one, the maintenance of this product and we have compared the product with other varieties. We will now talk about the best wall air conditioners available in the marketplace.
Our Reviews
GE AJCQ12ACH Through-the-Wall Air Conditioner with 12000 Cooling BTU and 3 Cooling Speeds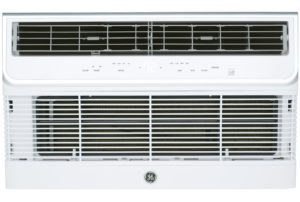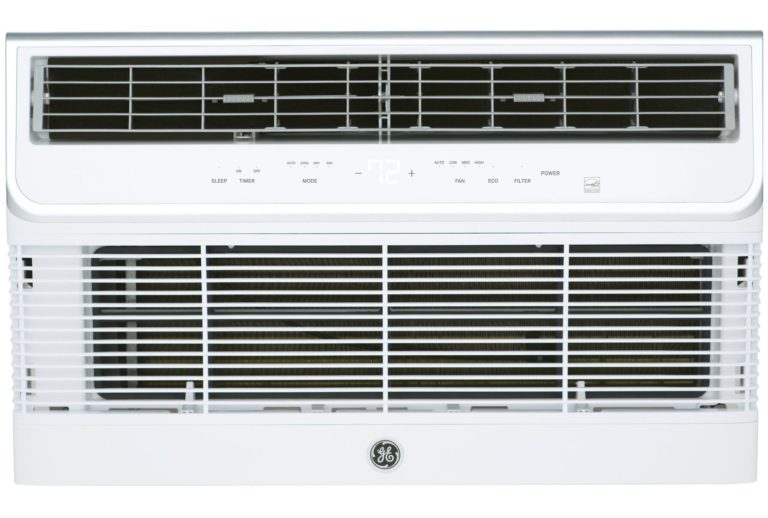 If you are looking for a lightweight product, we recommend the UL-certified GE wall Air Conditioner. In addition, it is easy to set up and it helps you stay comfortable and keeps your room cool with a cooling power of 12,000 BTUs. It comes with electronic and computerized controls coupled with a large LCD display. All that is required of you is a handy remote to make adjustments from any part of the room. This particular Conditioner makes use of a great refrigerant to cool rooms within the range of 450 to 550 sq. ft. Other features incorporated in this unit include the Energy Saving feature which helps to minimize power consumption and the filter indicator which illuminates whenever the filter needs replacement or maintenance. 
FEATURES
Premium finish

Slim room front

Large LCD auto-dimming display

Electronic cap

6-way louver

Filter reminder function

Electronic digital thermostat

ECO mode

Dry mode

24-hour timer
Friedrich UCT08A10A Uni-Fit Smart Series Through-the-Wall Air Conditioner with 8000 Cooling BTU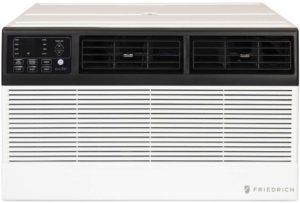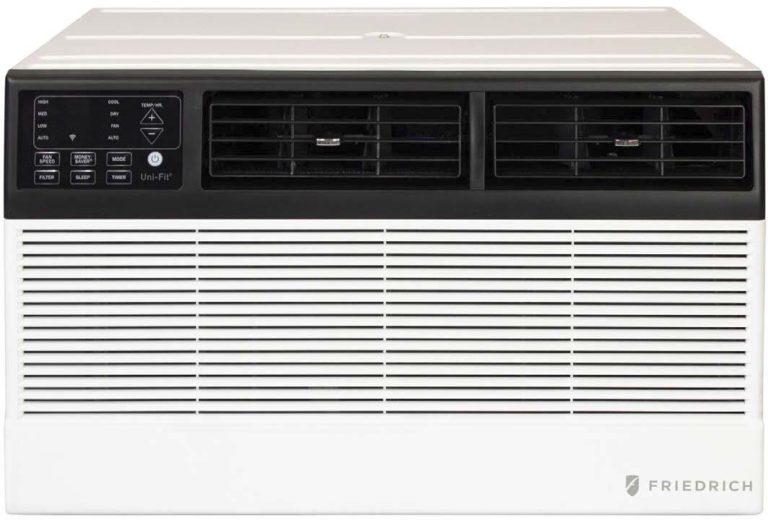 One unique thing about this Friedrich through-the-wall air conditioner is that it has the capability to service a large room area (350 square feet) with cold air and heat during summer and winter respectively. It has a safe and secured wall design that helps eliminate the seeping of outdoor air into the home keeping you cool or warm in any season. The air conditioner comes with 8,000 BTUs of cooling power, which is not so common in air conditioners of the same class. The product was designed to meet the newest technology standard due to the capability to control some features like fan speed, energy saver mode, and a 24-hour timer. It also comes with a sleeve in the deal.
FEATURES
Quietmaster technology

Effortless control

Auto restart

Energy Star certification

Built-in Wi-Fi control

8-way air flow control

Washable air filter

24-hour timer
Frigidaire FFTA123WA1 Wall Air Conditioner with 12,000 Cooling BTU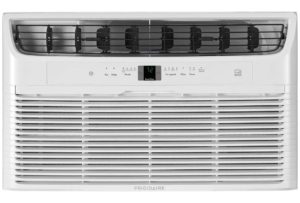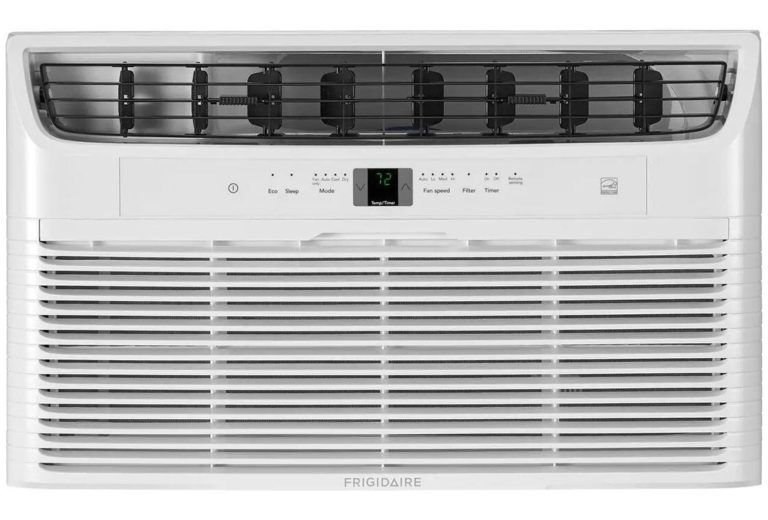 When compared with the Friedrich AC product which can only cover an area of 350 sq. ft., this particular unit can service a larger room and is ideal for rooms with a length of 550 square feet.  The powerful Air Conditioner operates on 12,000 cooling BTU, the joint-most powerful on this list. It is a soundless system and it doesn't disturb at night. It also circulates cool air within a short period.
Features include multi-speed fan, full function remote control, electronic controls, and a washable filter. This particular unit is amazing in its own way due to the incorporation of some features like the antimicrobial filter which helps to remove harmful bacteria from the air and the clean filter alert that notifies you anytime the filter needs cleaning or maintenance. Before purchasing this product, you must realize that the unit can run on a standard 115V household electrical outlet.
FEATURES
Energy saver mode

Effortless clean filter

Power cord

Automatic restart

Functional remote control

Programmable timer

Automatic temperature control

 
LG LT1236CER 11,800 BTU In-Wall Air Conditioner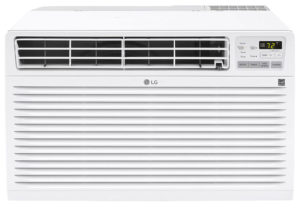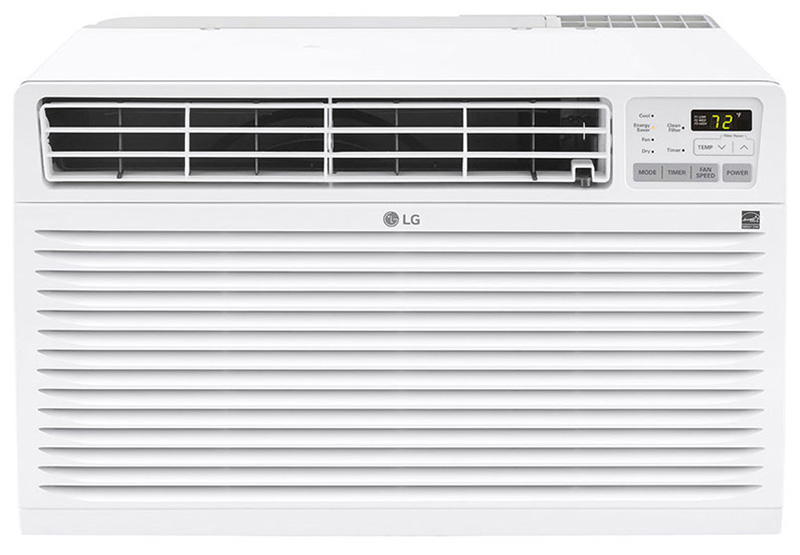 Just like the other types of wall air conditioners that have been highlighted, this particular AC is also ideal for cooling rooms with bigger spaces – of up to 530 square feet. If you like the stylish and elegant products, this product is specifically made for you. Asides this fact, it is also a powerful unit. What makes this product unique is the incorporation of the LG patented gold fin anti-corrosion coating which serves as the protective shield to enhance the durability of the unit. It also comes with a remote control to enable you to alter the temperature settings and it also produces less sound.
We haven't found any disadvantage in using this product, users are happy, we are too and we'd love you to join us. During the installation, remember to attach a 26" wall sleeve for maximum support.
FEATURES
Gold-fin anti-corrosion

Thermostat control

Filter alarm function

Remote control

Auto restart

Energy Star certification

24-hour on/off timer

Energy saver
GE AJCQ08ACH Wall Air Conditioner with 8300 Cooling BTU – Last on our list but definitely not the least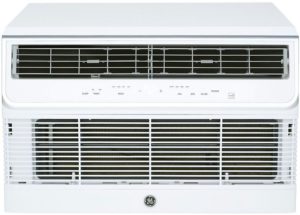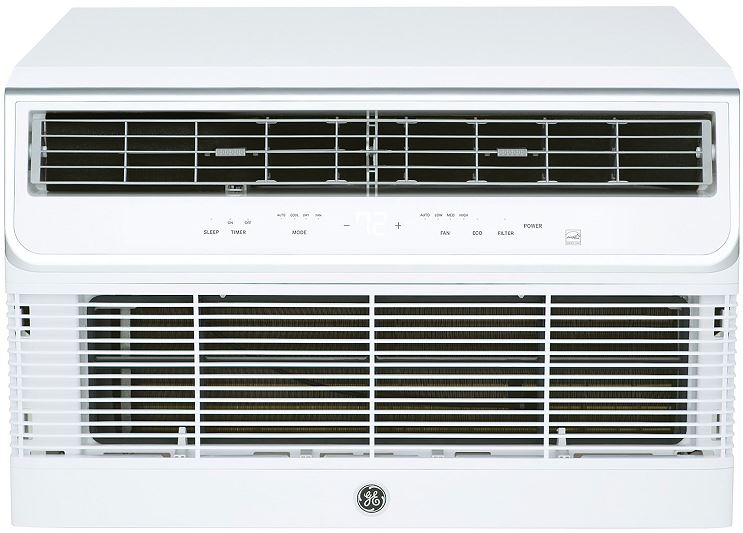 This particular air conditioner by General Electric is convenient to use, and it can cool rooms and workplaces conveniently, making it one of the best rated through-the-wall air conditioners. It comes with 8,300 BTUs of cooling power. One unique feature of this through-the-wall air conditioner is the four-way adjustable air direction that ensures a proper circulation of the cool air wherever it is needed. It is also designed with a built-in air exchanger that eliminates odors and stale air while passing in fresh air from outside. It also comes with an electronic three-speed remote control with a quality display. This product is affordable and also comes with amazing features making it a popular choice for users. The downside is that it has a lower cooling capacity when compared to others.
FEATURES
EZ slide-out filter

24-hour timer

ADA compliant

3 fan speeds

Smart fan switch

Energy save

Filter reminder function

Filter reset

Electronic digital thermostat control
Frequently Asked Questions
1. Do wall air conditioners bring in outside air?
The answer is no. Many people believe because it is an in-wall air conditioner, it takes the air from outside to make the inside cool but that's not the case. Instead, what it does is to take unwanted heat out of your home and produce fresh air.
2. Why are wall-mounted air conditioners more expensive?
They are not all expensive, although compared to the other air conditioner types, they can be classified as high-end and this may be due to their efficiency which on the long run reduces a huge cost on electricity bills.
Conclusion 
Now that you have perused through this review, we advise that you make use of the details stated in it. We hope that you make the best purchasing decision. We look forward to reading your comments on which one you went for and of course on how you are enjoying conditioned air with that product.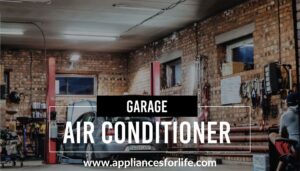 Garage Air Conditioner To Keep You Cool
Garage Air Conditioner to Cool Your Garage and Beat the Heat Once the hot summer months come around, you will need different sources of cooling systems to keep the temperature low in your home. Shopping for your new garage air conditioner now could save you
Read More »