Garage Air Conditioner to Cool Your Garage and Beat the Heat
Once the hot summer months come around, you will need different sources of cooling systems to keep the temperature low in your home. Shopping for your new garage air conditioner now could save you a ton of money and stress in the long run.
If you're one who does a lot in their garage, you want something that will adequately cool your garage, save money on your electricity bill, and not cause too much stress on your wallet. There are a few things to consider when making major purchases to ensure that you meet your budget and keep your purchase for a long time.
Below are five great options for garage air conditioners:
| Image | | | | | |
| --- | --- | --- | --- | --- | --- |
| Name | Frigidaire FFRE1833U2 Window Air Conditioner | LG LW2516ER Window Air Conditioner | GE AHY08LZ Smart Window Air Conditioner | Haier ESAQ406T Window Air Conditioner | Frigidaire FFRE063WA1 Window Air Conditioner |
| Manufacturer | Frigidaire | LG Electronics | General Electronics | Haier | Frigidaire |
| Product Dimensions | 27.4 x 23.6 x 17.8 inches | 28 x 26 x 17.68 inches | 18.5 x 15.31 x 12.6 inches | 21.25 x 18.1 12.4 inches | 16 x 13 x 12 inches |
| Weight | 115 pounds | 136 pounds | 54 pounds | 65 pounds | 49 pounds |
| Cooling Capacity | 18,000 BTU | 24,500 BTU | 8,000 BTU | 6,000 BTU | 5,000 BTU |
| Item Model Number | FFRE1833U2 | LW2516ER | AHY08LZ | ESAQ406T | FFRE063WA1 |
| Special Feature | Clean Filter | Electronic Touch Controls | Filter Reminder LIght | 4-Way Air Direction | Effortless Temperature Control |
| Editor's Rating | ✸✸✸✸✸ | ✸✸✸✸✸ | ✸✸✸✸✸ | ✸✸✸✸✸ | ✸✸✸✸✸ |
| | | | | | |
Frigidaire FFRE1833U2 Window Air Conditioner with 3 Cooling Speed
When one of the most successful electronic brands in the United States and beyond manufactures a product, not only do people trust it because it's Fridigidaire-made, but the features packed with it justify both the price, and the hype. Frigidaire FFRE1833U2 is a window air conditioner whose powerful 18,000 BTU can keep your garage cool at any time. The unit is also packed with features like a Programmable 24-hour timer, Energy Saving Mode, Adjustable Side Panels, Effortless Clean Filter, and many more.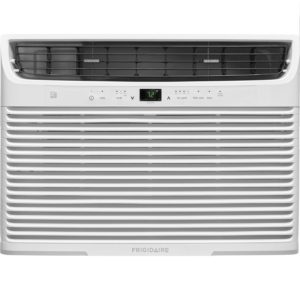 FEATURES
REMOTE TEMPERATURE CONTROL
You can comfortably set the temperature of your unit to fit in the mood in the room with your remote control.
PROGRAMMABLE 24-HOUR ON/OFF TIMER
This unit was built with the people's best interests at heart, including utility bills, which can sometimes be too much, especially when they come with a host of other bills. With this feature, you can at least cut down the cost of running your unit to a considerable level by maximizing the programmable 24-hour on/off timer which allows you to set the unit to turn off and on.
SLEEP MODE
For different reasons, it is not advisable to leave your unit to work all day; if your utility bills are not skyrocketing because of too much power consumption, you're likely to catch a flu from too much cold. However, with this sleep mode, your unit notices when the room is cold and starts gradually increasing the temperature in the room by a few degrees.
OTHER FEATURES
Power cord

Effortless Restart

Clean filter alert

Adjustable Side Panels
LG LW2516ER Window Air Conditioner with 24,500 Cooling BTU
It's no coincidence that the most powerful air conditioning unit by a country mile (24,500 BTU of cooling capacity, is made by LG Electronics, a powerhouse in the electronics industry, and perhaps the most successful electronics brand of all time. The air conditioner comes with 3 cooling and fan speeds; coupled with features like Auto Cool, Remote Temperature Control, Power Failure Auto Restart, and 4-Way Air Direction among a host of other tech-inspired features.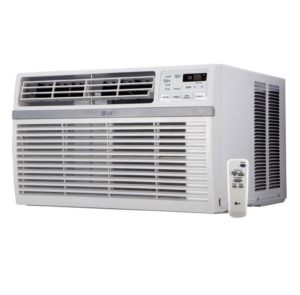 FEATURES
ELECTRONIC TOUCH CONTROLS WITH REMOTE
Convenience is one of the likeable things about every electronic device, and that's exactly what you'll get with this unit. You can control the temperature of your room from the stylish remote which is easy to use.
3 FAN SPEEDS WITH AUTO
The unit features three powerful fan and cooling speeds that help keep the temperature of your room in check and good condition.
POWER FAILURE AUTO RESTART
Power sometimes can be unpredictable; which means it can fail anytime and might cause damages to electronics when they don't have the right power regulars, be it built-in or external. This unit features an auto restart which allows it to function properly from where it left off before the power failure
OTHER FEATURES
4-way air direction

Programmable on/off timer
GE AHY08LZ Smart Window Air Conditioner with 8000 Cooling BTU
There are good air conditioners out there and that's an indisputable fact but the question remains; how many of them can be controlled through Wi-Fi with the help of a smartphone? Not too many of them, I suppose. GE AHY08LZ is a smart air conditioner with a cooling capacity of 8,000 BTU, 3 fan speeds, 115 volts, and fixed chassis among other cool features.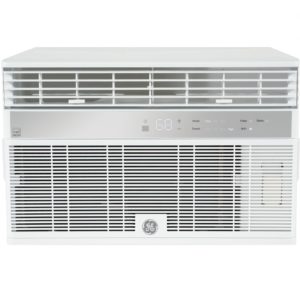 FEATURES
ENERGY SAVING MODE
In order to save you unnecessary expenses on power, an energy saving mode has been integrated into this unit to make both the compressor and fan shut down for a while once the room is cool enough. This way, you're not only preserving your unit's life span, but also saving yourself some money and valuable time.
FILTER REMINDER LIGHT
Prevent the risk of damaging your filter as this unit has a filter reminder light that reminds you once your filter starts to need some cleaning.
WIFI CONNECT
You're beginning to wonder if we're going to talk about the very feature that makes this unit a special one? With your smartphone, you can control your unit from anywhere in your house using Wi-Fi.
OTHER FEATURES
Electronic digital thermostat

Power interruption restart

Energy star

Remote control
Haier ESAQ406T Window Air Conditioner with 6000 Cooling BTU
Haier ESAQ406T window air conditioner is the perfect representation of Haier's success over the past few years. The brand's evolution has been an amazing one, and they keep proving that they have what it takes to be a top brand in such a highly competitive market. This unit is packed with 6000 BTU of cooling capacity, and a fully functional remote, 24-hour timer, dehumidifier mode, easy-to-install window kit, and energy saver mode.
FEATURES
QUIET OPERATION
Rated as one of the quietest window air conditioning units in the market today; Haier ESAQ406T is doing well to keep up with the standard which it has set for itself.
REMOTE CONTROL
Have total control of your unit from anywhere in the room with this fully-functional remote control.
EASY-TO-INSTALL WINDOW KIT
The window kit is not in any way difficult to install to the unit.
OTHER FEATURE
Delay timer

Fixed chassis

Rotary compressor

Digital time temperature display
Frigidaire FFRE063WA1 Window Air Conditioner with 5000 Cooling BTU
Frigidaire FFRE063WA1 is one of the 5000 BTU air conditioning units to feature on this list. In comparison, it is very similar to the previously-mentioned Haier unit as they share features like 3 fan speeds, fixed chassis, programmable timer, and auto restart. However, as one would expect, they are both unique in their own ways and Frigidaire features an air swing system to edge a little bit over its counterpart by Haier.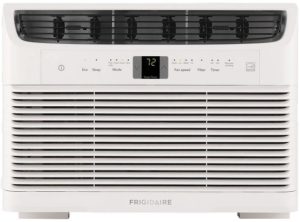 FEATURES
SLEEP MODE
With this sleep mode, you're guaranteed maximum comfort in the late hours of the day as the room grows colder, the unit gradually increases temperature so as to maintain a healthy temperature balance.
READY-SELECT CONTROLS
Conveniently control your unit with these ready-to-select controls with just the touch of a button from the remote control.
OTHER FEATURES
Adjustable side panels

Programmable 24-hour on/off timer

Effortless clean filter

Effortless restart
There are certain things you need to consider when making a major purchase such as a garage air conditioner:
Budget

Controls

Energy saving option

Size

British Thermal Units

Longevity
These are very important because you don't want to raise your electricity bill and want to keep this purchase for a long time, and find the right air conditioner to meet all or almost all of your needs.
Mistakes To Avoid
According to Steve Graham of Networx, there are 10 air conditioner mistakes to avoid when thinking about installing an air conditioner in your garage:
Buying too big an air conditioner

Putting the air conditioner in a hot spot

Hiding the air conditioner

Ignoring air conditioner maintenance

Leaving the air conditioner running all day

Closing unused vents

Turning the temperature all the way down

Heating up the thermostat

Not using ceiling fans or running them backwards

Using the wrong fans
Buying Too Big An Air Conditioner
The size of your garage air conditioner matters because you don't want to get one that is too big and will cause problems with maintenance, your electricity bill, or the functionality of the air conditioner.
Putting The Air Conditioner In A Hot Spot
It's best to put an air conditioner in a shaded part of the garage instead of in a spot that receives direct sunlight because if it has to work too hard, it won't last very long. You want to make your air conditioner do less work to save on energy and early maintenance issues.
Hiding The Air Conditioner
Hiding the air conditioners can block ventilation and clog condenser coils. This will cause your air conditioner to run less efficiently and no one wants early maintenance issues that may cost a lot of money, especially when they can be easily avoided.
Ignoring Air Conditioner Maintenance
The goal for all your appliances is longevity and your garage air conditioner is no different. You have to take care of what you purchase or you'll have to replace it sooner than you'd like and perhaps sooner than you can afford.
Graham states that you have to clean and replace filters every two months, check the filters for dust, hair, and other particles often to improve efficiency.  She also says to check the evaporator coil once a year, and check the window seals around your air conditioner each year as well.
Leaving The Air Conditioner Running All Day
A lot of people like to keep the air conditioner on because they fear the house heating up quickly from the heat outside and making them sweat. Running your air conditioner all day puts stress and wear on it so to ensure longevity leave the air conditioner on auto, or leave it on long enough to cool your house and then turn it off until you need it again.
Closing Unused Vents
This has the same effect in a car as well. If you close a vent because you feel like you don't need the air on you or it isn't doing anything, you're causing problems for that cooling system. Closing unused vents causes the air conditioner to work harder and less efficiently.
Turning The Temperature All The Way Down
Make sure to find a comfortable temperature that suits you and your household. Turning it down to its lowest can waste energy, raise your electricity bill, and make the air conditioner work harder and wear it out faster.
Heating Up The Thermostat
According to Graham, if you place any light sources or heat generators such as lights, lamps, or televisions, it could trick the thermostat into thinking it's hotter than it actually is so keep those things away from your thermostat.
Not Using Ceiling Fans
Fans and air conditioners work together, according to Graham. Graham states that you should turn on your fan to push air downward to create a "wind-chill" effect.
Using Wrong Fans
Okay so you've learned about using fans along with your air conditioner and you expect it to work. However, it can't work if you don't have the right fans. Graham says specifically not to use exhaust fans because they push cool air out of the house.
Take Away
Now that you know how to use an air conditioner efficiently in your garage, make sure to watch for your budget, best time to buy, and energy saving capabilities before purchasing. Also remember the tips from Graham about ensuring that your garage air conditioner runs efficiently and smoothly during the hot, summer months. Stay cool!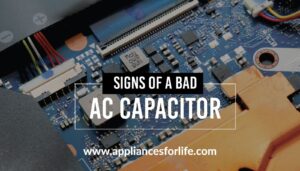 For many years now, the importance of air conditioning units has been made obvious to many, and you can tell from the sales records only in the United States. Air conditioners are more than what you install on your house to make things cool. The
Read More »