We live in an age where almost everything has been automated as the world has forced our hands to go "digital", leaving us with appliances that can do pretty much everything on their own, albeit just a little manual effort. What people appreciate most about these times we live in is that whatever they think they can do themselves, they can always get machines that can do them more efficiently as long as they have the financial prowess to pull the deals off. Compared to how people lived many decades ago, technology has made things easier and more convenient for us all, and things can only get better from here as we continue to make many tech breakthroughs as years pass by.
The talks of the metaverse evolution have been trending for the past few years, and this is only proof of how much ground we've covered in the past few years as a group of people that love to see new things come into existence; things we can greatly benefit from. The convenience that these machines bring along is why many people don't mind spending a lot of money just to have them in their space because they also guarantee efficiency. The truth is that people don't like spending time doing things they can get some basic appliances to do for them as they have other things to focus on.
Some of the most popular household appliances in the world today include the refrigerator, washing machine, cooking range, dishwasher, the blender to mention but a few. Many households in the United States have all these appliances in their homes because they know how valuable they can be and how much easier they make their lives because they don't have to spend their time doing the domestic chores that can be handled by machines. Thankfully, top appliance manufacturers like LG, Samsung, Frigidaire, and Bosch have found new ways to implement the latest technologies in their appliances so they can be operated easily and without stress.
Now, with all the benefits that come with using machines that almost independently perform all of their tasks, you'll think the washing machine draining system doesn't have to be paid attention to, but that's not the case. According to Home Serve, a lot of people think that one of the many responsibilities of a washing machine is to automatically handle drainage, so if you've also ever thought of that, you're not alone. However, what many people don't know is that the washer needs a drain line and pump to get water out of itself very easily, so if water ever gets stuck in your washing machine with any of these components damaged, it might take a while before you can drain the water, which has to be done very quickly before it causes any more damage to the machine itself.
Let's face it, having water remain in your washing machine when you expect it to have been drained out is one of the most annoying things any washing machine owner can ever go through. Even when the cycle has finished, water will still remain in the tub when you just expect to get your clothes out and transport them into the dryer very easily. At this point, you're confused about what to do because you'll start having so many ideas pop up in your head; 'should I activate a spin cycle,' 'should I call a technician.'
The sad thing about having water in your washing machine refusing to drain is that you'll have to do it yourself even before you attempt to start repairing it yourself or involving a technician, which is why you need to know how to empty a washing machine full of water. Draining a washing machine is not as daunting as most people have made it seem. If you want to drain washing machine before moving, you just need to have the right technique of how to drain excess water from washing machine.
If you have no idea at all of what to do, you might have to get a technician to help you sort the problem by draining the water first before going ahead to fix whatever problem the washer might have encountered that made it stop draining water. However, we think that as a washing machine owner, you need to get a hang of some of these basic procedures because having the right knowledge about them is like having a first-aid experience to deal with injuries first-hand before the intervention of an expert who can now look to fix the problem permanently. As a washing machine owner, knowing how to drain a washing machine without flooding your laundry room or apartment will help you avert a lot of problems.
It is important to know that once you notice that your washing machine is holding water in its tub that won't drain before you start searching for answers to questions like what could have caused the water not to drain, you should move to manually drain the water at the bottom of the washing machine. Right after draining the water to the last drop, you can now start running your diagnostics and trying to know what could have caused the water to get stuck in the washer tub rather than be drained away. Before we get into how to empty a washing machine full of water, let's quickly look at the likeliest causes so you'll know what needs to be fixed after draining the water away.
Possible Causes
It is generally believed that, under normal circumstances, a washing machine doesn't just decide to stop draining water because it could only have been caused by something. Sadly, this is not a problem you can afford to deal with for long because it requires immediate attention, even if you won't be fixing the problem permanently, getting the water out in the first place should always be a priority. After getting the water out, you need to check for the possible causes before thinking of the perfect way to solve the problem. If your washing machine is not draining water, below is a list of the likeliest causes.
Clogged Drain Hose
One of the first few things you should look at when your washing machine stops draining water like it's supposed to be is whether or not the drain hose of the washing machine is clogged. With a clogged drain hose, you can be certain that there is now a way for the water coming out of the washing machine to get out as it'll be trapped in the washing machine because there's no way for it to pass. Once you notice this, the first thing to do is to try to clean the trap which you can start by getting a bucket and placing it directly under the clogged drain hose.
Start unscrewing the seal on the bottom of the tap and when you finally make a breakthrough, proceed to drain the water and whatever dirt might be posing a hindrance for the water coming out of the washing machine. If your trap doesn't have a seal, all you need to do is to completely unscrew it before you rinse it under the tap and reconnect back to the drain after getting the water out. On rare occasions, the blockage can be deeper in the drain hose than expected, and in this case, you need something stronger like the combination of baking soda and hot water to get it out.
Broken Pump
Another likeliest cause for your washing machine not to drain is when the drain pump is either faulty or blocked, which can also result in the machine not spinning or stopping full of water. The water pump is one of the most important parts of the washing machine installation, although a lot of people don't acknowledge this because it's not one of those components you see every time, and that's to only show that it gets its job done efficiently despite being so underrated. According to Home Guides, if you open your washer after the completion of a wash cycle and the water is still there, it might be a clear indication that something is wrong with the water pump and it needs to be fixed as soon as possible.
To replace the washing machine pump, it may take you up to $40 to get a replacement, and since most people don't like to try to get it repaired on their own, they'll feel the need to involve a technician, which can charge up to $450 for repair, mostly including the replacement part. You can trace the damage of a pump for a number of reasons, including a damaged impeller causing a mechanical failure in the pump, which is usually the most popular cause. When this happens, you don't have to worry too much because it's something you can even do on your own without spending a lot of money on getting a technician to get the problem fixed for you.
How To Drain A Washing Machine Manually
The washing machine won't drain or spin: what could be the cause? You can trace it down to a number of reasons, and, to be honest, it's not uncommon that a washing machine stops draining water mid-cycle, although this can affect its operation and also waste some of your time. Thankfully, fixing these problems is not as hard as people think, but the first step to take is to try and drain the washing machine manually before it causes any more damage, especially when it's still connected to a power source in your laundry room. In some simple steps, we'll be exploring how to drain water from washing machine before moving to fix whatever might have caused it.
Unplug the washer
The first safety rule you have to observe when trying to fix any electrical item in your house is to unplug it from the power source before you even start working on it in the first place. If you don't observe this rule, you may pay the price for not obeying, which can be as bad as getting shocked from putting your hands in a washing machine filled with water and still connected to a power source. To start with, if the washer has a power button, which every modern washing machine is expected to have, press it to turn off the washer before unplugging it completely from the power source.
After unplugging the power cord from the power source, the next thing is to ensure that the power cord is protected to avoid contact with water, which can also cause some damages if you unknowingly plug the wet cord back to the power source. To properly secure the power cord, you can wrap some duct tape around it so water doesn't splash around it and also make sure it doesn't get caught under the washing machine. This is to ensure your safety during and after manually draining water out of your washing machine.
Find the drain and water supply hoses
Once you've turned off the machine, unplugged the cord from the power source, and secured it with duct tape, it's time to take the first step involved in the real process, which is to pull the machine away from the wall to gain access to the drain hose. The drain hose is usually located at the back of the washer, so it shouldn't be hard to locate at all. Most time, it also has two separate hoses for hot and cold water supply, but that depends on the washing machine you're using.
The drain hose is responsible for carrying wastewater from the washing machine while the other two hoses help supply water in the washing machine, whether cold or hot. To know which of the hoses is responsible for hot water, you should look out for the red-colored one, while the blue one is meant for the one that supplies cold water, just like it is in some faucets in bathrooms. You should turn off the water supply as a precaution. The process is very simple – just turn the red and blue knobs counterclockwise.
Drain the washer
Draining the washing machine largely depends on how your washer is configured. In your washing machine, the drain hose may carry water into a utility sink, a standpipe, or a drainpipe installed in the wall, which is the common configuration among many households in the United States. Make sure you have a very large bucket ready before disconnecting the drain hose from the pipe because water might gush out and you don't want to take any chances, although this is very unlikely.
As soon as you wig the drain hose lose from the pope, hold it up in the air until you're ready to start filling the bucket with water. To do this, just lower the end of the hose below the water level in the washer tub – gravity will cause the water to start flowing out. Sometimes, you may want to pause and empty the bucket, just make sure the disconnected end of the drain hose is attached back to the drainpipe, a process you'll also repeat once you're done draining the washing machine completely.
Fix the problem
Now that you've drained the washing machine completely and you're sure there's no water left in it, it's time to look into the problem and solve it as soon as you can because if you don't, it's going to happen and, this time, it might actually leave some lasting damages. The problem could be as simple as some drain hose clog, which you can remove without stress. If it's the drain hose, you should release it using your plumber's snake before pushing the tip of the coil to reach the blockage, manually turn with the handles until you get rid of the blockage.
Frequently Asked Questions
1. How do you manually drain a top-loading washing machine?
Draining a top-loading washing machine is not so difficult if you follow the same steps we've discussed in this article. You start by turning off the washing machine before locating the drain hose which can be found at the back of the washing machine. Drain the water, fix whatever problem might have caused the washer not to drain water, then reattach the drain hose.
2. Where is the drain pump on a washing machine?
You can find the drain pump at the bottom of your washing machine. You don't have to worry about accessing the drain pump because it's not so hard to get after all.
Conclusion
The washing machine is very useful for every household, but, as you would expect, it is not immune to damages. Some parts of it can get damaged, especially when you don't maintain the washer properly, and it will cause some harm like water getting stuck in the washer tub without draining. In this article, we've discussed how to empty a washing machine full of water in some easy and comprehensive steps. We've also highlighted the things you should look at when you notice your washing machine is not draining water.
ESTIMATED TIME DESIGNING AND UPLOADING THIS ARTICLE
ESTIMATED TIME RESEARCHING AND WRITING THIS ARTICLE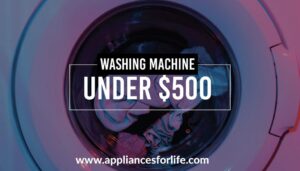 Top 5 Best Washing Machines Under $500
Opting for a sophisticated washing machine that costs over $1000 is fantastic if you have the financial prowess to pull it off. However, in this article, we'll be looking at the best washing machines under $500 if you're targeting budget-friendly washing machines.   Top 5
Read More »