Top 4 Best Washing Machines For Comforters Comparison Table
| Image | | | | |
| --- | --- | --- | --- | --- |
| Name | LG WM8100HVA 29-inch Front-Load Washer with 5.2 cu. ft. Capacity and 14 Wash Cycles | Whirlpool WTW5057LW 28-inch Top-Load Washer with 4.8 cu. ft. Capacity and 12 Wash Cycles | GE GFW550SSNWW 28-inch Smart Front Load Washer with 4.8 cu. ft. Capacity and 10 Wash Cycles | LG WT7300CV 27-inch Smart Top Load Washer with 5.0 cu. ft. Capacity and 8 Wash Cycles |
| Brand | LG | Whirlpool | GE | LG |
| Capacity | 5.2 cu. ft. | 4.8 cu. ft. | 4.8 cu. ft. | 5.0 cu. ft. |
| Color | Graphite Steel | White | White | Graphite Steel |
| Type | Front Load | Top Load | Front Load | Top Load |
| Product Dimension | 29 x 41.25 x 33.75 inches | 27.75 x 55.75 x 27 inches | 28 x 39.75 x 32 inches | 27 x 44.5 x 28.375 inches |
| RPM | 1300 RPM | N/A | 1300 RPM | 950 RPM |
| Drum Material | Stainless Steel | Stainless Steel | Stainless Steel | Stainless Steel |
| Weight | 239 lbs | 150 lbs | 246 lbs | 143.30 lbs |
| Editor's Rating | ✸✸✸✸✸ | ✸✸✸✸✸ | ✸✸✸✸✸ | ✸✸✸✸✸ |
| | | | | |
Since they introduced residential and commercial options to the general public, washing machines have played a significant role. Before washing machines were introduced, people could not entirely escape dirty laundry such as t-shirts, workout gear, jeans, and comforters. Things may even be more difficult if you have kids, as you'll have more dirty laundry to do and can be more daunting without an efficient washing machine to get the job done for you.
When purchasing a new washer, many things need to be considered, such as features, capacity, cost, size, etc. The common mistake most people make when buying a new washer is not considering the most important factors, which often results in the wrong purchase of the washer due to lack of proper planning. Imagine having a small-capacity washer in the house, but there's always enough laundry to do, and you are forced to spend more time than necessary trying to get the laundry done.
Everyone has a unique reason for purchasing a washer. Still, the general idea is to limit manual handwashing for doing laundry, hence why so many people invest heavily in washing machines. One of the most important things you need to consider when purchasing a washing machine is the capacity, which is how much laundry the washer can process at a time. The washer's capacity is determined mainly by the size of the tub where the laundry is done, and it's measured in cubic feet (cu. ft.).
Most compact washers usually range from 0.9 to 3.2 cu. According to Consumer Reports, they can wash up to 12 to 14 pounds of laundry or nine thick bath towels. On the other hand, medium-sized washing machines often come in 4.5 cubic feet and can wash up to 16 pounds of laundry or 11 towels. Medium-sized washers qualify as fantastic washing machines for comforters because they're big enough to handle heavy loads like blankets and ample towels. However, if you can't take any chances on the efficiency of your washer in handling heavy blankets, you should opt for a washing machine with a large tub. It usually has a tub that ranges from 5 to 6.2 cubic feet and can wash up to 25 pounds of laundry or about 17 towels.
Although the washing machines from some decades ago were bulky in size, they didn't have enough capacity to handle large loads. Things have since taken a different turn as federal standards for energy efficiency and water have forced manufacturers to produce more large-capacity washers. If you're investing in a washer with a large capacity, you will get a lot done in a bit of time, and you don't have to use a lot of resources such as water and detergent. As a result of these standards, we now have access to large-capacity washing machines, eliminating the need to take king-size comforters to a local laundromat to be cleaned.
According to Hunker, you need a washer with the capacity to easily accommodate up to 11 pounds of bedding to handle your comforters efficiently. The problem, however, is that comforters are not the easiest things to wash because they're bulky and heavy, but you have to keep them clean all the time even though you don't need to wash them as often as sheets. The fear of destroying the quality of these heavy blankets always makes people seek professional touches, hence why they take their washer to the laundromat because they believe that's the only place they can get the perfect result.
Since comforters are available in different material types and styles, you need to follow the manufacturer's care instructions on the best way to take care of the materials before you start cleaning them in the washer. Not all comforters can be processed in the washing machine, so you need to be aware of the condition of your comforter before you proceed to put it in your washer to be processed. Another critical factor in deciding which washing machine is ideal for comforters is the features, temperature settings, capacity, and many more.
If you're looking to buy a budget-friendly washing machine, check out the best machines under $400.
Essential Tips To Wash A Comforter in A Front or Top Load Washing Machine
Your comforters may not dry completely in your dryer, so you have to finish drying them on a dedicated comforter rack. Once you get them out of the dryer, place them on a comforter rack for about two days before storing them away.

Always use a large-capacity washer and dryer to wash and dry your comforters. These materials need enough room to agitate and move around to be cleaned effectively. If your washer is not large enough, you should consider using a commercial washer at a local laundromat.

Always dry on a low heat setting. To be safe ultimately, you may not apply any heat setting.

Whenever you're washing your comforters, always use the extra rinse option. This feature helps eliminate additional dirt, dust mites, detergent, or pollen that may be stuck on the comforters. It is perfect for those with sensitive skin or with allergies.

Permanently remove the duvet cover if any is covering the duvet before you wash it. You should clean the duvet and body separately.

If your washer has an agitator, always make sure the comforters are placed loosely around the washtub so you can have a balanced load.

Choose the bulky cycle when washing comforters or sheets.

Loose threads, holes, or threads can be challenging to spot in your comforters. Always check for these things correctly before putting your comforters in the washing machine. Always ensure that these holes and tears are securely stitched before you start washing them in the washer.
Top 4 Best Washing Machines For Comforters
1. LG WM8100HVA 29-inch Front-Load Washer with 5.2 cu. ft. Capacity and 14 Wash Cycles
The general rule of thumb is that when you're purchasing a washer for comforters, you should always buy the one with a large capacity. 5.2 cubic feet is more than enough for any comforters as long as you have a green light from the manufacturer that you can wash the comforter in question in a residential washing machine. This LG 5.2 cu. ft. capacity washer is all you need to wash your comforters and more conveniently. Besides having a perfect capacity, you can also hugely benefit from the many high-end features the washer has, courtesy of LG's commitment to producing high-tech machines that will help bring convenience and comfort to your home. This is arguably the best washing machine for heavy blankets.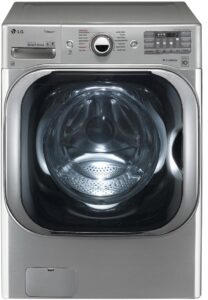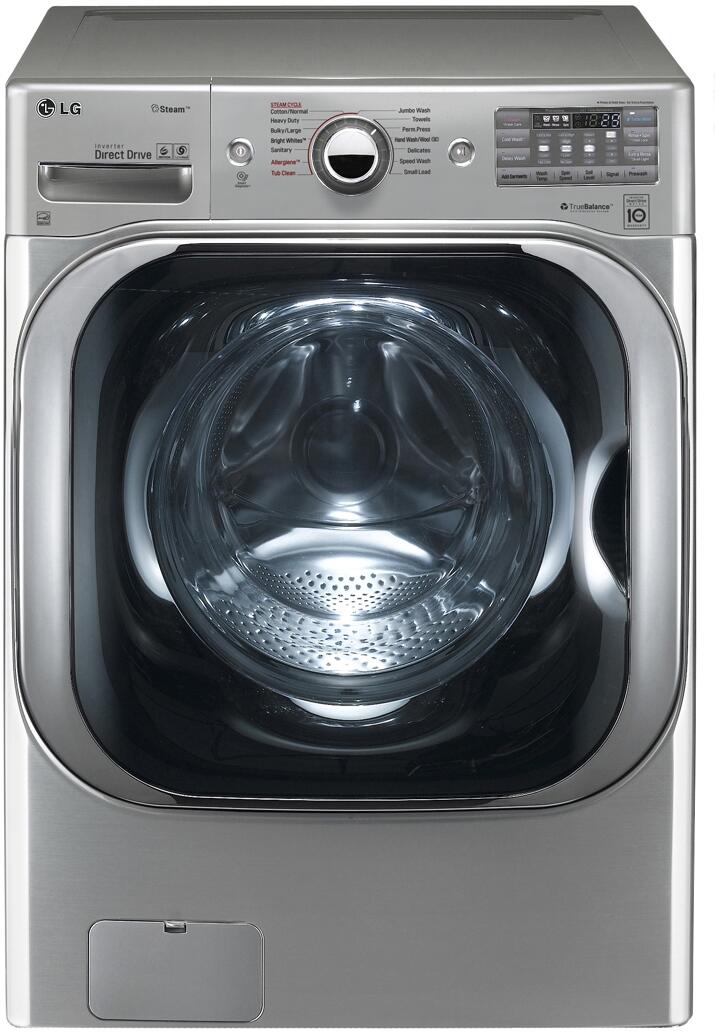 Features
Built-in Pause Button
It's normal to want to add more loads to the current load in your washer, but with most washers, you'll have to stop the whole process or wait for the current load to finish washing to add more clothes. However, LG has solved this problem by including a built-in pause button that lets you pause the current operation, open the door, and add more clothes to the washer.
14 Wash Programs
You'll have access to 14 wash programs if you buy this LG washer, one of the best washers for blankets. The wash programs include Normal, Perm. Press, Delicates, Jumbo Wash, Speed Wash, Download, TubClean, Towels, Sanitary, Rinse+Spin, Bedding, Allergiene, BrightWhites, and Heavy Duty.
Other Features
13 wash options

TurboWash technology

Steam technology

LoDecibel quiet operation

Forced drain system

Allergiene cycle

SenseClean system

4 tray dispenser

4 adjustable legs

Auto suds removal

Child lock

TrueBalance anti-vibration system

Internal water heater
Pros
Fast 1300 RPM maximum spin speed

Large capacity that can handle comforters

You have multiple cycles to choose from

Quiet operation

The machine is efficient, even if you're cleaning heavy blankets
Cons
It is expensive

It may leak if not installed correctly
2. Whirlpool WTW5057LW 28-inch Top-Load Washer with 4.8 cu. ft. Capacity and 12 Wash Cycles
Whirlpool may not be on the same level as LG in terms of global recognition and sales. However, the American brand has also been around for a while and doing everything to level with some of the best washing brands in history. Surprisingly, this is one of the best washers for king-size comforters, not just because of its large capacity but also because it has many features that will help wash heavy blankets conveniently. It is perfect for comforters because it has a 2-in-1 removable agitator that will easily combat tough stains on your heavy blankets.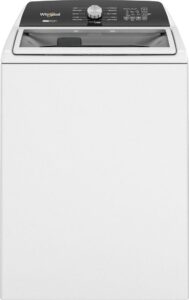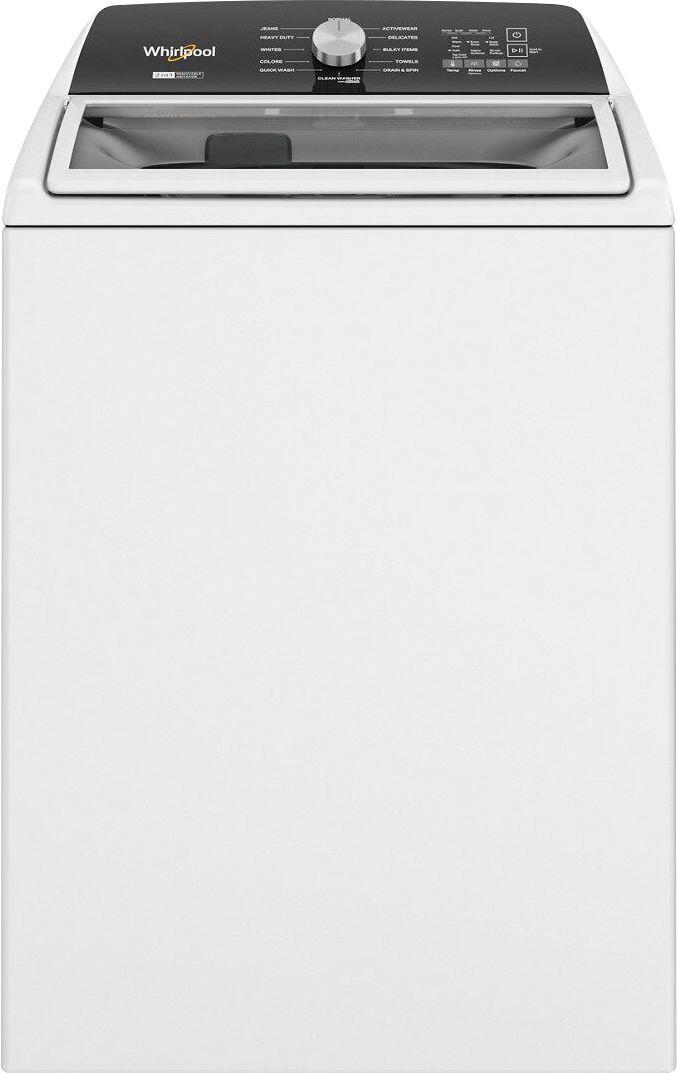 Features
Large Capacity
4.8 cubic feet capacity is enough to handle comforters, so this is a perfect washer. You can wash more than two baskets of clothes in a single load with a washer with a large capacity. With this capacity, you can get a lot more done in time. You can also swap the impeller to make more room for more bulky items to make things faster.
Smooth Impeller Option
This Whirlpool top-load washer has an industry-first 2-in-1 agitator that can be removed when you need more space to accommodate more loads. When you remove this agitator, you can activate the impeller wash action. It helps clean your fabrics efficiently by rubbing them against each other.
Other Features
2-in-1 removable agitator

Presoak option

Smooth spiral stainless steel wash basket

EasyView slow-close glass lid

12 wash programs

5 temperature settings

Affresh cycle

Extra rinse option

Lid lock

360 wash agitator option

Quick wash cycle
Pros
Large capacity

Top-load design

Digital and knob controls

The drum material is stainless steel

The machine comes with enough features

It is extremely affordable

It is perfect for comforters
Cons
It's not as quiet as most washers in its range
3. GE GFW550SSNWW 28-inch Smart Front Load Washer with 4.8 cu. ft. Capacity and 10 Wash Cycles
Everything about this GE washer, from pricing to features, is laudable. You'll be getting a real coup if you invest in this GE washer, as it's one of the few high-end washing machines that fall below that $1000 mark. GE has been one of the best washing machine brands of the past decade, and the brand's popularity continues to increase with the production of high-quality washers. The GE washing machine with a whopping 4.8 cu. ft. capacity is one of the best washing machines for blankets. It has the capacity and the necessary features to give your comforters quality clean. There's nothing to fear with features like the UltraFresh system with OdorBlock and GE's unique antimicrobial technology. This GE washer is one of those washers that can wash king-size comforters.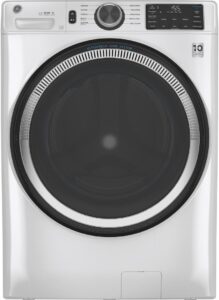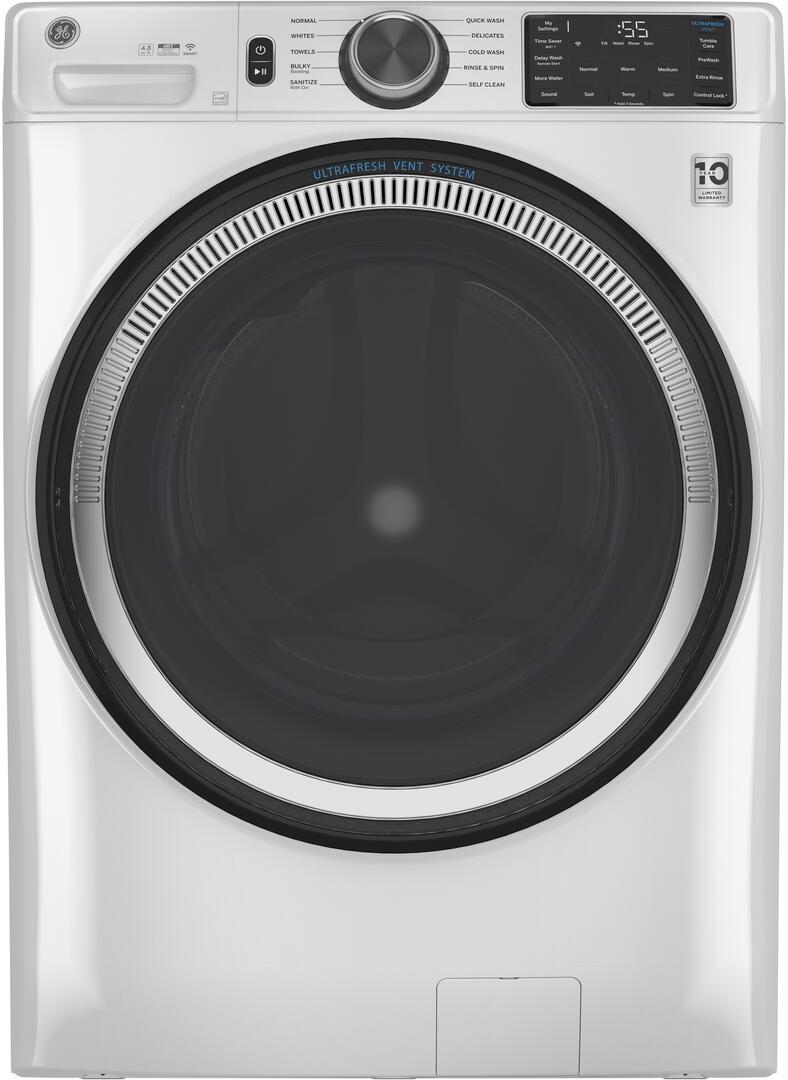 Features
UltraFresh Vent System with OdorBlock
When you use your washer frequently, it's only a matter of time before excess moisture starts to build up, which means unwanted odors will start disturbing you and whatever you put in the washer. To help avoid this, GE has included an UltraFresh system with OdorBlock that gets rid of excess moisture in the washer to prevent odors. This way, you can be guaranteed your washer will always stay clean and fresh.
Quick Wash Cycle
You may be purchasing a washer for comforters, but it's 100% guaranteed that you'll also use it for other materials. The quick wash cycle is a vital feature that lets you wash very quickly and have all your soiled items ready in 20 minutes.
Other Features
Microban antimicrobial technology

Built-in WiFi

Dynamic balancing technology

Reversible door

32-inch closet depth

Time saver

 10 wash cycles

Stainless steel drum

1300 RPM spin speed
Pros
It has enough features to clean efficiently

The washer has a whopping 10 wash cycles

Its proper 32-inch closet depth is perfect for most homes

Extremely affordable

Smart operation

Quiet operation

Works well with Alexa and Google Assistant
Cons
The manual may not be the easiest to understand
4. LG WT7300CV 27-inch Smart Top Load Washer with 5.0 cu. ft. Capacity and 8 Wash Cycles
Even if you're not a regular appliance fanatic, you must have, by chance, used at least one LG appliance before. The LG brand, alongside fellow South Korean brand, Samsung, has been the best and most popular appliance brand in the past few years. This LG 27-inch top-load washer has intelligent features like LoDecibel operation, SmartDiagnosis, SmartThinQ, and voice commands such as Amazon Alexa and Google Assistant. It may not have a lot of wash cycles like the LG front-load washer we reviewed earlier, but its capacity is more than enough if you're looking for a perfect washing machine for beddings. The fantastic comforter washing machine is loved by many if the online ratings are anything to go by.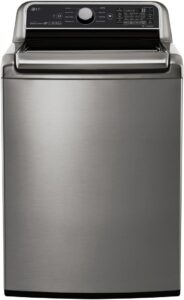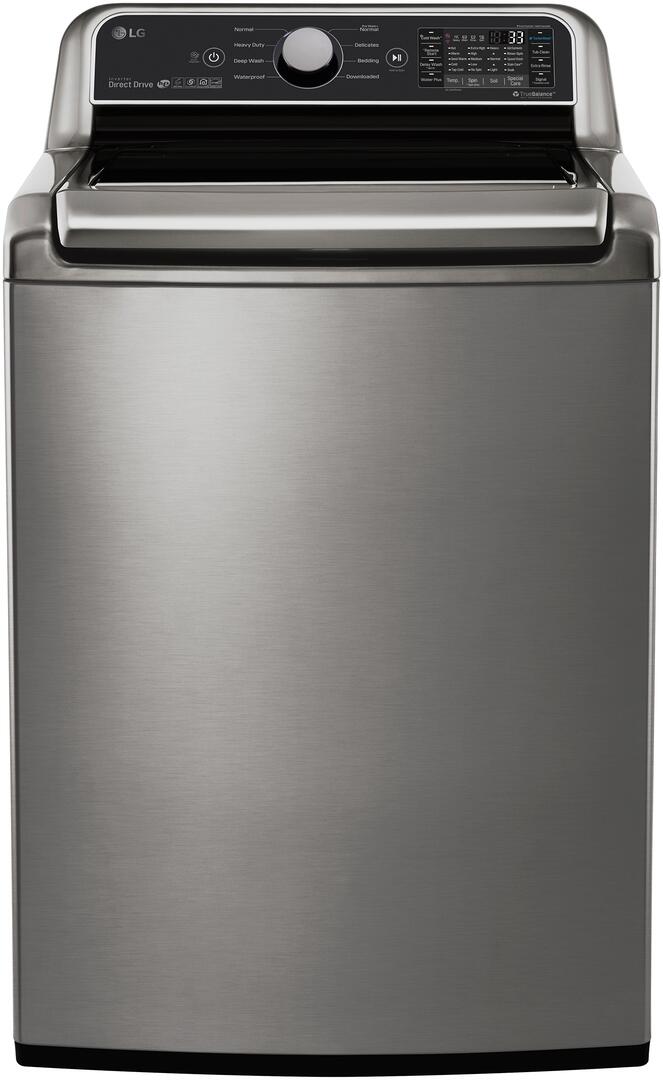 Features
TurboWash Technology
One of the things LG has done to change the industry with high-end features that make laundry very easy and convenient. The TurboWash technology is there to save a lot of time by washing larger loads in just a little time. Now, we know you think you won't get quality performance, but LG has made sure that won't happen, so you can always hope to get the best performance whenever you activate this function, and, of course, some time.
LG SmartThinQ App
You don't have to worry about being at home when your wash cycle is done, as you can now receive real-life notifications on your phone as long as you're connected to the LG SmartThinQ app. You can also select a cycle, stop or start the wash, and do more with the machine from your smartphone. You can also use voice commands such as Amazon Alexa and Google Assistant to control and manage your laundry.
Other Features
Direct drive motor

6Motion technology

ColdWash technology

SmartDiagnosis

Energy Star rating

8 wash programs

NeverRust stainless steel drum and wash plate

Automatic water level adjustment

Child lock

14 wash options

Forced drain system

LoDecibel quiet operation

SmartRise jet spray system
Pros
The washer has many features to help you bring convenience into your home.

Quiet operation

The 14 wash options are enough to get you the result you need

Enough wash programs

Innovative operations, thanks to the LG SmartThinQ app
Cons
It is expensive

A washer of this caliber can do with more maximum spin speed.
Frequently Asked Questions
1. Is any washing machine big enough for king-size comforters?
If any washing machine has more than 4.0 cubic feet, it is generally believed that you can use it to clean comforters as long as you have the green light from the manufacturer of the machine.
2. Do comforters damage washing machines?
It's possible if you put them in a small washer that doesn't have enough capacity to accommodate them. An expert from Home Depot advises going to a laundromat as the perfect thing to do if you don't have a large-capacity washing machine at home.
Conclusion
Most people don't believe that comforters can be cleaned at home, except they take them to a laundromat. However, it is also true that if you have the correct methods and you take the proper steps, you will conveniently clean your comforters right in your laundry room without any issue at all. Because people have found it very hard to clean their comforters at home for quite a time now, they've been inspired to invest in large-capacity washers that can get the job done, hence the emergence of our list of the best washing machines for comforters.
ESTIMATED TIME DESIGNING AND UPLOADING THIS ARTICLE
ESTIMATED TIME RESEARCHING AND WRITING THIS ARTICLE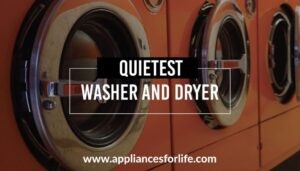 Top 5 Quietest Washers and Dryers
The washing machine is one of the essential appliances around the house. However, people have had issues with vibration and noise over the years. This article will be looking at the quietest washers and dryers available.   Top 5 Quietest Washers and Dryers Comparison Table
Read More »