Top 4 Best Washing Machines For Pet Hair  Comparison Table
| Image | | | | |
| --- | --- | --- | --- | --- |
| Name | GE GFW650SSNWW 4.8 cu. ft. White Smart Front Load Washer with SmartDispense | Samsung WF45R6100AC/US 4.5 cu. ft. Champagne Front Load Washer with Steam | Electrolux ELFW4222AW 2.4 cu. ft. Compact Front Load Washer with LuxCare Wash System | LG WM4000HBA 4.5 cu. ft. Capacity Black Stainless Steel Smart Front Load Washer |
| Brand | GE | Samsung | Electrolux | LG |
| Color | White | Champagne | White | Stainless Steel |
| Capacity | 4.8 cu. ft. | 4.5 cu. ft. | 2.4 cu. ft. | 4.5 cu. ft. |
| Control Type | Digital and Knobs | Digital and Knobs | Electronic | Digital and Knobs |
| Number of Wash Cycles | 12 | 10 | 12 | 12 |
| Product Dimension | 39.75 x 28 x 32 inches | 38.75 x 27 x 31.38 inches | 33.5 x 23.63 x 25 inches | 39 x 27 x 30.25 inches |
| Maximum Spin Speed | 1400 RPM | 1200 RPM | 1400 RPM | 1300 RPM |
| Weight | 246 lbs | 201 lbs | 133 lbs | 187.4 lbs |
| Editor's Rating | ✸✸✸✸✸ | ✸✸✸✸✸ | ✸✸✸✸✸ | ✸✸✸✸✸ |
| | | | | |
If you love nature and a different level of companionship, you must love dogs, cats, and whatever they bring. Pets have proven, time and again, that they can be relied upon when it comes to building a solid companionship with humans. According to the 2021-2022 National Pet Owners Survey conducted by APPA (American Pet Products Association) earlier this year, about 90.5 million families (seventy percent of United States households) own a pet.
Just the year the survey was first conducted (1988), only 56% of United States households owned a pet. For the number to have gone from 56% to 70% means people are bonding well with pets because they find them very valuable to their households. The same survey was conducted in 2019, and the result only stood at 67%.
Many people often think that pets are for those who do not have kids or single people with nobody living with them. If you've followed the upward trend of the sets of people who own pets today, you'll realize that the claim is false. Owning a pet will introduce you to a different type of companionship, and even if you already have a family, the pet will only make the family more complete.
The only downside of having pets in your house is you have to be responsible for them. Being responsible means that you have to take good care of them, including feeding them, ensuring they're clean at all times, and making them feel at home around you, even if they do have their own spot in the house. As adorable as pets might be, you will start to grow frustrated when they shed hair on your bedsheets, which can destroy your washer if you don't get it out of the sheets before putting them in the machine.
If you don't have a washer that is strong enough to handle this task, you may manually remove the hair from your beddings and clothes more often than usual. Understandably, this is very stressful. As a result, you'll usually get recommendations from experts to invest in some of the best washing machines for pet hair to help you effortlessly get the hair out of your beddings and clothes when washing.
The thought of manually getting rid of pet hair from your clothes and beddings is enough to put you off because it's not the most straightforward task to do. If you leave the hair on the clothes without getting rid of them and don't have an efficient pet hair remover washing machine, any machine you're using to wash such clothes or beddings will get clogged. Apart from pet fur posing a significant risk of damage to your appliance, it can accommodate dust, pollen, and dander, all of which can activate allergies.
You can get pet hair out of your beddings and clothes through a combination of higher washing temperatures, powerful rinse cycles, and special programs dedicated to this purpose. Washing pet beddings in a washing machine is only problematic when you do not have the features needed to get through the process in one piece. To remove pet hair from clothes in the washer, you need access to one of the best washers for pet hair.
We've compiled a detailed list of the best washing machines for pet owners to help remove pet hair in the washing machine effectively.
Top 4 Best Washing Machines For Pet Hair
1. GE GFW650SSNWW 4.8 cu. ft. White Smart Front Load Washer with SmartDispense
The GE brand is no stranger to the center stage of the appliance industry because the company has been there for a while. Consistent production of some of the best appliances in the industry has earned the GE brand some cult-hero status, ranking it among the best global appliance manufacturers. Removing pet hair from the washer can be daunting, but this GE washer has enough features to make the process straightforward. The GE washing machine has many innovative features like the Steam Cycle, UltraFresh Vent System with OdorBlock, Sanitize + Allergen, and SmartDispense.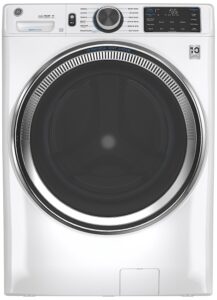 Features
Sanitize + Allergen
Sanitize + Allergen is a feature you should look out for in a washer if you have a pet in the house. Pet fur can be challenging to cope with, but GE has included this innovative feature to help you combat that. The unique wash cycle can kill up to 99% of common bacteria and allergens in your beddings and clothes.
SmartDispense Technology
GE knows precisely what's needed to create washers that will be around for a long time. A feature like the SmartDispense technology will draw more consumers to the GE brand. The feature saves you time and effort by holding up to 32 loads of detergent and automatically dispensing the right amount.
Built-in WiFi
The washer also has built-in WiFi to connect the appliance to your phone for smooth operations. You can now start and monitor your laundry from your smartphone and receive real-time notifications.
Other Features
Reversible door

Quick wash cycle

Dynamic balancing technology

Microban antimicrobial technology

PowerSteam

UltraFresh vent system with OdorBlock
Pros
The washer cleans faster

Large capacity

You can customize each cycle

The washer spins clothes correctly

It has many excellent features
Cons
Poor electrical design

The washer can't dry rugs
2. Samsung WF45R6100AC/US 4.5 cu. ft. Champagne Front Load Washer with Steam
Samsung washers are famous for their compact designs that mostly add value to wherever you place them in the house. If you look at this washer's design, you'll see Samsung's signature idea. The front-load washer adopts the power of steam to combat tough stains, including pet fur. The washer also has the Self Clean+ feature to know when to clean the machine, usually after every 40 wash cycles.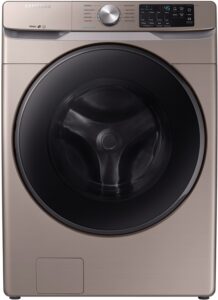 Features
Deep Clean
With this unique feature, you don't need to pre-treat your laundry. The feature lets steam into the drum so the machine can wash your clothes and beddings thoroughly. This feature is one of the reasons the Samsung washer is regarded as one of the best washing machines for pet hair.
Large Capacity
Samsung washers have a large capacity, and this washer is not an exception. Its 4.5 cubic feet drum is enough for you to wash enough clothes and beddings in a single load. This gives you more time to exploit other things you need to do at home.
Self Clean+
It becomes very smelly when you use your washer frequently without washing it. This innovative feature helps keep your washer clean and fresh by eliminating 99% of bacteria that can form in the drum. The machine will also notify you after every 40 wash cycles that it's time for a cleaning.
Other Features
Swirl+ drum interior

Closet-depth fit

VRT Plus technology

Smart care

Digital controls
Pros
It is affordable

It is straightforward to troubleshoot

It is easy to clean

Allows you to wash more in a short period

It is easy to use

The washer is energy-efficient
Cons
It is not the quietest Samsung washer

If you don't install it, you may experience water leakage.
3. Electrolux ELFW4222AW 2.4 cu. ft. Compact Front Load Washer with LuxCare Wash System
When a product has almost 100% positive reviews online, it's not hard to tell how good of a product it must be. You may think the Electrolux brand is not strong enough to compete with the big boys in the industry, but how wrong can you be? It may be costlier than the Samsung washer we reviewed earlier, but you're guaranteed the best value for your money if you invest in this washer. The compact front-load washer has innovative features like the Perfect Stream Technology, LuxCare System, etc.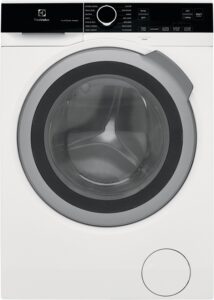 Features
Energy Star Certification
Almost all Electrolux washers meet the strict criteria for Energy Star certification. With this washer, you're guaranteed high-quality energy-efficient performance without compromising the cleaning.
LuxCare Wash System
The LuxCare system is Electrolux's unique feature that guarantees you a thorough clean with improved temperature controls and wash actions. With this feature, you can combat tough stains effortlessly.
12 Wash Cycles
There are 12 unique wash cycles tailored to help clean all your special fabrics/items. They include whitest whites, delicates, activewear, etc.
Other Features
Stackable design

Perfect balance system and second-floor guarantee

Deep clean sanitization cycle

Steam refresh cycle

Energy-star certified
Pros
The washer is energy-efficient

A compact washer that is perfect for smaller space

It has 14 preset options

You can pair it with a dryer easily

It is affordable
Cons
The door takes a while to open after it's locked
4. LG WM4000HBA 4.5 cu. ft. Capacity Black Stainless Steel Smart Front Load Washer
We figured from the online reviews that despite people's protest that the product may be unfairly priced, they wouldn't stop investing because they know just how much of a coup it is. Perhaps its most exciting feature is its ability to clean clothes from multiple in just 30 minutes. The machine can also select and auto-select compatible dry and wash cycles for an optimal wash with built-in intelligence.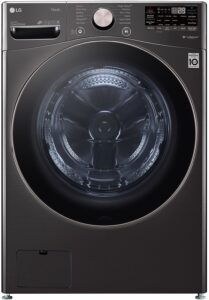 Features
Deep Clean
If you have pets in your house, this is one of the best ways to wash clothes and beddings with pet hair. The washer comes with an innovative feature, Allergiene Cycle, that can remove up to 95% of pet dust and dander.
ColdWash Technology
The washer uses ColdWash technology to penetrate your materials and give you the desired results. The good thing about this technology is that it saves water while also delivering top-notch performance.
LG SideKick Option
This is sold separately from the washer, but you can wash small loads or two loads at once with the pedestal washer if you invest in it.
Other Features
Power clean big loads

LG ThinQ

Large capacity

Compact design

Closet-depth

Smooth stainless steel tub
Pros
The machine cleans clothes very well

It has the speed wash and extra rinse options

It is very effortless to use

It has the right features to make washing very simple and efficient

Simple controls
Cons
The operating instructions are not so comprehensive

The pump may break very early
Frequently Asked Questions
1. Can you wash a pet pillow in the washing machine?
If you don't have a washer with a feature strong enough to handle pet hair, you'll just put it at risk of damage because the pet fur will clog the machine and get damaged. If you use any of the washers reviewed in this article, you're guaranteed success.
2. Does pet dander stay in the washing machine?
Pet dander can stay in the washing machine and clog it if the washer is now powerful enough to handle pet hair. This is why you need to get your hands on some of the best washing machines for pet hair.
3. What is the best pet hair catcher for washing machines?
Some of the best pet hair catchers for washing machines include Gonzo Pet Hair Lifter and FurLifter Furniture Brush. Dog Lab has a full review on that. Read it here.
4. What is the best pet hair remover for a washing machine?
Bissel Pet Hair Broom, Sweepa Brush, SmartSheep Wool Bals, and ChomChom Roller are some of the best pet hair removers you can get your hands on. They're all effective if you don't have a washing machine that is strong enough to deal with pet hair.
Conclusion
If you think there's a limit to what a washing machine can do, try a high-powered option with all the features, every high-powered washer is expected to have. Removing pet hair from textile can be very daunting. Things even get worse when you add water to the equation, as things will become sticky. Putting all these things in your washing machine can result in clumps that stick to your clothes in the washing machine. This is why you need powerful washing machines with enough features to get rid of pet hair from your clothes and beddings.
ESTIMATED TIME DESIGNING AND UPLOADING THIS ARTICLE
ESTIMATED TIME RESEARCHING AND WRITING THIS ARTICLE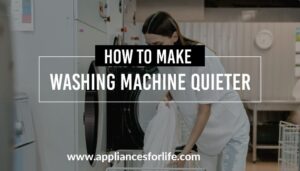 How to Make a Washing Machine Quieter?
Having a noisy washing machine can be very annoying. If you have one in your laundry room, you need to know how to make a washing machine quieter to avoid loud noises that you can find very disturbing. In this article, we'll explore how to
Read More »