There's no denying that, in the world that we live in today, we need the best of everything to get us through each day, and that means the best gadgets, best appliances, best machines at the office to make work easier, and more convenient. It's very amazing how much we've evolved over the years, and in a world where people barely have time to manually get anything done, many manufacturers have taken the opportunity to produce more machines that would help reduce manual input without even compromising quality in any way whatsoever.
We're approaching a fully-fledged digital mode, and it's only a matter of time before technology takes over fully, especially now that companies are investing heavily in era-defining inventions.
The washing machine's global value has appreciated a lot over the past few years because, with each day that goes by, people continue to realize how much they need the machine in their home, hence they don't mind investing a lot of money in bringing the machine around. 
As washing machines continue to grow exponentially in the world, manufacturers have in turn many a fortune for themselves by continuing to produce some of the world's best washing machines, especially in the United States where the machines seem to be appreciated more than any other country in the world. According to a Statista report, the global washing machine and dryer market is predicted to reach $68 billion by 2025, further proving how much people across the globe appreciate the presence of the washing machine in their homes.
Having a washing machine in your space may save you a lot of time and bring more convenience to how you do your laundry, but it doesn't come without its downsides, which include the machine making funny sounds or even worse when the washing machine is leaking water.
Knowing how to handle these problems when they arise will save you from a lot of stress, and who knows how much money you might also be saving as you might not need a technician's help to solve the problems. Why would a washing machine leak? This could be a result of many factors, many of which we'll be looking at later in this article.
When a washing machine is leaking from underneath and you don't pay proper attention to it, you're inviting total damage, and it's only a matter of time before the machine starts malfunctioning generally. This is why experts advise that you take immediate steps to correct the problem as soon as you can before it becomes bigger than it already is, and you end up finding yourself spending a lot of money trying to fix it at the end of the day.
Some of the problems we face with our washing machine are not all that technical, and they can be solved with the right knowledge, but this knowledge is something most of us don't have access to, which is why topics like this are growing in popularity by the day because people want to be able to solve these problems by themselves.
When water is coming out from under the washing machine, you should know something is wrong with the washer, and if not attended to as soon as possible, can cause the washer to be damaged. As opposed to what many think, though, a leaky washing machine is a common problem among modern washing machines, just like when people report that their washers make funny noises or vibrate heavily. According to Ariel, the only tricky thing about these leaks is that they're very tricky to diagnose because you may see water in one location, but the actual leak is elsewhere and can be difficult to find.
When most people realize that their washer is leaking underneath, they start to panic, and understandably so. A washing machine, however low the buying cost is, requires you to part ways with some money, which means that you'll be concerned about your investment in the washing machine even if the washer doesn't cost a lot of money. However, this is a problem you can fix yourself in a short time as long as you have the right methods at your disposal and it might not even cost you a lot of money at the end of the process.
Having a washing machine in your laundry room is very important, but most people are still skeptical, maybe because the ones they've explored are outlandishly priced and you think they may not be worth the price tags after all. If you fall in this category, you only need to see reasons why having a washing machine in your home is very important. We'll be discussing some of those reasons below, so if you've always wanted a washing machine in your home but you've been needing that little nudge to make the big move, you'll find some of them below.
Why Do You Need A Washing Machine?
We all know that modern households are now defined by how many modern household appliances they have in them, which is not unsurprising, taking into account that we now live in a world where digital lifestyle has been glorified and it's almost like we have no other choice than to blend in. One of the machines that have grown so popular in the past few years is the washing machine, and despite its growing popularity that has made experts predict a market value of $68 billion by 2025, some people still don't believe they need a washing machine.
We're not saying anyone should get a washing machine because experts have predicted that the washing machine market value will hit $68 billion by 2025 – of course, that's not enough reason for anyone to put their money on an appliance. You need to understand the convenience the washer will bring into your home, and the thought of not having to manually do almost anything when it comes to laundry is enough for some people to make their decision. Here are some reasons you might need to push yourself to purchase a washing machine for your home if you think you need that little nudge before you make a move.
It Saves You A Lot of Time 
If you've ever washed with your hands, especially when you've tried washing a lot of clothes, you would have realized how much time it takes to get through the process, which can be a bit longer if you're a perfectionist and you want the perfect result. Doing anything manually takes a lot of time, and that's why these machines have been introduced to help us save a lot of time, one of which is the washing machine that can get a lot done in a short time. You can toss a lot of clothes in a washing machine all at once and leave without even monitoring as long as you've chosen the right cycles to help you do the laundry efficiently.
People from many years ago didn't have this privilege because they didn't have access to the washing machine, so you can only imagine how much time households with many people would have wasted on doing their laundry alone. Investing in a washing machine will make you have enough time to monitor other things in your life as you won't have to stay and monitor how the washing machine is doing what it does best, except you choose to, which is not necessary in any way. In this modern world, we have even seen the invention of washing machines that can be controlled from smartphones via Wi-Fi, so even if you're not close to the washer, you can still send commands as long as it has been rightly loaded with your laundry.
It Saves You Money Too 
If you've been taking your clothes to the laundromat to be cleaned, you need to take a minute to calculate how much you're spending weekly or monthly and compare it to how much you would be spending if you had invested in a washing machine instead. With a washing machine, the only thing you need to be concerned about is the running cost which includes detergents, maintenance, and other costs related to fixing the washing machine whenever small issues occur. The truth is, if you maintain the washing machine properly, you may avoid the latter because the chance of the washing machine getting damaged is very low.
One of the biggest factors to consider when purchasing a new washing machine is the cost of operating the washer in the long run because you'll pay more on energy as the washer consumes power and water. However, the cost is still nothing compared to what you'll be spending if you opt for your local laundromat instead because laundry is what you have to do regularly to keep your clothes fresh all the time. If you're opting for a laundromat and you wash many clothes daily, you'll be spending a lot of money in the process, and, at the end of the day, you'll only realize that it's not worth it because you could have saved all that money if you had invested in a washing machine instead.
It Brings Convenience To How You Do Your Laundry 
This might be the most common reason why people invest in a washing machine. The washing machine just doesn't have an ownership rate of over 85% in the United States and over 93% ownership rate in the United Kingdom because it is merely a washing machine and people are just supposed to buy it. People purchase washing machines because they believe in how much convenience the washing machines will bring to their homes among many other reasons, some of which we've also mentioned in this article.
For all it's worth, you're guaranteed the best value for your money when you invest it in a washing machine, provided you consider the important factors before making the big move. The convenience that comes with having a washing machine in your laundry room is enough reason on its own to opt for one. If you want a portable washing machine because you don't want to spend more than your budget, there are always budget-friendly washers you can opt for.
Why Would A Washer Leak From Bottom?
When there's a leak under the washing machine, rather than keeping cool to find where the leak is located on the washing machine so it can be fixed as soon as possible, some people panic and start calling a technician to come to fix it, which is not a bad idea if you have the money to spend. You may even be the reason why the washing machine is leaking water without knowing because you're not paying enough attention to the important mechanisms of your washing machine which you're solely responsible for. Below is a list of the possible causes for a washing machine to leak water from any part;
The detergent drawer is not properly closed.

Loading the washing machine with more clothes than you're supposed to. Overloading the washing machine may cause it to start leaking water.

A clogged water pump filter is also a common cause for a washing machine to start leaking water. When this happens, you need to ensure that you pay immediate attention to the water pump by cleaning it so the dirt in it can allow a free flow of water in and around the washer.

Also, if your washing machine is not standing properly on the floor, it will shake violently, depending on the level of the imbalance, and this might also cause it to leak water from some parts of the washer. Knowing this, it could help you opt for a quiet washing machine when next you're shopping for a new washing machine. But if you're already in the situation, you can invest in anti-vibration pads to stop the washing machine from vibrating, which might stop water from leaking from different parts of the washing machine.
How To Fix A Leaky Washing Machine
Washing machine leaky water when filling or water coming out under the washing machine can be caused by many factors, some of which we've discussed above. Once you have the right methods at your disposal, it'll be very easy for you to fix these problems and whatever might have caused it permanently, at least for as long as you use the washer. We'll be discussing the best way to fix a leaky washing machine in some easy steps below.
Check For The Source
Whenever there's a leak in any machine, not just the washer, the first step you should take is to find the source of the leak so it can be stopped as soon as possible before it does any more damage than it already has. The tricky thing about finding the source is that the spot may not be anywhere near where the water is pooling, but it's a good place to start as you can trace water to the source.
Opt For The Common Quick Fixes
Most times, we opt for the complicated fixes when we can just go for the easier ones and fix the problem as soon as possible. Knowing the likely causes for a washing machine to start leaking water will help you solve the problem easily, so you may not even have to take the long route before getting the fix you need for your washer. Some of the common causes include imbalance, overloading, the presence of the drain plug, the drain hose not properly attached to the drainpipe, and many more. You can stop the leak by simply identifying and correcting any of these causes, and that will be the end of the leak.
Oversudsing is also a Possibility
Oversudsing is when you add too much detergent to your loads and too many suds are produced as a result. When this happens, it can also cause your washing machine to leak water, especially with household water softeners.
Replace the Leaky Parts
It's best if you can find the leaky parts and change them if you need to so the damage can be limited. Sometimes, changing all the leaky parts at once can be difficult, so we suggest you start with the most common parts and ensure you complete the changes before your laundry room gets flooded.
Frequently Asked Questions
1. What should I do if my Kenmore washer is leaking water while filling?
Identifying where the leak is coming from should always be the first step to take whenever you notice your washing machine is leaking water. It's possible to have multiple sources, so you have to be patient enough to detect all the sources before making a move to fix them.
2. LG front load washer leaking from underneath; is it normal?
There is no exception to leaks as any washing machine can encounter this problem. As much as people make it sound difficult, fixing a leaky washing machine is not very difficult as long as you have the right methods. It may not be normal for a washing machine to leak from underneath, but it's not uncommon.
Wrapping Up
While many people believe fixing a leaky washing machine is a daunting process that should only be tackled by a professional, the truth is, you get the job done yourself without seeking any expensive help. You only need to pay more attention to details, which can help you get a lot of things solved so you can solve the problem before things get complicated. The first step is to identify the problem, which stems from knowing the likeliest causes, including a leaky pump, imbalance, and many others. Once you've identified the problem, it's very easy to move on from there.
ESTIMATED TIME DESIGNING AND UPLOADING THIS ARTICLE
ESTIMATED TIME RESEARCHING AND WRITING THIS ARTICLE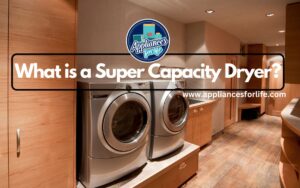 What is a Super Capacity Dryer?
A dryer is one of the dynamic duo that maks your laundry an easy task to do. With a dryer, you will never need to wait hours for your clothes to dry out, evenly. Dryers may not be as flashy as their washer counterpart, but
Read More »