Top 5 Best Washing Machines Under $600 Comparison Table
| Image | | | | | |
| --- | --- | --- | --- | --- | --- |
| Name | Amana NTW45516FW 28-inch Top-Load Washer with 3.5 cu. ft. Capacity | Whirlpool WTW4855HW 28-inch Top Load Washer with 3.8 cu. ft. Capacity | Hotpoint HTW240ASKWS 27-inch Top Load Washer with 3.8 cu. ft. Capacity | Samsung WA40A3005AW 27-inch Top-Load Washer with 4.0 cu. ft. Capacity | Avanti CW84X0WIS 18-inch Compact Top-Load Washer with 0.84 cu. ft. Capacity |
| Brand | Amana | Whirlpool | Hotpoint | Samsung | Avanti |
| Capacity | 3.5 cu. ft. | 3.8 cu. ft. | 3.8 cu. ft. | 4.0 cu. ft. | 0.84 cu. ft. |
| Color | White | White | White | White | White |
| Type | Top Load | Top Load | Top Load | Top Load | Top Load |
| Product Dimension | 27.5 x 42 x 27 inches | 27.5 x 42 x 27 inches | 27 x 44 x 27 inches | 27 x 44 x 29 inches | 17.5 x 31.25 x 18.25 inches |
| Maximum Spin Speed | 700 RPM | N/A | 700 RPM | 700 RPM | N/A |
| Weight | 145 lbs | 126 lbs | 138 lbs | 138.90 lbs | 50 lbs |
| Editor's Rating | ✸✸✸✸✸ | ✸✸✸✸✸ | ✸✸✸✸✸ | ✸✸✸✸✸ | ✸✸✸✸✸ |
| | | | | | |
Purchasing a washer or other household appliances always requires us to pay attention to every detail. We are expected to consider every factor that could affect the outcome of the purchase we're making, and, more often than not, these factors need to be seriously looked into if we're to purchase the product that will serve us for a very long time. One factor that needs to be seriously considered as a buyer is your budget – which is how much you're willing to spend on the product you're looking to get.
We are blessed to witness some of the greatest inventions in history, one of which is the washing machine. Things have even been better than ever with the introduction of technology. As technology gets more advanced, many appliance manufacturers will continue to integrate the latest technologies in most of their appliances. Without a doubt, it's been a fantastic period for these brands as they've made a lot of money from the sales of their appliances worldwide.
One of the many things people misunderstand about affordable machines is that they can't go toe-to-toe with some of the ones with very high price tags. The fact that it is an affordable appliance doesn't mean it has inferior quality or won't serve the purpose you've invested in it. It all depends on the number of factors you consider when purchasing the appliance.
As hard as it may seem, the truth is that you can spend thousands of dollars on an appliance, and you won't get the best value for your money because the appliance is nothing but an overrated machine with a ridiculous price. You can get the best out of a washer that doesn't cost up to $500 than the one with a price tag of over $1500. However, you stand a better chance of getting the best value for your money when you invest heavily in a washer, especially when you trust top brands like Bosch, Whirlpool, Samsung, and LG. Still, we also can't rule out that these brands also manufacture budget-friendly options for those who can't afford luxury washers.
Some may be forced to invest in portable washers that don't cost a lot, not because they can't afford more expensive washers, but because the dedicated space in their house limits them. However, it's more about the budget than any other factor to other people. We're not surprised that people are actively looking for the best washers under $600 or cheap washing machines under $600.
It is safe to say that the best-rated washing machines under $600 are not inferior to some washers that cost a lot more. Some of these washing machine brands know that not everybody has the financial prowess to invest heavily in washing machines with ridiculous prices. Hence, they've found a way to give people quality washers that won't let them break the bank, albeit they might have to settle for a few compromises like small capacity or the absence of some high-end features.
Finding the best washing machines under $600 can be daunting because there are not too many options online. You'll not always get the best results when narrowing your search to specific factors. To save you the stress of scouring the internet for good washing machines under $600, we'll review the top 5 best washing machines under $600 available today.
Top 5 Best Washing Machines Under $600
1. Amana NTW45516FW 28-inch Top-Load Washer with 3.5 cu. ft. Capacity
Portable washers are growing very famous on the market because of the difference they bring to the house. If you don't have enough dedicated space for a washer in your home, the first thing you think of is getting a portable washer, which will save you a lot of money if you take your time choosing the right one. Amana has been one of the best portable washer manufacturers in recent years. The brand has produced some of the best top-loading washing machines for less than $600 and has duly delivered. The compact washer offers 3.5 cu. ft. capacity with five temperature settings, dual-action agitator, and autosensing load size technology.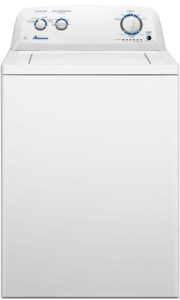 Features
White Porcelain Basket
If you're investing this much in a washer, you need to be guaranteed the best service. Purchasing this Amana washer will let you enjoy the steel-coated white porcelain wash basket that resists rust, discoloration, chipping, scrapes, and scratches. With this basket, you'll never be scared of your laundry getting damaged due to a lousy tub.
Dual-action Agitator
If you want to bring some handwashing effects to your machine, you can conveniently do it with Amana's dual-action agitator. The function of an agitator in a top-load washer is to combat tough stains in your clothes thoroughly. The feature offers the perfect wash action needed to give your clothes the right clean
700 RPM Maximum Spin Speed
Considering the price, this may not be the fastest spin speed on the market, but it remains a decent spin speed to get in this washer. With 700 RPM, you can save yourself some drying time as your washer can spin thoroughly without damaging your clothes.
Other Features
3.5 cu. ft. capacity

8 wash cycles

5 temperature settings

Autosensing load size technology

Leveling legs
Pros
The washer has an extra-deep basin

It dispenses water accordingly

Installation is very effortless

You can easily pair the washer with a compatible dryer

It is incredibly affordable

It is exceptionally reliable
Cons
2. Whirlpool WTW4855HW 28-inch Top Load Washer with 3.8 cu. ft. Capacity
Every appliance brand tries to produce that statement product each year to claim bragging rights over the others. It's safe to assume they do this because they think they still have a lot to prove to their consumers, who are always the winners when something like this happens. In this case, Whirlpool has done more than enough to earn people's trust and loyalty, hence why the brand's products are very renowned today.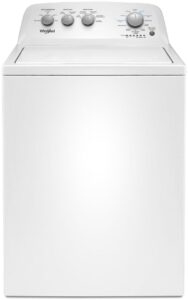 Features
Water Level Selection
The water level selection feature lets you choose the exact water level you need for the water cycle. Also known as auto-sensing technology, you can use the technology to automatically adjust water levels based on the size of the load you're washing.
Stainless Steel Wash Basket
You can forget about snagging, rust, and scratches with the stainless steel wash basket in this Whirlpool water. The stainless steel tub helps protect your clothes against the aforementioned components, leaving you with smooth clothes that smell very nice at the end of every wash cycle.
Extra Rinse Option
If you have any lingering detergent or soils in your clothes, this feature is just what you need to get rid of them. The extra rinse option allows you to get the care you need for your dirty clothes.
Other Features
Delicates cycle

Colors cycle

Dual-action agitator

Fabric softener dispenser

Soaking cycles

Late lid lock

Whites cycle

Smooth spiral stainless steel tub
Pros
Large capacity

It has enough wash cycles

The washer can handle large loads

Easy access to the convenient controls on it

It is easy to clean

You can easily pair it with a washer
Cons
For that price, Whirlpool can do better with the features of the washer.
3. Hotpoint HTW240ASKWS 27-inch Top Load Washer with 3.8 cu. ft. Capacity
Hotpoint is the brand people turn to when looking for affordable washers to buy. The brand is famous for always putting the people first by manufacturing washers that can be easily afforded by most folks that are limited by their budget. Despite having that decent price tag, you'll be wrong to look down on how much this washer can do. Besides having a 3.8 cu. ft. capacity and has 10 wash cycles, one heavy-duty agitator, and a 700 RPM maximum spin speed. Note that the washer is one of the best top-loading washing machines under $600.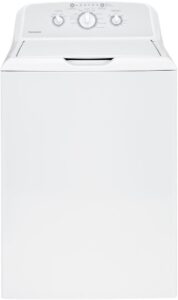 Features
Heavy-duty Agitator
Even if you're using a washer, you don't have to miss out on the effect of handwashing. Hotpoint understands how important it is to have our clothes washed adequately, and the brand has included an agitator in the washer. The agitator offers a decisive wash action that rotates your laundry throughout the wash cycle.
Bleach and Fabric Softener Dispensers
As affordable as this Hotpoint washer is, it still has some of the most exciting features you can dream of having in any washer, even the high-end ones. The washer has bleach and fabric softener dispensers that automatically operate with every wash cycle.
Stainless Steel Basket
You don't have to worry about the condition of your clothes in the tub because it is stainless steel. The finish gives your clothes the protection they need as it doesn't peel, rust, or snag your clothes.
Other Features
Deep rinse action

UL certification

Rotary-electronic controls

Cycle status lights

700 RPM spin speed

4 water level selection
Pros
Very simple to use

It has a large washing compartment

You can effortlessly pair it with a compatible dryer

The 10 wash cycles on the washer are seen as a plus by many

The washer has a great design that will complement your space

It is also easy to install
Cons
Be prepared to sometimes deal with funny sounds, especially if you don't install the washer correctly.

If not installed properly, it may also leak.
4. Samsung WA40A3005AW 27-inch Top-Load Washer with 4.0 cu. ft. Capacity
Samsung is a household name in the appliance industry, so the brand's reputation has never been called to question. People love the brand because it integrates some of the best high-end features in its washers and gives them away for lower prices than brands like LG and Bosch. This washer has some recent technologies, including Self Clean, Child Lock, ActiveWave Agitator, Vibration Reduction Technology, and SmartCare.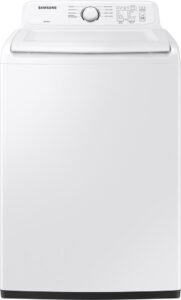 Features
ActiveWave Agitator
People are scared of purchasing washers with agitators because they have a history of aggressive operations, which may damage the cloth when used too often. However, you don't have to worry about the condition of your laundry with Samsung's ActiveWave agitator. It is designed to reduce tangling, noise, and vibration without compromising powerful cleaning.
Vibration Reduction Technology+
Also known as VRT Plus, this feature offers quiet operation as you can now do your laundry without disturbing anyone. The feature reduces vibration and noise so you can quietly wash.
Large 4.0 cu. ft. Capacity
With its unbelievable price tag, this washer still manages to have a large 4.0 cu. ft. capacity, one of the largest-capacity washers in its class. You can now wash more loads in a short time with this washer, leaving you with more than enough time to focus on other things
Other Features
Extra high water level

Soft-close lid

8 preset washing cycles

Self-clean

Smart care

Diamond drum interior

5 temperature levels

700 RPM maximum spin speed

Bleach and fabric softener dispensers

Digital LED

Child lock

AC motor
Pros
It is unbelievably affordable

The machine alerts you when a wash cycle is done

Quiet operations

Large capacity

Fantastic cleaning capability

The washer is energy-efficient
Cons
There's nothing wrong to say about the washer
5. Avanti CW84X0WIS 18-inch Compact Top-Load Washer with 0.84 cu. ft. Capacity
This may not be an ideal option for you if you look at the capacity, but if you're limited by budget, it is a great option to consider. Apart from its decent price tag, this Avanti washer is also great for people who only have small loads of laundry. Thankfully, you can always count on the washer despite its small size when it comes to efficient cleaning.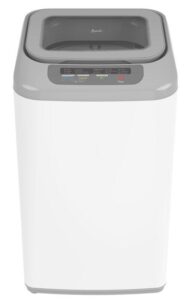 Features
8 Automatic Wash Cycles
The washer has 8 automatic wash cycles, namely Normal, Heavy, Speed Wash, Spin, Gentle, Tub Clean, Cotton, and White. You can effortlessly select the perfect one for your laundry needs with these wash cycles.
Electronic Controls
Don't be put off by its small capacity; there are enough features to make up for that. If you invest in this Avanti top-load washer, you'll enjoy the electronic controls that make every operation very easy. The convenience of these controls is enough reason to put your money on the machine.
Portable Design
If you don't have the luxury of space in your house, this is the kind of washing machine you need in your corner. Besides being affordable, its portability is also enough to invest in it.
Other Features
Portable/Freestanding application

Coldwater inlet

Auto power off

Control lockout

Stainless steel tub

3 load size selections

Safety/splash guard lid
Pros
Quiet operations

It has amazing features

It has a portable design
Cons
The capacity can be larger
Frequently Asked Questions
1. What is the most reliable brand of washing machine?
According to J.D. Power, some of the most reliable washing machine brands include Whirlpool, LG, and Samsung. Samsung and LG are also ranked as the top manufacturers in customer satisfaction. We're not surprised at all.
2. What brand of washing machine lasts the longest?
A post on New York Times suggests investing in Miele or Speed Queen washing machines if you want a washer that can last for a long time. These brands make durable washers designed to last for over two decades.
Conclusion
Price is one of the many things people consider when buying a washing machine. It is important because it sometimes determines how much quality you can get in a washer. Also, trying to narrow some products to a few details, like the best washing machine under $600, will only give you a few results, which can be very hard to bring together. We've reviewed 5 of them in this article to save you the stress.
ESTIMATED TIME DESIGNING AND UPLOADING THIS ARTICLE
ESTIMATED TIME RESEARCHING AND WRITING THIS ARTICLE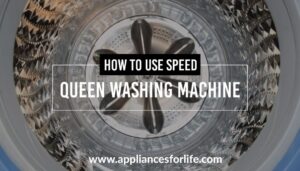 How to Use a Speed Queen Washing Machine?
Speed Queen washing machines may not be as popular as LG, Samsung, or GE washing machines, but they're worth investing in because they're very quality machines. If you have one in your laundry room, knowing how to use a Speed Queen washing machine will come
Read More »