Learning and understanding how an induction cooktop works is complicated if you really don't know what you are talking about. Many people tend to shy away from the idea of induction cooktops because they feel like the cooking methods are different and so are the pots and pans. This is not the case. The entire basis on which induction cooktops work is a little different but either way you will end up with the same result.
Did you know that regular stovetops heat pots and pans through direct contact. Whether it is flames or electrical heating, it does exactly that. Heat. This is known as thermal conduction heating. Induction cooktops don't generate heat but essentially cook food through a magnetic process through a coil which is found under the ceramic worktop.
The only thing which is important to know is pots and pans need to be made of metal to finalise this magnetic cooking process otherwise it won't work. The magnetic current can then generate the heat in the pot which will cook your food.
The great thing about induction cooktops is that whatever else you place on the cooktop cannot heat up. Your hand, the tea towel, glass cups and so on can not get burnt! Yes for child safety we say. There are some types of pots and pans which work really well and others which don't. Have a look at our list below to find out the options which our team have personally tried and tested.
As an Amazon Associate we earn from qualifying purchases. We may earn a small commission for our endorsement, recommendation, testimonial and/or link to any products or services from this website. Thank you, your qualifying purchases help support our work in bringing you real daily gift ideas.
The Best Cookware and Induction Cooktops
| Image | | | | |
| --- | --- | --- | --- | --- |
| Title | ELO Skyline Kitchen Induction Cookware Pots and Pans Set | Simply Calphalon Nonstick 10 Piece Cookware Set | Frigidaire FFIC3026TB Electric Induction Smoothtop Style Cooktop | Empava Stove Power Boost Vitro Ceramic Black Electric Induction Cooktop |
| Manufacturer | ELO Cookware | Calphalon | Frigidaire | Empava |
| Material | 18-8 Steel | Aluminum | Ceramic Glass | Glass |
| Color | Stainless Steel | Black | Black | Black |
| Weight | 12.47 pounds | 19 pounds | 42.2 pounds | 18 pounds |
| Special Feature | Ergonomic Handles | Tempered Glass Lids | Auto-sizing Pan Detection | 9 Heat Level Settings |
| Editor's Rating | ✸✸✸✸✸ | ✸✸✸✸✸ | ✸✸✸✸✸ | ✸✸✸✸✸ |
| | | | | |
POT AND PAN MATERIALS THAT WORK
Literally anything that is magnetic will work. The ones that we found to work the best are cast iron, steel, magnetic stainless steel and ceramic clad pots and pans which have iron hidden in the layer.
Aluminium, glass and copper pans won't work unless they have a lining of iron somewhere inside them which you can't see. If you want to check to see if a pot or pan will work on your induction cooktop then grab a fridge magnet and see if it sticks to the bottom of the pan, if it does, it will work. If it doesn't then it won't!
ELO Skyline Stainless Steel Kitchen Induction Cookware Pots and Pans Set with Air Ventilated Lids, 10-Piece
We found this set of pots and pans not only great value for money but great for induction cooktops. They are designed really well and made from high quality materials. Each glass lid has a stainless steel rim and an air vent. All of them are dishwasher safe and come backed with a one year guarantee. If you are looking for something affordable but amazing quality then go in for this simple ten piece set.
You know German products are always of high quality, right? This German-engineered cookware set has its pots and pans made of high-grade stainless steel with the inside spotting high gloss. All the items in this set are packed with ergonomic handles, which allow you to handle them safely and conveniently.
Expensive? Not a bit. This set is the true definition of 'best value for money' and with the affordable price tag, getting this will have little or no effect on your pocket.
FEATURES
Ergonomic handles
Compatible with induction, electric, gas, and glass ceramic stoves
Dishwasher-safe
Stainless steel rim lids
Ventilated air vent
Capsulated bottom
Simply Calphalon Nonstick 10 Piece Cookware Set
This set is actually recommended by the professionals. We love the sleek, black elegant color and although a little pricey we think they are worth the money. Highly versatile, durable and really easy to clean (although not dishwasher safe) cooking can be made fun with these pots and pans. They have a non-stick coating and with one wipe can be made bright and shiny new again! These are high quality pans and something you should think of investing in if you want to be making some gourmet meals anytime soon!
FEATURES
Corrosion resistant
Durability
Tempered glass lid
Long silicone handles
2-layer non-stick interior
Effortless cleaning
Oven-safe
THE GREAT THING ABOUT INDUCTION COOKTOPS
If you haven't used an induction cooktop yet then you really don't know what you are missing. They are so easy to use and safer than ever before. If you are always in a rush and have a tendency to leave grocery bags around or tea towels then don't worry because they can't catch fire because as we have said before only magnetic items heat up.
Many professional cooks today decide to cook on induction cooktops because of their advantages. This method is just as powerful as gas and the temperature can be just as easily regulated as other methods. There is no wasted heat either because all the energy is directly applied to the magnetic material on top of the stove. As well as a cooler kitchen you can have a cooler stove and wipe up spills without burning a hole in your dishcloth.
Induction cooktops need very little counter space and are easy to install. All you need literally is an electric socket and two inches of counter depth underneath where the induction cooktop is going. For easy cleaning, top safety, healthy cooking and a modern and efficient way to cook we go for induction all the way!
COOKTOP OF THE YEAR
Frigidaire FFIC3026TB 30-inch Electric Induction Smoothtop Style Cooktop with 4 Elements, Black
If any brand should be right on top of the list, it should be no other the popular, world class Frigidaire, right? Regarded as arguably the best electronics brands in the United States, Frigidaire is best known for producing quality kitchen appliances and home electronics generally. With this product, they've further propelled their name into the world market and the world will soon come looking, irrespective of whether or not they're already a global brand.
The four burners range in power from 1,440 watts to 3,800 watts. Additionally, this Frigidaire induction cooktop is one of the few on our lineup that provides power boost capabilities on all four burners. The power boost increases the power on the burner and makes it possible to heat water at an even faster rate. However, even though all four burners feature the power boost, the burners are split into two groups, and only one element in a group may use the power boost at a time.
This cooktop features an advanced timer that you can use for each individual element. When the timer for a specific element is done counting, the cooktop automatically shuts off that element. This is a standout feature, as many cooktops provide just a generic kitchen timer or do not include the automatic shut-off capabilities.
There is also a setting to keep food warm without overcooking the dish. This is the lowest setting available on the cooktop. The settings on this induction cooktop range in ability from warming and melting foods to frying and searing meats. You can choose from 17 different settings, which is an excellent variety. This also helps you choose the right temperature for the foods and prevents undercooking or burning dishes. It also provides safety features that are ideal in any home, particularly if you have small children who may push buttons or attempt to reach the cooktop surface. Overall, this Frigidaire cooktop has all of the features we look for in this type of appliance and the resources you need to help you craft culinary delights.
RUNNER UP
Empava 24-inch Stove Power Boost Vitro Ceramic Black Electric Induction Cooktop with 4 Booster Burners
You can get this model in three different options; as 12-inch, 24-inch, and a 36-inch which is the only different cooktop in the model as it is a gas cooktop. A verified customer who was in love with how the cooktop had served them raved about the item, saying "Great for the price and still loving it after a year."
We couldn't help but gosh over this cooktop's appearance which till now seems to be more modern than other cooktops in its class. It features a black ceramic glass plate that takes only a small space under your counter, and that's not the only thing. This black ceramic design makes the cooktop very easy to clean up, and if maintained properly, will last longer than how long you expect it to last.
Additionally, this Empava cooktop comes with 9 heating levels, leaving you with numerous options when choosing the right amount of heat for each of your meals. These levels include steam, slow cook, deep fry, boil, grill, simmer, and sear among others. This is an amazing cooktop and like the comment a verified user of this item gave on the cooktop, this cooktop is fairly priced and the features it is packed with are somewhat more sophisticated than the price tag.
NOTABLE MENTIONS
Having talked about what in our opinion are two of the hottest cooktops you can get in the market right now, we'll now list some cooktops that also deserve to be on this list of the best induction cooktops you can get for the best value.
Professional Portable ECOTOUCH Countertop Electric Stove Cooktop
You might be put off by the price of over $200 for a cooktop with only a single heating phase but a deeper look into the features this cooktop is packed with will definitely give you a change of heart. The stainless steel electric stove range cooktop features cooling fans and rotary switch, all of which make cooking more convenient. This rotary switch presents you with the chance to choose from the 13 built-in present power levels and 17 different temperature levels.
Noxton Electric Induction Cooktop Stove with 4 Burners and Touch Control
The last cooktop on this list is from Noxton and its most glaring and likeable feature remains the child lock timer, which is a further proof that safety is very important in everything in life, with cooking not being an exception. The four high power burners have 2000 watts, 1200 watts, 2000 watts, and 1200 watts respectively and they are supported by the independent touch control panel which is energy efficient. Just like the Empava cooktop, this Noxton electric induction cooktop also comes with 9 power level settings that include stew, boil, stir fry, and many more. Other features include it's glass plate design, the popular child safe lock, heater indicator, round edges, and many more.
Frequently Asked Questions
1. Can you use normal pots on an induction cooktop?
According to experts, only pots and pans with a ferrous metal base can conveniently be used with an induction cooktop. To know if your own cookware can be used on an induction cooktop, you can try putting a magnet close to your pot or pan; if it attracts, then it means this pot or pan is safe for use.
2. Can you slow cook on an induction cooker?
Some induction cookers come with the 'slow cook' feature so if yours comes with it, you can slow cook on your induction cooker.
3. Can induction cooktop cause fire?
It most likely cannot. Induction cooktops do not use electric or gas cooking elements, making them very safe to use. You can even place your hand on the cookware on this cooktop without suffering burns.
Final thoughts
Induction cooktop is one of the most cost-effective cooktop types you can get out there and that has really increased its popularity in the market. The increase in demand has led to a price hike over the years but these cooktop types are still regarded as generally affordable.
We've tried to discuss the best induction cooktops in their respective classes but we recommend that you take a deeper look into each product if any of them catches your attention enough to want to make a purchase.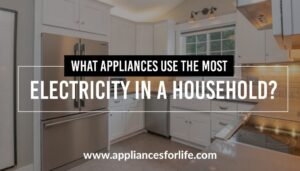 What Appliances Use the Most Electricity in a Household?
Electrical appliances have become a must-have in every home and they've become popular in recent years, especially the modern ones with new tech-inspired features being packed with them. As a result of that, the energy consumption in every home has increased greatly, which has left
Read More »