Top 4 Best 24-inch Electric and Gas Cooktops Comparison Table
| Image | | | | |
| --- | --- | --- | --- | --- |
| Name | Bosch NGM5456UC 500 Series 24-inch Stainless Steel Gas Cooktop | Whirlpool WCG52424AS 24-inch Stainless Steel Gas Cooktop | Samsung NZ24T436ORK/AA 24-inch Black Radiant Electric Cooktop | Bertazzoni PE244CER Professional Series 24-inch Black Ceran Touch Control Cooktop |
| Brand | Bosch | Whirlpool | Samsung | Bertazzoni |
| Product Dimension | 2.75 x 23 x 20.5 inches | 1.63 x 23.25 x 20.13 inches | 3.38 x 23.63 x 20.44 inches | 3.13 x 24 x 20.5 inches |
| Weight | 32 lbs | N/A | 23.3 lbs | N/A |
| Ignition Type | Electronic | Electronic | Electronic | Electronic |
| Color | Stainless Steel | Stainless Steel | Black Radiant | Black Ceran |
| Number of Burners | 4 | 4 | 4 | 4 |
| Special Features | Heavy-duty Metal Knobs | Sealed Burners | Automated Indicator Light | Boil Over Sensor |
| Editor's Rating | ✸✸✸✸✸ | ✸✸✸✸✸ | ✸✸✸✸✸ | ✸✸✸✸✸ |
| | | | | |
As far as cooking is concerned, cooking ranges and cooktops are ultimate. People have realized that for a long time, hence why they are popular today. For a long time now, kitchen appliances have been going through a significant evolution, and as time passes, they begin to gain a lot of relevance. People are starting to invest a lot of money in these kitchen appliances. Technology has made things even better, with top appliances manufacturers taking a bit of this and implementing them in the appliances they produce, leaving us with new appliances every day.
Things had significantly improved from how they used to be many years ago when technology hadn't come into play. Still today, people now have access to the most sophisticated appliances in history. The good thing about the appliances available today is that they will only matter as technology continues to improve and manufacturers continue to find new ways to make them better than they currently are. As a result of how helpful they've been to people, global sales of appliances have skyrocketed over the past few years, with many manufacturers realizing billions of dollars in the process, with the market itself having a value of 177 billion as of 2018.
The fact that people appreciate the importance of appliances in their homes shows that these appliances play a huge role in our everyday life indeed. Even before technology came into play, people had heavily relied on the major household appliances to help them get through each day in one piece. However, when you look back on those appliances now, you'll realize today's ones are better. That's no disrespect to the machines that existed many years ago – the manufacturers couldn't produce anything outside their resources, which has to do with the availability of quality material and technology.
It's hard to think about the several kitchen appliances available today without having the cooktops and ranges as some of the first few names that hit your mind – that's just how vital the machines are. They are now regarded as some of the essential kitchen appliances in the world today because they have a direct effect on our health as they're the ones that help us prepare most of the meals we eat today. Finding the right cooktop with the right size might be very difficult, but according to Appliances Connection, the most popular range/cooktop size, regardless of its type, is usually 30 inches.
Check out this article to learn more about the best 30-inch gas ranges you can get on the market today.
The most popular size is 30 inches. Long before most manufacturers started producing cooking ranges in other measures such as 48 inches or 36 inches, they could only conveniently make 30-inch ranges as this size sold more on the market because of its compactness. However, not too many people can still afford to have a 30-inch range in their kitchens due to lack of space, so some eventually opt for 24-inch ranges, gas or electric. Whether you're on the market for a quality 24-inch gas stovetop or an efficient 24" electric stovetop, you'll always find the one that best suits your kitchen needs and budget, which we'll be discussing in this article.
Before we get into the best 24-inch electric and gas cooktops, let's quickly examine the differences between gas and electric cooktops, exploring the pros and cons of each range type in the process.
The Difference Between An Electric Cooktop and Gas Cooktop
Both gas and electric cooktops are ideal, but, as you would expect, people have preferences, so while some think gas cooktops are the best, others would put their money on electric cooktops any day. As much as people have choices, there are several other factors to consider, but it's safe to say the most significant difference between these two range types is how they're powered. According to Nerdwallet, choosing which cooktop is ideal for your kitchen usually goes down to one factor – the type of power sources you already have at home, and maybe your willingness to install new ones to accommodate the cooktop you're looking to bring in.
The same Nerdwallet blog post reveals that about half of the homes in the United States use natural gas to power their appliances, which means that they prefer gas cooktops and ranges to their electric counterparts. Chefs prefer gas cooktops because they cook faster and distribute even heat, while real estate agents also use gas ranges and cooktops as a point of interest to potential buyers. On the other hand, electric cooktops are functional and elegant because they're packed with features that set them apart from gas ranges.
Pros of Gas Cooktops
More temperature control
Compared to an electric cooktop which usually takes longer for its coil to heat up and cool down, having a gas cooktop gives you the chance to enjoy more temperature control, and if you love your meals to get prepared faster, then this is what you need. Electric cooktops find cooking food quickly and evenly more challenging due to the coils on the stovetop taking a while to heat up and cool down, although most people don't see this as a problem for electric cooktops. Many professional chefs have cited this as one of the best things they love about this cooktop type, and those who love to cook a lot around the house will also find gas cooktops very ideal for this reason.
When you have a gas cooktop in your house, you have more control over the stovetop temperature by making the flamer bigger or smaller, depending on the meal you're trying to prepare. If you have kids around, an electric cooktop might not be ideal, except there are proper safety measures to prevent them from touching the stovetop, especially when you've just finished cooking because it may take a little while before the stovetop cools down.
No stress if you already have gas hookups
Electric cooktops may not be as expensive as gas ranges, but they're quite a lot to install as you'll spend a lot of money trying to get the required electrical outlets in the right spots. Suppose you've always used a gas cooktop. In that case, it's best to stick with it as you already have the suitable gas hookups that you can easily connect to the cooktop instead of needing an electrician to help you create an electrical outlet required to run the electric cooktop properly. If you consider the installation cost, you'll realize the initial high fee of a gas cooktop is nothing compared to what will be spent when you're installing a new electric cooktop.
Gas cooktops are easy to clean
Getting stains removed from your gas cooktop won't be daunting because it'll most likely come with cooking grates and ceramic caps that make cleaning easier and quicker. You can wipe the grates down in a few minutes while the ceramic caps help you keep spills out of the burners. That's not to say electric cooktops are not also easy to clean. However, if your electric cooktop has a ceramic or glass stovetop, in that case, it may be a little challenging to remove the stains, especially when you don't try to get rid of them almost immediately.
Cons of Gas Cooktops
They are initially more expensive
Although it'll be hard not to find a gas cooktop within your budget, it's still safe to know that gas cooktops are usually priced higher than their electric counterparts. At the initial stage, you may be forced to ditch a gas cooktop when you consider its price, but it's only a matter of time before you realize it's easier to install and maintain, saving you a lot of money at the end of the day. Thankfully, as mentioned earlier, you will always find a gas cooktop within your budget if you're willing to compromise on a few things like features and available sizes.
Safety concerns
Safety concerns have always been a major con for gas cooktops. As much as manufacturers are working so hard to solve this mystery, people are still alarmingly complaining about the lack of enough safety features. Another thing is that if a gas cooktop is not installed correctly, there might be leaks, which means the machine will release small amounts of carbon monoxide into the environment, which can cause a severe problem, especially in a kitchen that is not adequately ventilated. Thankfully, you can now install devices like carbon monoxide detectors to help you detect if the deadly gas is available in your kitchen or anywhere around it.
Pros of Electric Cooktops
More features
If you invest in an electric cooktop, you're opting for more features because what the cooktop type slightly lacks in efficiency makes up for several features that can help make cooking easier and safer, including essential safety features. With these features, especially the safety features, you can be confident of safe operations whenever you're operating your electric cooktop.
They are cheaper compared to gas cooktops
If you're on a budget and are stuck between purchasing a gas cooktop or an electric cooktop, you will find it more appealing because it's usually priced lower than a gas cooktop of the same size. For all it's worth, you'll also get to enjoy fantastic safety features, and that's why people that are limited by their budgets always opt for electric cooktops rather than going above their budgets to purchase a gas cooktop. Finding an electric cooktop that fits your budget should not be all that daunting, as you can get a quality 24-inch electric cooktop at a very reasonable price.
They are also easy to clean
Like gas cooktops, electric cooktops are also very easy to clean, except you leave burnt stains on the ceramic or glass surface for too long. Doing this will make them a bit hard to clean, and you'll have to adopt demanding approaches like using vinegar and baking soda, both of which are ideal for combating tough stains.
Cons of Electric Cooktops
They may be a little difficult to install
If you're opting for an electric cooktop, you must either have the necessary electrical outlets installed in your house or be ready to spend a lot of money having an electrician do it for you. Switching from a gas cooktop to an electric cooktop requires a profound change, and to have your cooktop function properly as it should, you need to get all the connections right.
The Best 24-inch Gas Cooktops
Bosch NGM5456UC 500 Series 24-inch Stainless Steel Gas Cooktop
Bosch is one of the best appliances manufacturers today, and the brand continues to justify its position as one of the best with the production of quality appliances, including this NGM5456UC 500-series 24-inch stainless steel gas cooktop. According to Bosch, the gas cooktop is engineered to produce a precise performance which is exactly what small kitchens need.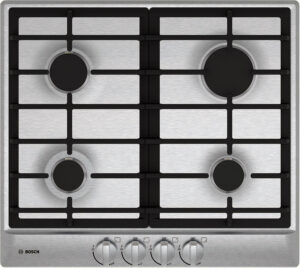 Features
11,500 BTU burner
If you invest in this Bosch gas cooktop, you'll enjoy a powerful 11,5000 BTU burner that is available to help provide optimal cooking results.
Stainless steel design
To have a gas cooktop in that price range with a stainless steel design is always very impressive. Considering its price, a stainless steel design is a great thing to have, and the fact that it'll complement the other appliances in your kitchen makes it very unique.
Whirlpool WCG52424AS 24-inch Stainless Steel Gas Cooktop
The concept of 24-inch gas ranges is to provide quality options for those with small kitchen spaces without compromising the quality of the cooktop they're investing in. Finding the perfect gas cooktop for tight spaces used to be a significant issue as cooktops of this size weren't available, but the story has since changed, thanks to what brands like Whirlpool and Bosch have done.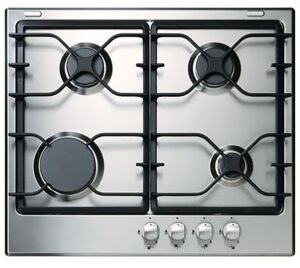 Features
Sealed burners
Let's face it – it's pretty hard to find a gas cooktop in this price range (less than $1000) that comes with sealed burners. Whirlpool has broken that barrier to make sure even your budget shouldn't stop you from enjoying the best features in a gas cooktop. When you have sealed burners on your cooktop, it'll be difficult for foods to get stuck in the burners.
AccuSimmer Burner
Despite its fair price tag, this Whirlpool 24-inch gas cooktop comes with a unique burner that helps the appliance maintain low and even heat when cooking delicate foods like soups and sauces.
The Best 24-inch Electric Cooktops
Samsung NZ24T436ORK/AA 24-inch Black Radiant Electric Cooktop
Small or busy kitchens need compact appliances that will complement one another, which means finding suitable sizes whenever you're on the market for such space. Thankfully, this Samsung black radiant electric cooktop is one of the most affordable 24-inch electric cooktops you can put your money on today. The Samsung electric cooktop features four heating elements that can accommodate your cooking needs, with one special dual-element being big enough to fit pans and pots of different sizes.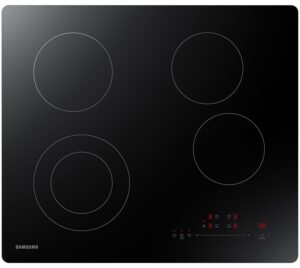 Features
Easy to clean
Since this cooktop is a modern, full-touch electric cooktop, it naturally makes it very easy to clean due to how it's designed.
Indicator light
One of the most significant advantages electric cooktops hold over their gas counterparts is that they're usually packed with more features than gas cooktops. One safety feature that catches the attention of many is the automated indicator light that wants you when the surface of the electric cooktop is too hot to touch. This way, you'll be aware of the condition of the cooktop even without interacting with it.
Bertazzoni PE244CER Professional Series 24-inch Black Ceran Touch Control Cooktop
Bertazzoni has to be one of the best cooktop/range manufacturers today, and the Italian brand has again claimed bragging rights with this pro-style electric cooktop. The cooktop features an Italian design that sets it apart from the other electric cooktops you can find on the market. The cooktop features front-mounted touch controls that give you total control over the electric cooktop and how your meals come out. The only con with this product is that it doesn't come with a power cord, and that's because there are different outlet configurations.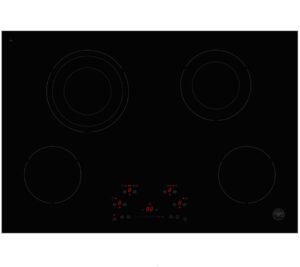 Features
Boil over sensor
Electric cooktops are famous for their easy-to-clean nature, but to not take chances, Bertazzoni has packed this cooktop with a unique feature called The Boil Over Sensor. Its job is to prevent significant spillovers so cleaning won't be all that daunting at every cooking process.
Residual heat indicators
This is another safety feature that informs you and whoever has access to the cooktop whether or not the cooktop is safe to be touched.
Frequently Asked Questions
1. Are there 24-inch induction cooktops?
Yes, induction cooktops are also available in 24 inches, and that's the good thing about the appliances market today.
2. Are induction cooktops the same as electric cooktops?
While both cooktop types may be similar in appearance, heat sources are different, and that's one of the significant differences. While an electric cooktop uses a more centralized heat source, an induction cooktop uses copper coils to create a magnetic current that provides heat directly to the cookware.
Conclusion
Deciding between a gas and an electric cooktop is not always easy for many, but once you get familiar with the pros and cons of each cooktop type, making your decision may not be all that difficult after all. We've discussed the best 24-inch electric and gas cooktops in this article. Similarly, we've also highlighted some of the pros and cons of gas and electric ranges.
ESTIMATED TIME DESIGNING AND UPLOADING THIS ARTICLE
ESTIMATED TIME RESEARCHING AND WRITING THIS ARTICLE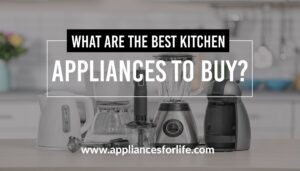 What Are The Best Appliances To Buy For Your Home?
It's not always easy finding out what the best appliances to buy in the market are, especially when you're on a budget but in this article, we'll be helping you solve that mystery by recommending some of the best budget-friendly kitchen appliances you can get
Read More »