A gas cooktop with a griddle can be utilized to make breakfast, lunch, or dinner. This flexibility means that purchasing a new gas cooktop with griddle could significantly increase your meal options on a daily basis. Of course, there are many things to consider before you buy, such as: your budget, energy savings, installation costs, maintenance costs, and the best time of year to make your purchase. It's also good to know what cleaning options are available for your range, as using the wrong cleaner can permanently damage the product.
Below are five of the highest rated choices for a gas cooktop with a griddle:
Comparison Table of the Best Gas Cooktop with Griddle
| Image | | | | |
| --- | --- | --- | --- | --- |
| Name | Bertazzoni MAST486GRTBXT 48-Inch Natural Gas Rangetop with Griddle | Viking VRT7486GSS 48-inch Natural Gas Rangetop with Griddle | Monogram ZGU366NTSS 36-Inch Natural Gas Cooktop with Griddle | Miele KMR13561GDG 48-Inch Natural Gas Rangetop with Griddle |
| Product Dimensions | 25.25 x 48 x 7.63 inches | N/A | 27.5 x 37.5 x 8.5 inches | 26.5 x 47.94 x 7.5 inches |
| Burner Type | Sealed | Sealed | Sealed | Sealed |
GAS COOKTOPS WITH GRIDDLE
Bertazzoni MAST486GRTBXT Professional Series 48-Inch Natural Gas Rangetop with Griddle
When it comes to cooking ranges (electric and gas), Bertazzoni is one of the go-to brands and it hasn't disappointed with the professional series MAST486GRTBXT Gas Range with Griddle which comes with 6 sealed burners in brass. The rangetop also features Cast Iron Grates, One-Piece Stainless Steel Worktop, Failsafe Thermocouple Technology, Electric Griddle, and many more.

FEATURES
6 BRASS BURNERS + ELECTRIC GRIDDLE
Get yourself a professional cooking result with the combination of 6 different sealed burners in brass, and electric griddle. As you would expect, the cast iron contour grates are designed to be spacious so as to take pans and pots with different sizes effortlessly. Boil water faster on the extra powerful 19,000 BTU burner than on any other burner on the rangetop.
EASY CLEANUP
Cleaning isn't always easy, and as a matter of fact, nobody likes to scrub. However, it's not the case with the rangetop as it is very easy to clean with its seamless stainless worktop leaving no spaces.
LARGE STAINLESS STEEL GRIDDLE
This stainless steel griddle integrated with grease-catcher serves when in use, and even better when not in use.
OTHER FEATURES
Powerful BTU

Delicate Simmer

Convertible to Liquid Propane

Authentic Italian Design
Viking VRT7486GSS 7 Series 48-inch Natural Gas Rangetop with Griddle
Not many rangetops can boast of 6 sealed burners with griddle coupled with 3 different burner sizes. The range top features VariSimmer settings on all the featured burners, blach chrome knobs with LED lightning, continuous grates, SureSpark ignition system, and a heavy gauge porcelain burner pan. Viking VRT7486GSS 7 Series is without doubts an ideal choice for every home and it is worth every penny spent on it.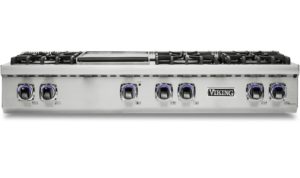 FEATURES
VARISIMMER SETTING
All the 6 burners featured in this rangetop come with the VariSimmer setting that provides gentle simmering to achieve low cooking temperatures.
THREE BURNER SIZES
The 6 burners are made in three different sizes to efficiently accommodate and heat your cookwares regardless of their sizes.
SURESPARK IGNITION SYSTEM
SureSpark Ignition System is Viking's exclusive feature that ensures automatic ignition or reignition in case the burners go off any time during the cooking process.
OTHER FEATURES
Reversible cast iron griddle

Continuous grate design

BlackChrome knobs

SoftLit LED lights
Monogram ZGU366NTSS 36-Inch Natural Gas Cooktop with Griddle
A deep recessed gas cooktop loved and trusted by many homeowners, Monogram ZGU366NTSS features 5 sealed brass burners. Cooking, sometimes can be tedious and you do not need a cooking range that will stress the life out of you. This rangetop has been built to make cooking easy and convenient and it features electronic kitchen timer, precision knobs, built-in WiFi connectivity, and many more.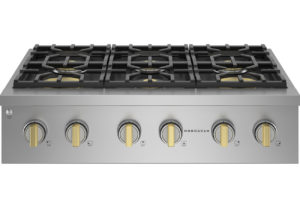 FEATURES
PRECISION KNOBS
The rangetop is packed with knobs that are supported by sapphire glass which illuminates through each knob to make the view brighter and clearer enough to select heat settings.
DUAL-FRAME STACKED BURNERS
These burners are packed with a complete 140F simmer-to-rapid-boil flexibility so that they are sealed to the cooktop to aid easy and convenient cleaning.
ELECTRONIC KITCHEN TIMER
This Monogram rangetop features a built-in electronic timer which is very essential for meal preparation.
OTHER FEATURES
Tri-ring burner

Brass burners accents

High-output cooking

Control lock capability
Continuous grates
Miele KMR13561GDG 48-Inch Natural Gas Rangetop with Griddle
If you're looking to get a maximum cooking experience that comes with lots of features that make cooking easy and convenient, look to none other than the KMR13561GDG gas rangetop by Miele. It comes with continuous iron grates that make the movement of heavy cookwares safe and easy. The pro dual stacked burners offer you a large space just so you can cook more than one dish at a time.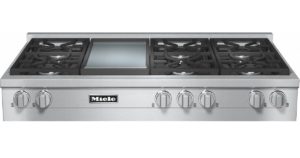 FEATURES
DISHWASHER-SAFE GRATES
For fast cleaning, you take off the grates from the rangetop and wash in your dishwasher without any trouble as the grates are dishwasher-safe.
SEALED BURNERS
The burners featured in this rangetop are sealed to contain spills and also make the rangetop easy to clean and maintain.
CONTINUOUS SIMMER
The range top provides you with the heat and perfect temperature you need for simmering. It doesn't matter whether you're thickening a sauce or melting chocolate, you're sure to get the best result.
OTHER FEATURES
Clean touch steel front

Backlit knobs

M Pro infrared griddle
THINGS TO CONSIDER WHEN LOOKING TO GET A NEW COOKTOP
Never go into a purchase knowing nothing about the product, its capabilities, or its long term durability. Here are also some other things to consider when looking for a new cooktop:
Cleanup

Burner layout

Controls

Appearance

Longevity
Cleanup
You want to look closely at the instructions for the gas cooktop with griddle so you'll know both how long the cleanup will take and what cleaning products you'll need. You won't want old food to harden and become difficult or impossible to remove. Ask yourself: Is the surface easy to clean? What is the estimated cleanup time? What can you use on your cooktop? How often should you clean your cooktop? How long does it take to cool down so you can clean it?
Burner Layout
In this case, there would be four burners and a griddle in the middle for pancakes, bacon, sausage, etc. You want to make sure of what you'll need from your purchase to decide on what to purchase. Along with layout, observe if they have the bright, yellow label on it that signifies energy savings. Also look at the perks of having a burner layout such as this one as this layout creates a whole plethora of meal options.
Controls
With any appliance you purchase, you want to make sure you have a good understanding of how the appliance operates.  Your gas cooktop with a griddle is no different. Once you have a list of needs you want from your new cooktop you'll be able to compare ranges to your checklist for easy reference. Controls are important because you want them to be easy to access and durable so they don't break easily. Always buy with the brain to avoid causing your wallet more pain!
Appearance
The finish of your gas cooktop with a griddle is very important because you want it to match the rest of your home's theme. You would want stainless steel if your kitchen has a darker theme for example. Finding out what ranges will fit your current theme will help avoid awkward clashes later.
Longevity
How long will your purchase last? This is a very important question not only because you want to make sure your purchase will last, but because shopping at the right time of year can save you a fortune. If you shop online, pay attention specifically to thursdays and the end of the month!.
Cleaning Your Gas Cooktop with Griddle
If you plan to purchase a gas cooktop, you need to know how to clean it. There are different methods to clean your gas cooktop with griddle, according to Thermador.
According to Thermador, you should never use a cleaning agent while the gas cooktop is hot because of hazardous fumes that could be bad for your health.
If you have a stain that won't come off with just regular cleaning, you have to remove the grates after they cool down and use something mild to clean it and it should come off. Stainless steel is a great look to have in your kitchen as long as it's clean!
To clean stainless steel, Thermador states that a mild cleaning solution such as mild soap and water will do. You have to wipe in the direction of the steel grain when washing and drying and once you're done, dry it well so there are no watermarks. Also, don't use harsh cleaners on stainless steel because it is very damaging.
When you're cooking, the grates to place your pots on can easily get dirty with burnt particles from spills. If you don't clean them as soon as the spill occurs and the cooktop cools down, it could be harder to get food particles off later. Mild, soapy water is the key to cleaning a gas cooktop with a griddle.
Because a gas cooktop with a griddle gets extremely hot while it cooks your food, it's good to clean the surface and knobs of any dust or other particles because you don't want to start a fire that you may not be prepared for.
Thermador also states to never use flammable cleaning supplies on the gas cooktop to avoid catastrophes.
FREQUENTLY ASKED QUESTIONS
How do I clean my stainless steel griddle without getting hurt?
Safety is important in anything you do and when cleaning your griddle, you need to be very careful. In case you have excess cooking oil on your rangetop, kindly turn off your rangetop and allow the griddle to cool off (warm at least). Proceed to apply about ¼ cup of water on the surface of your cooktop to soften any residue. After doing that, wipe with a paper towel to get the result you desire.
The dishwasher-safe grates; are they really dishwasher safe?
Yes they are. Most people doubt how true this is but if it is indicated that a grate is dishwasher safe, then it really is. Manufacturers would not put their reputation in jeopardy for this little, yet important factor.
Proceed With Confidence
Now that you know what to look for when thinking about purchasing a gas cooktop with griddle and how to clean a gas cooktop, go window shopping online and in store, pay attention to your budget, compare prices and products, and make a purchase!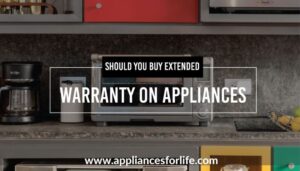 Should You Buy Extended Warranty on Appliances
If you're purchasing appliances, warranties are not something you should overlook as they're very important. Should you buy an extended warranty on appliances? Let's find out in this article. Also in this article, we're going to be looking at the difference between an extended warranty
Read More »