The dishwasher marketplace is a crowded venue bubbling with great appliances.
The dishwasher keeps your kitchenware sparkling clean. It's important to remember the maintenance needs of the dishwasher. We'll go through how to clean a Samsung dishwasher. Regular cleaning improves performance and reduces unnecessary repairs. 
Caution: If your dishwasher has a stainless steel interior (which most Samsung dishwashers do), do not use bleach as this may damage or discolor the interior. 
Cleaning Samsung dishwasher:
The dishwasher automates the boring and unglamorous dishwashing tasks leaving your hands free to focus on more important matters. If you own a dishwasher, you will want to know how to make a dishwasher shine. Here are tips for cleaning a dishwasher. Cleaning a Samsung dishwater can be divided into five parts. 
Routine cleaning

Deep cleaning

Filter cleaning

Nozzles cleaning

Drain pump cleaning
Routine dishwasher cleaning:
It is advisable to do this cleaning regularly. When you notice your unit accumulates stains, debris, and other marks both inside and outside, it is time to schedule a routine cleaning. You should do this regular cleaning, preferably every week.
Take a soft, damp cloth. Gently wipe down the outside of the dishwasher and control panel.

For models with a cutlery pad, turn over the cutlery pad. Turning it over keeps the cutlery pad clean. Run the Self Clean cycle to remove odors and white spots from the pad. During Self Clean, make sure the dishwasher is empty and do not add detergent. 

Place an 8-ounce cup of distilled white vinegar upright in the lower basket. Run a Sanitize cycle by selecting the

Sanitize

button. This cycle will reach 163°F during the final rinse cycle to ensure optimum sanitization. This process cleans the interior.

Note:

When running Delicate and Rinse only cycles, it is impossible to activate the Sanitize feature. The Sanitize light normally blinks until the required water temperature is achieved.  If the water temperature requirements are not met, the light will flash. Make sure to raise the temperature of the water supply.
Check out  Samsung dishwasher cycles, options, and settings for more information. 
Deep dishwasher cleaning:
It is recommended that before performing a deep clean, you do a routine dishwasher cleaning explained in the previous section. Once the routine clean is done, remove the nozzles and filter and soak them overnight in distilled white vinegar. Distilled white vinegar removes accumulated grime and mineral deposits that may cause odor. Deep cleanings are recommended every month. 
Many Samsung dishwashers are fitted with a removable filter. Samsung recommends that you refer to your user manual if the steps indicated here do not match your user manual. It is also possible that your dishwasher does not have a removable filter. In that case, your manual will not provide the cleaning steps, and all you have to do is clean the bottom of the dishwasher tub everywhere you can. Clogged filter errors such as 1E (which may look like IE) indicating that water is not going through the filter are preventable if you clean the filter frequently. The cleaning steps below are for models with a removable filter. 
Remove the lower rack.

To unfasten the filter compartment door, rotate the filter handle counterclockwise.

Remove the filter door and then remove the underneath filter. Handwash the filter in warm soapy water and clean the filter door. Using a toothbrush, remove the stubborn debris, soak the filter and filter door overnight in distilled white vinegar and rinse in running water. 

Fit the filter and filter door back on the appliance. 

To lock the filter door, rotate the filter door handle clockwise. 
Nozzles Cleaning:
Cleaning nozzles regularly is recommended. Cleaning ensures that they rotate smoothly and spray water through each hole. Clogged nozzles reduce cleaning performance and will sprinkle food particles on dishes. Here is how to clean the nozzles:
Remove any racks as they will block access to the nozzles.

To unfasten the nozzle cap, turn it counterclockwise. Remove the upper nozzle. For nozzles without a nozzle cap, just pull it out. 

Get a small brush and clean the nozzles thoroughly; soak the nozzle overnight in distilled white vinegar and rinse by running water through the nozzle. Be sure to check that water runs through all the nozzle's holes.

Put the nozzle back into its place. Fasten the nozzle cap, should there be one, by turning the cap clockwise. Rotate the nozzle to confirm if it is attached properly. 
Refer to your user manual for the correct steps if the steps above do not match your model. 
Drain Pump cleaning:
The drain pump can be reached when the drain filter is removed on some dishwasher models. A clear sign of a clogged drain pump is improper drainage. Sometimes dirt caught in the drain pump will cause the dishwasher to make a noise. 
Samsung advises that it is rare that you will need to access the drain pump. But if it is accessible, the user manual for your dishwasher includes instructions for cleaning it.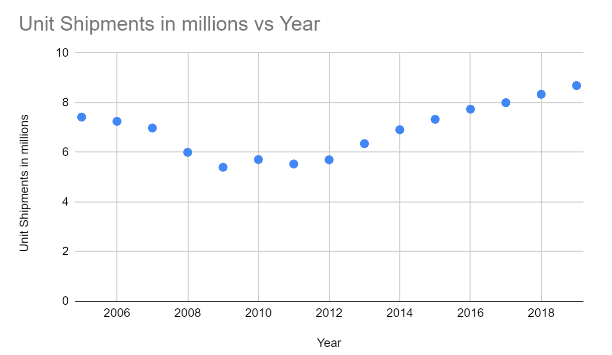 The figure above shows total unit shipments of dishwashers in the US • Dishwasher unit shipments in the US 2005-2019 | Statista
Samsung dishwasher:
The Samsung dishwasher menu offers seven different products. The dishwasher marketplace is a crowded venue bubbling with great appliances. Their competition, notably LG Smart Dishwashers with QuadWash | LG USA and GE Kitchen – Dishwashers – Page 1 – GE Appliances offer a wider variety, but Samsung products can stand out because the stable offers a great appliance package incentive program and key technologies. Most Samsung dishwashers cost between the low to the mid-end price range. Here are features to look for when shopping for a dishwasher and how the Samsung dishwasher compares.
Quiet Operation: A quiet dishwasher ranks high among the needs of a customer shopping for a unit to purchase. Decibels (dB or dBA) are the standard by which manufacturers rate the quietness levels of different models. The higher the number, the noisier the dishwasher will be. The recommendation is that you buy a dishwasher with a rating of 50 dBA or less. 50 dBA is the noise level of a normal conversation. Anything higher than this will cause a racket in your otherwise tranquil home. Between 44-48 dBA is the ideal quietness for a household. Below 44 dBA, the dishwasher will hum away unnoticed, as silent as a mouse. 
Samsung dishwashers are among the most silent on the market. In comparison to their competition, they are very reasonably priced. A Samsung dishwasher with an amazing 39 dBA quietness is available in the market for less than $999.
Style and Visual Appeal: The latest Samsung dishwashers come in  three uniques styles: the towel bar handle style, a pocket handle with visible controls, and a pocket handle with controls that are not visible. Samsung's Tuscan steel and black stainless steel finishes have gained popularity with customers in recent months. You will also find the irresistible smudge-resistant stainless steel design and the 18-inch small dishwasher in two colors in the Samsung stable.
Cleaning and drying performance: The Research and Development department has been working overtime to close the technological gap in dishwashers with their major rivals. Here are some cutting-edge technologies Samsung has fronted in the market:
Linear wash:

Also known as WaterWall or AquaBlast, Samsung innovatively designed their washers to spray water like a wall from one end of the tub to the other in a "linear fashion." This technology ensures no dirty spots as long as dishes are not stacked in the dishwasher. Six powerful jets spray towards a moving bar to create the linear wash.
StormWash:

This is a water distribution system in Samsung dishwashers with regular rotary spray arms. It is designed to clean heavily soiled pots, pans, and dishes. It is activated by selecting the StormWash program. 
The ZoneBooster:

This is a cleaning area in the lower rack equipped with extra nozzles to target those heavily soiled utensils. It is usually a brilliant red color, so it is easy to spot.
Autorelease door:

After the cycle is finished, Samsung designed the dishwasher door to automatically open, letting out steam and bringing in ambient air. The door works wonders for the machine's drying performance. 
The Flex Tray:

This is a 3rd rack for silverware. It is located just above the upper rack for utensils. It makes loading quick and easy, saving space on the lower shelf. 
Top 3 Samsung Dishwasher Models:
Here are the Top 3 Samsung dishwasher models:
1.StormWash™ 48 dBA Dishwasher in Stainless Steel Dishwasher – DW80R5060US/AA | Samsung US
 Available in Stainless Steel, Black, White, and Black Stainless Steel – Quiet at 48 dBA. This model features the auto-release door that increases drying and eliminates odors that are bound to occur if the washer remains closed after the wash cycle. It is also equipped with StormWash.
Available in Stainless Steel, Black, White, and Black Stainless Steel. Quiet at 44 dBA, includes the 3rd rack for silverware. Features the auto-release door and SteamWash. The upper rack is height adjustable  with one touch and provides more flexibility when placing different sized utensils. 
Available in Stainless Steel or Black Stainless Steel. WaterWall cleaning technology. 3rd rack with Flex Tray. This model is equipped with AquaBlast and ZoneBooster technologies and a  super silent operation at 39 dBA. Its monitor is WiFi-enabled.
Samsung products:
Samsung is the world's second-largest technology company by revenue. Samsung is a major manufacturer of electronic components such as lithium-ion batteries, semiconductors, image sensors, camera modules, and displays for clients such as Apple, Sony, HTC, and Nokia. It is the world's largest manufacturer of mobile phones and smartphones. The company is also a major vendor of tablet computers like the android powered Samsung Galaxy Tab. Samsung was a pioneer in developing the phablet market with the Galaxy Note family. The company has developed 5G capable mobile devices like the Galaxy S22 and foldable devices like the Galaxy Z fold 3. Samsung has been the world's largest television manufacturer since 2006 and the world's largest manufacturer of mobile phones since 2011, when it surpassed Apple up until 2021. It is also the world's largest memory chip manufacturer. In Samsung's stable are products including:
LCD and OLED panels

Solid-state drives

Hard drives

Monitors

Tizen

Printers

Speakers
Frequently Asked Questions:
Q: What is the best dishwasher detergent for a Samsung dishwasher?
Use a tablet or a capsule. It does not matter which dishwasher model you are using because the technology globally is uniform.
Q: How do I do a hard reset on my dishwasher?
Hold the start button down for three seconds to reset a dishwasher. If that does not work, switch the dishwasher off at the main power supply. 
Q: Why does my Samsung dishwasher keep beeping and flashing?
Open the door. The model and serial number will be on a plate inside the door. Write those numbers down and check the manufacturer's website.
In conclusion, a dishwasher is among kitchen appliances that are rarely purchased. When a decision is made to acquire a dishwasher, Samsung will be a competitive brand when buying a dishwasher because of its reliability, technology, styling, and colors. But once I have one in my kitchen, I want to make sure that it serves me right and for long. This article is the go-to whenever I realize that I need to clean my Samsung dishwasher, but I don't know how.
ESTIMATED TIME DESIGNING AND UPLOADING THIS ARTICLE
ESTIMATED TIME RESEARCHING AND WRITING THIS ARTICLE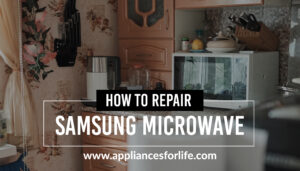 How to Repair a Samsung Microwave
Microwave repair seems like a big deal to many, but it's not. Knowing how to repair a microwave will come in handy whenever your microwave starts showing signs of slowing down. In this article, we'll be exploring how to repair a Samsung microwave. Many people
Read More »