The Question
Many people looking for a way to diversify their plethora of cooking options will eventually have to ask themselves: how does a pressure cooker work?
Although most people tend to think of pressure cookers as being a "turn it on and walk away" type appliance, understanding how your pressure works is essential for maximizing the return on your investment. There is a lot that goes into heating the meals as well as keeping them healthy. There are also many possibilities when using a pressure cooker, but your access to those possibilities is severely limited if your knowledge of your pressure cooker is as well..
Below are five top pressure cookers.
As an Amazon Associate we earn from qualifying purchases. We may earn a small commission for our endorsement, recommendation, testimonial and/or link to any products or services from this website. Thank you, your qualifying purchases help support our work in bringing you real daily gift ideas.
| Image | | | | | |
| --- | --- | --- | --- | --- | --- |
| Name | Presto 01370 Pressure Cooker | GoWISE USA GW22620 4th-Generation Programmable Pressure Cooker | Cuisinart CPC-600AMZ 1000-Watt 6-Quart Electric Pressure Cooker | Power Pressure Cooker XL – Silver | Instant Pot IP-DUO60 7-in-1 Programmable Pressure Cooker |
| Manufacturer | Presto | GoWISE USA | Cuisinart | Power Pressure Cooker XL | Double Insight Inc. DBA |
| Product Weight | 10.35 lbs | 10.5 lbs | 14.2 lbs | 9 lbs | 11.8 lbs |
| Special Feature | Tri-Clad Base | Durable PTFE and PFOA-free coated insert pot | Push Button Controls | One-touch cooking | Advanced safety features |
| | | | | | |
Pressure Cookers
Presto 01370 Pressure Cooker
Presto is one of the most renowned brands when it comes to the production of pressure cookers and this deluxe pressure cooker is designed to further increase their stakes in the market. The pressure cooker is crafted of stainless steel with a tri-clase base which aids even heating and easy cleaning. Fast and easy to use, Presto 01370 Pressure Cooker obviously deserves the top spot on this list.
FEATURES
TRI-CLAD BASE
This tri-clad base is a layer of aluminum that's located between two layers of stainless steel to help ensure that there's fast and even heating. It works perfectly on both gas and electric ranges, and even smooth-top.
COVER LOCK INDICATOR
This cover lock indicator is one of the many safety precautions featured in this pressure cooker. It shows immediately there's pressure inside the cooker.
PRESSURE REGULATOR
The pressure regulator helps maintain proper cooking pressure automatically without you having to check every time.
OTHER FEATURES
Steam release system
Stainless steel steamer basket
64-page instruction and recipe book
GoWISE USA GW22620 4th-Generation Programmable Pressure Cooker, 6 QT
If you think a pressure cooker is all you'll be getting when you purchase this product, then you should read exhaustively about this product for a change of mind. This pressure cooker features essentials which include a reliable cooking pot made of stainless steel, measuring cup, and steam rack among others. The outer body is designed all in stainless steel coupled with amazing touch handles.
FEATURES
12 COOKING PROGRAMS
The pressure cooker features 12 different cooking programs including rice, multigrain, soup, porridge, poultry, steam, porridge, bean/chili, steam, egg maker, yogurt, saute, and slow cook. This pressure cooker is designed with optimal time and is recommended for anybody who loves to cook faster than usual.
SECURE PRESSURE RELEASE
Releasing pressure from your pressure cooker might make you vulnerable if proper care is not taken which is why this pressure cooker features a secure pressure release. This makes your cooker release pressure in a safe way without putting you in harm's way.
OTHER FEATURES
Fast and even heating
An insert pot that's PFOA-free with PTFE
Pre-set cooking functions with Pressure Cooker and Slow Cooker options
Cuisinart CPC-600AMZ 1000-Watt 6-Quart Electric Pressure Cooker, Brushed Stainless and Matte Black
Cuisinart CPC-600AMZ Electric Pressure Cooker is one of the most talked-about pressure cookers on Amazon, and rightly so. The cooker reduces your cooking time by 70 percent when you compare it to the traditional stovetop cooking. This is achieved by the unit trapping the steam inside, with pressure building up as a result in order to create hotter temperatures which will in turn help cook your food faster. As well as locking in heat and moisture, the pressure cooker also helps retain flavours and most of the nutrients that are considered healthy to the body.
FEATURES
BROWNING
This is a preset type that ensures that you cook food over a high heat without the lid before pressure cooking. These types of food include meats and vegetables.
SIMMER
Simmer is another preset temperature that allows you to cook liquids at a lower temperature. This is often used to round up the cooking of some items like adding ingredients to a risotto, stew, or sauce. Additionally, if you're not satisfied with a cooking you've just done, you can continue the cooking process with this preset temperature.
OTHER COOKER SETTINGS INCLUDE;
Low Pressure
High Pressure
Keep Warm
Saute
Power Pressure Cooker XL – Silver
Like most pressure cookers out there, Power Pressure Cooker XL allows you to prepare food 70% faster than the traditional ways of cooking which is something that's absolutely needed in the world at the moment. Just with a touch of a button, the cooker uses a locked lid to retain heat in order to raise temperature. The cooker features things like Flavor Infusion Technology, Touch Preset Buttons, Built-in Safety Features, and many more.
FEATURES
FLAVOR INFUSION TECHNOLOGY
The Flavor Infusion Technology helps to lock in flavor and nutrients for healthy cooking results. You also have the chance to infuse meat and seafood with intense flavor without added fat. In vegetables, best rest assured that your fibers will remain intact while you also get a tender crisp.
ONE-TOUCH COOKING
The one-touch cooking featured on this cooker includes Slow Cooker, Canner, Soup Maker, Cookware, Rice Cooker, and Soup Maker.
Instant Pot IP-DUO60 7-in-1 Programmable Pressure Cooker 6Qt/1000W, Stainless Steel Cooking Pot and Exterior
Instant Pot is without doubt one of the best producers of pressure cookers with their pressure cookers always safe and convenient to use. Compared to the traditional methods of cooking, this Instant Pot 7-in-1 programmable pressure cooker cooks 2 to 6 times faster, uses 70% less energy and also produces healthy food in the most convenient manner.
FEATURES
3-PLY BOTTOM STAINLESS STEEL INNER POT
This inner pot which is 100% durable is very safe to use without the fears of having health issues related to non-stick coatings.
AUTOMATIC KEEP-WARM
This helps to keep the temperature of your food if you wish not to serve it as soon as it's done.
What are the different parts that make up a pressure cooker?
While trial and error may be the method consumers are originally drawn to, spending the time to learn about your pressure cooker can make a huge difference. Both the quality of your food and the overall life of the cooker can be very easily improved by arming yourself with the knowledge to stop problems before they occur.
These are the parts that are on a pressure cooker, according to Mrs. Vickie:
Sealing ring
Over pressure plug
Pressure regulator
Vent pipe
Air Vent/Cover lock
Cover handle
Cooking rack (inside)
How does a pressure cooker work?
The simple way to explain a pressure cooker is that it is a pot that features a lockable lid that helps control the pressure in order to hasten the whole process of cooking, according to Nathan of Modernist Cuisine.
A pressure cooker has "pressure" in the moniker for a reason. The semi-sealed lid and the valve work capture steam so it can't escape. When steam can't escape from a pot on the stove, it boils over. However, with a pressure cooker, it contains the steam and all of that steam builds up the pressure inside. This results in the increase of the boiling point of water and decreases the amount of needed cooking time, according to Nathan.
Now here is the step-by-step explanation of the magic behind pressure cookers, according to Modernist Cuisine:
Heat caused by the high-pressure steam is rapidly transferred to the surface of any food which isn't being affected by the liquid you have in your pot.
Your pressure cooker has a built-in feature that helps control and regulate the pressure coming from the cooker. Once your pressure cooker gets too hot and heat needs to be released, a spring-loaded valve is triggered so that the vent opens up to release excess steam. Also, the cooker automatically reduces heat to avoid overpressurizing as soon as it is detected that the cooker has reached its cooking pressure limit.
Always ensure to check and clean the sealing ring which takes a form of rubber gasket because it's the one that helps prevent steam from escaping from the pot as it expands. If proper attention is not paid to this process, the pressure in the vessel will build to a point where it'll make food particles stuck in the seal which will in turn cause leakage of steam if it is not cleaned on time.
Avoid getting your cooker overworked due to frequent overpressurization which can cause damage to the cooker's functionality.
Always ensure that the handle is properly locked when in use to prevent it from opening while in use and under intense pressure.
Do not fill your pressure cooker with more than two-thirds full so there will be enough space to also accommodate liquid particles.
Whatever it is you're cooking, always make sure you add just the right amount of water you need to the pressure cook. This way, you're giving the cooker enough water it needs to form the amount of steam needed for the food to get evenly cooked.
What are the different pressure release methods?
When you get your first pressure cooker, there is some terminology that you want to know and remember. There are three different pressure release methods.
According to the Pressure Cooker Critic, the first pressure release method is the natural release method. This takes the longest at about 10-15 minutes and is good for different meats and food that foam. This method does require you to take the pot from the heat source and let it cool down naturally.
The next method is the quick release method. This is good when you want to interrupt the pressure cooker to put in vegetables with your meats, or basically add anything in to a pre-existing stew..
The last method is the cold water release method. This takes about 20 seconds and is accomplished by simply removing the cooker and running it under cold water.. Avoid the vent and valve when doing this method. This is especially good for vegetables so they're not overcooked.
How does this help with me wanting to make healthier meals?
Pressure cookers make meals healthier by not destroying nutrients that typically escape in the steam through other cooking methods. According to Food Renegade, cooking foods for a shorter amount of time preserves nutrients more than cooking for a longer amount of time.
Less water translates directly into more nutrients to feed your bodies many needs. Pressure cookers also make grains and legumes more digestible by reducing the amount of phytic acid and lectins.
Carcinogenic compounds such as acrylamides can be found in potatoes when cooked at high temperatures. However, these harmful compounds can't form in a pressure cooker because of all the trapped steam, yet another significant positive about pressure cookers. Pressure cooking can also increase the digestibility of protein by 84 percent, according to Food Renegade.
Nobody wants to be hosting a dinner party in a few hours and still having to ask how your pressure cooker works. Arming yourself with the knowledge in this article is the first step in getting the most out of your pressure cooker.
If you're purchasing appliances, warranties are not something you should overlook as they're very important. Should you buy an extended warranty on appliances? Let's find out in this article. Also in this article, we're going to be looking at the difference between an extended warranty
Lorem ipsum dolor sit amet, consectetur adipiscing elit. Ut elit tellus, luctus nec ullamcorper mattis, pulvinar dapibus leo. Getting Heated Up Corned beef pressure cooker recipes can be a bit trickier than some might think. Making a truly delicious corned beef dinner starts all the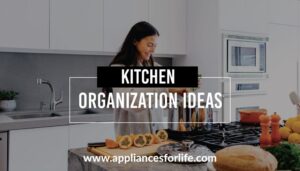 61 Effective Kitchen Organization Ideas
Our kitchen organization ideas will help you know where to put things in the kitchen, and how to organize kitchen appliances. The kitchen is one of the busiest places in the house, and a lot of people spend so much time in there that they
Read More »