Top 4 Best 36-inch Electric and Gas Cooktops with Downdrafts Comparison Table
| Image | | | | |
| --- | --- | --- | --- | --- |
| Name | KitchenAid KCED606GBL 36-inch Black Electric Downdraft Cooktop with 4 Elements | JennAir JED3536GB 36-inch Black Floating Glass JX3 Electric Downdraft Cooktop | JennAir JGD3536GS JX3 36-in Stainless Steel Gas Downdraft Cooktop | KitchenAid KCGD506GSS 36-inch Stainless Steel 4-burner Gas Cooktop |
| Brand | KitchenAid | JennAir | JennAir | KitchenAid |
| Product Dimension | 3.36 x 36.31 x 22.06 inches | 3.66 x 36.31 x 22.06 inches | 18.44 x 36 x 21.5 inches | 18.44 x 36 x 21.5 inches |
| CFM | 300 | 297 | 297 | 300 |
| Ignition Type | Electronic | Electronic | Electronic | Electronic |
| Color | Black | Black Floating Glass | Stainless Steel | Stainless Steel |
| Number of Cooking Elements | 5 | 5 | 5 | 5 |
| Special Features | 8-inch Round Element | DuraFinish Glass Finish | Brass Burners with Removable Base | 5K BTU Even-Heat Simmer Burner |
| Editor's Rating | ✸✸✸✸✸ | ✸✸✸✸✸ | ✸✸✸✸✸ | ✸✸✸✸✸ |
| | | | | |
Cooking is an essential part of everyone's life, and when it's something you love naturally, you'll want to do all you can to ensure that you enjoy it as much as you can, and that means having the right appliances to help you get through every cooking process. Before technology came into play, cooking was still essential and people had many ways of doing it. Technology has made things even better, and today, we have different cooking appliances that range from cooking ranges like gas and electric ranges to cooktops such as gas, electric, and induction cooktops.
Cooktops will continue to be popular alternatives to cooking ranges because they don't cost as much, yet manage to offer almost everything ranges offer except that cooktops don't come with certain features like built-in ovens unless they're integrated. According to a Wikipedia post, cooktops can be found with an oven integrated into the kitchen stove, but can also operate as standalone appliances, after all, that's the idea behind cooktops – they're just like ranges without built-in ovens. Just like ranges, though, you'll most likely need a kitchen range hood installed over your cooktop to get rid of fumes, unwanted smells, smoke, carbon monoxide, and other harmful elements from your kitchen.
Cooktops are a great thing to have in your kitchen even if you don't spend a lot of time in your kitchen but you understand that cooking can be daunting and you need the best appliances to make the process very easy for you. The fact that they're available in various sizes and types makes them a great choice for many kitchens. It means you can have the one that is perfect for your kitchen in terms of type, size, features, and most importantly, your budget.
A 36-inch gas cooktop is just as popular as a 30-inch gas cooktop or a 48-inch gas cooktop, all of which are efficient as long as you take your time before purchasing them. It doesn't matter if you're getting the 36" in gas cooktop for your island countertop or a built-in oven, you'll always find the one that's perfect for your space as well as your budget, which is what we'll be looking at later in this article. The goal should be to find the perfect cooktop type and size for your kitchen at the end of the day.
A great alternative to a range hood, which is sometimes more expensive, is the downdraft which can also be directly integrated into the cooking surface to help eliminate the need for an overhead vent, according to KitchenAid. The system was created to help get rid of unwanted elements like smoke, grease particles, and odors from the cooking surface before they escape into the air. The goal is to make your kitchen a great place to be and to also make cooking very convenient for you.
Getting a 30-inch gas cooktop with downdraft or a 30-inch electric cooktop with downdraft can be a lot for some folks when you consider the size of the markets and the number of options available to them at the moment. Since downdrafts are also gaining more prominence on the cooktop/range market, people are now beginning to pay more attention to ranges and cooktops with built-in downdrafts. However, if you're opting for a range hood and you are ready to make financial commitments, learn more about how to pick a range hood in this article.
The Best 36-inch Electric Cooktops with Downdrafts
1. KitchenAid KCED606GBL 36-inch Black Electric Downdraft Cooktop
For many years now, KitchenAid has been rated as one of the top appliance manufacturers in the world, crediting the company with the production of high-quality appliances like cooking range, blenders, cooktops, and many more. The KCED606GBL is, perhaps, the best KitchenAid 36-inch cooktop with a downdraft, and there are not too many of them. For a 36" electric cooktop, this price tag that is slammed on this cooktop is considerably fair, better than most of the electric cooktops in its class on the market today.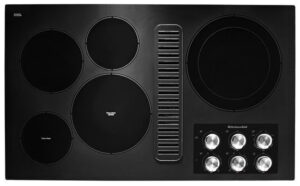 Features
3-speed Fan Control
If you need efficient cooking coupled with precision, then we highly recommend this KitchenAid 36-inch electric cooktop. It features 3-speed fan control that can be used to precisely match your cooking needs by effectively getting rid of odors, steam, and grease from the air.
Pure Color Ceramic-glass Surface
For most people, having a cooktop goes beyond having an appliance that can help them prepare their meals. They love to have a cooktop that can add to the beauty of their kitchen and that's exactly what this cooktop offers. It features a ceramic-glass surface that is easy to clean yet adds to the beauty in your space.
Convertible to Duct-Free Ventilation
If you wish to place your downdraft cooktop anywhere in the kitchen using a duct-free conversion kit, this is the cooktop you need.
Pros
It is easy to clean
Cooktops should be easy to clean, and electric cooktops are even easier to clean. It features a cooking surface with ceramic glass, making it just as easy to clean as it is beautiful.
Perfect for modern kitchens
If you want to have a modern touch in your kitchen, this is one of the best appliances to have around.
It is more affordable than other electric cooktops in its class
Some 30-inch electric ranges are priced over $2000, but that's not the case with this KitchenAid 36-inch electric cooktop. Despite being a 36-inch gas range, it is priced below the $2000 mark.
Con
Doesn't come with a power cord
This is a common thing among electric cooktops because there are different electrical outlets. However, consumers think manufacturers can do better by including a power cord that is compatible with the most popular electric outlet configuration.
2. JennAir JED3536GB 36-inch Electric Downdraft Cooktop
JennAir may not be on the same level with the likes of KitchenAid, Frigidaire, Samsung, and those other top brands. However, the brand's aggressive commitment to producing luxury appliances makes it one of the best luxury brands in the United States as far as kitchen appliances are concerned, and perhaps that's why most of JennAir products are always slammed with high price tags. This radiant downdraft cooktop comes with a sleek cooking surface that features 5 radiant elements that are responsible for responsive performance.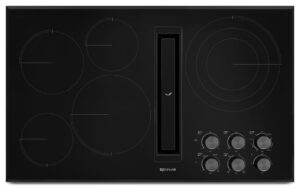 Features
JX3 Downdraft Ventilation System
The JX3 downdraft ventilation system was developed by JennAir to provide a cheaper alternative to hood ranges, and the system works well by efficiently capturing smoke, odors, and steam at the cooking surface before extending to the rest of the kitchen, keeping the air in the kitchen free of unwanted elements at the end of the day.
DuraFinish Glass Protection
Don't be deceived by how beautiful this JennAir electric cooktop is, it is one of the strongest electric cooktops available on the market at the moment. It features JennAir's DuraFinish glass protection that helps keep the cooking surface looking like it's brand new as it can help resist scratches.
Triple-choice Element
Of all the five elements featured in this electric cooktop, there's a three-tiered element that can reach 3,000 watts of power at its highest and can also be adjusted to 1,050 watts, meaning you can have ultimate versatility in power levels for your cooking.
Pros
It is a modern cooktop
Modern cooktops are expected to come with the most modern features, and that's what this JennAir cooktop offers. The cooktop comes with features like the Perimetric Extraction, DuraFinish Glass Protection, and Triple-choice Element.
Beautiful knobs
The JennAir electric cooktop features die-cast metal knobs that can be as beautiful as they're functional.
Cons
It is expensive
This is not entirely a drawback because if you're investing in a JennAir cooktop, you presumably understand what the brand stands for. However, when you compare the price to what other electric cooktops with the same size cost on the market, you may think you're overspending on this JennAir cooktop.
It has no power cord
Just like with most electric cooktops, this JennAir 36-inch electric cooktop doesn't come with a power cord.
The Best 36-inch Gas Cooktops with Downdrafts
3. JennAir JGD3536GS JX3 36-in Stainless Steel Gas Downdraft Cooktop
Being a luxury brand, JennAir has always been under intense pressure to live up to the hype and to be honest, the brand has performed more than most people expected, and today, it remains one of the best kitchen appliances brands in the United States. This JennAir 36-inch gas cooktop comes with five sealed burners which include the most powerful burner with 17,000 BTU. With this cooktop, you don't need a range hood because it comes with JennAir's special JX3 downdraft ventilation system.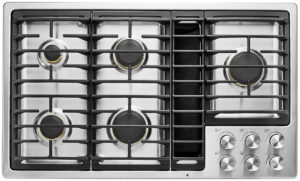 Features
17,000 BTU Ultra-High Output Burner
Investing in this JennAir 36-inch gas cooktop means you have access to a powerful 17,000 ultra-high output burner that is capable of providing enough heat for high-powered cooking techniques such as stir-frying, searing, and quickly boiling water. If you love to get things done in minutes, this is a perfect cooktop for you because of its powerful high output burner.
Brass Burners with Removable Base
Gas cooktops are preferred to their electric counterparts because they can cook faster and more efficiently. To ensure that you don't compromise on quality, JennAir has packed this gas cooktop with brass burners that can direct heat to your cookware for efficient cooking. The burners can also be removed to make cleaning much easier.
JX3 Downdraft System with 3 Speeds
This is a special downdraft system designed by JennAir to make sure you don't need a range hood hanging over your cooktop. It effectively gets rid of smoke and odors from the cooking surface before they begin to affect the air in your kitchen. The system features a 297 CFM Motor Class blower system.
Pros
Versatile appliance
We understand that the primary function of a gas cooktop is to cook efficiently, but does that mean it can complement the other appliances in your kitchen? We don't think so. The JennAir gas cooktop comes with a stainless steel finish that makes it a perfect fit for most modern kitchens filled with other stainless steel appliances.
Ultimate performance
Many consumers regard this JennAir as perhaps the best performance for a downdraft. "We bought this cooktop as a replacement for a failing GE Profile downdraft cooktop. If you want a professional performance, pop for the hood and move to the next level," a happy buyer reviewed online.
Easy to use
People love it when they have an appliance they can easily control, and that's what this JennAir 36-inch gas cooktop offers. It comes with easy-to-use controls and knobs that make the whole operation on the cooktop much easier.
Cons
May not be as strong as it looks after all
Not a common occurrence, but there have been a few complaints about the cooktop not being as strong as it looks, most especially with the knobs.
4. KitchenAid KCGD506GSS 36-inch Gas Downdraft Cooktop
Not many appliances brands can go toe-to-toe with KitchenAid in the United States and even on the global scale. The brand has been around for a long time, and for it to remain relevant despite being an old brand shows just how it has been playing all the right cards. It's hard for anyone not to trust the KitchenAid brand as a verified buyer would go on to confirm: "We wanted a downdraft and we knew we could trust KitchenAid.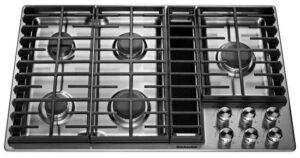 Features
Electronic Ignition
Over the years, people have criticized manufacturers for not packing their gas cooktops and ranges with enough safety features despite being faced with lots of safety issues. However, things have changed greatly as brands like KitchenAid have begun taking actions such as including the electronic ignition in their gas cooktops and ranges, reducing the risk of a fire outbreak to a point.
Automatic Re-ignition
You don't want to worry about rushing to reignite the burners when they go off prematurely. The automatic re-ignition feature will automatically light them back up if the flame goes out.
Special Simmer Burner
There's a special simmer burner with 5,000 BTU that is responsible for delivering even heat. The simmer burner allows you to precisely simmer and melt delicate foods.
Pros
Affordable
Gas cooktops are usually more expensive than electric ranges, but when you compare the price of this KitchenAid to the electric cooktops of the same size by other manufacturers, you'll realize just how affordable the appliance is.
Safety features
KitchenAid has gone a step ahead of other manufacturers to prove that gas cooktops need as many safety features as their electric counterparts. With this KitchenAid gas cooktop, you can enjoy electronic ignition which is a feature that helps light the burners with an electric spark in a bid to reduce the risk of a fire outbreak.
Trusted by industry experts
When industry experts declare a product as the best you can get your hands on, you should trust the product and go all in. A happy buyer declared "After installing it and using it for a month, I can affirm the claims that it's the best."
Cons
Poor service
The product is amazing, but a lot of folks have complained about unavailability. A customer also complained that even after getting the product, all attempts to register the product failed, so you might want to research this before committing financially.
Frequently Asked Questions
1. Is there a Samsung 36-inch gas cooktop with downdraft?
It is important to know that cooktops with downdrafts are not so easy to find on the market because they're in high demand. Although you can get your hands on a Samsung 36-inch gas cooktop, Whirlpool 36-inch cooktop, Wolf 36-inch gas cooktop, Thermador 36-inch gas cooktop, Miele 36-inch gas cooktop, or Viking 36-inch gas cooktop, it's a bit difficult to find the ones that come with downdrafts.
2. What size range hood for a 36-inch cooktop?
According to ProLine Range Hoods, you'll most likely need at least a 42-inch range hood for a 36-inch cooktop.
Wrapping Up
Cooktops with downdrafts are in popular demand because downdrafts are a great alternative to range hoods that usually cost a lot of money compared to what cooktops with downdrafts would cost. As a result, people have been looking for the best 36-inch electric and gas cooktops with downdrafts to help eliminate the need to purchase a range hood since downdrafts perform the same task as range hoods. In this article, we've discussed the best 36-inch electric and gas cooktops with downdrafts as well as the pros and cons of each product listed in the article. If you're purchasing any product, make sure you conduct additional research on the product before deciding if it's ideal for you or your kitchen space.
ESTIMATED TIME DESIGNING AND UPLOADING THIS ARTICLE
ESTIMATED TIME RESEARCHING AND WRITING THIS ARTICLE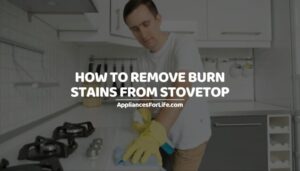 How to Remove Burn Stains From Stovetop?
Electric stovetops are hard to clean sometimes, especially when you have tough stains on them. It takes a great cleaning method to get the cleaning done efficiently. In this article, we'll be looking at the different ways of how to clean burnt food off our
Read More »