As an Amazon Associate we earn from qualifying purchases. We may earn a small commission for our endorsement, recommendation, testimonial and/or link to any products or services from this website. Thank you, your qualifying purchases help support our work in bringing you real daily gift ideas.
Immersion Blender vs Hand Mixer Comparison Table
| Image | | | | |
| --- | --- | --- | --- | --- |
| Name | Hamilton Beach 6-speed Electric Hand Mixer | KitchenAid 7-Speed Digital Hand Mixer | Cuisinart Immersion Blender | Bella Hand Immersion Blender |
| Manufacturer | Hamilton Beach | KitchenAid | Cuisinart | Bella |
| Material | Chrome | Polycarbonate | Stainless Steel | Stainless Steel |
| Wattage | 250 Watts | 250 Watts | 300 Watts | 250 Watts |
| Color | White | Contour Silver | Silver | Red |
| Special Feature | Snap-on Storage Case | Soft Start Feature | 8-inch Stainless Steel Blending Shaft | 6-inch Blending Shaft |
| Editor's Rating | ✸✸✸✸✸ | ✸✸✸✸✸ | ✸✸✸✸✸ | ✸✸✸✸✸ |
| | | | | |
We now live in an age where we have unlimited options as far as kitchen appliances are concerned, and that may be a big deal for many when it comes to choosing the right appliance. As a result of this, it may be hard to have full knowledge of all the appliances available on the market. According to Ranjeet Sharma of Mixer Juicer, it may even be harder to tell when some of these appliances serve similar purposes.
When it comes to similarities in the functionality of some appliances, we know people have struggled with it over the years, and coming to terms with the similarities as well as the differences might also be hard. We've seen people draw up comparisons between food processors and blenders, and whether or not one can be used to replace the other. Topics like this have trended heavily over the years, and you can't blame people for wanting to know more about how their daily lives can be improved.
One of the most common things people who are just starting out in the kitchen conflict with is if there's a difference between an immersion blender and a hand mixer. The immersion blender vs hand mixer debate has become so popular over the years as a result of people wanting to know more about the functionality of both food mixing machines. The truth is that both appliances can blend different types of food, and that's where the headache lies.
It can be incredibly hard to know which kitchen tool is right for you because there are loads of options on the market today. The fact that some of these appliances can perform many similar functions makes it even harder to know which one will best suit your needs. Topics like immersion blender vs hand mixer have since grown so popular as a result.
The truth is that both appliances are two different kitchen tools that may only function similarly, but offer different processes. Knowing the difference between these two appliances will give you the liberation to use each kitchen tool like you're supposed to, and not confuse the functionality of one for the other. The implication would be huge damage to one appliance if you're using it as a replacement for the other thinking that they function the same.
A hand mixer is not a substitute for an immersion blender, so before you go on to purchase it, you need to take a good look at your kitchen needs, the types of foods you're likely to process with the food mixer, before making a decision. Let's take a quick look at what both an immersion blender and a hand mixer are.
What Is An Immersion Blender?
An immersion blender is what most people also know as an electric hand blender, a small handheld blender, or a handy blender. An immersion blender is a type of blender that is built to be a handheld tool, and it features a blade and a motor, just like a regular blender, to help chop ingredients. One of the advantages of an immersion blender is that it is very easy to get a good grip on it as it is a handheld tool. This gives you total control over whatever you're trying to process using the food mixing machine.
An immersion blender, just like every other blender, is used to blend ingredients from solid to liquid form, with the help of a little liquid, or however it is required depending on what you're trying to blend. Immersion blenders were created as alternatives to countertop blenders which are generally expensive due to their many functionalities. Apart from being a cheaper option compared to countertop blenders, immersion blenders are quite a handful of machines, making them very easy to move around the kitchen, and they also take little space.
The good thing about the immersion blender is that it takes the most important part of the countertop blender, which is the spinning blade. Rather than having the blade in a large jug just like the countertop blender, the immersion blender has its blade attached to the end of a short stick which is designed to be immersed in the blending area to get your ingredients and foods processed.
What Can You Do With An Immersion Blender?
An immersion blender may function similarly to a hand mixer, but both appliances are way different. Below are some of the things you can do with an immersion blender;
Puree
One of the most common things you can do with your immersion blender is to puree with it. An immersion blender comes with a blade, just like the one featured in a countertop blender, and one thing the blade can do well is to puree a batch of veggies at once. All you need to do is lower the blender into the pot you wish to puree in, and the blender will take care of the rest.
When it comes to the incorporation of air, an immersion blender does this more than a conventional blender.
Cutting
Another thing an immersion blender can do so well is to help chop vegetables in the quickest way possible. If you're looking to cut your vegetables evenly, using an immersion blender will help you get the best results. It also helps you get a fine texture, making it easy for you to incorporate your cut veggies into a casserole. In other words, the food-making process will be faster when you have all your veggies evenly cut and ready to use.
Blending Soup
When it comes to blending the soup, only a few machines can do it better than a blender. Whatever soup you're trying to make, start by pulsing the immersion blender; start off slowly, then increase the pulse for a more textured soup.
The Best Immersion Blenders
The Cuisinart brand is quite popular for producing lots of high-end kitchen appliances, and this immersion blender happens to be one of them. It is one of the highest-rated immersion blenders online, and that's to show how effective people have found it over the years. This model was first introduced in 2018, and it comes in different colors such as brushed chrome, red, black, silver, and white.
Powerful Motor
This Cuisinart immersion blender comes with a 300-watt powerful motor, making it one of the most powerful immersion blenders you can get your hands on in the market right now. With this kind of power, you can blend even the toughest ingredients with it and still get the best results at the end of the day.
Ergonomically Designed Grip
Immersion blenders are handheld blenders, and if they are going to be held in the hand for every mixing operation, you might as well feel as comfortable as you can hold them. This Cuisinart immersion blender comes with an ergonomic grip that lets you hold the machine comfortably in your hand whenever it is in use.
2-speed Slide Control
This immersion blender also comes with a two-speed slide control that will make every blending task very easy.
When it comes to power and efficiency, only a few immersion blenders can beat this Bella hand immersion blender. Its 250-watt motor is a force to reckon with as far as power and efficiency are concerned. The powerful motor allows the blender to blend, chop, and puree into pans and pots, providing you with excellent results at the end of each blending process.
6-inch Blending Shaft
This Bella hand immersion blender comes with a 6-inch shaft that helps you blend and puree as efficiently as possible.
Easy To Clean
This is one of those immersion blenders that are easy to clean. The immersion blender has parts that are dishwasher-safe like the stainless steel blade system and the whisk attachment.
Ideal For Easy Recipes
Just like we mentioned earlier, this Bella immersion blender is strong enough to prepare recipes including dips, chutney, salsa, whipped cream, meringues, and many more.
Hand Mixer Definition
A hand mixer is a whole lot similar to an immersion blender because it is also a handheld machine, but it is packed with whiskers that are used to mix foods and ingredients. The consistency you get for every mixing process depends on the food you're trying to mix, and that's what makes this hand mixer a great option. What people don't know is that a hand mixer cannot replace an immersion blender and vice versa.
If you're trying to make batter or dough, a hand mixer is the best machine to turn to because a hand mixer is more ideal for baking elements. According to Den Residence, the result you get when you use a hand mixer may vary, depending on the ingredients. Just like immersion blenders are cheaper alternatives of countertop blenders, hand mixers are also in the same category as immersion blenders when you compare them with stand mixers which are typically more expensive and heavier.
One of the most obvious differences between an immersion blender and a hand mixer is that a hand mixer usually generates more power than an immersion blender. And while immersion blenders have that unique ability to deal with liquids, hand mixers don't do well in a container of liquid.
What Can You Do With A Hand Mixer?
Create Icing
One of the best things to do with a hand mixer is to use it to create icing for cakes. Bakers love hand mixers because they're a great tool for them. Although to get this done, you'll need to get a high-powered hand mixer like the ones we're going to talk about later after this section. A powerful hand mixer comes with powerful blades that can help you make significant icing for your cake projects.
Combine Ingredients
Hand mixers are packed with a set of blades that are ideal for helping you combine many ingredients. How fast they do this depends on the mixing speed of the hand mixer you're using, and that's why we advise that you opt for a powerful hand mixer.
For Cake Batter
Another thing a hand mixer is ideal for is to use it on cake batter as a way of decreasing its density. A good cake is always fluffy, and that's why we have the hand mixer to help make the batter light and great to consume.
What Can You Do With A Hand Mixer?
Hamilton Beach is a great brand when it comes to the production of kitchen appliances such as blenders, mixers, and many more. This is one of the cheapest hand mixers you can get your hands on because it's one of those hand mixers you can get for less than $50. The Hamilton Beach hand mixer comes in 2 colors; white and red.
Powerful Motor
This Hamilton Beach hand mixer features a 250-watt which makes it function like a high-powered stand mixer. With this powerful motor, you can use the hand mixer to handle a lot of tasks, even complicated ones.
Easy Operation
This hand mixer is one of the easiest hand mixers to operate with its "quickest button" feature. With this feature, you can use the mixer to make different baking recipes.
Bowl Rest Feature
To make cleaning easier for you, Hamilton Beach has packed this mixer with a bowl rest. The machine comes with a built-in groove that makes the drips coming from the hand mixer go into the bowl.
This KitchenAid is another high-powered digital hand mixer that is strong enough to combat difficult tasks. The 7-speed hand mixer comes with whisk and beater attachments.
Soft Start Feature
This KitchenAid 7-speed digital hand mixer comes with the soft start feature that helps bring the beaters up to whatever speed you've selected for the mixer to run on to prevent the ingredients from splattering. This helps you keep every mixing process as neat as possible, and also helps prevent waste.
Lockable Swivel Cord
The electric hand mixer also comes with a lockable swivel cord into either side of the mixer so you can easily access the ingredients from your desired angle. The good thing about the cord is that it is very easy to clean.
Frequently Asked Questions
1. What is the difference between beater and whisk?
A beater is used to mix baking elements such as butter, cake mixes, whipped cream, and many others. On the other hand, a whisk is used to put air into what you're mixing.
2. What can you use an immersion blender for?
An immersion blender can be used for things such as cutting, pureeing, and blending the soup.
3. Can I use an immersion blender instead of a hand mixer?
While both mixing tools function almost the same way, they can't be interchanged. You cannot use an immersion blender to replace a hand mixer.
Wrapping Up
Comparisons will always be drawn between similar kitchen appliances as people will always want to know if one can be used in place of the other. The appliance market in the world today is so huge that even smaller kitchen appliances are beginning to gain significant recognition. Debatable topics like "immersion blender vs hand mixer" have trended heavily over the years as different comparisons have been drawn.
In this article, we've discussed in detail what each kitchen tool does and how they operate. We've also highlighted the best immersion blenders as well as the best hand mixers so if you're looking for the best tool to get, you may just have found one.
ESTIMATED TIME DESIGNING AND UPLOADING THIS ARTICLE
ESTIMATED TIME RESEARCHING AND WRITING THIS ARTICLE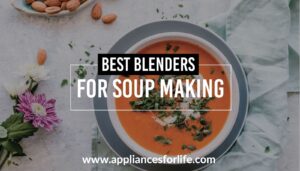 Top 3 Best Blenders for Soup Making
If you've been paying attention to how blenders have evolved into one of the best food processing machines in the world today, you'll realize they were always destined to be. Everyone is quite happy with the growing popularity blenders are enjoying, but many years ago,
Read More »