Long before technology was introduced, people had a way of preparing their foods, and it's safe to say some of the methods they adopted back then worked effectively for them. Life in the kitchen has always been deemed very important because food is what we all need to survive as humans. It will be disrespectful to discard the methods that were used back then because we now have what seem to be the best sets of appliances in history.
The truth is that the old appliances evolved to be the modern appliances we all seem to be enjoying today, and we can only be grateful for those who knew and saw the possibility even when they didn't have to. The evolution of some of these appliances is a beautiful one, considering how they used to be limited in functionality, and today, they seem like they can do a lot more than they get credits for. With the technological advancements that keep rising like never before, it's safe to say that things are only going to get better from here because that's what technology does; improve things consistently.
The food processor is one of those modern kitchen mixing tools whose functionalities are yet to be fully realized for one reason or the other. Firstly, people purchase appliances not knowing how versatile they are, so they end up using them for a single purpose for which they have bought them, and that's a good thing, but it's also not going out of the box. Generally, you will think these machines have limited functionality, which is not true because they have been built to be versatile, and they can do much more than you'll ever imagine.
The food processor has now become so popular that almost everyone has it at home. Even if we don't judge by how many households own the appliance in the country, increasing sales of the appliance in the country are enough proof that the appliance is a popular machine. Sadly, a lot of people don't know how to optimize the machine's ability to the fullest, limiting them to the basic functions, and hindering them from fully putting the food mixing machine to great use.
What's A Food Processor?
According to Luna Regina of Healthy Kitchen 101, the food processor is one of the most versatile kitchen appliances you'll ever get your hands on, and the good thing about the machine is that you can use it to process almost any food. Food processing using a food processor can be done in a lot of ways such as chopping, pureeing, grinding, slicing, and shredding. People's knowledge of the machine is quite limited, but some models of a food processor can help you make vegetable juice, knead bread dough, beat cake batter, make fruit juice, beat egg whites, and also grind meats and vegetables.
The food processor emerged from North America after Carl Sontheimer, an American inventor, introduced it to the North American market after he had closely worked with a French industrial blender, taking a bit of this and that from the machine. People didn't quickly realize how great of a machine the food processor was, and truly, the machine didn't experience success until a few years later. A few years after the machine was introduced, the food processor became a widespread success, becoming a bestseller in the process. Today, the food processor has changed how food preparation is practiced in many kitchens across the United States and the rest of the world.
The modern-day food processors are made in three basic sizes; mini, compact, and full. If you're looking to purchase any of these sizes, what you should be happy about is every size comes with some important components which include the feed tube, a bowl, a motor, and important attachments that are vital to the functionality of the machine. When all these components combine, they help produce effective results when you use the machine to process your food items.
Of all the components featured in a food processor, the motor is the most important part, and it is featured in the base of the food processor. Apart from being the brain of the food processor, it is the heaviest part of the machine, and that makes the base of every food processor a bit heavier than the rest of the machine. The base of the machine is built to be heavier than the other parts to provide stability so that the whole machine is not moving around when the motor is running.
Compared to the old food processors whose bases were only made in hard plastic and white, the modern food processors come in a range of finishes and colors to make them more appealing to consumers. Some are even built in a modern way to add more value to your kitchen, making them serve two purposes; design and functionality.
How Does A Food Processor Work?
We mentioned earlier that the motor is the brain of every food processor, and that's why it's the one that sets the pace whenever the machine is about to start its usual operation. A shaft is built as an extension of the base to power the attachments. Some of the attachments include the bowl, which is always made of transparent plastic, and the lid. The bowl is attached to the shaft, locking into position to create that firmness that the food processor needs to function properly.
Common Food Processor Attachments
Apart from the lid and the bowl, other common food processor attachments include the following;
An egg whip

A non-citrus juicer

A dough blade

A julienne disc

A citrus juicer

A French fry disc

Shredding disc

Slicing disc

Sabatier blade
Benefits of Modern Appliances
In the world we live in today, modern appliances play a more important role than we'll all ever realize. Modern appliances are popular in the world today, and sales have increased greatly, but people are not purchasing these appliances because they just want to purchase them. Without knowing the functionality of these appliances, nobody will be willing to spend their money on these appliances.
If you're one of those people that are waiting to know the benefits of an appliance before you purchase it, we're going to be looking at some of the benefits of modern appliances below;
They Are Energy Efficient
One of the biggest advantages modern appliances have over traditional appliances is that they are more energy-efficient. One thing modern appliances are known for is that they are packed with lots of user-friendly features that can't be found on conventional appliances, and even with all these features, they still manage to consume less energy. If you're purchasing a modern appliance, you can be confident of not spending as much on electricity as you have to because that's just how it's built.
If you pay proper attention, you'll realize that some of these appliances come with Energy Star ratings. These ratings indicate just how much power an appliance will consume over a given period. Having that knowledge will help you make the best choice when it's time to purchase an appliance, especially when you're on the market for an energy-efficient option.
They Add More Value To Your Space
Another great benefit of having your space packed with modern appliances is that they help add more value to your space. These modern appliances are built to serve multiple purposes including functionality as well as design, so when you're purchasing a modern appliance, you should know that you're also getting it to help make your space more valuable and beautiful.
Modern appliances come in different styles and finishes. From stainless steel to matte black, you'll always find the one that seems to match everything else in your kitchen.
Other Benefits
Other benefits of investing in modern appliances include;
They make your daily tasks easier, especially around the house.

Modern kitchen appliances help you cook faster and better.

They help you hold out for a great selling price if you intend to sell your home.

They are green friendly.
What Can You Do With A Food Processor?
Topics like this have grown so popular over the years because a lot of people are heavily investing in food processors without truly knowing how to maximize the machines' functionalities. It is not a crime not to be aware of the versatility of a food processor, after all, we never stop learning. Even those who have owned a food processor for a long time are still constantly looking for new things that they can do with the machine they own.
The good thing about knowing these things is that they help you put your food processor to good use. The more you know about the different functionalities of a food processor, the better for all parties involved, because only then will you start getting the value for the money spent on the machine. If you're new to how a food processor functions, and you've often asked yourself the question – what can you use a food processor for – below are some answers to the big questions;
Salads and Dressings
If you think it is ideal to invest your money in ready-made foods like salads, coleslaws, and the rest of them, try investing in a food processor as well as the knowledge on how to use it. A food processor is ideal for some of these things, and it'll save you a lot of money on your side because you already have a machine that can conveniently make them. Salads and dressings are some of the things you can do with your food processor as long as you have all the ingredients ready.
To make salads, attach the discs that come with the food processor, and before you know it, the machine has processed the veggies and fruits into slides, leaving you with enough to make your salads. For dressings, things are even easier as you'll only need the S blade to get things done after you must have added your ingredients to the machine.
Dough
The dough is another thing you can make effortlessly with your food processor. To do this, some of the things you'll need include flour, water, and, of course, your time. Because the dough is sticky, your food processor may be forced to work harder than you're used to, but there's no big deal in that. Just ensure you don't add more flour than what the machine is capable of handling, because as powerful as a food processor is, you have to be careful not to overload it.
Nut Butter
Walking into a store to get a cup of peanut butter may seem like a great idea until you know the food processor you have in your kitchen can make you some as well, even better. The good thing about making your nut butter with a food processor is how effortless the process is. As long as you have roasted peanuts, making peanut butter with your food processor might be one of the easiest you'll ever know how to do.
Start by putting the roasted peanuts in the machine's work bowl, pulse a couple of times, then set the machine to run continuously for about 30 seconds. You'll realize the texture of the peanut is changing, but don't stop until it gets a bit oily. Season with salt or sugar until you get the taste you want in peanut butter.
Other Food Processor Ideas/Hacks
Crumbs

Dips

Sauce

Grating cheese

Chopping

Slicing

Shredding vegetables and fruits

Grinding meat
What Are The Best Food Processors On The Market Right Now?
Hamilton Beach is regarded as one of the best manufacturers of food mixing machines, and this food processor has further increased those claims. The powerful food processor features a powerful 450-watt motor and 2-speed plus pulse control, making it one of the most powerful food processors you can get your hands on right now.
Powerful Stainless Steel Blade
While most food processors come with strong stainless steel blades, to find the one whose power matches this machine will be a daunting task. With this powerful blade, slicing, shredding, chopping, and mixing are all easier.
12-cup Capacity
The 12-cup capacity bowl is large enough to accommodate heavy ingredients including dough, ground meat, vegetables, and many more.
Simple Function Guide
If you're a new user, the food processor comes with a simple function guide that will guide you through everything you need to know about how to use the food processor, including the blades to use and the buttons to press.
Without doubts, this is the most powerful professional food processor you can get on the market for under $200. People who have used the machine rate it very highly. It is also one of the cheapest powerful food processors you can ever imagine getting on the market right now.
Powerful Performance
If you're looking for a professional-grade food processor, this NInja BN601 food processor should be one of the first options on your list. It comes with powerful dedicated discs and blades that deliver great results.
4 Auto-iQ Intelligent Preset Programs
The machine also comes with different preset programs that are ideal to make smooth sauces, quick pizza dough, cookie dough, shred cheese, and chop veggies effortlessly.
Easy To clean
To clean this food processor, pulse warm water and about 2 small drops of dish soap to clean the bowl and blades. Every part of this food processor is dishwasher safe and BPA-free.
Frequently Asked Questions
1. What can I do with my food processor?
The food processor is a versatile food mixing machine that can do a whole bunch of things. We've highlighted some of the things you can do with your food processor in this article, but just in case you miss them, they include; making sauces and dips, cutting vegetables and fruits, shredding cheese, making dough, and many more.
2. What do food processors do?
The basic function of a food processor is to process foods. Thankfully, the machine is versatile, and it can do a whole lot more than you think.
Conclusion
For many years, the food processor has been regarded as one of the best kitchen tools to possess, but unfortunately, not too many people know how much the machine can do. People purchase appliances for a single purpose, and that's okay. However, you should not be limited to that single purpose because a food processor does more than just helping you slice veggies. The sooner you realize how much your food processor can do, the better you can start getting the value for whatever you spent on acquiring it. In this article, we've discussed the uses of a food processor and how you can get the best out of your machine.
ESTIMATED TIME DESIGNING AND UPLOADING THIS ARTICLE
ESTIMATED TIME RESEARCHING AND WRITING THIS ARTICLE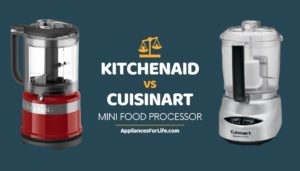 KITCHENAID VS CUISINART MINI FOOD PROCESSOR
This is one of the exciting debates in the appliances world. People have always wanted to know which of these two big electronics brands makes the best mini food processor. During this article, we'll be weighing in on the KitchenAid vs Cuisinart mini food processor
Read More »