When people talk about the most important kitchen appliances, they always mention refrigerators, microwave ovens, cooking ranges, and other kitchen appliances without making mention of the blender. While it is true that the aforementioned appliances look bigger and seem to play a bigger role compared to what a blender has to do in the house, it'll be demeaning not to also give the blender the credit it deserves for the great role it plays around the house. The importance of the blender has so much been overlooked for many years that a curious, and perhaps, a furious user on Quora was forced to ask the question – why is blender so underrated?
One of the answers provided in response to that question is what got many wondering when the important kitchen appliance would start getting due credit for the great job it does around the house. "Blender looks to be so underrated because of the norm of its existence," the answer reads. That seemed like the perfect answer to the question at the time, and years on, people still refer to that answer as the reason why blender continues to remain an underrated appliance, perhaps the most underrated appliance ever!
On Bosch's official website while promoting some of their blenders, it was acknowledged that the blender could be one of the most underrated appliances in the kitchen, and for a known brand like Bosch to make that acknowledge means something is not right with how people view the blender. Despite being an underrated appliance around the house, sales have improved over the past few years, with manufacturers maximizing people's interests. This has not only made the blender one of the best-selling kitchen appliances on the market right now, but top manufacturers are doing all they can to see how their products can be improved by adding the newest technologies to them.
Technology has contributed greatly to the way some of these appliances are viewed now, and as a result, modern appliances are now judged not only by how much they can do but the number of tech-inspired features that come with them. Comparing the appliances we have now to the ones that existed back then will only help us realize how far we've come, and also how far technology has brought us. Every part of our lives has been touched by technology, and it's safe to say it has made life generally easier for us.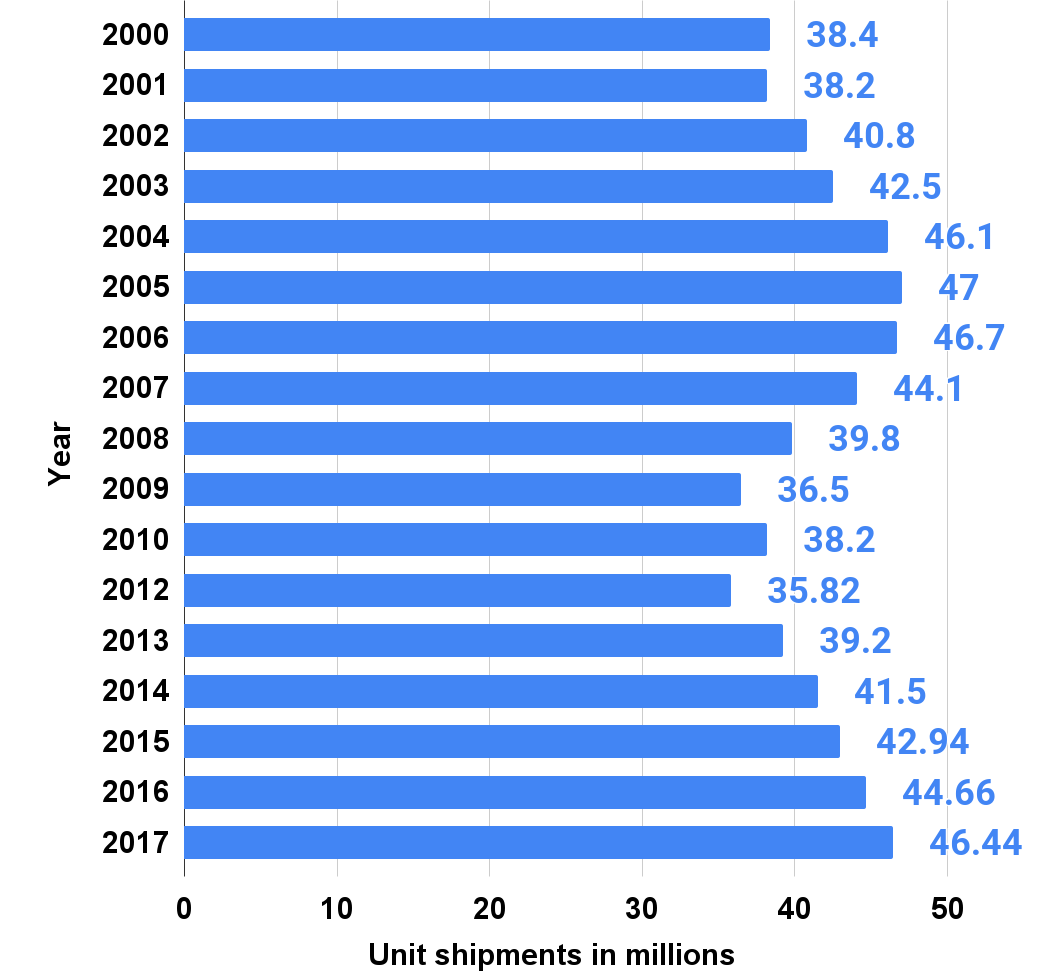 The United States, just as we mentioned earlier, is a big appliance market, perhaps the biggest in the world at the moment, beating the likes of China, Germany, and South Korea. The growth of modern appliances in the country may be traced down to people's appreciation for these appliances, making them invest a lot of money in these appliances as a result. Today, you can find some appliances in almost every household across the country, especially the popular ones like the refrigerator, blender, cooking range, and many others.
The chart above was created using the information provided by the Statista Research Department, and it shows the total unit shipments of major household appliances into the United States from 2000 to 2017. We can see from the beginning of the two decades that there haven't been many changes over the years, but it still shows that the United States remains a big player as far as major household appliances are concerned. In 2010, 2012, 2013, 2014, 2015, 2016, and 2017, 38.2 million, 35.82 million, 39.2 million, 41.5 million, 42.94 million, 44.6 million, and 46.44 appliances were shipped into the United States respectively.
Benefits of Kitchen Appliances
For many years now, kitchen appliances have played a huge role in helping us improve the way we live, and that might be the reason for their ever-rising popularity. People have a great appreciation for these appliances, and that makes them invest heavily in getting them. Today, kitchen appliances are now regarded as necessities than the options they used to be.
We're at a point in history where our interaction with the appliances we have in our different households is changing positively, thanks to the recent advancements in technology. According to Kitchen Designs, technology has helped us increase efficiency in our everyday lives, and that's only one out of the many benefits we enjoy from these modern kitchen appliances. If you're having a second thought about investing heavily in modern kitchen appliances, below are some of the benefits that can help convince you that you're about to make a great move.
They Improve Cooking and Life Quality
If you're on the market for new appliances to help you improve the quality of your cooking, the best appliances to invest in are modern kitchen appliances. Like we mentioned earlier, the technological advancements we have available today have made sure that we now have appliances we can greatly rely on to keep things for us even without putting in too much effort. Take, for instance, a smart refrigerator can now get you through rigorous cooking processes by helping you read out recipes, or even recommend the best dishes for you to cook based on what it has inside.
Just take a minute to think of how that helps save you from indecisiveness and food waste knowing that you have a refrigerator that will always recommend meals for you to cook. Some ovens now also come with smart features that would only require you to place whatever it is you want to process in the oven and set the timer. You don't have to worry about the food over or underprocessing, because once the oven is done processing the food, it automatically goes into warming mode to help keep the food hot until you're ready to serve it.
They Are Easy To Maintain
People who invested in traditional appliances will tell you that they just woke up one day and their appliances stopped functioning. The appliances may have been giving different signs, but these signs weren't always very easy to notice, so most of these appliances just go off with so many unnoticed problems turning into unfixable ones. To some people, they didn't know how bad it was until they became exposed to the ideas of modern kitchen appliances that are packed with lots of technologies.
The appliances in production today will never have a problem go unnoticed because they are designed to send you obvious signs in the form of alerts and other warning signs. These alerts are usually hard to ignore because some of these appliances have been designed not to function when the slightest problem might be happening. This way, you'll quickly know what to do to get your appliances up and running again, and that'll save you a lot of money and effort at the end of the day.
They Are Energy Efficient
If there's anything people can confidently say about modern kitchen appliances, it is that they don't consume as much energy as their traditional counterparts, which is why they remain great options any day. Modern kitchen appliances are packed with enough user-friendly features that would have consumed a lot of electricity on traditional appliances, but because modern appliances are designed to be energy-efficient, they help lift the pressure off your electricity bill. Their initial price tags may scare you off, but if you consider the money you'll be saving through the years of constant use, you'll realize they're worth every penny spent on them.
Thankfully, modern kitchen appliances come with Energy Rating stickers that show how much electricity these appliances will consume over a given period. With these stickers, you'll be able to decide whether or not they're the right appliances to spend your money on.
Ninja Professional Kitchen System 1500 Watts
For the past few decades, Ninja has been one of those consistent forces behind the production of quality and powerful blenders such as the Ninja Mega Kitchen System BL770 and Ninja 1500 watts mega kitchen systems. The Ninja mega system 1500 is a powerful Ninja mega kitchen blender that is very popular across many platforms in the world for being one of the strongest blenders on the market right now. Our Ninja 1500 watts blender review covers everything you need to know about the Ninja professional kitchen system 1500 watts/Ninja blender complete set including the Ninja kitchen system 1500 auto IQ. Below are the best Ninja professional kitchen system 1500-watt blenders.
Powerful blenders are generally hard to come by, and they're also incredibly expensive, and that's why Ninja has taken a different dimension to introduce a mega kitchen system consisting of a blender, food processor, dough blades, go cups, a total crushing pitcher, and a 1500-watt base. This system has been hailed by many as one of the best inventions in recent years, and the fact that it has proven to be more economical than purchasing most of these things individually makes it a great choice. The BL770 has one of the highest ratings for any kitchen system online, and that shows just how much people love efficient systems.
Dishwasher-safe Parts
Cleaning doesn't have to be a hard thing when the mega kitchen system is packed with dishwasher-safe and BPA-free parts. However, Ninja advises that you hand wash the slides, blade assemblies, lids, and containers using warm, soapy water.
72 Oz Crushing Pitcher
With this 72-ounce crushing pitcher, you don't have to worry about the size of whatever it is you're trying to process in the blender because it is big enough to accommodate even large blends. It can also help you pulverize ice to smaller particles for your creamy frozen drinks and smoothies in minutes.
8-cup Food Processor Bowl
This Ninja mega kitchen system with a food processor features an 8-cup food processor bowl that helps provide perfect and even chopping, with the ability to make 2 pounds of dough in just 30 seconds.
The Ninja BN801 professional kitchen system with the auto-IQ may not be as sophisticated and strong as the one we previously mentioned, but it's also in a league of its own. It doesn't also have the ratings of the previous Ninja mega kitchen system, but people also love it, especially because it is also very affordable despite coming with a 1400-watt motor base, 72-ounce total crushing pitcher, 2 24-ounce single-serve cups with spout lids, pro extractor blades assembly, chopping blade, dough blade, and a precision processor bowl. You'll also get access to a recipe instruction guide, a quick start guide, and an instruction booklet.
5 Preset Auto-IQ Programs
This Ninja BN801 professional kitchen system comes with 5 preset Auto-IQ programs that help you create smoothies, chopped mixtures, nutrient extractions, dough, and frozen drinks all at the touch of a button.
64 Oz Precision Processor Bowl
When you're using the food processor, you can process large food ingredients without being scared of whether the bowl won't take all the ingredients in. The 64-ounce precision processor bowl is big enough to process a large portion of ingredients.
Frequently Asked Questions
1. What is the best price on a Ninja mega kitchen system?
All Ninja mega kitchen systems come with varying prices which are always determined by many factors ranging from the quality of each system to the features each system comes with. The two Ninja mega kitchen systems we've reviewed in this article are fairly priced and are both affordable.
2. Is the Ninja complete kitchen system worth the money?
Ninja has formed quite a reputation for always giving people the best value for their money, and that's exactly what you'll get when you invest in one of their complete kitchen systems.
Conclusion
The Ninja professional kitchen system 1500 watts is one of the strongest kitchen systems ever to be produced by the Ninja brand. For many years now, the series has been making waves across many online marketplaces, showing just how dedicated the Ninja brand has always been to producing high-end food mixing machines for domestic and commercial purposes. In this article, we discussed two of the best Ninja mega kitchen systems which can be acquired for less than what anybody would have expected. We guess what makes Ninja a great brand is how the brand can create products that are affordable to many. If you didn't get to see the product you'd hoped to see, you can do additional research online. We also discussed some of the benefits of modern kitchen appliances, and the great roles they play in our lives today.
ESTIMATED TIME DESIGNING AND UPLOADING THIS ARTICLE
ESTIMATED TIME RESEARCHING AND WRITING THIS ARTICLE