Electric stovetops are hard to clean sometimes, especially when you have tough stains on them. It takes a great cleaning method to get the cleaning done efficiently. In this article, we'll be looking at the different ways of how to clean burnt food off our stovetop.
The kitchen is one of the most essential sections in the house because that's where cooking activities go down. People who love to spend time in the kitchen always have a thing or two to do in there. One that is most certain is preparing meals. This makes cooking ranges one of the best kitchen appliances or even home appliances in the house. As much as cooking is fun for some people, cleaning the cooktop as soon as you're done cooking can be the most annoying thing about being in the kitchen. It doesn't matter how many times you cook in a day, or a week, you will still find some food remnants on your stovetop. This means that you have to clean more often to make sure your stovetop stays free of debris. For this reason, it is very important to know how to remove burn stains or any type of stain at all from your stovetop.
Anyone that is familiar with conventional stovetops can boldly confirm that they are very difficult to clean. However, if you look at the difficulty, you might never be motivated enough to bring yourself to clean your stovetop regularly. You could even be discouraged by the size and shape, which are two of the things that make the stovetop a little difficult to clean. What you should know is that, by cleaning your stovetop, you're not only creating an environment that is healthy to cook meals. You're also making sure your cooktop lasts longer than it would have if you weren't cleaning it as much as you should. If you do not clean your stovetop regularly, you risk getting it damaged and that means you'll have to spend extra money to repair or even replace the whole of your cooktop.
There will always be burns on your stovetop no matter how careful you are; it all comes with the cooking process. Getting them off your stovetop as soon as possible is one of the best ways to make your stovetop serve you long enough. We'll be taking you through the different ways to remove burn stains from your stovetop in this article. Before we go into that, let's take a quick look at the things to consider when buying a cooktop or cooking range.
WHAT TO LOOK FOR WHEN BUYING A COOKING RANGE OR COOKTOP
Oftentimes, the factors that determine how easy or difficult cleaning your stovetop usually comes from the things you considered when purchasing your cooktop or cooking range. For this reason, there are also factors to consider when buying a cooking range or cooktop. Both options are great and whichever one you're opting for, try to put the following factors into serious consideration as they'll ensure you're getting your hands on a product that best suits your needs.
BUDGET
This is the first and most important factor because you won't always get a product that is way above your budget no matter how much it has the things you need in a cooktop. You need to have a clear idea of how much you're willing to spend to get your product. Perhaps you do not only need to consider the initial cost but the running cost as well. Some cooktops or cooking ranges are so hard to maintain and this results in you having to spend much money in making sure they are in their right working condition.
Electric cooktops or ranges, for example, are energy-consuming. While some are energy-efficient, it is safe to know that some are not and the cost of operating them, in the long run, might be too much to handle.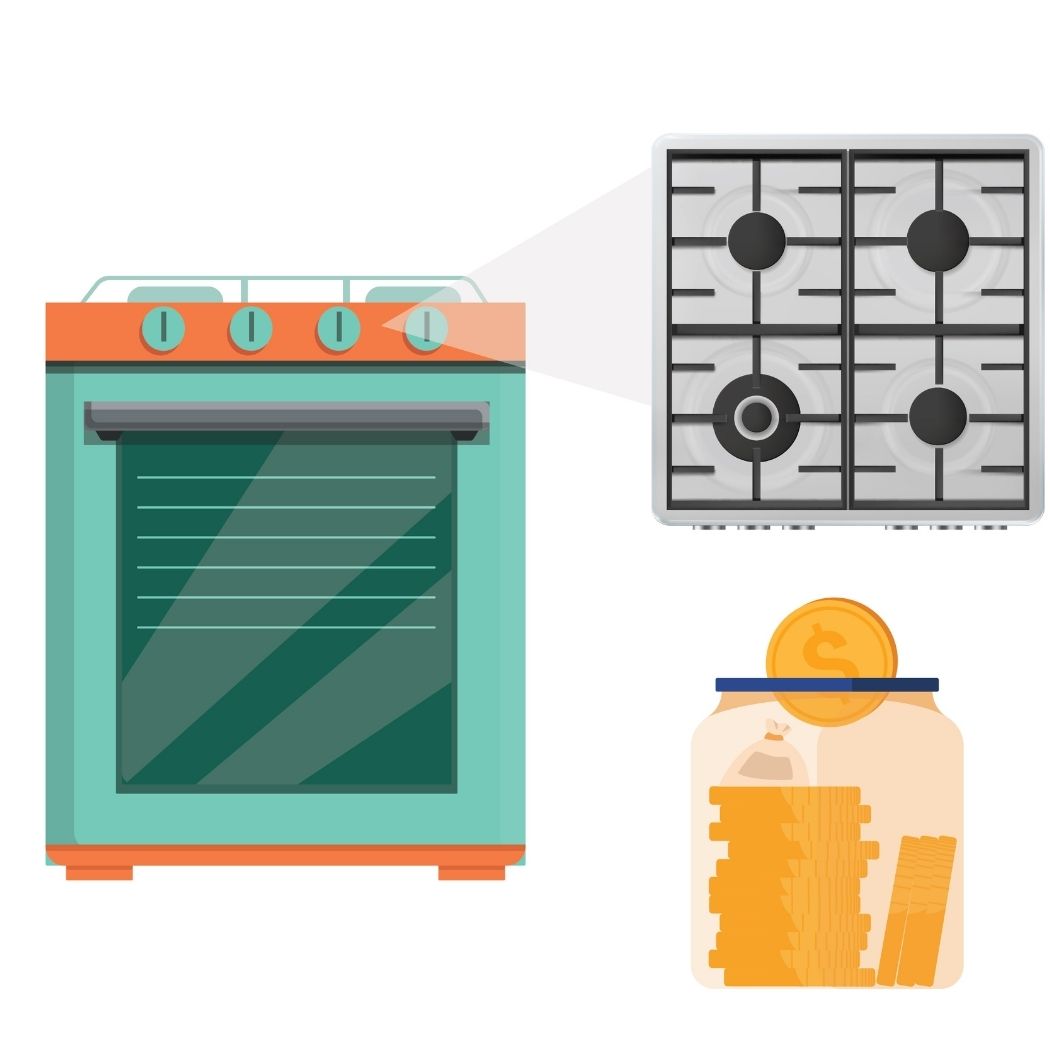 COOKING ROUTINE
Most people do not usually look into this and this should be one of the major factors to put into consideration before making a purchase. If you're someone who doesn't do a lot of cooking, there's no point getting a 5 or 6-burner cooktop. If you do, you'll end up not maximizing the usage of the product. This is because you don't do a lot of cooking and probably will use a burner most of the time. This will expose the other burners to different things that could cause them to damage quickly.
In a nutshell, knowing your cooking routine will help you make the best decision when it's time to get a cooktop or range you need. Also, it'll help you decide the best option for you in terms of the different types of cooktops and ranges we have.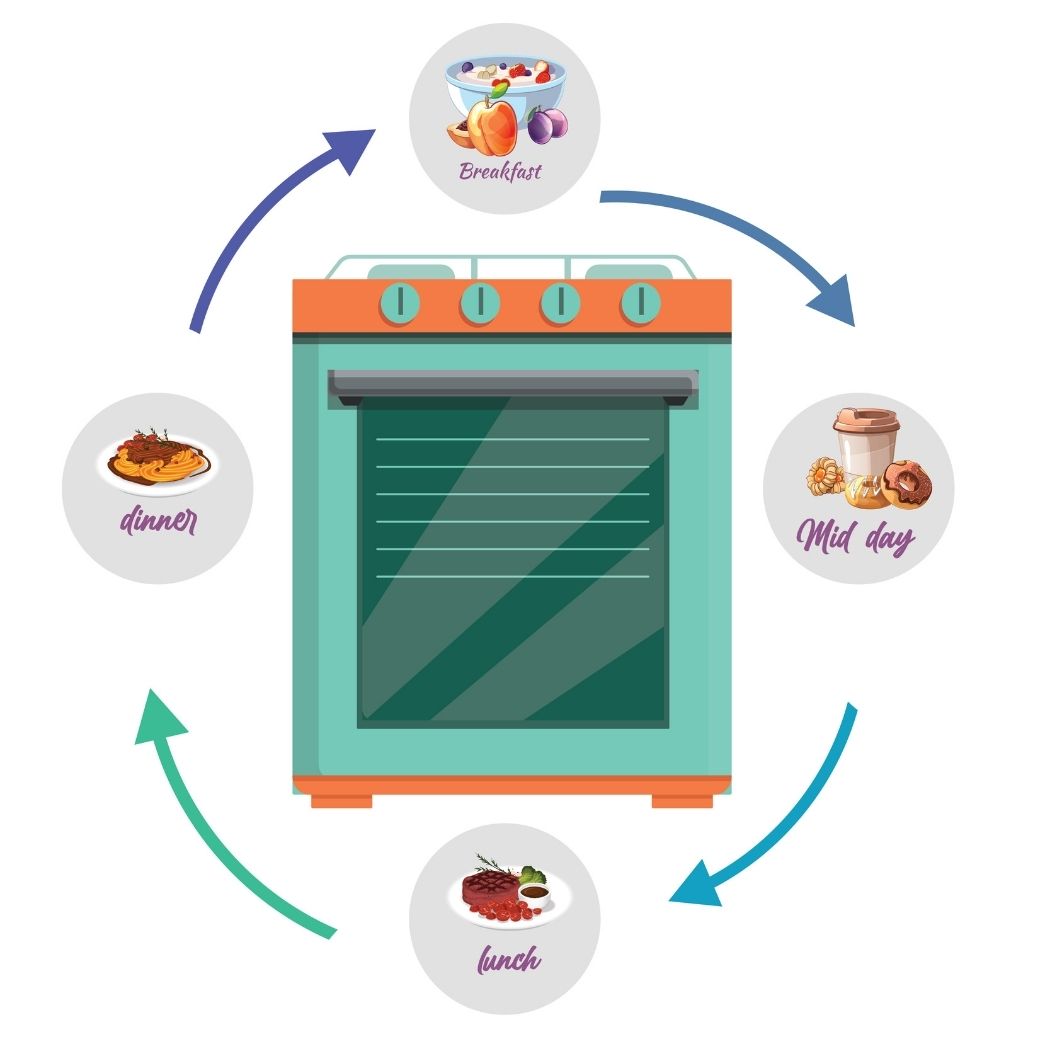 SPACE
Another thing you need to put into consideration is the amount of space you're willing to give up for this purpose (cooking range or cooktop). The installation space will determine the size of the product you should be getting. If you do not get the measurement of your space right, it might result in you getting a cooking range or cooktop that's either larger or smaller in size.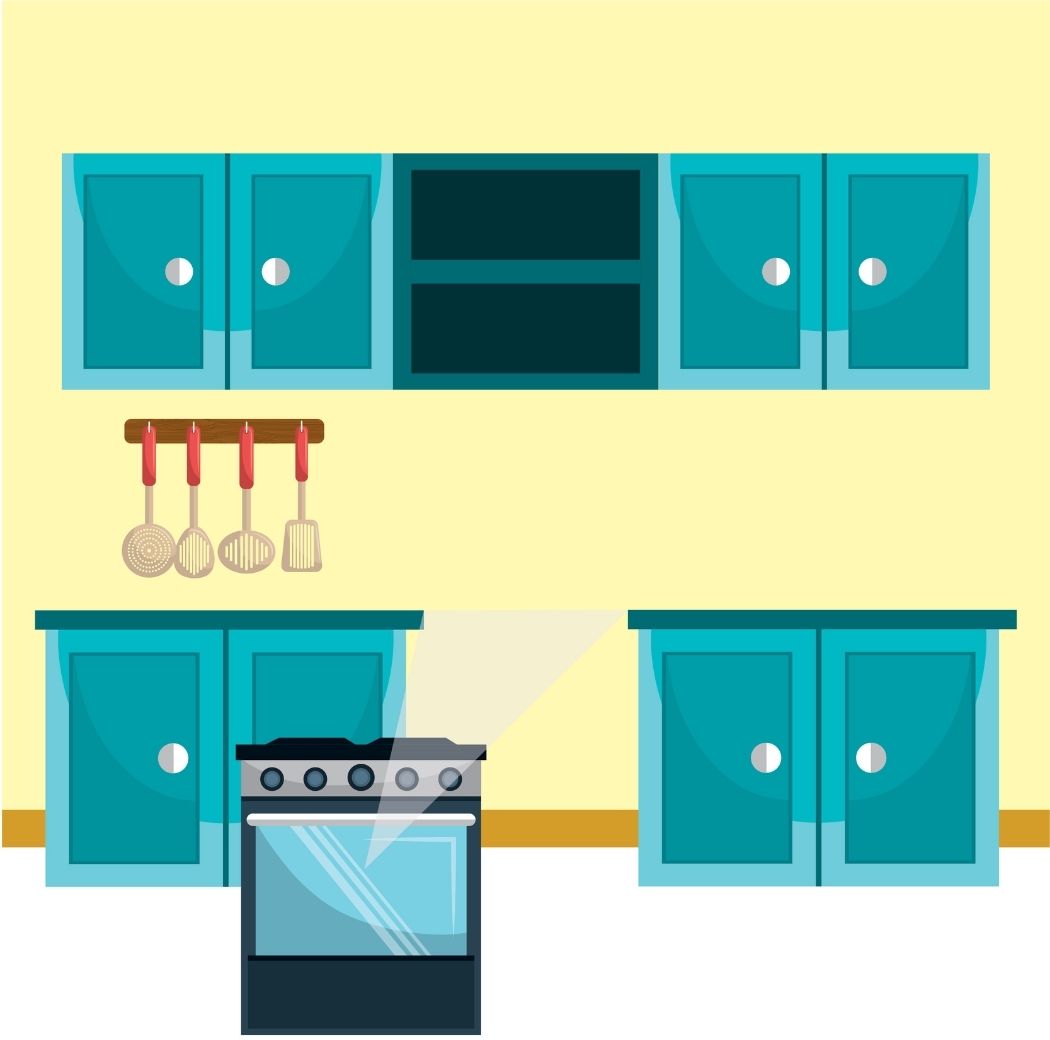 MAINTENANCE
This is one of the most important factors to consider, especially when you're thinking of the long-term. Maintenance is an essential part of every home appliance and it's either you look after them properly or you prepare to always part ways with cash when a problem arises. The cleaning difficulty of a cooking range or cooktop depends on the type and the stovetop material.
Electric stovetops might be the easiest to clean when you compare them with their gas and induction counterparts. Gas stovetops will require you to temporarily take away the cast grates before cleaning if you want to get the best results. Electric and induction stovetops have smooth surfaces, thus, making you spend less time and energy cleaning them.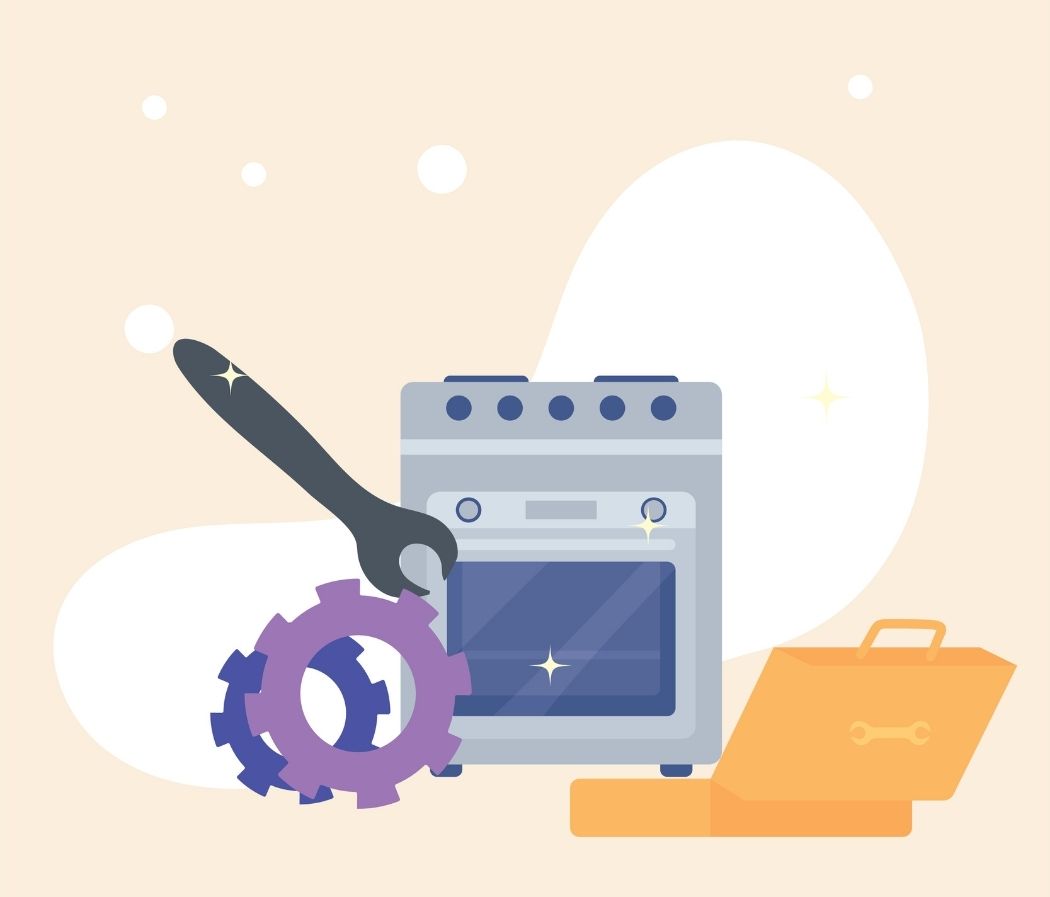 HOW TO REMOVE BURN STAINS FROM YOUR STOVETOP
Having discussed the factors you need to consider when buying your cooktop or cooking range; let's talk about how to keep your stovetop clean.
There are several different ways to achieve this and we'll be looking to explore how to use each method to remove burn marks from your stainless steel stove or any other material.
VINEGAR
Old is gold, and that's the simple explanation you can give to the evolution of vinegar through the years to remain a relevant cleanser, even in this modern era. Its acidity is what helps achieve the perfect cleaning results and it works perfectly on stovetops too. If you have burn stains or any stain whatsoever on your stovetop, you can take the following steps to wipe them off using vinegar;
Get a spray bottle and fill it up with a mixture of white vinegar and clean water.

Add the solution to your stovetop (the affected part of the surface) and wipe clean with a clean towel.

Keep the mixture for subsequent cleanings.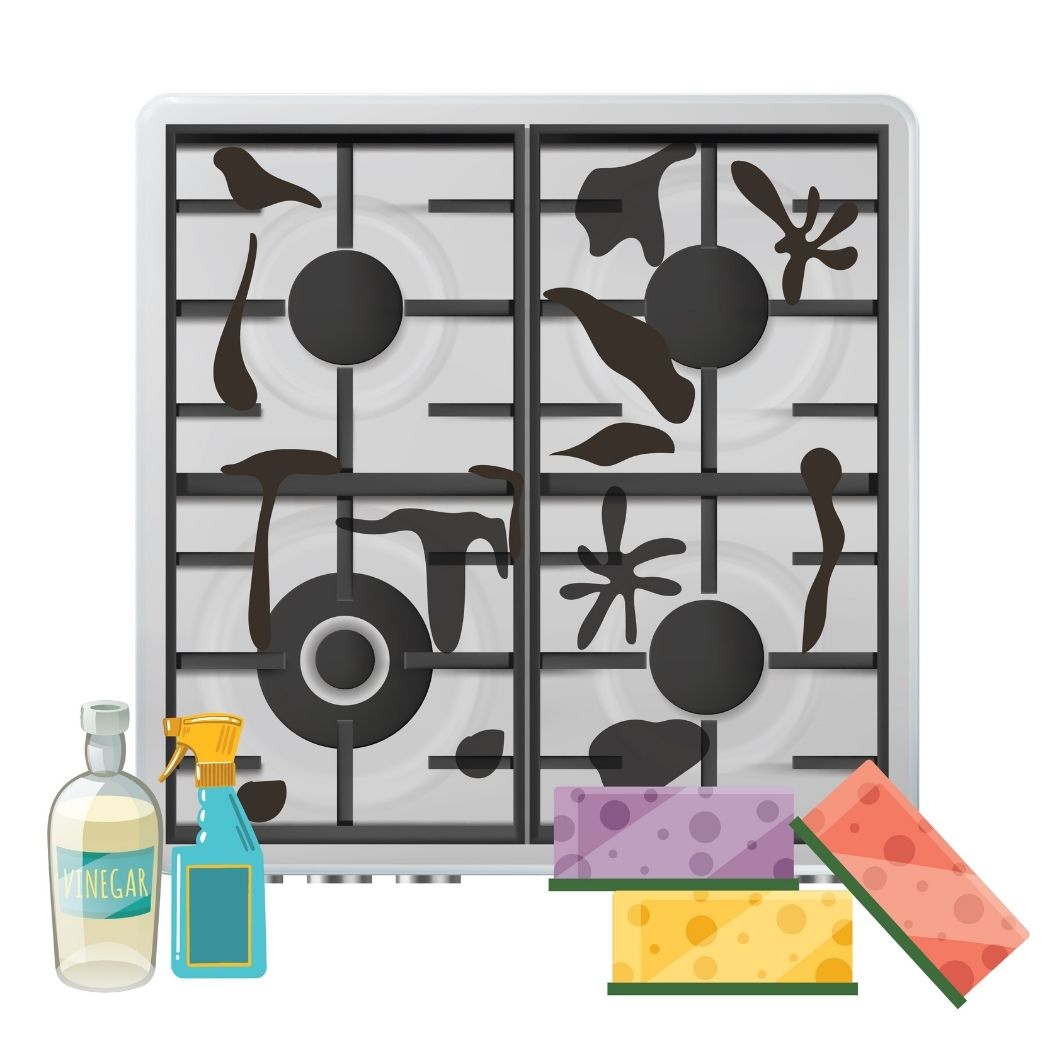 SCRAPER
We all know that if you do not attend to burn stains immediately, they are going to get tougher as days go by and one of the best things to turn to when this happens is a razor scraper. Hold the scraper firmly in your hand and strongly but carefully chop off the burn stains from your stovetop and wipe off whatever is left of the stains. However, before you do this, always make sure your stovetop is cool and safe to touch. Safety is very important and should be observed in anything you do, even when you're scraping dirt off your stovetop.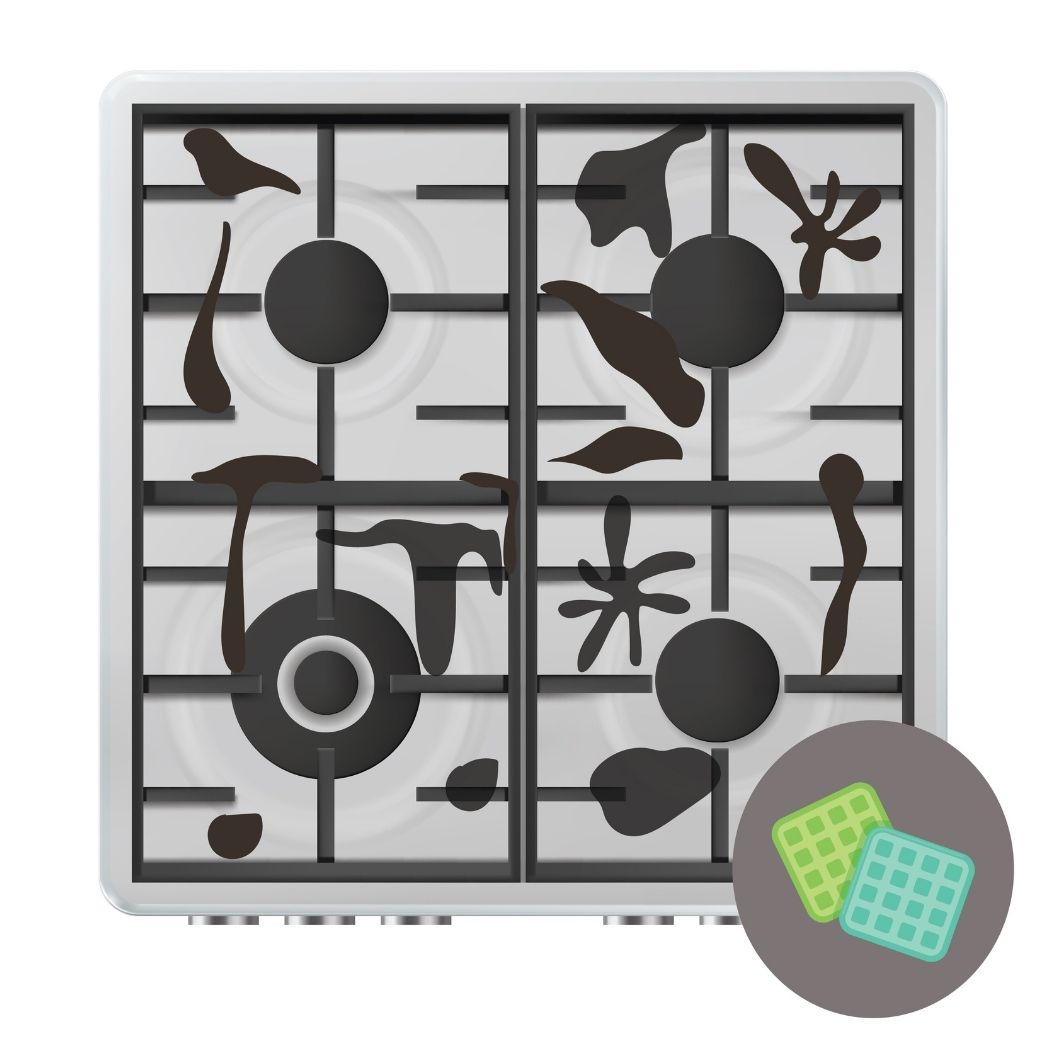 OVEN CLEANER
A lot of people believe oven cleaners are only meant for ovens and can't be used on stovetops. This might be right, depending on the type of oven cleaner in question. Some oven cleaners are made to work on stovetops and this can be confirmed on the container that has the oven cleaner in it. Manufacturers usually indicate on any part of the container if the cleaner is safe enough to be used on stovetops. Oven cleaners work better on gas stovetops. They are usually used to coat the stovetops. If you're opting for this method, leave the coated part of the stovetop for a while (a few hours will do). Apply hot soapy water on the stovetop before wiping clean with a soft, clean towel.
Always make sure your stovetop dries off completely before using the cooktop or cooking range again. This is to avoid further damages to the stovetop.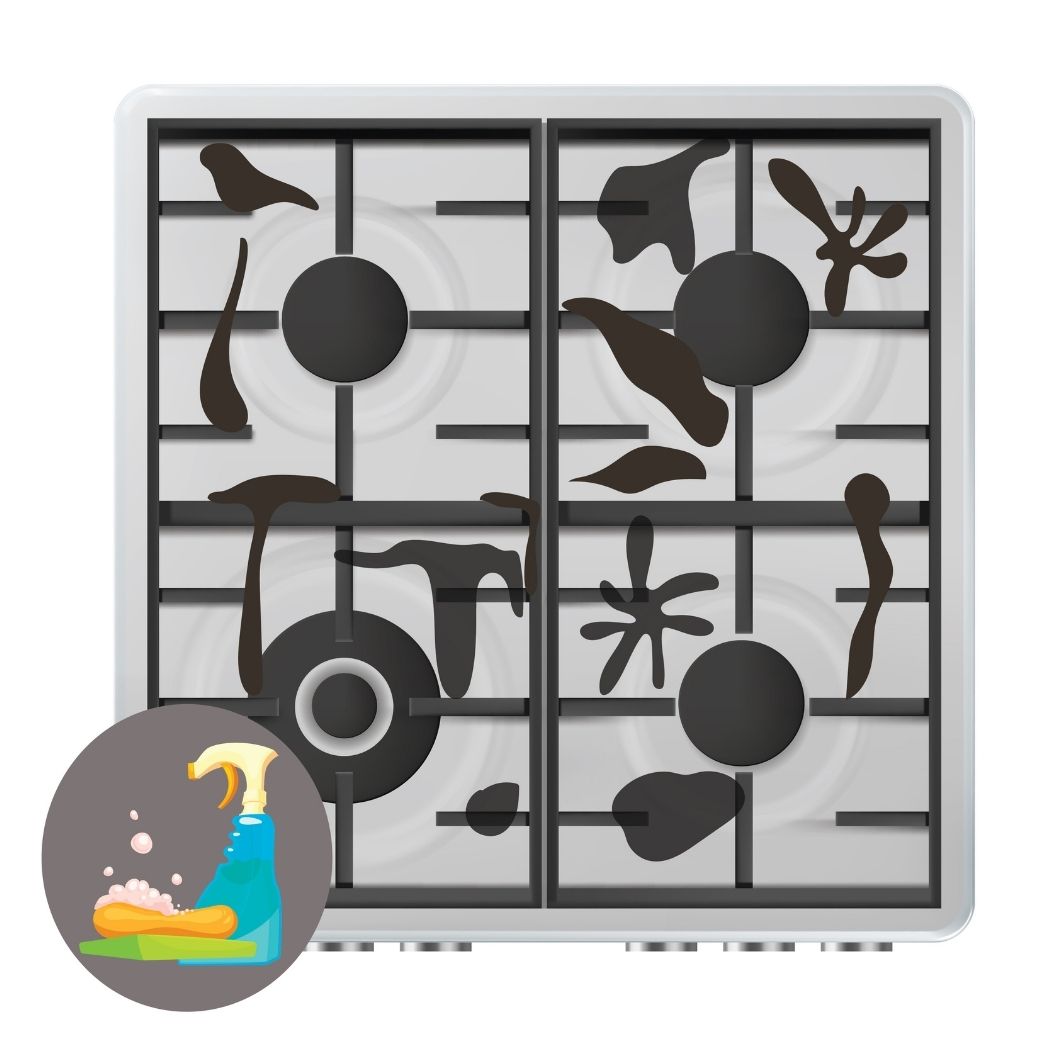 LEMON AND BAKING SODA
You can put lemon in the same class as vinegar because they both offer natural cleansing solutions. Lemon contains natural properties that can help clean off burn stains as well as grease.
When you combine lemon with baking soda, you have a great cleansing solution right at your fingertips. Baking soda is rich in particles that can easily remove stains from stovetops, including ceramic and glass stovetops. All you have to do is to add a little baking soda to your stovetop then use a slice of lemon to rub the surface of your cooktop. Wipe off the mixture with a clean cloth and you'll realize how sparkling clean your stovetop will look.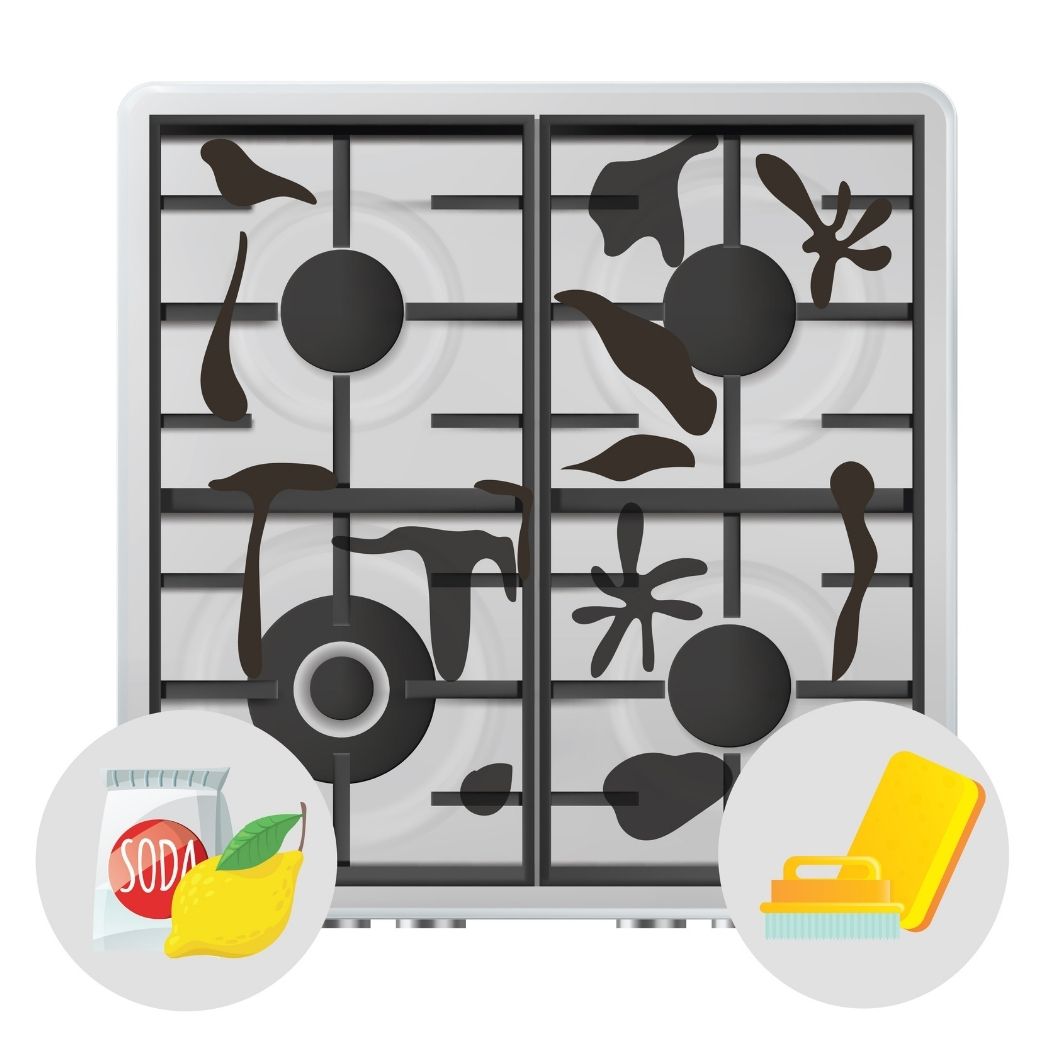 WATER AND DISH SOAP
This is one of the most common ways to remove burnt-on grease from your stovetop, and guess what; it's super effective too! This is the method most people use if none of the methods above is readily available to them whenever there's a need to clean their stovetops. Also, it is basic and something you can easily find around the house, unlike the other methods and that's why it is so popular.
Its usage depends on how tough the stain is. In a case where you have a tough stain, you might need to soak the affected area with soapy water. Leave it for a few minutes and use a clean towel/cloth to wipe off the dirt until you have a clean surface.
If this method doesn't work effectively, a little bit of baking soda can help achieve the best result. All you need to do is add a little baking soda to the surface of your cooktop, add water and leave it for a while. After some minutes, wipe with a clean cloth and you'll be left with a super clean surface.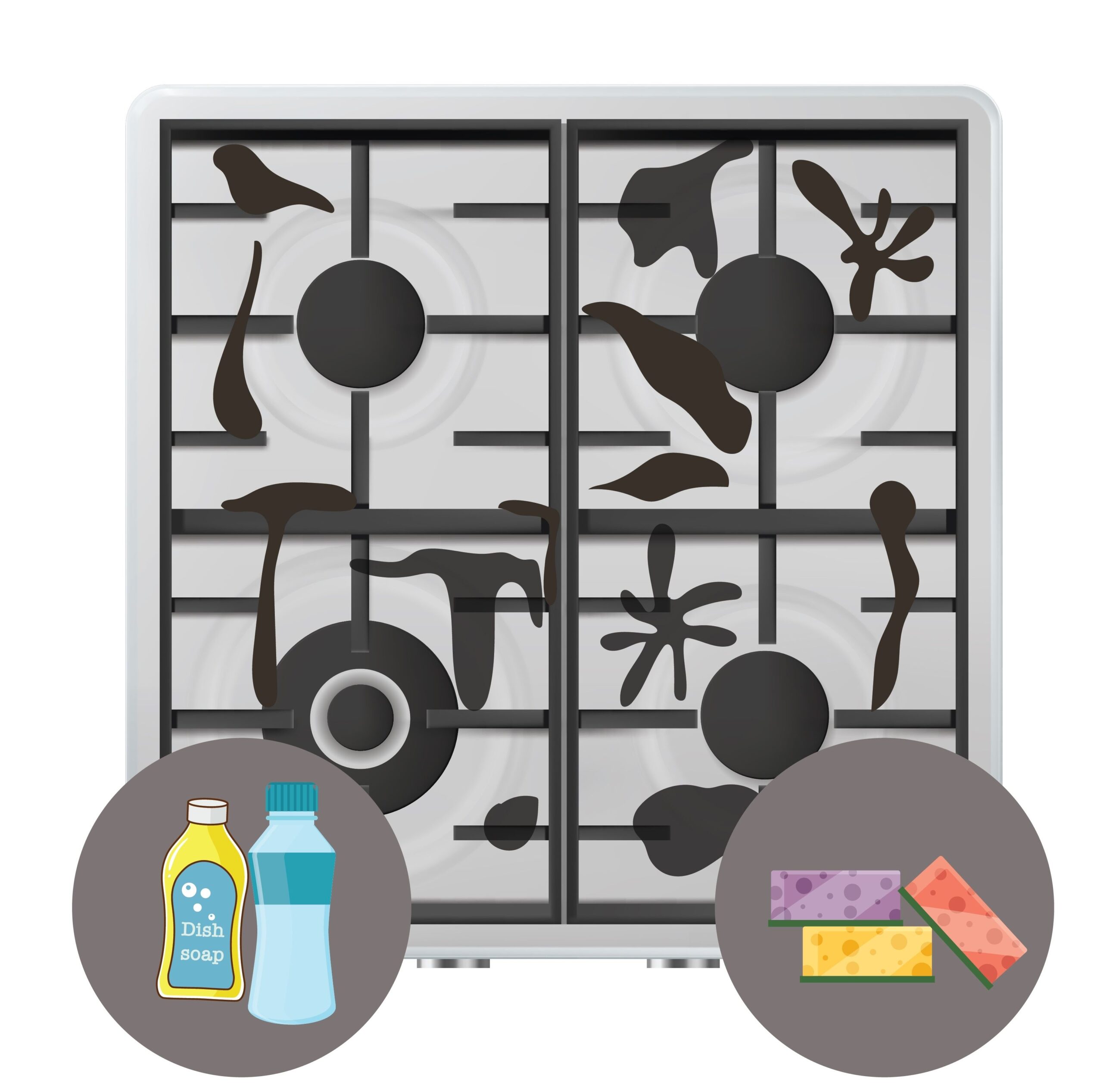 Frequently Asked Questions
1. How do you get burn marks off a ceramic stovetop?
There are different ways to get burn stains off your ceramic stovetop. You can opt for vinegar but the one that's most effective on ceramic stovetops is baking soda. Once you use a scraper to tackle the tough stains, add baking powder to the affected area and cover the surface with a wet cloth for about half an hour.
2. Can I use baking powder to clean my stovetop?
Yes, you definitely can. Baking powder is one of the most popular cleansers in the kitchen and a lot of people have turned to it in recent years. It works effectively and you'll get your results within minutes. 
Wrapping up
Cleaning, being an important part of maintenance, it should never be taken for granted. The same principle is needed to keep your cooktop/cooking range for a good number of years. You need to regularly clean your stovetop to ensure it's always in its best working condition whenever you need to use it. Cleaning can be daunting but it's a necessity. You shouldn't leave anything to chance and always remember that the longer you stall in cleaning your stovetop, the higher the chances of it getting damaged.
ESTIMATED TIME DESIGNING AND UPLOADING THIS ARTICLE
ESTIMATED TIME RESEARCHING AND WRITING THIS ARTICLE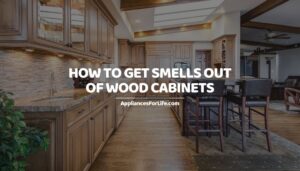 How to Get Smells Out of Wood Cabinets?
If you have wood cabinets in your home, then there's a need for proper maintenance, one of which is regular cleaning. However, sometimes, that might not be enough to prevent odd smells from creeping in. In this article, we'll be looking at the different ways
Read More »