Although an important part of every household, the kitchen means more to some people than others. Some people love their kitchen spaces so much that they don't treat them differently than they treat the other parts of the house, if not even better. This is due to the different concepts many people have of how a proper kitchen should be like. Some had pictured a proper domestic space since they were kids and would not stop until every bit of the picture is put together. Despite these different existing concepts, what's common for everybody is the appliances they pack in their spaces, and perhaps the most popular one would be the refrigerator. No matter how different your concept of an ideal kitchen is, the refrigerator is one thing that's never left out of the picture and this explains why it is one of the most popular appliances in the house.
We all know that no matter how many safety precautions you take, little accidents are almost inevitable and it's only a matter of time before they occur. The refrigerator, apart from being one of the most popular kitchen appliances, is also one of the most accessible appliances. Almost everybody in the house has access to it (except toddlers who can still cause little troubles) and that makes it very prone to different events. With that in mind, it is safe to say your refrigerator door is not safe from the dent. Thankfully, with the right techniques and methods, a dented refrigerator can easily be fixed. We can't stress enough the importance of the refrigerator in a modern-day kitchen setup. Compared to other damages that could happen to your refrigerator door, dents can easily be fixed, provided you use the right techniques. However, the most complicated thing about fixing a dent is that you might need to try more than one method just in case you're dealing with a serious dent. It is easy to go for the most convenient way, which is hiring experts to help you fix it but why spend your money and time on something experts might end up not being able to fix? Instead, it is ideal to try the different methods at little to no cost.
A dented refrigerator isn't ideal; it makes your kitchen look odd, especially when it features a stainless steel surface finish. The most important thing is to have these methods at your disposal so removing dents from fridge doors won't be much of an issue for you. When this refrigerator is stainless steel, knowing just how much value it adds to your kitchen, knowing how to fix a dent in stainless steel fridge doors will be a piece of valuable knowledge and could save you a lot of money in the process. One thing people have failed to realize over time is that the best methods are not the ones you pay experts to do for you. Sometimes, little research from those who are willing to share their knowledge with people is all you need, at no cost at all, thanks to the internet. We know you love your refrigerator dearly but things like dents are almost inevitable.
Dents may make you not love the once-lovely surface of your refrigerator door again but it shouldn't be that mad. You can make your refrigerator look beautiful again with some of the methods we're going to be discussing later on how to repair dents in your stainless steel refrigerator. Although, it is noteworthy that not all dents can be fixed using DIY. Sometimes, you just have to involve the experts but that must be on the back of trying and failing to get the dents fixed yourself. According to an article published by Home Guides SF Gate, all dents on refrigerators can be removed the same way dents on cars are removed.
Before we get into the different ways to get dents out of your fridge door, let's look at the different things you should put into consideration before deciding on which refrigerator to purchase.
Things to consider before buying a refrigerator
Investing in an appliance as highly regarded as the refrigerator is always a big deal and should be treated as such. These appliances cost a lot, especially when they have the popular stainless steel finish. Before deciding to invest your hard-earned money in a refrigerator, there are certain things you should seriously consider so you won't end up making the wrong purchase. Despite being a great kitchen appliance, not all refrigerators will tick all the boxes for you, and rightly so. If all these factors are not properly put together, it might result in a disastrous purchase, which costs a lot of money sometimes. Things can even go from bad to worse if you're purchasing from an outlet with strict or no refund policies.
If you're looking for new kitchen appliances to buy, you might find this article helpful.
Here are some of the things you need to put into serious consideration before purchasing a refrigerator;
The size of your space
One of the most important factors to consider before buying a refrigerator is the size of your space. Having this vital information about your space will help you go to the market in search of an equally sizable refrigerator that will fit just in. If you make the mistake of purchasing the wrong size of a refrigerator (too big or small), you will find yourself stressing a lot, especially if you can't easily return it to where you initially got it from. This might result in the loss of money, time, and effort. To avoid this, you can take a proper measurement of the dedicated space for a refrigerator and make your search according to the measurement.
The surface finish of the refrigerator
For some people, this might not be a big deal. However, stainless steel geeks will always find it as one because that's all they care to see in their favorite kitchen appliances. The surface finish of an appliance does matter and you shouldn't make the mistake of not making it count. If you're the type that pays attention to details, you should already know which surface finish you find the most valuable. While stainless steel finish seems to be the most popular choice, other finishes like matte black, white, slate, black slate, and many more. Pay attention to the decoration of your kitchen space and find which of these aforementioned finishes will best complement your decor.
Budget
Your budget is something you can't afford not to consider. A lot of people make this mistake and they go into the market, working out of their budgets, and end up spending higher than they initially planned for. With a proper grip of your budget, it'll be hard to put a foot on the wrong gas because you already have a clear idea of what you're going into the market to work with.
Energy efficiency
When your refrigerator is energy-efficient, it'll reduce the pressure on the running cost, which includes your electricity bill. Energy efficiency is very important when you're purchasing a new appliance. You'll be required to run your refrigerator all day, especially if you store a lot of food items as a result of not wanting to take regular trips to the grocery stores. You'll need a refrigerator that is energy-efficient and will make less impact on your electricity bill. Most in-store products come with an energy rating sticker which clearly displays the average energy consumption of the product you're purchasing in kWh.
Read our article on energy consumption to know which of your appliances consumes more energy in the house.
Features
Lastly, another thing you shouldn't do without putting into consideration are the features you want in a refrigerator. Everybody wants to get their hands on their dream appliances, and that means a lot of things. Do you want a refrigerator you can control from your phone (smart)? Do you want a refrigerator that comes with an internal water dispenser and ice maker? All these questions are what you should ask yourself, although, whether or not you can get your hands on a refrigerator that has these features largely depends on your budget.
Removing dents from stainless steel refrigerator
Dents will do your refrigerator no good. The sooner you're able to get them out, the better for all parties, you especially. We stated earlier that dents can turn your refrigerator into what you won't fancy anymore. It can even be worse if it features a stainless steel finish that usually costs a lot. When you're faced with a situation like this, it is of extreme importance that you know how to remove these dents from your fridge. To make sure you don't put your foot on the wrong gas, we've helped highlight some of the best techniques/methods to help get rid of dents from any parts of your refrigerator, including the door.
NOTE: some of these methods will require you to try more than once before you can achieve success. Other times, you'll also have to try more than one method to get the best results. However, if you've done all you could and things still didn't turn out well, don't hesitate to reach out to an expert.
Hot air from a dryer
A blow dryer is one of the most effective tools to make the dent on your refrigerator door pop fast and clean. To get through this process, you'll need a blow dryer, warm water, and a clean, damp cloth.
DIRECTION
STEP 1: Get warm water and dip the clean towel inside it until it's fully covered with warm water.
STEP 2: Clean the dent and the surrounding area with the damp cloth but make sure you don't leave water on the affected area.
STEP 3: Set the blow dryer to high and heat the dent. If it pops out, it means the method worked. If it doesn't, you might have to try it once more or better still, move on to the next method.
Dry ice
We're sure you know how cold dry ice is. Its coldness can get the metal of your refrigerator door to contract, thereby fixing the dent in the process. To use dry ice, you need to make sure you're wearing thick gloves to protect yourself from chills or even burn your fingers as a result of the coldness of dry ice.
DIRECTION
STEP 1: With the protective gloves carefully wrapped around your hands, hold the ice very close to the dent.
STEP 2: If the method is going to work, you're going to see the dent pop, although you might have to try it more than once to get the best results.
Cold condensed air
This can of air is a very popular cleaning tool, mostly for cleaning computer keyboards. Its mysterious way of using it on dents makes it more effective. To use this condensed air, you'll have to turn it upside down to get a cold condensation out of it. Safety should be a priority when using this method because the condensation is no friend of your skin, or anybody else's.
DIRECTION
STEP 1: Clean the dented area with a soft cloth and warm water but ensure there's no moisture left on the surface before going on to apply the condensed air.
STEP 2: Turn the can of air upside down such that the air coming out of it is already condensed and cold. This will cause the dent to contract and might fix it.
Dent repair kit
This should be your last resort after the dent must have proved to be too strong for the three other methods we've previously discussed. However, you need to be very careful when you're using a dent repair kit because it comes with a cleaning solution that may remove the finish, so you might not even want to try it at all if you don't feel right about it.
STEP 1: Clean the dented area with the cleaning solution that comes with the denting kit. But if your denting kit doesn't come with one, isopropyl alcohol is what is usually used.
STEP 2: Take a suction cup that is bigger than the dent from the dent repair kit and add a dab of hot glue to it as you place it on the dent.
STEP 3: Screw the bar that comes with the suction cup lightly into place.
STEP 4: The bar usually comes with two plates on each side. Put the plates very close to the small cup.
STEP 5: Screw the central knob until everything seems to be in place.
STEP 6: This method will require you to repeat the first 5 steps as much as you can (it can be up to 10 times) until the dent is finally fixed.
Frequently Asked Questions
1. Can stainless steel dents be repaired?
Yes, they can. Some of the methods we've discussed in this article are also applicable to stainless steel. But if you're more concerned about not losing the finish, we recommend that you stay away from dent repair kits because the chances of you losing your finish are higher than you not.
2. What can I use in place of dry ice?
If you can't get your hands on dry ice, try regular ice first. You might be lucky enough to get things right with regular ice. However, if that doesn't work, then try to get some dry ice which is available in most supermarkets.
3. Do suction cup dent pullers work?
Yes, they do.
Wrapping up
Your refrigerator is one of your kitchen's most valuable appliances and should always be treated with care. Dents are almost inevitable on your kitchen appliances, especially when you like to spend a lot of time in your kitchen space. The methods we've highlighted in the article are very effective with the exception of the dent repair kit which may leave a lasting effect on the surface finish of your refrigerator.
ESTIMATED TIME DESIGNING AND UPLOADING THIS ARTICLE
ESTIMATED TIME RESEARCHING AND WRITING THIS ARTICLE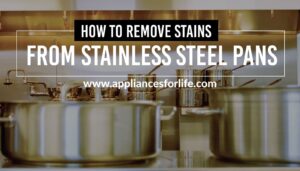 HOW TO REMOVE STAINS FROM STAINLESS STEEL PANS
Cleaning stainless steel pans is not as hard as people have made it seem in recent times. Matter of fact, it's as easy as cooking with them as long as the right techniques are put into good use. In this article, we'll be looking at
Read More »