Tea is one thing that can be found almost in every home because of how easy it is to prepare. However, tea can leave lasting stains on your stainless steel items (teapots, cups, or travel mugs) and that will forever change the beautiful look that is peculiar to stainless steel materials. This article will discuss the different cleaning methods you can use to get rid of stains in your stainless steel cups and other stainless steel items like travel mug and teapot.
Surface discoloration of stainless steel materials is a bad thing. It will change the look of your stainless steel items which might cause you not to like them again, forcing you to spend more than you expect by going out of your way to replacing these items in the process. Although it has not proved to be harmful, leaving tea stains on stainless steel surfaces for a longer period will destroy the item due to erosion. One of the most important advantages of stainless steel materials is that they have a protective substance, chromium oxide, which protects them from rust and corrosion. However, even chromium oxide can wear out when it comes in contact with stronger elements, some of which can be caused by different stain types, including tea stains. Sometimes, getting rid of these stains as soon as possible will go a long way in ensuring that the chromium oxide present in those stainless steel items is not affected. However, these stains can stay for a longer time due to different reasons. Once this happens, the basic cleaning process might not be effective anymore and might have to opt for more technical ways.
The bad thing about tea stains is that they can become permanent if not attended to soon enough. It's always great to get rid of these stains to prevent your stainless steel materials from suffering long-life discoloration. Take a stainless steel travel mug for example. Within a month or two after it must have been stained by tea, you can easily get these stains out with technical procedures after which the mug's original appearance will be restored. Another weird thing about tea stains is that their effect on your stainless steel item will almost never go away unless the source of the stain is appropriately dealt with. Using the right cleaning methods for tea stains is just as important as cleaning itself. If you don't get your hands on the right cleaning materials, you'll not only damage your stainless steel items but will end up spending more in the bid to replace them. Also sometimes, you can have tough tea stains that you won't be able to get rid of no matter how hard you try because of the surface of your stainless steel items. In this case, you might consider replacing the cup, mug or teapot itself so you won't have to go through seeing stains on them every time; well, except you're cool with them.
WHAT CAUSES TEA STAINS
Tea is healthy, easy to make and a nice option when you are choosing beverages and that's why a lot of people prefer it. However, the stains it causes on mugs, cups, and teapots, regardless of the material, discourage people from getting all into it the more. However, things as common as tea stains shouldn't deny you all the health benefits that come with tea. Right now you're wondering what causes those tea stains that are so hard to get rid of. Cleaning tea stains can be daunting and the fact that they will keep coming back if you don't get to the root of the problem makes things even more complicated.
This chart shows the monthly sales share of packaged non-alcoholic beverages in convenience stores in the United States in the year 2019. Energy drinks alone were responsible for over 30% of the total monthly sales share of packaged beverages, followed by carbonated soft drinks. Statistics provided by Jan Conway for Statista.
It's so surprising that the same element that makes tea something we all love is what also makes it leave stains in and around your stainless steel mugs, cups and teapots. Tea has an acid called 'tannin' in it. This element causes the tea to have its color, and as we all know, the same color leaves unwanted stains on cups and teapots, regardless of the material they're made of. This tannic acid is so heavy that when left for too long on your stainless steel items, it might be so hard to get rid of it.
This is why we've researched different effective methods for this purpose and we've found them worthy of a spot on this list. Let's take a look at these methods and carefully take you through each of them.
HOW TO REMOVE TEA STAINS FROM STAINLESS STEEL
Removing tea stains from cups, mugs or teapots might be daunting; as a matter of fact, the tannic acid which causes it is so hard to get rid of unless you act fast. We'll now be discussing the different cleaning methods to clean tea-stained stainless steel cups or mugs.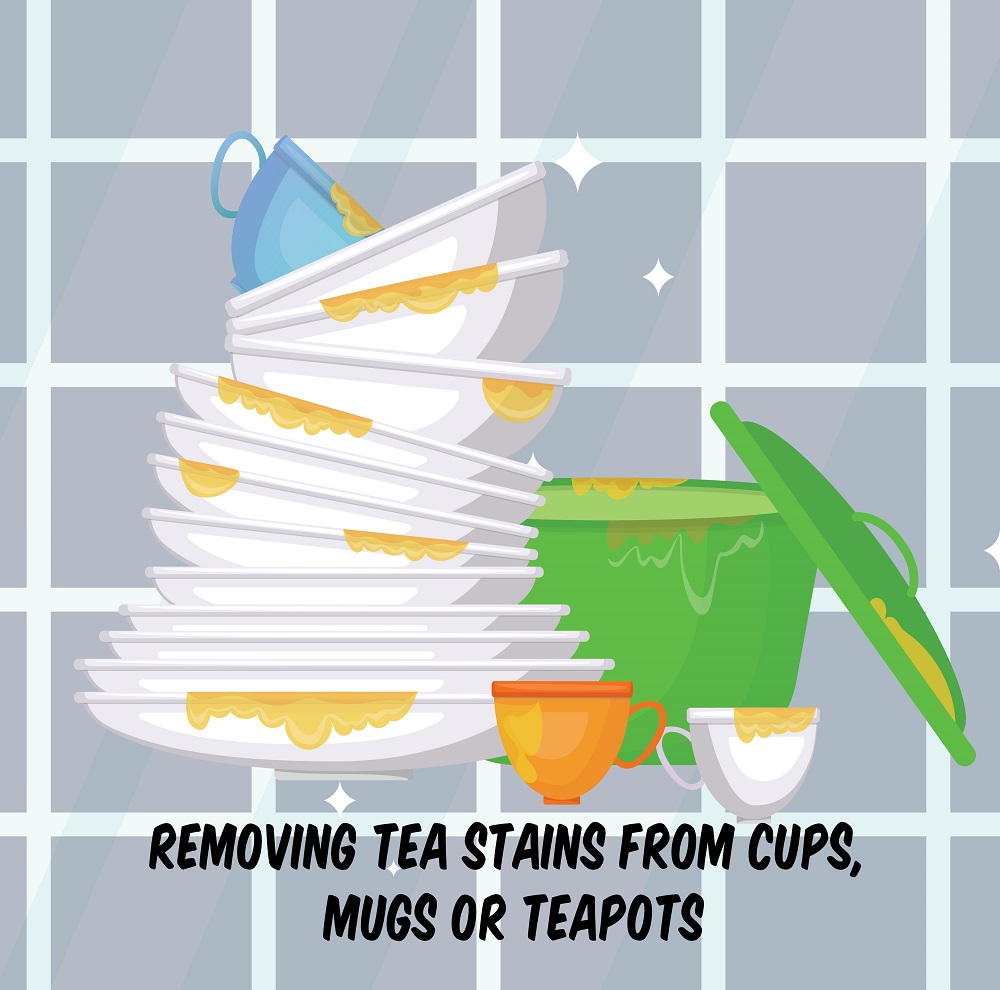 SAFETY FIRST
Always remember to take safety precautions whenever you're dealing with chemicals, no matter how harmless they may be. They may cause some reactions if they come in contact with your skin so to prevent this from happening, it's okay to always wear protective gloves whenever you have some cleanings to do. They put you in a good position so you can freely practice these methods without the fears of being hurt by any of the cleaning substances you'll be using.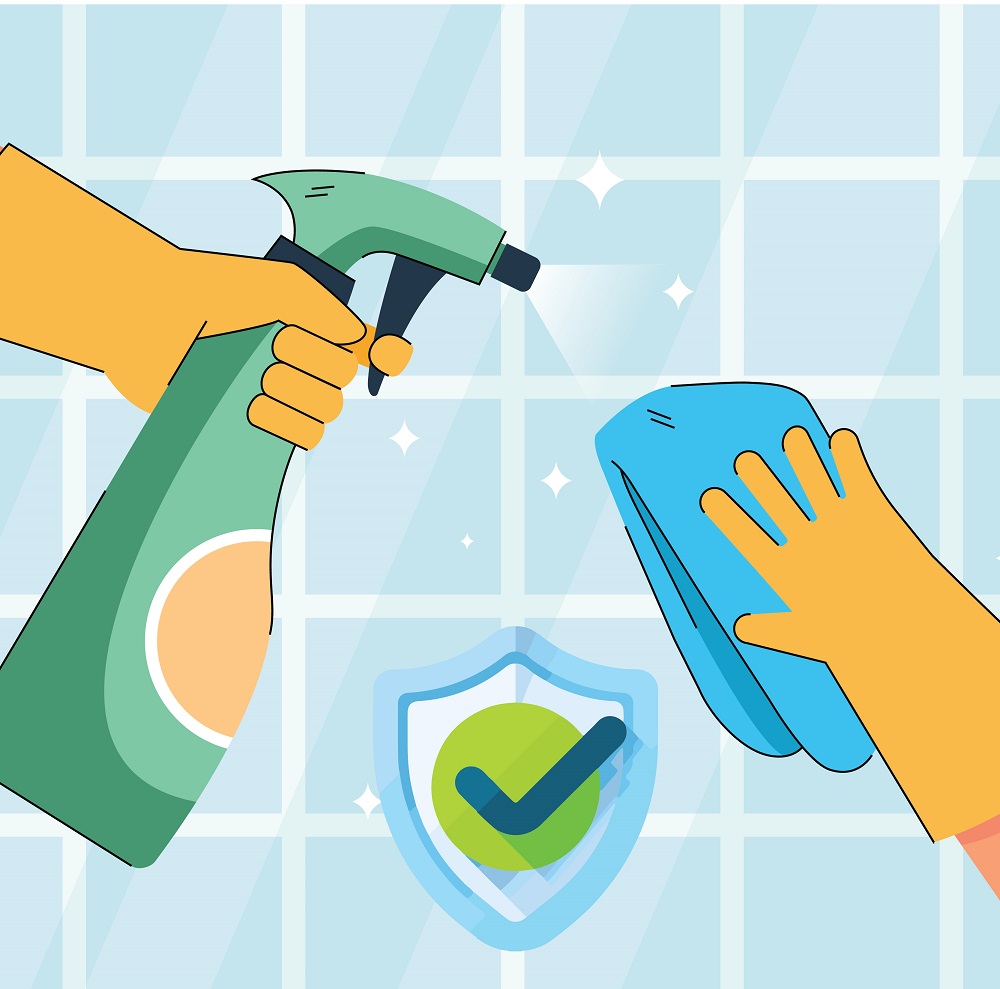 LEMON
Lemon is a popular cleaning substance, thanks to its essential oils and the citric acid in it. It is a natural way to clean stains on stainless steel items like cooktops, sinks, countertops, and other stainless steel items. The acid in lemon is strong, so you need to be careful when using it on your stainless steel cups, teapots, or travel mugs. To prevent damage to any of those stainless steel items, it's always safe to test before you clean with it if you aren't sure of the effect it's going to have. Once you confirm that it's safe to use, you can try it as many times as you can as long as it works effectively and you like the outcome. There are two different ways to use lemon to clean your stainless steel items; we'll be exploring both ways below.
DIRECTION 1
STEP 1: Cut the lemon into halves and rub the open half of the cut lemon on the tea stain. This citric acid in the lemon will loosen the tea stains caused by the tannic acid.
STEP 2: Rinse the stainless steel item (cups, mugs, or teapots) thoroughly under running water and use a microfiber towel to clean properly so there are no leftover residues to prevent further damage to the chromium oxide in the stainless steel materials.
DIRECTION 2
STEP 1: Add ½ cup of baking soda to a bowl filled with the right amount of dish soap.
STEP 2: Mix those two until you have a paste-like result.
STEP 3: After adding the paste to the affected area of your stainless steel item(s), use a cut half of the lemon as a scrubber. This will increase the effectiveness and leave you with sparkling clean stainless steel cups, mugs or teapots.
VINEGAR
You can't talk about basic cleaning substances without talking about vinegar. Vinegar is a common household cleaning substance and the fact that it is relatively safe to use makes it a great choice as far as cleaning is concerned. Vinegar can be used alone or combined with other cleaning substances that are safe like baking soda and dishwasher soap. What more? Vinegar works effectively, easy to get (economical) and friendly for you and the environment. This makes it a great choice for cleaning stainless steel items because you can be confident the chromium oxide present in the stainless steel won't be affected. This is one of the most effective methods to clean tea stains from a stainless steel travel mug.
DIRECTION
STEP 1: The first thing to do is to wash the stainless steel item with warm water and detergent. This is to set the tone for the proper cleaning process that is to come.
STEP 2: Add about ¼ cup of baking soda to the bottom of the affected stainless steel item before filling it halfway with white vinegar.
STEP 3: Add enough hot water to fill the container up and leave it for about 15 minutes to settle in. You might experience bubbles so it's good to have some dry towels nearby to clean up whatever mess the bubbles may create.
STEP 4: After 15 minutes, empty the container and rinse thoroughly under running water for extra 2-3 minutes to make sure every leftover residue in it has been cleaned off.
STEP 5: Use a clean microfiber cloth/towel to clean the inside of the stainless steel container thoroughly.
BAKING SODA
This might sound weird but there are some household powders (baking soda is an example of household powders) that when combined with some cleaning substances like elbow grease, you'll have perfect cleaning results. According to an article published by Hunker, this method can take out tea stains effectively while also leaving your stainless steel items sparkling!
DIRECTION
STEP 1: Add the right amount of baking soda to the affected area of your stainless steel item(s).
STEP 2: Use a non-scratch scrubber to rub the baking soda to the area where the tea stains are.
STEP 3: Rinse the stainless steel cup/mug/teapot thoroughly under running water and clean with a clean towel.
Frequently Asked Questions
1. How do you clean tea stains from a stainless steel thermos?
All the methods we've discussed earlier are pretty much effective for cleaning any stainless steel items, including a thermos. Baking soda and vinegar work most effectively but always make sure you leave no leftover residues on the thermos so the stainless steel doesn't get damaged.
2. Does tea stain stainless steel?
Yes, tea can stain stainless steel. Tea contains tannic acid and this acid is responsible for the taste as well as the brown color. This tannic acid can cause tea stains in your stainless steel items including stainless steel cups, teapots, thermos, and travel mugs.
Conclusion
Those brownish tea stains can be so annoying that you might be tempted to dispose of your stainless steel items to get rid of those stains. It doesn't have to end in that though. We've worked so hard to get you these tested and trusted cleaning methods you can use to get rid of tea stains. These methods have been very effective over the years and that's why we've highlighted them in this article so you can always count on them whenever you have tea stains to deal with.
We also have an article on how to get rid of tough stains from your stainless steel cooktop; you can read that here.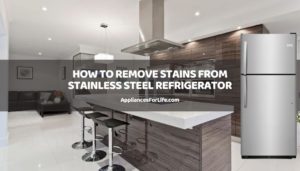 HOW TO REMOVE STAINS FROM STAINLESS STEEL REFRIGERATOR
Having a stainless steel refrigerator is always nice. You have a super clean, simple and elegant finish that is widely regarded as the best in the market. Its shining looks, however, comes at a price. To maintain your stainless steel refrigerator's elegant finish, you need
Read More »