There's no better way to keep your blender functioning properly than regular maintenance. This often includes checking your blender blades to check if they're dull so you can sharpen them to keep them functioning properly.
If people attach the same significance to blenders to what they attach to other household appliances, blenders would be one of the popular kitchen appliances in the world today. Despite its underrated nature, blenders have managed to break lots of records as far as sales are concerned because people are investing heavily in them due to the great role they play in the house these days. Brands like Vitamix, Nutribullet, Ninja, KitchenAid, and Blendtec have contributed greatly to the massive success blenders have achieved over the past few years, and it'll be bad to discuss that success without giving props to the aforementioned brands.
Generally, you have to properly maintain all your appliances to keep them in good shape for so many reasons. Firstly, if you don't maintain your appliances, you risk getting them damaged, preventing longevity, which means you're going to be spending money purchasing new appliances sooner rather than later. You won't also get the best value for whatever money spent on acquiring those appliances because they won't function properly, and that's not something you can't afford to do because these appliances cost a lot of money.
Without denying the truth, from the point they were first introduced up until now, appliances have made our lives much more convenient. There's a reason the sales of modern household appliances are going off the roof. People know how these appliances have improved their lives and will stop at nothing to have them in their space to continue to make life easier for them.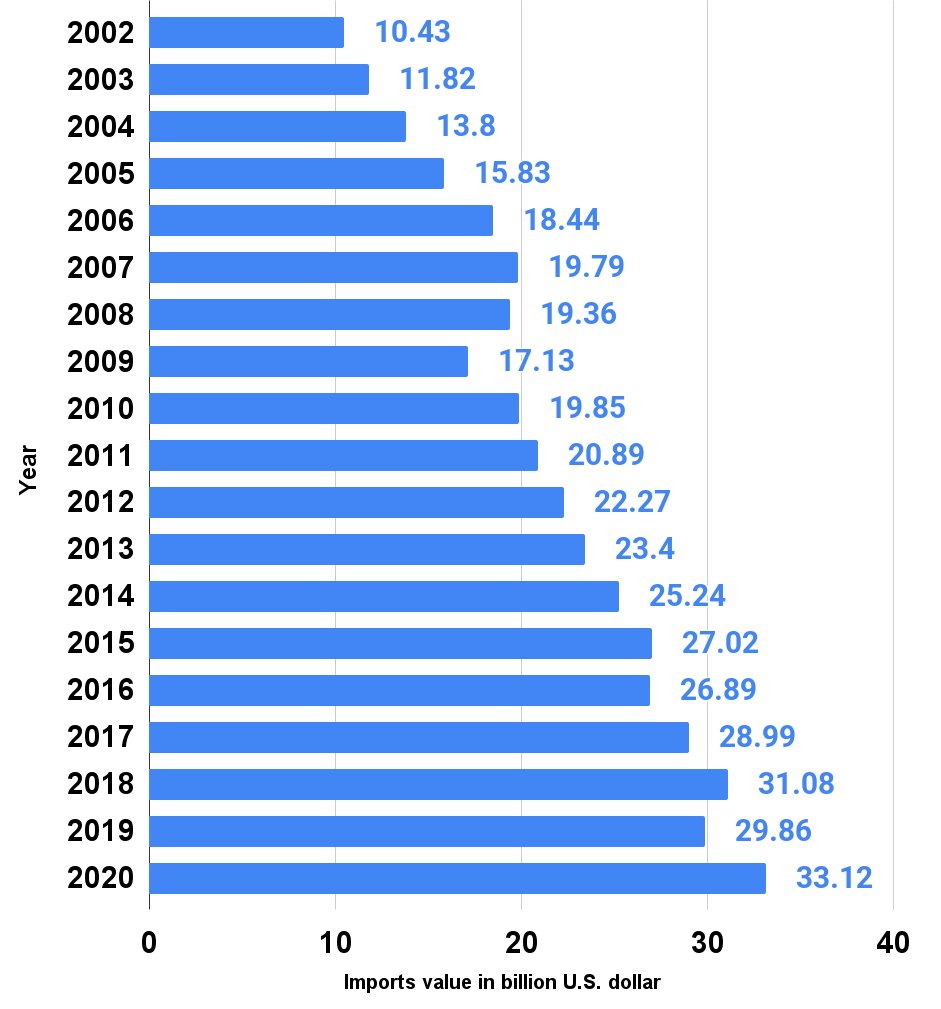 Source: Statista.com
From the chart above, you'll realize what modern appliances mean to the folks in the United States as imports have improved greatly since the start of the 21st century, making the country one of the largest appliance markets in the world with a market value of $37.8 billion in 2018. The chart above shows the import value of major household appliances in the United States from 2002 to 2020, and it is evident in the chart that huge progress has been made from then till now. The most recent import value recorded in 2020 amounted to $33.12 billion, cementing the country's place amongst the highest-ranked countries for importation of major household appliances.
In 2002, the import value stood at $10.43 billion before shooting up to $11.82 billion the following year (2003). Things improved thereon with the values for 2004, 2005, 2006, and 2007 being $13.8 billion, $15.83 billion, $18.44 billion, and $19.79 billion respectively. The value dropped briefly in 2008 when the import value was $19.36 billion, before dropping further to $17.13 billion in 2009. From that point, the market experienced forward progress and no dip was recorded until 2019 when the value dropped down to $29.86 billion from $31.08 billion that was recorded the previous year. Despite 2020 being a pandemic-ravaged year, the import value of major household appliances in the United States shot up to $33.12 billion.
The information above was provided by Arne Holst, Statista's lead researcher for communications and technology.
If you think maintenance is not important, wait until your appliances start developing different issues as a result of a lack of proper maintenance. You don't know the value of what you have until you lose it or you're on the brink of losing it. According to Doc's Appliance Service, neglecting the necessary maintenance steps you should take to improve the longevity of your appliances will let little glitches that could have been taken care of cause your appliances some serious problems and excess energy usage.
It is very important to regularly clean your kitchen appliances to help prevent future problems. Since most of these appliances have switches, buttons, handles, and those other things, they need regular maintenance to keep them in good shape. With blenders, their blenders need to be regularly sharpened to help ensure that you always get the best results out of every blending process.
Sharpening your Nutribullet blender blades should always be a priority to help improve blending results every time you try to process some ingredients in your blender. Nutribullet blender blades getting dull is not abnormal, after all, after so many months of usage, even the sharpest blades will grow tired and will need to be sharpened to keep them functioning properly again. That's why it's important to know how to sharpen Nutribullet blades so when your blender blades start acting up, you know the necessary steps to take to get the blades in shape again.
To sharpen Nutribullet blender blades, you have to know the right techniques which also include doing it in the safest way possible because as dull as the blades might be, they can still cut. Nutribullet blender blades sharpening process has to be one of the most important parts of routine maintenance of your Nutribullet blender because that's what determines the quality of the results you get at the end of every blend process. Although Nutribullet claims that you're likely not to have a reason to sharpen your Nutribullet blender blades as they are made from durable stainless steel according to reports from Reference.
The mistake most folks make is that rather than sharpening their blender blades, they tend to always get replacement blades for their blender which is not always the best solution when the old blades can be put back in shape. Getting replacement blades may seem like the best option, but when you consider the money involved in replacing the old blades that can still be functional if you sharpen them, you'll realize replacing is not ideal until you've confirmed what you're replacing can't be fixed anymore. Dull blades can cause your motor not to help spin the blades properly, and according to I Fix It, one of the best things you can do to save the situation is to sharpen the blades using some of the techniques we'll be discussing below.
Before we get into those unique steps on how to sharpen Nutribullet blades, let's quickly look at some of the things that can cause your blades not to function properly before deciding on whether or not the blades need to be sharpened or replaced.
Why Are My Nutribullet Blender Blades Not Blending Food?
It's not unusual for your Nutribullet blender blades not to blend your ingredients properly because a lot of reasons can contribute to this. Every blender, including Nutribullet, is susceptible to a range of problems that can cause the blades not to function properly, and as opposed to what many people think, it's not always down to bad blades. Being able to identify the problems and providing the best solutions to fix the problems will help you deal with these situations better in the future when they come up.
Troubleshooting your Nutribullet can be very daunting as it usually involves a long process that can tire you out in no time. If you're wondering why your Nutribullet blades are not blending food properly, below are the likely causes, so do well to pay attention to the blender to see if you'll see some of these signs.
Food is stuck between the blades
Once you notice your Nutribullet blades are beginning to act up, this is the first thing you should try to check out – food getting stuck between the blades. This mostly happens with high-powered blenders that can crush ice and frozen ingredients. These frozen ingredients may get stuck between the blades, and that may hinder the whole operation afterward, leaving you with blades that are not performing at the highest level possible.
To fix this, unplug the blender from the electrical outlet the cord is connected to for safety reasons. If you don't do this, the machine may mistakenly turn on while your hands are on the blades and they can cut you brutally. Once you've unplugged the blender, proceed to remove the extractor blade so you can clear any obstructions preventing the blade from turning properly.
Dull blades
Well, before you start brainstorming what the problems might be, it's safe to also assume that the blades are dull, but ensure to check them out before you start putting plans in place to either sharpen or replace them. You can't turn a blind eye to the possibility of the blades being truly dull and they need to be sharpened or replaced to keep your blender functioning properly again. If you don't sharpen the blades as soon as possible, you risk damaging the blender, and that's going to cost you a lot of money.
As soon as you realize the blades are dull, do all you can to sharpen the blades or if they can't be sharpened, find the right replacements.
The Blender jar is too full
Another reason your blender blades may not be functioning properly is when the blender jar is too full. One of the greatest mistakes you can make with your blender is overfilling it and not knowing where to stop when filling the blender jar with ingredients. This is why it's always advisable to get a blender with a large capacity if you have a large capacity and you'll be processing a lot of food at a time.
Thankfully, the blenders in production now feature blender jars that can also double as measuring cups. Once your food or liquid reaches a point that indicates 'MAX' on the blender jar, you should know that's the limit. If you notice that the ingredients are above that line, empty some of them into a cup and process them in batches to get the perfect result.
Why Is Maintaining My Appliances Important?
Having appliances in our lives has made life easier and more convenient, especially now that appliances are modern and they're packed with features that make them more efficient and easier to use. With all the benefits you'll get to enjoy when you invest in these appliances, it'll be unusual not to properly look after them like you're supposed to in a bid to prevent them from breaking down all of a sudden. As great as these appliances are, the truth is that they can't function properly if you don't properly look after them.
To prevent them from breaking down, you need to perform routine maintenance on them. No matter how little the appliance may cost you, you are not planning on wasting your investment, and with that in mind, you need to constantly clean it, one of the most important maintenance steps, but not just that. With blenders, sharpening the blades is one of the best ways to keep the blenders functioning at the highest level possible. Sharpening your Nutribullet grinder blades or your Nutribullet food processor blades will help you get the best out of your machines.
It ensures longevity
When you invest in an appliance – take blender for example – you always expect it to last a few years (5 years at least), and a blender is built to last longer than that if only you'd maintain it properly. Purchasing any appliance means investing, however insignificant its cost might be. You always expect to get the best value for your money in return, meaning that you expect the machine not to only function effectively, but to do it for many years.
Some people even grow accustomed to their appliances as years go by, and when the appliances start to develop signs of slowing down, they'll start to get worried, showing reluctance to replace them. One of the best ways to ensure that your appliances stay with you for many years is to properly perform routine maintenance. Think of the money you'll spend to fix or replace those appliances – you might just want to use that as motivation to put in more preventive measures.
Fewer repairs
When you find yourself spending more money and time trying to fix an appliance, you should know that the appliance is past its prime due to a lack of proper maintenance which is hard for a lot of people. You can save yourself a lot of money and stress by performing preventative maintenance on your appliances which can help you identify problems earlier and move to solve them before they become more expensive to repair. This is one of the many advantages of performing routine maintenance – having to go through fewer repairs with your appliances.
Makes your appliances more efficient
Regular maintenance, as you all can imagine, will help make your appliances more efficient, providing the results you need and meeting up to your required standards as far as performance is concerned. When your appliances don't get regular maintenance, small problems will begin to turn to big ones, and when that happens, the appliances will stop functioning normally, leaving them to consume more energy. This will affect your electricity bills negatively as you'll begin to pay more for appliances that are not functioning efficiently.
Other reasons include;
It saves you money

Reduces the risk of injury

Increases the resale value

It helps you avoid surprises
How To Sharpen Nutribullet Blades
To sharpen a Nutribullet star, you need to have the right techniques at your disposal, which is why it's important to know how to sharpen Nutribullet blades. Our step-by-step guide on how to sharpen a Nutribullet blender will tell you everything you need to know about sharpening your Nutribullet blades from detaching them to performing the task using a knife.
Decide if your blade needs to be sharpened or replaced
On Nutribullet's forum for customers, Nutriliving, you may not need to sharpen your blades throughout the years of using your Nutribullet blender not to talk of replacing them. We don't know how true that is because we've seen confirmed buyers complaining of dull blades over the years, so we guess some factors may be responsible for that, leaving the statement partly untrue. You need to make the decision whether your blades truly need to be sharpened, or rather replaced.
Some of the things that can help you make the best decision include what you're using your Nutribullet to process, how often you use the blender, and the current results you've been getting from your Nutribullet. Once you provide answers to these factors, you'll know if you need to sharpen or replace your Nutribullet blades.
Detach the extractor blade
There's nothing you can do efficiently without detaching the extractor blade before gaining full access to the blade. You can't quite sharpen the blades while they are attached to the base, so you must try to remove the blade completely before you start to sharpen the edges without any obstruction. Before you start doing anything, make sure that the blades are clean and don't have any debris on them.
Pick a soft towel and get a good grip on the blade, holding it firmly in your hand in the process. With the blade in your hand using the towel or protective gloves, use a set of pliers to rotate the gear clockwise. Continue doing this until the gear unscrews and comes right off. Pull out the blade stem with your thumb until you see the blade finally out of the base.
Sharpen the blades
The blades usually have 6 cutting edges, and each edge has to be properly sharpened to make the whole process worthwhile. The first thing to do is to identify all the cutting edges of the blades before putting them on your sharpening plate to run them along the edges. You will notice the difference immediately. You can try it as many times as you like until you get the perfect result.
Frequently Asked Questions
1. Can you sharpen blender blades?
It's very possible to sharpen your blender blades when they become dull and don't give you great results anymore.
2. How do I make my blender blades sharper?
The best way to make your blender blades sharper is to sharpen the edges so they can become very efficient again. Frequent use of the blades can cause the blades to be dull over time, and when they do, you won't get the perfect texture whenever you're processing your ingredients until you sharpen them again.
3. Why are Nutribullet blades dull?
According to My Electric Knife Sharpener, the more you use the blades, the more likely their edges will dull over time.
Wrapping up
As opposed to what many think, sharpening your Nutribullet blades is not daunting at all. To ensure your safety, you need to always wear your protective gloves to prevent cuts. You need to also make sure that the whole process is worthwhile by following the steps we've highlighted above.
Be sure the blades need to be sharpened before you embark on the journey to sharpen them, and if you think the blades need to be replaced rather than sharpened, don't hesitate to do so.
ESTIMATED TIME DESIGNING AND UPLOADING THIS ARTICLE
ESTIMATED TIME RESEARCHING AND WRITING THIS ARTICLE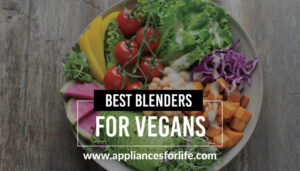 As a vegan, having a good blender is a necessity rather than an option, which is why we've compiled a list of the best blenders for vegans in this article to help you make the best choice when buying. While the blender may be the
Read More »