The blender plays a huge role in every modern household today, and it's safe to say to some point, it's one of those things that defines how much efficient cooking can be done in the kitchen. Sadly, as important as the blender is, it is one of those appliances that don't get enough credit for what they do, thanks to the blender's easy operation, making it seem like it can do everything in the simplest way possible. Despite the underrated nature of the blender, it has managed to remain a popular appliance in the world today, with almost every household in the United States today owning a blender.
According to AHAM Consumer Blog, anyone who owns a kitchen in the United States has a very high chance of owning a blender, and this has been backed statistically with more than 90% of households reportedly owning at least one personal blender. The same study shows that the blender is one of the most frequently used appliances in the kitchen, with full-size blenders getting used about 6.3 times per month while personal blenders are used about an estimated average of 8.7 times per month. From these statistics, concluding that the underrated nature of blenders remains somewhat a surprise would be an understatement because not only do we know how functional they are but how frequently they are used in many households across the globe.
When the blender was first introduced by Polish-American inventor, Stephen Poplawski in the '20s, only a few people believed it would go on to achieve the massive success it has achieved worldwide today. As much of the credit goes to Poplawski, the real driving force behind the global breakthrough of the blender would be the Waring Company who invested heavily in making sure the blender was generally accepted by the masses. Almost a century on, the blender is now what most households across the world now use as a versatile machine to help them get through their cooking activities without much stress.
With many options on the market right now, you can get a blender that will help your needs without having to spend out of your budget. All blenders can conveniently make milkshakes and smoothies, but a blender needs more power to execute a bigger task like crushing ice. Blenders have increased in popularity over the past eight decades, according to Ninja Blender Guide, having gained popularity in North America and Europe in the '30s.
Technology has played a huge role in the modern world, impacting almost every industry in the world, including the appliance industry. When they were freshly introduced, they were only used mainly as vegetable juice extractors, and also for mixing fruits. However, things have gotten so advanced that some of them are now used for more than their basic functions such as crushing ice.
You'll be wondering why blenders are so underrated despite earning so much popularity over the past few years, and as much as it can be traced to the simplicity in its functionality, you can also blame it on people's reluctance to explore the possibilities of using the blenders for other things. Because blenders are purchased for a single purpose, people don't always look to explore the other functionalities the versatile appliance comes with. The truth is that this denies them a lot they could do with the machine but will not realize because they're not even willing to try.
Top brands like Ninja have played a great role in pushing the blender further forward in the market, and they've succeeded in doing just that. When people are looking for high-powered blenders, they always try to look to get them from brands like Ninja, and that's how much the brand has invested into pushing blenders into the market. People are now beginning to realize the importance of the blender, and that's why blenders keep doing well on the appliance market.
One of the best Ninja total crushing blenders you can get on the market right now is the Ninja BL610 Professional 72 oz countertop blender that is making waves all over the internet as one of the overall best blenders. The Ninja Pro 1000-watt blender is a popular choice on the market, and it has helped change how blenders are viewed generally. If you're on the market for a high-powered blender, the Ninja 1000 watts professional blender should be one of the first few options on your list; that's how highly-rated the versatile machine is.
If you're a big fan of turning solid ingredients into liquid, then a blender is something you can't do without. It has become a necessity at home, and other places like restaurants, cafes, stores, and many other places. According to Arcux Bar Zone, a good blender is always a great asset as it always gives you that competitive edge.
Benefits of having a blender
It's always a win-win situation whenever you have a blender regardless of its cost on the market. Like we said earlier, if you're a big fan of turning solid ingredients into liquid, a blender should be one of the first appliances to have in your kitchen. As good as versatile as blenders are, however, people don't always seem to see how their functionalities can be maximized.
There are great benefits you can enjoy from owning a blender. One of the many benefits people usually rave about when giving reviews online is a blender's versatility. Despite only being a single machine, it can be used for a host of things including making baby food, crushing ice, making soup, making smoothies, preparing meals, and many more. If you're looking to get a new blender but you're wondering if you'll ever get anything out of it, below are some of the benefits of having a blender in your kitchen.
It is versatile
One thing you should know when you're buying a new blender, especially a quality, sustainable one, is that you're making a long-term investment, and it is not one of those machines you'll have to replace from time to time. The versatile nature of the blender is what makes it a great appliance around the house. Most people purchase the blender for a single purpose only for them to later realize the machine can do more than expected.
If you invest in some high-powered blenders, they come with many blend settings that are perfect for every ingredient you're processing or any food you want to make. Every blender comes with 3 basic speed settings; low, medium, and high; or on other blenders, they're labeled 1, 2, and 3. Not all foods require the same speed, so when you're blending, you can pick which speed setting is perfect for the food you're processing at that particular time.
Improves productivity
We live in an age where people want to get fast results because they have many things to focus on at a time. One of the few appliances you can trust to help improve your productivity in the kitchen is the blender. When it comes to blending, chopping, pureeing, and processing food generally, only a few machines can do it better than a blender. You don't have to spend forever in the kitchen prepping your meals when you have a versatile blender in your kitchen.
Thankfully today, we now have lots of automatic options that even make the whole food processing operation easier than ever. If you're looking for a machine that'll help you prepare your meals in minutes, then you should be looking to have a blender at home.
It is easy to carry around
If you camp a lot, or you like to go on road trips, one of the things you must include in your essentials is the blender. One of the greatest misconceptions people have about the blender is that it sometimes weighs too much to be moved around, but over time, that has proved not to be true. Maybe people are judging based on what was available some decades ago, as old and conventional blenders were built way too heavy.
The blenders in production now are modern machines, so they mostly come with a lightweight design, thanks to the durable material used in making them. If you're going on tours, camping, or trips, you can always go with your blender without the fear of overpacking your bag. The blenders in production now are very easy to carry around.
Clean operation
The kitchen is one place in the house that needs to always be as neat as possible because that's where your cooking activities are done, and having a messy kitchen is not healthy. However, things can get real messy if you don't pay attention to how you process your food, especially when you're using your kitchen counter to cut or chop using non-electrical tools. A blender can make your kitchen look more organized as it is capable of doing what you would have needed several appliances to do.
Thankfully, the blenders in production now are easy to clean, so whenever you're done using them, all you need to do is clean them right away. Some of them even come with the popular self-cleaning feature that makes you just add warm water and dish soap in them, and watch them clean themselves.
What to look for when purchasing a new blender
Purchasing a blender is like purchasing any other kitchen appliance, which means that some things need to be put into consideration before purchasing the right one. People don't like to go to brick-and-mortar stores to purchase appliances now when they can easily sit in the comfort of their homes to order whatever they want online. There are things you need to look out for when you're purchasing a new blender to make sure you get your hands on the right one.
There's a lot you can save from doing this basic assignment because not too many people pay attention to important details like the ones we're going to discuss below. To avoid falling in that category, below are some of the things you need to look for when purchasing a high-powered blender like the Ninja professional blender 1000 watts or any other blender as long as you're spending your money.
Online Reviews
Let's assume you've found a product you love online and it perfectly fits into your budget. Before making the big move, you need to be sure if there's more to the product than you already know, and the best way to know that is to research what other people are saying about the product. This way, you'll get familiar with the pros and cons of the blender you're looking to get, whether it's worth the money or not.
Thankfully, every e-commerce platform has a section where users who have bought the product can drop a review. Most platforms do this for transparency, and although not everybody will genuinely love the product, you have no reason not to buy once the pros outweigh the cons. One of the best ways to get familiar with the blender you're looking to get is by reading online reviews.
Your budget
This is one of the most important factors, and the fact that it is decisive in your decision-making makes it a must for everyone to consider. Every feature, every setting, every design you ever want in a blender all depend on your budget. If you're not on a budget, it is very easy to point at any product on the market and get it.
If you're working with a budget, you need to prioritize the things you need in a blender before settling for an option within that price range. This is the most important factor of all.
Other things you should consider when purchasing a new blender
Features

Size of the blender

Power

Efficiency

Settings

Size of your space

Energy efficiency
As an Amazon Associate we earn from qualifying purchases. We may earn a small commission for our endorsement, recommendation, testimonial and/or link to any products or services from this website. Thank you, your qualifying purchases help support our work in bringing you real daily gift ideas.
Ninja Blender BL610 1000 Watts Review
This blender is commonly referred to as the Ninja Professional Blender 1000, and despite being one of the oldest pro series models on the market now, it remains a popular choice amongst those who love powerful blenders. When the blender was released, Ninja advertised it as a blender that could crush ice, and the brand was being honest as it could be. The blender is packed with a powerful motor and equally powerful blades that can crush ice like it's nothing.
If you're looking for an inexpensive yet powerful blender, the Ninja BL610 is a great option as it is one of the cheapest entry-level countertop blenders on the market at the moment.
Affordable
We talked about this blender being an inexpensive option for those who are looking for something cheap, this is one of the blenders they should look at. It costs less than $100 despite being a high-powered blender, and we guess that's why people love it. People love when they can get a blender that can do almost everything for them and still manage to be inexpensive.
Powerful motor
A powerful motor promises efficiency, and that's what this Ninja BL610 Professional Blender in black offers.
Other features
3-speed levels
Sleek design
BPA-free parts
Ability to crush ice
Strong pitcher with labeled measurements
Dishwasher-safe
Frequently Asked Questions
1. How many watts does a Ninja blender use?
Different Ninja blenders are packed with different wattages. The Ninja BL610 Professional Blender in black has 1000 watts, making it one of the oldest most powerful blenders on the market right now.
2. How much does a Ninja blender cost?
Blenders are priced based on so many factors ranging the number of high-end features it comes with, size, and many others. The Ninja BL610 Professional Blender in black we're reviewing costs less than $100.
Wrapping up
Ninja has played a huge role in making sure high-powered blenders are pushed to the summit of the global appliance market, and it's succeeded in doing just that. Today, the brand remains an integral figure in the production of quality blenders like the Ninja BL610 Professional Blender.
ESTIMATED TIME DESIGNING AND UPLOADING THIS ARTICLE
ESTIMATED TIME RESEARCHING AND WRITING THIS ARTICLE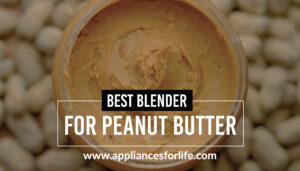 Best Blender for Peanut Butter
Peanut Butter contains more nutritional benefits than you think. From maintaining body weight to preventing heart disease, peanut butter can save your life by consuming it moderately. Unfortunately, how to make perfect peanut butter may always be a lingering concern if you do not get
Read More »