The blender is one of the most important kitchen appliances, but people don't often give the appliance the credits it deserves. Truly, other kitchen appliances play a greater role in the kitchen than what the blender does, but that doesn't take away the fact that the appliance remains an integral part of every kitchen, and it's been like that for many years now. It's quite hard to determine which appliance plays the greatest role in the kitchen because every kitchen appliance plays a vital role, and that includes the blender.
Blenders have gained more popularity over the past few years, and that's why many people see them as a standard issue, according to Jessica Gavin. While it is true that most people purchase blenders for a single purpose, blenders do more than just smoothies or soup. Jessica Gavin says she uses the blender to make burgers, beverages, sauces, desserts, spreads, and many more. This indicates that even if you're purchasing a blender to make soup, there are other things you can do with the versatile kitchen tool, and until you start exploring them, you may just never know what the blender is capable of.
The blender is one appliance you can't do without in the kitchen. Turning solid ingredients into a liquid form can be daunting, but it doesn't have to be when you can adopt the efficient operation of a blender. Blenders are common in the small-scale commercial stage with bartenders and chefs.
After being invented in the early 1900s, blenders have gone on to become one of the most important kitchen appliances, and things have only improved with technological advancements. Back in the early 90s, blenders were made to help create malted drinks, which were deemed important by physicians to help build strength. Today, the versatility of the machine has made it quite a force to reckon with as far as kitchen appliances are concerned.
The Spruce Eats calls a kitchen blender a "time-saving tool" because of its ability to quickly blend ingredients and a variety of different foods. This explains why blender has gained popularity over the past few years as an appliance every standard kitchen must have. Before we get into how to use a Ninja professional blender, let's take a quick look at a brief history of the blender, and how it has evolved over the years.
Brief History of The Blender
Although the blender was invented in the early 1900s, it didn't gain enough recognition until 1937 when Fred Osius, one of those who had improved Stephen Poplawski's invention, approached Fred Waring for the funding of his invention. Poplawski had designed drink mixers back in 1919 when he was operating under Arnold Electric Company, which had him under a contract. A final product was designed in 1922 to make malted milkshakes.
Poplawski's invention was reproduced in the 1930s, only this time, major improvements were made under the brand name Hamilton Beach Company, a collaborative effort of Chester Beach, L. Hamilton, and Fred Osius. After Fred Waring financed the Miracle Mixer, which was released in 1933, the appliance made widespread popularity all across the country. However, some problems were encountered along the way, which led to major improvements to be made, but this time, Fred Waring went "solo" and released his special blender in 1937.
Important Things To Note About The Functionality of A Blender
A blender is an important appliance due to its versatility, although many are yet to realize just how versatile the machine is. Apart from being a versatile machine, a blender is also a significant investment, especially the countertop blender that usually costs a lot. Purchasing a blender with that much will to spend a huge amount on it, you must know how well the appliance functions to avoid getting it spoiled as a result of your lack of knowledge about the machine.
Blenders may be versatile, but they are also delicate machines that need to be studied properly before you start to use them. You can't make assumptions about the functionality of a particular blender. The fact that the versatility of the machine is always talked about doesn't mean that all the blenders on the market are built to function the same way.
The greatest mistake you can make when you own a blender is to assume it can perform a task even when it's not clearly stated in the manual that it can. Some blenders have limited functionalities, and that includes not being able to crush ice. This is why manufacturers always try as much as they can to indicate that the blender you're purchasing has limitations, and must not be pushed beyond its limits.
If you can't find it anywhere near the product information that the blender you're purchasing can crush ice, the best you can do is to assume that its functionality is limited to blending, mixing liquids, making batters, pureeing, and other basic operations of a blender. A blender that is designed to crush ice will come with enough power and a strong stainless steel blade to go along with it. A high-powered blender like the Ninja professional blender often requires you to go through the Ninja blender tutorial/instructions to give you an insight into how to maximize the functionality of the blender.
How To Use A Ninja Professional Blender
If you're looking to purchase a high-powered blender, it is no news anymore that this Ninja professional blender is one of the best options on the market right now. Things like "Ninja professional blender instructions", "how does the Ninja blender work", and "how to use a Ninja blender" are some of the eye-opening topics you should get familiar with. These high-powered and professional blenders are often priced outlandishly, and if you're spending that huge amount of money on them, you might as well know how to best keep them in good shape.
Ninja professional blenders are popular for many different reasons. Firstly, their blades are stacked professionally, and that single feature makes the machine pulverize food rather than chop it. Secondly, the blenders are packed with lots of high-end features that make blending very easy. Getting used to how Ninja professional blenders work will benefit you in a lot of ways.
As much as blenders do more than just blending food, you will need to get familiar with how a powerful blender like this Ninja professional blender functions. This will help you get the best value for the money spent on acquiring the machine in the first place. Also, it'll help maximize the functionality of the blender, bring out the best in it.
Blending With A Ninja Blender
Assemble The Blender
Of course, before you start blending with your blender, you're going to have to assemble it first. Each Ninja blender model comes with its manual which often includes how you can put the machine together. Generally, all you have to do is to attach the pitcher to the base of the blender, after which you'll place the stacked blade onto the shaft. However, you should always consult the manual that comes with your package to know how to assemble your Ninja model.
Prepare Your Ingredients
You can't just put your ingredients in the blender without preparing them. Preparing your ingredients means cleaning and sorting them such that they go into the blender just as you want them. Preparing your ingredients is a good and healthy practice, and it should be a standard procedure whenever you want to use your Ninja professional blender or any blender at all.
Plug In The Blender
We all know that an electric blender will not work unless it's plugged into a power outlet. Find a suitable power outlet in your kitchen to plug the blender, and ensure that it is plugged where it cannot be easily unplugged.
Unlock The Lid
After plugging the blender, the next thing to do is to open the lid to allow you to add your ingredients to the blender. There's always a button on the lid that reads "release". This button allows you to easily open up the lid before removing it.
Add Your Ingredients
The next thing to do after removing the lid is to add your ingredients. According to a Wikihow post, Fruits and vegetables are always great in a Ninja professional blender, as you'll get a perfect consistency at the end of the blending process. Ensure that your ingredients are well-prepped before putting them in the blender. For example, if you're trying to add bananas or oranges to the blender, ensure you peel them. Hot ingredients should not, at any point, be processed with the blender.
Lock The Lid
After adding your ingredients, the next thing to do before you start blending the ingredients is to lock the lid.
Choose The Appropriate Setting For The Ingredients
Each blender comes with a Pulse setting as well as different speed modes. The pulse setting allows the blender to work at the fastest speed, only that you will have to hold the button down with your finger to keep it running, and it will stop as soon as your finger is lifted from the button.
Cleaning Your Ninja Blender
Unplug The Blender
The first and most important step to take before cleaning any electrical appliance is to unplug it from a power source. We've seen and heard many electrocution cases with electrical appliances, and more often than not, these cases could have been avoided if the victims had taken the huge step of unplugging their appliances.
Disassemble The Blender
While some people think it is more ideal to clean their blenders without disassembling the different parts, we think they often opt for that method because it seems like the easiest way. The perfect cleaning can only be done when you bring down the different parts of your blender before you clean them. Some parts of the blender are dishwasher safe, so you have to break them down before putting them in your dishwasher.
Rinse The Lid and Blades Under Hot Water
When you're using your blender, food gets stuck in the blades, and the upper part of the lids is what happens almost every time. When you leave these stains without cleaning them, they will begin to cause mold which is not healthy as the blender is used to prepare meals. This is why you should rinse off the blade and the lids under hot water as soon as you're done using it. Although, you have to be very careful when handling the blades as they are very sharp.
Wash The Pitcher With Your Hand
The pitcher is an important part of the blender and must be cleaned thoroughly to avoid germs. When cleaning the pitcher, you should always do it by hand, using mild dish soap and hot water.
You Can Also Use The Dishwasher
As much as it's more ideal to wash the lids, blades, and pitcher by hand, all these parts are dishwasher safe. Alternatively, if you feel washing by hand is not feasible, you can just put them all in your dishwasher and wash them all in the machine.
Frequently Asked Questions
1. Can you wash the Ninja blender base?
When cleaning the base of your Ninja blender, you have to be careful to avoid letting any cord of the blender get wet. In this case, the best thing to do is to wipe the base with a damp cloth.
2. Can you use the Ninja as a food processor?
Ninja professional blender, just like every high-powered blender, can partly be used as a food processor because both machines function almost the same way. However, the thought of replacing a food processor with a blender should never cross your mind because you cannot replace a food processor with a blender.
3. Can I use a Ninja blender to grind meat?
Yes, you can grind meat with a Ninja blender. However, this doesn't mean that the blender can be used to crush bones or hot ingredients.
Conclusion
If you're looking for a powerful blender to help you through your daily domestic tasks, Ninja professional models are one of the best models you can turn to. People have often wondered how to maximize the functionality of a high-powered blender like this Ninja model. The truth is that this blender does a lot more than it gets credits for, and that's because people are so familiar with its many functionalities. Our detailed guide on how to use a Ninja professional blender covers important areas like how to maximize the functionality of the blender as well as other important cleaning tips.
ESTIMATED TIME DESIGNING AND UPLOADING THIS ARTICLE
ESTIMATED TIME RESEARCHING AND WRITING THIS ARTICLE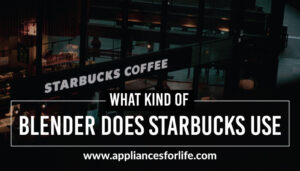 What Kind of Blender Does Starbucks Use?
It's only normal that people want to have the exact blender the world's largest coffeehouse chain uses in their kitchen. In this article, we're going to be exploring the popular Starbucks blender type and where you can get it in your home. A company as
Read More »