Becoming Familiar
Suddenly entering the market for new inline exhaust fans can be a somewhat intimidating endeavor. For the most part, if working properly, your inline exhaust fan is something to forget about. No news is good news, and you usually only notice your fan when it stops working efficiently…or entirely. This can put you in a bad spot both in your home and financially, without the time to save for a replacement (or even shop around for deals.)
Don't worry! If this is you, we've got you covered. Below we've compiled 5 of the top inline exhaust fans that combine quality with affordability. 
As an Amazon Associate, we earn from qualifying purchases. We may earn a small commission for our endorsement, recommendation, testimonial, and/or link to any products or services from this website. Thank you, your qualifying purchases help support our work in bringing you real daily gift ideas.
Comparison Table of the Best Inline Exhaust Fans
| Image | | | | | |
| --- | --- | --- | --- | --- | --- |
| Name | Broan-Nutone ILF120 Remote Inline Exhaust Fan with 110 CFM | Broan-Nutone ILF250 Remote Inline Exhaust Fan, Energy Certified | Fantech FR-150 Inline Centrifugal 6-inch Duct Fan | Soler & Palau TD-100 In-line Exhaust Fan | Active Air 400 CFM Inline Fan, 6-Inch |
| Brand | Broan | Broan | Fantech | Soler & Palau | Active Air |
| Weight | 5.14 lbs | 7.4 lbs | 6 lbs | 3.0 lbs | 10.1 lbs |
| Wattage | N/A | 71 Watts | N/A | N/A | N/A |
Which Of These Inline Exhaust Fans Is Right For Me?
As helpful as data can be, we know it's not the only factor to consider when making a new purchase. Below we've analyzed each of these inline exhaust fans in further detail, cross referencing customer reviews across multiple appliance review sites to provide an accurate list of pros and cons for each fan!
Broan-Nutone ILF120 Remote Inline Exhaust Fan with 110 CFM
The first option on our list of inline exhaust fans comes from Broan and is the right option for consumers looking for maximum control. The only option with manual variable speed control, this hand-painted fan's most consistently mentioned positive, is its immense strength for its size.
According to one customer review on industrial applications, this fan was strong enough to completely eliminate odor from a small shed used to store manure. This fan scores average to slightly quieter than average on the noise scale. Perhaps the biggest con is that this is one of the most expensive fans on the list.
STANDOUT FEATURE
The inline exhaust fan by Broan has been built so that even an average customer with no prior knowledge of the installation process can install this fan without any issues.
OTHER FEATURES
Easy electrical connections
Easy installation/mounting
HVI-certified performance
Installation bracket
Broan-Nutone ILF250 Remote Inline Exhaust Fan, Energy Certified
Another on our list of quality and affordable inline exhaust fans is our entry from Broan. This fan's minimal noise level is mentioned in almost every single customer review, even the few that were generally negative in tone. The biggest complaint with this fan has been installation complaints. Despite the company's claims that the fan is easy for anyone to install, multiple users reported having more trouble with it than expected.
With a high-quality fan that works backward to deliver strong air without much noise. The fan operates at 250 CFM, a feat that is only achievable by an inline fan of this quality.
FEATURES
EASY INSTALLATION
The fan comes with strong plastic housing mounts that can be connected directly to the bracket to set up your exhaust fan quickly.
EXTERNAL ROTOR
Broan is a multinational brand that has built its reputation on quality and excellence, and with this fan, that's what you're going to get. An external rotor comes with the fan to aid longevity and more effectiveness in how the fan operates.
OTHER FEATURES
Permanently lubricated motors
High-pressure centrifugal blower
Intermittent ventilation
Polycarbonate plastic housing
Fantech FR-150 Inline Centrifugal 6-inch Duct Fan
Our entry from Fantech is one of the most expensive inline fans on this list, but the good thing is that it is worth every penny spent on it. Despite being priced at over $100, most users seem to be in love with this particular exhaust fan, perhaps because of the features that make it stand out among the other fans. The true difference, especially with this fan, seems to be noise production. About 1/3 of customer reviews mentioned being slightly too moderately uncomfortable with the noise level, although most described it as 'manageable', especially at this price point.
This fan is also known for being extremely durable, being made out of solid metal with a black matt protective cast around it.
FEATURES
IDEAL FOR COMMERCIAL PROJECTS
Fantech's recently-introduced UL commercial applications rating makes this fan an ideal option for commercial projects, so it's safe to say you can use this inline fan exhaust for commercial purposes.
EXTERNAL ROTOR
This Fantech exhaust fan features a direct drive external rotor with a motorized impeller assembly that also contributes to the maximum functionality of the fan generally.
OTHER FEATURES
UV-protected thermoplastic resin
Plastic housing construction
Protective shell
Soler & Palau TD-100 In-line Exhaust Fan
The second of our cheaper options, this fan consistently gets high marks both on energy efficiency and noise level. Many users report significant savings on their electric bills after switching to this fan, so for those looking to save money, this is definitely an option to consider! The most oft-mentioned complaint with this option is its utility strength; some consumers reported not being fully satisfied with the fan's power. Due to this, we recommend this for consumers wanting a fan in smaller spaces that won't require high-powered fans.
FEATURES
EFFICIENT VENTILATION TOOL
You always want to ensure that you get a fan that will help maximize the airflow in your house, even in the most compact of spaces, and that's what this exhaust fan brings to your home. It helps integrate a powerful mixed flow impeller, coupled with internal air vanes, which can be found at the other end of the fan housing.
EASY SETUP
It's one thing to know that you're getting yourself an efficient inline exhaust fan. It's another thing to set it up where you most prefer easily. This fan leaves you with the easiest of choices with installation.
RELIABILITY
Soler & Palau has been around for a considerable number of years, and all these years, they've built their reputation around making reliable and consistent air-moving products to meet each consumer's needs.
OTHER FEATURES
Air flow capacity of 101 cubic feet per minute
Energy Star certified
Active Air 400 CFM Inline Fan, 6-Inch
Our final entry from Active Air is at the same price point as our last two entries but is almost the exact reverse of the fan from Soler & Palau. Praised across the board for its utility, even in larger rooms, this fan is recommended for those who don't care about noise. This is by far the noisiest on our list of inline exhaust fans, but that doesn't mean it's not a viable option for those needing a power inline fan at an affordable price! Remember to consider the room size and wall materials before buying this fan, as echo can greatly increase noise production.
FEATURES
BRUSHLESS THERMALLY PROTECTED AC MOTORS
This active inline duct fans with thermally protected AC motors also come with sealed bearings that do not require any lubrication for proper maintenance.
DURABLE CERAMIC-COATED METAL HOUSING
This fan features a ceramic-coating metal housing that provides the fan with the necessary protection.
OTHER FEATURES
UL-recognized components
High-quality molded impeller
Mounting brackets
8 ft. pre-wired 120V cord
TT Silent Mixflow Inline Fan 200 with Plug
The Fanco TT silent maxflow inline fan is top-quality and ducted. It conveniently serves the purposes of air exhaustion, air transfer, and other several other industrial applications where mechanical ventilation is prime- their use is particularly necessary in a mechanical environment If one fumes and smoke are to be avoided. The external case is made from polymer-coated steel with an internally insulated layer of 50mm mineral wool. This results in a considerably lower decibel rating in comparison to other models. The fan comes with 3 position switch allowing you to switch between the two speeds and turn the fan off.
FREQUENTLY ASKED QUESTIONS
What are inline fans really used for?
The simple answer to this question is that inline fans are installed to help ventilation wet spaces like your bathroom, laundry room, kitchen, and others.
What is the best CFM for an inline exhaust fan?
A good inline exhaust fan should have its CFM between 4,000 and 5,000. The best inline fans are the ones with over 6,000 CFM.
What are the Inline Fan types that we have?
Inline fans are perfect for Industrial Applications and they can be found in three models: Axial inline exhaust fans have a single propeller suited to installations with short measures of ducting, minimal bends, and no branches. It moves a good amount of air at low pressure, and they exhaust air properly. They can be used in places like; locker rooms, warehouses, and the can even be mounted in the ceiling   Centrifugal inline exhaust fans are suited to installations with longer measures of ducting and in applications where there may be bends and branches. It moves a good amount of air at high pressure. Mixed flow inline exhaust fans are a mixture of the first two showing centrifugal characteristics from 150mm size up and axial characteristics below this size. Can be used with longer measures of ducting with bends and branches.
Final Thoughts
So, now that you know the real differences between these top rated inline exhaust fans, it's time to decide for yourself which one is best for you. It's worth keeping in mind that while we fully endorse all 5 of these as viable, quality options, they aren't the only options. Doing your own research to match which fan best suits your personal needs and circumstances is the time-tested formula for being ultimately satisfied with your purchase. Take the information provided here to confidently make the best choice for you!
As a washing machine owner, you need to know how to remove mold from rubber seal as part of your routine maintenance of the washer to keep it functioning at the highest level. In this article, we'll be exploring how to remove mold from rubber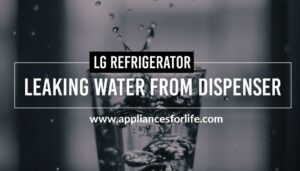 LG Refrigerator Leaking Water from Dispenser
A kitchen is an important place in the house. As a matter of fact, some people spend more time in their kitchens than any other place in the house except for their bedrooms, which are, of course, their abodes. This has caused a lot of
Read More »