Haier is a Chinese Chinese Appliance brand that designs stylish and innovative fridges at relatively affordable prices. Haier refrigerators are famous for their simple and compact design. Some are large enough to suit large households. The little icing on them is that they come with up to a 10-year limited warranty. 
Most Haier's Refrigerators offer the following
Bottom Mount Refrigerator 

French Door Refrigerator 

Side by side Refrigerator 

Top Mount Refrigerator

Vertical Refrigerator
Across a number of Haier refrigerators, what you will find is a reversible door. This door allows you to change the way the door swings open and full-width clear plastic spill-proof shelves. Moreover, they a built to stand the test of time. In Australia and New Zealand, Haier fridges are backed by a two-year warranty.
Haier Bottom Mount Refrigerator
According to the manufacturer, the bottom Mounted Refrigerator enables you to use your refrigerator portion & reduces bending up to 90%. This Haier refrigerator category also happens to be a popular choice because it has a fridge at the top and a freezer at the bottom for ease and ultimate convenience in use. They have a reputation for being energy-efficient also. Not only that, Haier Bottom Mount Refrigerator has an innovative 1 Hour Icing Technology that brings down freezer temperature to -5degree Celsius in 60minutes
Haier French Door Refrigerator 
One of the distinctive features of the Haier French Door Refrigerator is its four-door sets. They are not too large; oftentimes, you find the best suited for only 2 to 4 people. A good example of the Haier Frech Door Refrigerator is the 514L Haier (HRF516YS) fridge which has 179L freezer capacity and is equipped with 6 door shelves and 2 adjustable glass shelves and an egg tray and frost-free freezer. It is a French Door with a water dispenser. The energy consumption rate of this model is in no way excessive. Energy consumption is slightly above average with a 3-star rating and energy use of 477 Kwh, amounting to about $138 of energy per year. Other features of this model include a smart door lock system as you would discover in most French Door Refrigerators. Moreover, it has an Antibacterial system for effective regular sanitation and an external LED display with electronic controls.
Haier's 440L (HMD440X) fridge is another great French Door Refrigerator with even more fantastic features than the 514L Haier (HRF516YS) fridge. It has additional functionalities such as the automatic ice maker and an attractive LED display. It does not have a water dispenser but it has a Fuzzy Logic program that is claimed to determine the optimum temperature and a multi-directional airflow system to ensure even cooling. This refrigerator also has restricted access through its child-lock technology. With all these fascinating features, it is only expected that this refrigerator would cost a few extra dollars but it is sure that you'll realize your money's worth shortly after the purchase.
Haier Top Mount Refrigerator
A Top Mount Refrigerator has a fridge and a freezer all combined. The freezer section is at the top while the fridge is right below it. The Top Mount Refrigerator model is the most common Haier fridge with several models to choose from. There is the HRF220TW and the HRF220TS fridge, which are the same in size providing 221L capacity but the different finish looks. The former is white while the latter is Satina respectively. Other fascinating features include; a removable fresh food crisper slide-out chilled storage compartment for easy access and 2 Spill-proof safety glass shelves. 
Other Haier fridge categories include- The Haier Side-By-Side Refrigerator for a large fridge capacity. This model is considered to be very Eco-Friendly. We also have the Haier Vertical Refrigerator, a vertical fridge that gives you maximum fridge capacity while minimizing floor space, and lastly, the Haier Bar Refrigerator. 
What to Really Consider When Buying a Refrigerator
There is certainly more to purchasing a refrigerator than merely dashing out to the nearest store to pay for one. If you care about realizing the value you exchanged your money for, it is important that you put into consideration, a number of factors that should influence your buy. 'The best' refrigerator is actually a relative concept or idea that varies from a user to the other, depending on their individual preferences and needs. There's more to a refrigerator than the color and door style. A lot more. You may be surprised to know that refrigerators come in a wide variety of sizes, styles, and finishes. Below are some of the factors that should be considered below shuffling off to that home store to purchase a refrigerator.
Size
The size of a refrigerator is one of the aspects of a refrigerator that people least care about. Refrigerator users are more concerned about features like the cooling ability of a refrigerator. But in order to determine the amount of space needed to fit a refrigerator and assess its effectiveness with regard to the frequency and extent of use, it is necessary to consider the size that will fit your peculiar circumstances.
There is a dedicated space for a refrigerator in every kitchen setting, whether you have a small urban galley kitchen or a larger kitchen space. You need to ask yourself the following questions, have you measured it? Are there cabinets above that might impede a taller refrigerator's design? Make sure you take down those measurements carefully—width and height. Buying a refrigerator that doesn't fit your space is not a fun mistake to make because that mistake, as simple as it may seem to you, will surely force you to make some restructuring that will require some extra expenses.
Another crucial factor to consider is the fact is the interior space of a refrigerator after you must have ascertained the exterior and where it is going to fit in. The interior space of a refrigerator is often listed as  "cubic feet" or "cu. ft. This measurement tells you how much space you have available in your refrigerator and this is particularly important considering that the interior of a refrigerator determines the amount of energy consumable by the refrigerator. With a bigger interior space, it is certain that the refrigerator will need significantly more energy for cooling 
The Top or Bottom?
If you are already thinking of bunk beds or entertaining other wild thoughts, well you thought wrong. Top or Bottom here speaks directly to your preference with fridge or freezer positioning. This factor is a deal-breaking consideration in the refrigerator world. Positioning options depend largely on individual idiosyncrasies and preferences. Older persons will almost certainly prefer not to bend a little too often because apparently with old age comes the lower back problems. This may not be entirely so with younger individuals. Younger individuals may not mind the idea of frequent bending. Hence, in order to avoid an inevitable situation of regrets that may occur as a result of the failure to plan, it is important to factor fridge and freezer positioning into your plans when you take the next trip to the store for a refrigerator purchase.
Door types
Would you prefer your door swung to the left or to the right?. The categories of Haier refrigerators treated in the previous section will expose you that every Haier Refrigerator category has its door type. Your door types and how you may want them swung also significantly depend on the space available in your kitchen. How your doors open isn't really a personal preference, it is necessary to consider the flow of traffic and the placement of the cabinets in your kitchen. The way the refrigerator door opens shouldn't interfere too much with the traffic flow and it shouldn't rub against your cabinets or other appliances when opened.
Other important considerations
Do not get the impression that these 'other important considerations are not as important as the ones previously discussed. They are equally important, especially if you are desirous of realizing optimum satisfaction from your extremely valuable air conditioner. Once you've made your list of the important considerations, let your mind wander thinking about fun features. For example, you may like LED interior lighting because it uses less energy and provides a crisp, clear light. Tempered glass shelves are nice to have, too because they help capture small water spills and they are pretty easy to clean. Some refrigerators even offer quick cool and functions that will help freeze, quickly, newly stored foods.
Now you know the important considerations for getting the perfect Haier refrigerator. Use it!
Haier Refrigerator Models:
Haier QHE16HYPFS 16.4 Cu. Ft. Fingerprint Resistant Stainless Steel Quad Door Refrigerator.
The Haier QHE16HYPFS 16.4 Cu. Ft. is a great Haier refrigerator technology. It is a 4-Door French Door refrigerator with a control lock amongst other interesting features. It is digitally controlled and it has inside LED lights. It has incredible ergonomics. Though not fit for commercial use, this Haier model will serve a household for quite a long time. 
The Haier QHE16HYPFS 16.4 Cu. Ft. measures approximately 71.19 in height, and 32.81 in Width, while the overall size of this refrigerator is 33 inches. The The Haier QHE16HYPFS 16.4 Cu. Ft. has other fascinating features which will be discussed below;
Stainless and Fingerprint Resistant
The stainless finish of this refrigerator makes it pretty easy to clean. To wipe off all stains, all you need to do is get a damp towel and wipe its stainless body through and through and you will have a sparkling clean refrigerator once more.
It is a 33-Inch Wide
The Haier QHE16HYPFS 16.4 Cu. Ft has a compact design that fits into smaller spaces. If you are concerned about fitting your refrigerator in a tight spot in your kitchen. This particular fridge will not give you enough room for your food storage, it will also occupy little or no space
Humidity Control System
Keep your produce fresher, and longer thanks to a refrigerator with humidity control drawers, which utilizes a high humidity drawer for leafy greens and a low humidity drawer for berries.
Enjoy a Digital Thermostat feature 
Achieve precise and consistent refrigerator temperatures thanks to electronic controls which provide easy adjustments from your refrigerator digital thermostat.
Haier HRF15N3AGS 15 Cu. Ft. Stainless Steel French-Door Refrigerator
This is another 4-door bottom-mount refrigerator with a stainless steel finish. It is equipped with a top center pocket to handle and touch temperature control technology. For ease of use, it has an adjustable glass shelf where fruits can be stored and it also has a fixed shelf paired with storage bins. On the inside of this beast of a refrigerator is an enticing and welcoming LED light illumination that provides you with ease when storing items in the fridge as well as when collecting them. Quick Cool and Quick Freeze functions add blasts of cold air where needed, and a Sabbath mode disables functions in accordance with those who keep to Sabbath-observing practices. Apart from these features discussed above, there are other notable few that will be listed below.
Encapsulate Storage Door Bins
The doors of this refrigerator are designed in a way that it prevents excesses from the refrigerator from spilling over to the floor of your kitchen. it accommodates both small and large items and helps free us precious shelf space.
Full-Width Manual Temperature Control Bin
Lets you use an easy slide control to select the ideal setting for storing fruits, vegetables, and soft drinks, and for meat preservation
Haier HEBF100BXS Stainless Frame Beverage Center
The Haier HEBF100BXS Stainless Frame Beverage Center measures approximately 31.5 inches in height, and 20.5 inches in Width and it has a depth of 21.25 inches. It has 150 Can Capacity and can reach a temperature range of 39F to 60F. This refrigerator like the other ones above also has a stainless steel finish that allows for easy cleaning. Other features of the machine include;
A Glass Door with Black Cabinet & Metal Door Trim
This particular feature is what makes it perfect for commercial purposes. The contents of this refrigerator are completely visible through its glass door. Coupled with the glass door, it also has a black cabinet and a metal door trim that provides a sleek appearance and a clear view
Automatic LED Interior light 
Illuminating design feature helps you keep stock. Automated LED interior light makes it easy to organize and maintain your beverage inventory.
Another feature of this Haier refrigerator is its Security Lock with Key which helps keep its content safe and secure. It also has a flexible/reversible door that allows for easy adjustment. Another thing that is very much adjustable on this Haier refrigerator is its thermostat-At the turn of a knob, accurate storage of temperatures can be guaranteed. 
FAQs
Why is the Fridge not cold but the Freezer is?
When the fridge is not cold but the freezer is, the problem is probably tied to one of your refrigerator's mechanisms not working as designed. Evaporator fan: Every refrigerator contains a set of coils called an evaporator, which makes the inside of the fridge cold.
Can I change the direction in which the fridge door opens?
Many refrigerators offer the option to hinge the door on either the right or left side. Before you visit the stores, make sure to check if the door has to be specially ordered for the right or left hinge or if the unit is field reversible. Field reversible means the screws that attach the door to the refrigerator are accessible and there are pre-drilled holes on both sides of the unit so that you can easily switch what side the door is hinged on yourself or 'in the field' as they call it. 
Do I have to maintain my refrigerator annually?
All Appliances need regular maintenance and your Haier refrigerator is not exempted. However, to properly maintain your Haier refrigerator, you need to consult your user manual which should contain a general list of maintenance tips including instructions on how regular this maintenance should be.
ESTIMATED TIME DESIGNING AND UPLOADING THIS ARTICLE
ESTIMATED TIME RESEARCHING AND WRITING THIS ARTICLE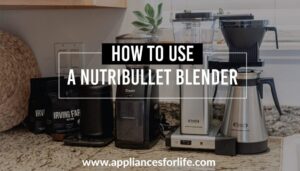 How to Use a Nutribullet Blender
To help people maximize their Nutribullet blenders, we'll be discussing how to use a Nutribullet blender. To help you understand your Nutribullet blender better, we'll also be looking at the things that make up a high-powered blender like the Nutribullet. Many people are not investing
Read More »