Using a vacuum sealer comes with a lot of things people are either not familiar with or have no idea at all. We should be thankful that in a world that gives us little time to focus on the domestic aspect of our lives, we have machines/appliances that can help us keep things together in the house. We now live in a time where our time and attention are shared across all aspects of our lives from work to family, and for some people, spirituality. Keeping up with these things can be hard, but thankfully, modern appliances have played a huge role in taking some of the pressure off our shoulders, leaving us with enough time to focus on what needs attention the most. They function so well across the country that the U.S. is regarded as the biggest market for modern household appliances in the world with a total market value of $37.8 billion as of 2018.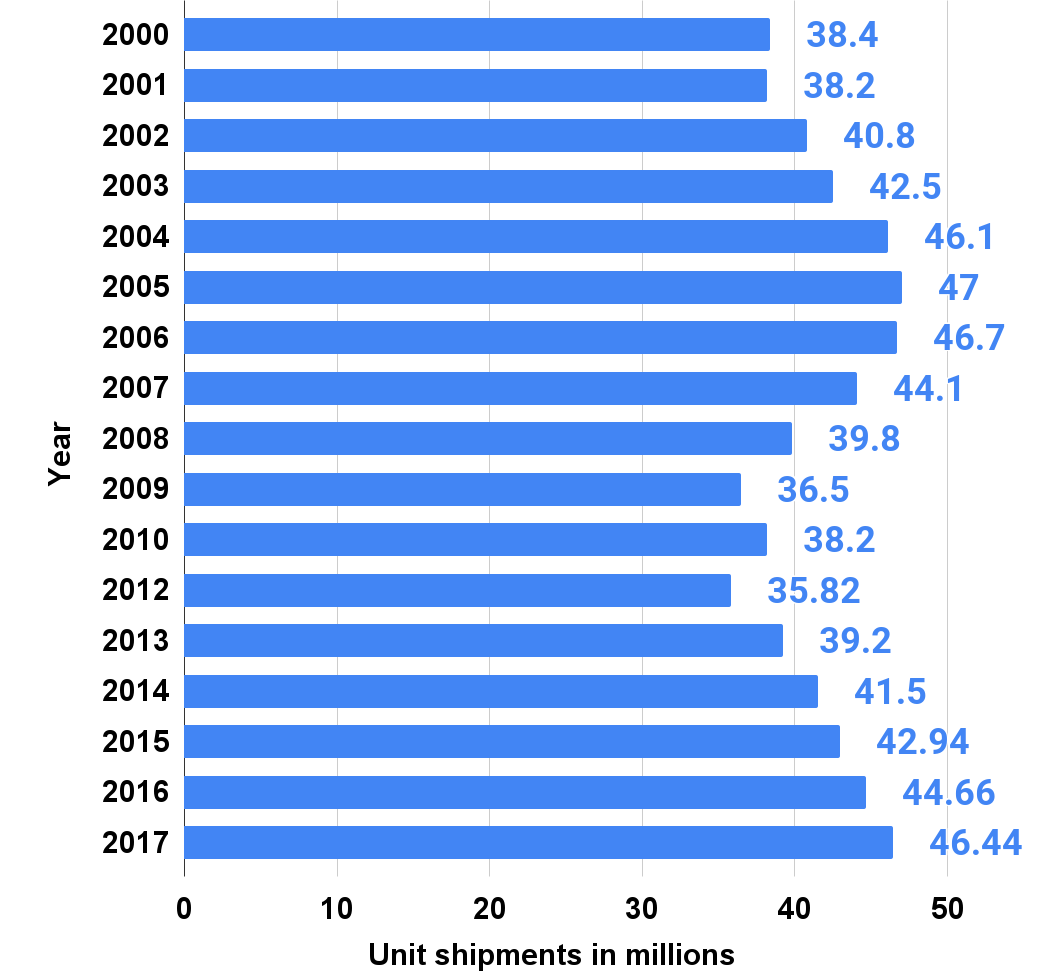 As you can see from the chart above, the unit shipments of major appliances into the United States have improved over the past two decades, although fluctuations have been the major theme. However, we can see the obvious improvements in the unit shipments of major appliances into the country. This further proves how big the appliance market in the country is, and how much people in the country love to have these appliances in their lives. The truth is that, as much as most people don't love to admit it, appliances play a huge role in helping us keep the home together, allowing us to focus on other aspects of our lives. What's most amazing about these appliances is how much they can do. Efficiency is always the theme with modern appliances. Not too many believed that a time would come when there would be refrigerators or air conditioners that could be controlled with smartphones. Not too many believed that a modern way of preserving food would ever be invented, helping them keep their food items for up to 6 months as long as they're in the freezer.
One of those modern appliances is the vacuum sealer. With the new method of preserving food, people can now be confident of keeping their food items without the fear of losing their food. Not only will a vacuum sealer help you preserve your food in the best possible way. It will also help you keep things more organized, but more of these things will be discussed later in this article. Before we get into the benefits of owning a vacuum sealer in the modern age, let's briefly discuss the history of the NutriChef brand.
What we know about NutriChef
NutriChef is an Asian brand that is focused on revolutionizing the food industry on the continent. Having grown so popular in Bangkok, NutriChef's horizon has been widened into North America and Europe, with the brand focused on creating the concept of sustainable food ideas across the world. Having only been founded in 2015, the brand is now one of the most popular food companies to ever come out of Bangkok, and as it is often referred to, "the first and only of its kind in Bangkok." According to the statement released on the company's website, the brand is focused on making nutritious and delicious food more accessible to people, hence why they're making machines that will ensure that is achieved to a full effect. "What started in 2015 as a mere idea has, today, evolved into a leading name in serving meals packed with heart and soul. We serve discerning individuals seeking alternative ways to access clean, environmentally-conscious, and of course, divine culinary experiences," reads a statement on the company's website.
The company is managed by Deepanker Khosla, also known among people who work with him as DK. The renowned chef has spent most of his career working with the biggest names in the industry across the country and the rest of the world. His brilliance has led to major developments within the company, and those developments have grown into global masterpieces such as NutriChef vacuum sealer which includes NutriChef vacuum sealer accessories, kitchen tools & utensils, ovens & cookers, coolers & ice makers, cooktops & griddles, water & tea kettles, blenders & food processors, and many others.
How to use NutriChef vacuum sealer
Owning a NutriChef vacuum sealer is as good as owning any vacuum sealer at all. The brand is not only famous for producing quality vacuum sealers but other appliances that include food processors, freezers, ice makers, cooktops, and many more. We pointed out earlier that the brand is committed to creating high-quality appliances/machines to ensure everybody has enough fresh food readily available to be cooked in their respective households. Our NutriChef vacuum sealer instructions will guide you on everything you need to know about how to use a NutriChef vacuum sealer.
Benefits of having a NutriChef vacuum sealer
Most folks only purchase a product after they must have identified the many benefits they can get from it. That's how things have been, and they haven't changed. People love to get the best value for their money, and they always expect quality in return for whatever they dig their hands into their pockets to bring out money for. Some of the benefits of having a NutriChef vacuum sealer include;
You'll get to enjoy seasonal foods
Some foods are seasonal, and no matter how much you love them, you'll have to wait for that time of the year to get them again. With a vacuum sealer, it doesn't have to be the same story because you can now preserve your perishable foods to stay fresh for longer. This way, you won't have to wait till whenever the food comes out again before you get to enjoy it. All you'll need to do is to put it in a vacuum bag, seal it with a vacuum sealer, and keep it in the freezer. Whenever you need the food again, it'll be as fresh as ever.
Vacuum sealer makes entertaining easy
Ask anyone who spends a lot of time in the kitchen and they'll tell you they'd rather spend that time on something more productive and worthwhile. That's not to say cooking is not productive, but the time spent on going to the store all in the name of preparing fresh food for your guests can be spent on something more worthwhile. Vacuum-sealing your food means that you have all you need to make your signature holiday treats all in one place.
Preserve non-food essentials
Vacuum sealers can be used for other things apart from food. The concept of vacuum-sealing is to minimize exposure to air, and things like your clothes, towels, blankets, boating supplies, and camping essentials can all be protected using a vacuum sealer.
Vacuum sealer helps you marinate in minutes
Sometimes to marinate, you have to leave your food overnight. However, the process doesn't have to be as long when you have a vacuum sealer. Vacuum packaging will help you open up the pores in the food so the marinated flavor can come out in minutes.
Saves you money and time
If your NutriChef vacuum sealer is not taking the air out, or the NutriChef vacuum sealer is not heat sealing, then it won't be able to do its job properly. One of the biggest benefits of having a vacuum sealer is that it saves you money by minimizing how much you'll have to spend on food as a result of your food items getting damaged too often. It also saves you time because you can purchase in bulk and still preserve your bulk food items and ingredients using a vacuum sealer, thereby minimizing the time spent on getting to make frequent visits to the stores.
Safety precautions
When operating any machine, safety is something you should always prioritize because it is a big deal. To safely operate a NutriChefvacuum sealer, the brand has provided the following precautions to be taken seriously;
What is a NutriChef vacuum sealer gentle mode?
This is one of the many functions that come with a NutriChef vacuum sealer, and it is used to process delicate foods. When the "Gentle Mode" is activated, the button will indicate a light to show that the vacuum sealer is operating in that mode. It is the best thing to use when sealing delicate foods.
Vacuum sealing a bag using a NutriChef vacuum sealer
The following steps are to be taken if you're using a NutriChef vacuum sealer to vacuum seal a bag;
Step 1
The first step to take when using a NutriChef vacuum sealer to seal a bag is to bring out the power cord from the rest of the package and put it into an AC power port in the vacuum sealer before plugging the other end into a power source. If you get the connection right, the indicator lights on the control panel will come on immediately.
Step 2
There are two levers on both sides of the vacuum sealer that have the options of "VAC and IDLE/SCALE." Turn the levers to the VAC position.
Step 3
After turning on the vacuum sealer completely, the next thing is to move to the lid. Before you place the open end of the bag into the vacuum channel, you need to open the lid. After doing that, you'll then proceed to place the vacuum bag into the vacuum channel which is just below the vacuum nozzle. You must leave the open end of the bag flat and clean, and without it interrupting the vacuum nozzle.
Step 4
Once you're done putting the bag in the vacuum sealer properly, proceed to close the lid before pressing the VAC/SEAL or SEAL button on the vacuum sealer. You will get a confirmation that the machine is in operation from the indicator light.
Step 5
Once you see the indicator light, press both sides of the lid with your two hands. You will only know if the electromagnet latch is locked correctly if you hear a click sound. If you don't hear the sound, it means the bag is not properly placed in the vacuum sealer, which means you have to try and do that correctly.
Step 6
When the machine is done sealing the bag, you will see that the indicator light for SEAL will turn off, leaving the machine to automatically release the electromagnet latch, after which the lid will open for you to remove the bag.
Frequently Asked Questions
1. Who makes NutriChef food vacuum sealers?
All NutriChef food vacuum sealers are manufactured by the NutriChef brand. The brand is also into other household appliances like cooktops, ice makers, griddles, and many more.
2. What are the pros and cons of a NutriChef vacuum sealer?
The pros of a NutriChef vacuum sealer include ease of operation, lightweight, several sealing methods, stain-resistant housing that makes it very easy to clean. You can't find anything wrong with a NutriChef vacuum sealer except that it mostly doesn't come with a bag cutter, but that's not something that happens with every NutriChef vacuum sealer.
3. Why is my NutriChef vacuum sealer not vacuuming?
It's usually due to a host of reasons, mostly, technical. It might be as a result of a lack of proper connection, but once you check the connection and nothing seems to be wrong with it, you may have to include a technician to check it out for you.
Wrapping up
NutriChef vacuum sealers are regarded as some of the best vacuum sealers you can find on the market right now. To think that despite being only founded recently, the brand now competes with the likes of Foodsaver and Nesco, is an exciting story as well as inspiring. We've made sure everything about how to use a NutriChef vacuum sealer has been discussed in this article.
ESTIMATED TIME DESIGNING AND UPLOADING THIS ARTICLE
ESTIMATED TIME RESEARCHING AND WRITING THIS ARTICLE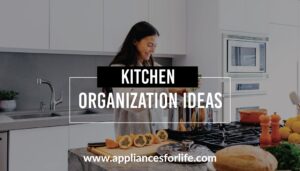 61 Effective Kitchen Organization Ideas
Our kitchen organization ideas will help you know where to put things in the kitchen, and how to organize kitchen appliances. The kitchen is one of the busiest places in the house, and a lot of people spend so much time in there that they
Read More »