The good thing about living in the modern world is that we're in a better place than some decades ago because technology has improved almost everything in our world. To confirm this, take a trip to your grandma's house and have her tell you stories of how things were before you were born. Or maybe you can take the simpler approach; go to her kitchen and see for yourself some of the old appliances that have survived many years because these grandmas won't just get rid of them.
The thing is that people only went as far as technology could take them because they didn't have some of the resources we have today then, or maybe they did but they weren't just as advanced as today. A lot of people would argue that some of these conventional appliances were simple to use, but have they been using the appliances in production today? You just can't compare the user-friendliness and ease of use to the old appliances, and that's where they're missing the point.
We talked about big, old countertop blenders earlier, but if you want to confirm the claim, just try to see how they work if you can still get your hands on one. They are loud, big, and only have a few speed settings that are not user-friendly and easy to use. Perhaps the only good thing about them, according to Juicers Plus Blenders, is the fact that they are built like a tank, making them very strong and reliable, which is why some of them still exist today.
We're in a better place today because we now have powerful and versatile blenders that do more than just blender smoothies. Here's the kicker. People have failed to realize the importance of these appliances, and despite their popularity, their functionalities have not been fully maximized because people just haven't done enough to explore them. The blenders that are in production today can help you grind coffee, puree baby food, make peanut butter, crush ice, and do a whole lot more.
Blenders have amassed so much popularity over the past few years due to their versatility which people haven't just realized yet. In the United States, people love appliances that can help them make their daily lives easier than usual, and that's exactly what these blenders do. With a market value of $37.8 billion, the country is the biggest appliance market on the planet.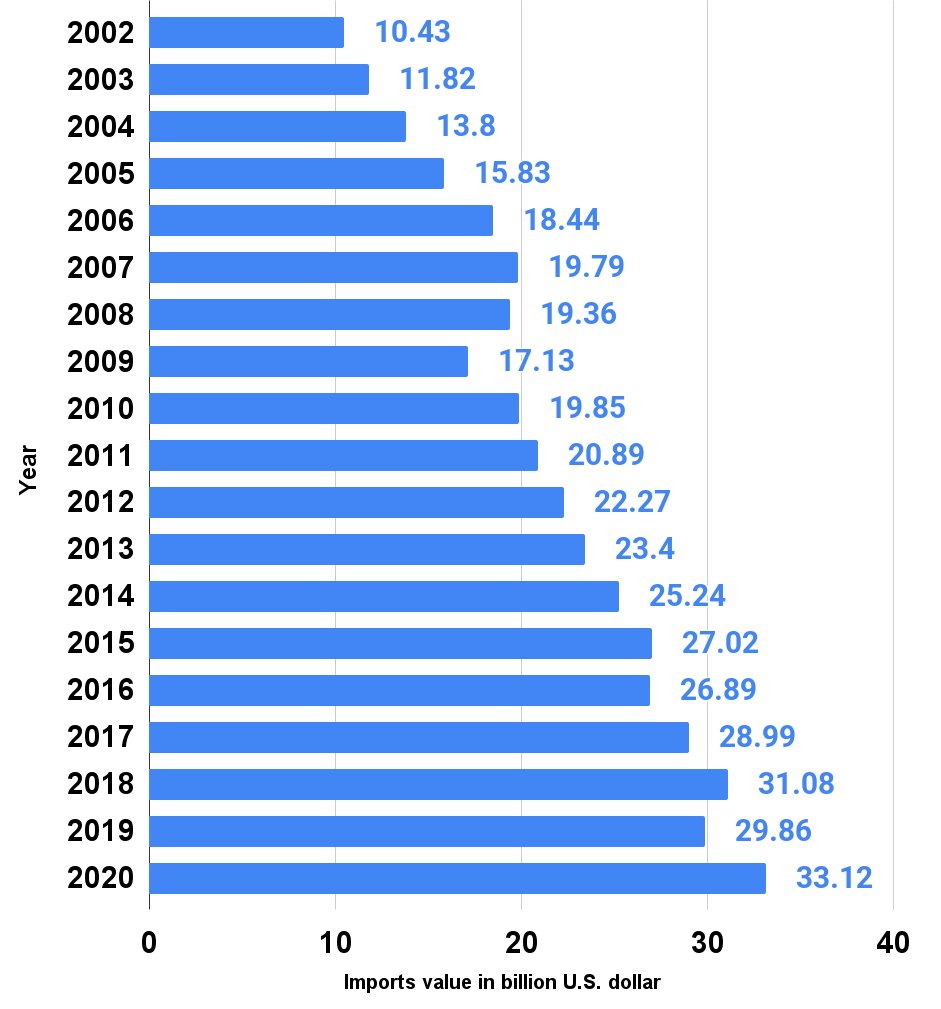 The innovations of the top appliance manufacturers in the world today are the reason behind the global surge in sales of major appliances across the globe. In the United States, things have improved greatly over the past few years as far as sales of major household appliances are concerned. This further proves that the country is still one of the biggest players in the appliance world.
The import value of major household appliances in the United States stood at $19.36 billion before dropping further down to $17.13 billion in 2009. Things improved greatly thereon as the import value for 2010, 2011, 2012, 2013, 2014, and 2015 stood at $19.85 billion, $20.89 billion, $22.27 billion, $23.4 billion, $25.24 billion, and $27.02 billion respectively. The value dropped briefly to $26.89 billion in 2016 before rising back to $28.99 billion in 2017. In 2020, the import value stood at $33.12 billion.
The information above was provided by Statista's lead researcher for research and communications, Arne Holst.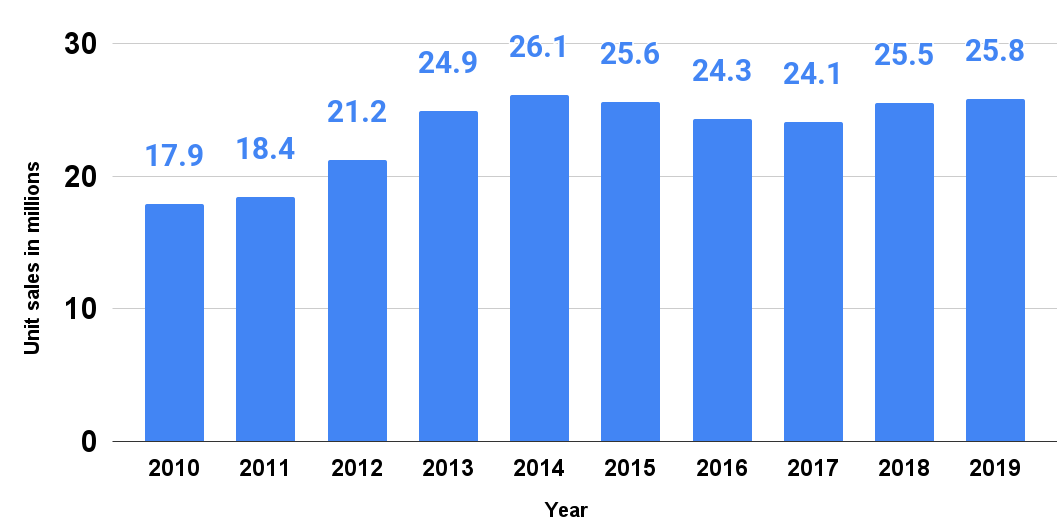 The unit sales of blenders in the United States have skyrocketed over the past few years as seen in the chart above, thanks to the information provided by Arne Holst of Statista. The chart indicates the blenders US retail unit sales from 2010 to 2019. 17.9 million blenders were sold only in 2010, but even at that, things improved greatly the following year when an estimated 18.4 million blenders were sold. From 2010 to 2019, 223.8 million blenders were sold, so when you do the math, you'll realize how much blender manufacturers are raking in yearly from sales.
What can you do with a Vitamix? That's a great question to have if you own a Vitamix blender at home, and these are the questions people should be asking in a bid to explore the functionalities of their machines. A blender by Vitamix heats soup, and that's to show you how far the brand has come. On the market today, Vitamix remains the hottest blender manufacturer, with some of the best blenders.
Everything You Need To Know About Vitamix Brand
Vitamix is now one of the most renowned blender manufacturers in the United States today, but it hasn't always been like that. A 100-year journey is not expected to be a smooth ride, and the same can be said about Vitamix, having been founded a century ago by William Barnard. Today, the company is still owned and operated by the Barnard family with Jodi Berg acting as the President and the CEO. The brand manufactures blenders for domestic consumers as well as their commercial counterparts in the restaurant and hospitality industry.
According to a Wikipedia post, Vitamix is credited for being the first company to produce and broadcast an infomercial for a specific manufactured product despite the existence of soap operas at the time. The company has been headquartered in Olmsted Township, Ohio, since 1948, and today, the company is currently working with over 700 employees with Vitamix products being sold in over 130 countries around the world.
Vitamix has quite a reputation in the industry for producing somewhat luxury blenders because Vitamix blenders are usually priced higher than blenders manufactured by other top brands. What sets Vitamix blenders apart is the fact that some models are packed with two motors featuring 2 and 2.2 horsepowers. The 2.2 hp motor was introduced in 2012, but we now have 3 hp motors that perform at the highest level.
Why is Vitamix So Good?
According to Taste of Home, Vitamix food processing machines have been around for decades, but things have improved greatly recently, thanks to many technological advances. These products have now moved from "something you'd click past on an infomercial to a top-of-the-line kitchen marvel," said Jeremy Jusek. Jeremy Jusek also claims that Vitamix blenders are on steroids because they set the bar for other brands that manufacture high-powered blenders so high that these brands are forced to raise their standards.
Unlike regular blenders that can only do one thing; blend, Vitamix blenders can do so much more such as cooking while blending, and no blenders do it faster. Naturally, cooking any soup takes time, but with a high-powered blender like Vitamix, you can throw your vegetables and every other ingredient, and watch the machine perform its trick in just five minutes.
With a high-powered Vitamix blender, you get the chance to manually control the blending speeds that are up to 2 horsepower, giving you the freedom to mix many things such as cake batter, soups of all kinds, chips dips, cold cocktails, and many more.  Also, unlike microwaves that use high frequency which, in turn, deny you of the perfect nutritional value you need, Vitamix blenders heat by friction, giving you the chance to make something hot in minutes.
5 Things You Should Look For When Buying A Blender
When it comes to picking a blender, there are lots of options on the market and they can be very overwhelming sometimes. In the world of online shopping, it is very easy to go on the market and purchase the wrong product, but all that can be avoided if you are aware of the things you need to look for when purchasing the blender. If you're looking to invest in a blender soon, these are the 5 important things you should look for.
Identify the Type of Blender You Need
Before you go on the market in search of a new blender for your kitchen, you need to identify the type of blender you need in your kitchen. That's one of the first few steps you need to take before you make the big decision of purchasing your ideal blender. There's more than one blender type on the market today, and the most common ones are; countertop blenders, high-powered blenders, personal blenders, and immersion blenders.
Countertop, as the name implies, is permanently a kitchen appliance that offers multiple speeds and easy-to-use features. They are just like high-powered blenders because they usually feature a large number of speed settings, but they're not as expensive as their high-powered counterparts. High-powered blenders are top-rated blenders that offer features of a countertop blender but do the job even better.
Determine Where To Put It In Your Kitchen
Once you identify the type of blender you need in your kitchen, the next thing to do is to determine where you will place the blender once you've bought it. Some people have the luxury of large kitchen space, and if you're one of those people, it'll be very easy for you to invest in any blender type and have it sit comfortably anywhere in your kitchen. However, if you have a small kitchen space, you should consider how your blender will fit it before going on the market to purchase one.
Immersion blenders are small and don't take up much space because they can be safely kept anywhere in the kitchen. You won't get the same liberty with countertop blenders, especially the high-powered ones because they usually take up space as they come with different accessories like pitchers, blades, and many other things.
Struggling to perfectly organize your kitchen? Check this article for 61 unique kitchen organization ideas that'll help you keep your kitchen in proper shape.
The Size of the Blender
This factor is a lot similar to the previous one, but the size, in this case, means the blender's capacity. When you have a large capacity blender, you can add whatever ingredients you have and the blender jar will take them all in. The capacity of the blender is what determines the number of ingredients your blender can process at a time.
You need to look at your needs before you determine the capacity of the blender you'll need, and it also mostly depends on the type of blender you're looking to get. Standard countertop blenders usually feature up to 72-ounce jars, while some high-powered blenders can hold up to 145 ounces.
Power
This is one of the most important factors on the list, but unfortunately, it doesn't quite get the attention it truly deserves. People often wonder about getting their hands on a blender that's too powerful but we think there's no such thing as your needs, again, come into play, and help you make the right decision. How powerful the blender you're looking to get is largely dependent on whatever you plan to put it in after you must have purchased it.
If your goal is to make smoothies every morning to keep you healthy, you most likely do not need to buy a high-powered blender. If you, however, plan to process hard ingredients like hard fruits, ice, frozen fruits, and many other hard ingredients, you should look to purchase a high-powered blender as that will conveniently get the job done for you. This is something you need to seriously consider which means looking more into the future to see what ingredients you're likely to process later.
The Type of Settings You Need
This is down to personal preferences as some people love to just push a button while other people want precise control. You can decide to leave the speed and power up to the blender, but if you're the type that loves to be in charge of whatever you do, then you should look to purchase a blender that allows you to select just how your ingredients are processed anytime you use the blender.
What Does A Vitamix Do? 13 Things You Can Do With Your Vitamix
Questions like "what can a Vitamix do" or "what is Vitamix used for" are questions people have struggled to find answers to because they're already aware of how powerful Vitamix blenders are. According to Vitamix, below are some of the amazing things your Vitamix blender can make.
Baby food

Hot soups

Flours and dough

Nut butter

Frozen desserts

Batters

Dressings and sauces

Non-dairy milk

Dips and spreads

Food preparation

Crushing ice

Smoothies

Juices
Frequently Asked Questions
1. Can you juice with a Vitamix?
According to Vitamix, juicing is one of the things you can do with your Vitamix machine because it has everything it takes to conveniently make great juice.
2. Why is Vitamix so popular?
When a brand has been in existence for a century, you expect it to enjoy as much popularity as Vitamix is enjoying now, but longevity is not the only reason behind Vitamix's popularity. The brand is also popular for creating high-powered, quality blenders, hence why a lot of people regard it as one of the best in the industry.
3. Are Vitamix blenders worth it?
Take a minute to go on Google and punch in the keyword "is Vitamix blender worth the money." You'll get lots of results proving that Vitamix blenders are worth every penny spent on them. The brand could only have survived all these years by producing quality blenders that are quite worth their price tags.
4. Should I buy a Vitamix blender?
Truly, Vitamix blenders are quite expensive, but if you can afford them, you'll get the best value for your money because they come with lots of features that'll make every blend process very easy for you.
5. Why are Vitamix blenders so expensive?
Like we mentioned earlier, Vitamix blenders are quite expensive because they usually come with lots of high-end features that are hard to come by on other blenders, even the so-called high-powered blenders.
6. What can you make with a Vitamix?
Some of the things you can make with your Vitamix include dressings, dips, smoothies, spreads, frozen desserts, flours, hot soups, baby food, and many more.
Final Thoughts
Vitamix may be expensive, but when you compare its functionality with the functionalities of other high-performance blenders, you'll realize that paying a premium fee for a quality blender like Vitamix always proves to be great at the end of the day. If you've been wondering whether or not you should invest in a Vitamix, we've given you enough reasons in this article to make your big move by discussing some of the things you can do with a Vitamix. If you don't mind the price – Vitamix costs a lot to get – the best blender you can invest in on the market right now is the Vitamix.
ESTIMATED TIME DESIGNING AND UPLOADING THIS ARTICLE
ESTIMATED TIME RESEARCHING AND WRITING THIS ARTICLE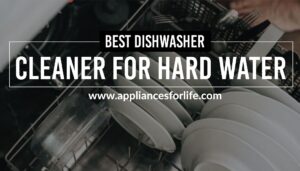 What to Use to Clean Microwave
Maintenance plays a great role to ensure durability. Even if you invest in a naturally durable appliance but you don't maintain it the right way, it's only a matter of time before it loses its value. In this article, we're going to be reviewing what
Read More »