Top 5 Best Washing Machines Under $500 Comparison Table
| Image | | | | | |
| --- | --- | --- | --- | --- | --- |
| Name | Magic Chef MCSTCW16W4 21-inch Compact Portable Washer | Avanti STW16D0W 21-inch Compact Top Load Washer | Danby DMW055A1WDB6 1.6 cu. ft. 25-inch Portable Washer | Magic Chef MCSTCW20W5 22-inch Compact Portable Washer | Danby DMW065A1WDB6 25-inch Compact Portable Washer |
| Brand | Magic Chef | Avanti | Danby | Magic Chef | Danby |
| Color | White | White | White | White | White |
| Capacity | 1.6 cu. ft. | 1.6 cu. ft. | 1.6 cu. ft. | 2 cu. ft. | 2 cu. ft. |
| Control Type | Digital | TouchPad | Digital | Digital | Digital |
| Product Dimension | 20.3 x 36.6 x 20.7 inches | 20.25 x 36.75 x 20.75 inches | 22.06 x 34 x 22.06 inches | 21.7 x 37 x 22.2 inches | 25 x 35.83 x 22.25 inches |
| Drum Material | Stainless Steel | Stainless Steel | Stainless Steel | Stainless Steel | Stainless Steel |
| Weight | 85 lbs | 87 lbs | 70.55 lbs | 80 lbs | 72.75 lbs |
| Editor's Rating | ✸✸✸✸✸ | ✸✸✸✸✸ | ✸✸✸✸✸ | ✸✸✸✸✸ | ✸✸✸✸✸ |
| | | | | | |
Washing machines play a huge role in keeping things in check at home. Imagine a household with kids without a washing machine, and you're forced to do the laundry manually. This usually takes longer, but with a washing machine, you will have more time to focus on the other aspects of your life, knowing that your washer will always be there to take care of your laundry.
Unlike many years ago when the appliances were big, lacked essential features, and were not all that efficient, the machines in production now are everything the machines that existed many years ago weren't – compact, packed with tech-inspired features, and very efficient. This is why a lot of folks don't mind spending a lot of money on their dream appliances because they know these machines will make life a whole lot better for them, and on top of that, they'll get the best value for every penny spent on acquiring them as long as they purchase the quality ones.
Different appliances come in different types and sizes, two factors that mainly determine price alongside the number of high-end factors the machines come with and how they're designed. For example, the refrigerator comes in different types – French door, Bottom freezer, Top freezer, and Side-by-side. These different types are priced differently, with the French door being slammed with the highest price tag because it looks more sophisticated than the rest.
A refrigerator with a unique feature like an internal water dispenser is usually more expensive than the one that doesn't come with that feature. Likewise, a washing machine built with a dryer is always more costly than a washing machine that can't perform the dry function. Some of these top manufacturers consider when pricing their products is the number of features that are packed with each product.
Check here for our detailed review of the quietest washer and dryer combos and the separate appliance.
If you're investing in a washing machine that costs $1000 or more, you're investing in a top-of-the-line machine that will give you enough for your money. This also means that you expect more from the washing machine as it should be packed with more high-end features than the regular washing machines that don't cost as much without even compromising efficiency. These machines usually come with specialized wash cycles and technologies that make them very easy to operate while also delivering a top-notch performance.
As much as these top-of-the-line machines are worthy investments, some people are actively searching for the best-rated washing machines under $500 because all they want is a machine that can deliver clean clothes. If you fall in this category, then the chances are that you may have had difficulties getting your hands on an ideal washing machine that falls just below this price range because there are not too many options on the market at the moment. The best washing machines around $500 or the most reliable washing machines under $500 are few, which means that it takes proper research to get your hands on an ideal option that guarantees you the best value for your money.
We understand that getting your hands on inexpensive models may not be all that easy, so we've rounded up some of the best top load washing machines under $500 and the best front-loading washing machines under $500. Let's delve into our review of the best washing machines under $500.
Top 5 Best Washing Machines Under $500
1. Magic Chef MCSTCW16W4 21-inch Compact Portable Washer with 1.6 cu. ft Capacity
The Magic Chef brand is one of the most underrated appliance brands in the United States. The brand doesn't get the recognition it deserves for producing quality appliances, including this Magic Chef 21-inch compact washing machine. The brand has some top-notch washers on the market, which has caused many people to trust the brand with their money. This machine's reviews show that it is one of the best small washing machines under $500, so if you're looking for an inexpensive option, this Magic Chef washer is worth examining.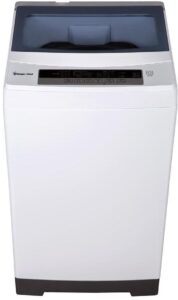 Features
Convenient Control
Nobody wants an appliance they can't easily control, and that's why many manufacturers are now producing easy-to-control devices to give people total control over their machines. This Magic Chef washer is not an exception. It has an easily accessible control panel that helps deliver convenient access to the different wash options with the washing machine.
Quick Connect Kit
One of the major problems people face when they've just bought a washing machine is proper installation. This has caused many people problems over the years, and they end up disconnecting the device, which causes it to malfunction over time. To help you avoid this, Magic Chef has included a quick connect kit in this package to help you secure the washer to your faucet easily for ultimate performance.
Door Window
Sometimes, you just need to keep tabs on your laundry while the machine is operating to make sure everything is in check. Although most washers in production now will give signs whenever something is wrong with them, we still can't rule out the importance of a transparent door window that offers you visual access to the inside of the washer to help you keep things in check.
Other Features
Control lock

Delay start

6 wash cycles

3 water level

3 temperature settings

Pulsator

Automatic shut off

Rollers
Pros
1.6 cu. ft. capacity, which is considered a coup for the washer's price

The machine delivers ultimate performance

It is extremely affordable

It operates quietly

It comes with a host of features
Cons
The machine is almost perfect without a single flaw
2. Avanti STW16D0W 21-inch Compact Top Load Washer with 1.6 cu. ft Capacity
Avanti may also be one of the most underrated brands in the United States today, but the quality of the products the brand produces shows how much it has progressed in the past few years despite the lack of popularity. This Avanti compact top load washer has a portable design that makes the machine very easy to be moved around your house as you contemplate where to place it finally. Apart from being a great product, it also meets the requirements for ADA compliance based on the Uniform Federal Accessibility Standards.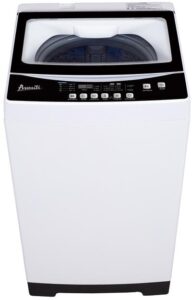 Features
Bottom Pulsator Wash Action
The job of the bottom pulsator wash action is to help wash your fabrics effectively, leaving you with clean clothes after every wash cycle without damaging the quality of your materials.
Delay Start
The good thing about the washers in production now is that they come with many tech features that help make washing more accessible and convenient for you. Even if you aren't there to monitor it, you can set the machine to start at a later time, and it will do its job effectively before you get back. This is one of the things people love most about this Avanti washer.
Auto Power Off
As soon as the washer is done with your wash cycle without receiving any manual instruction for a while, it automatically shuts off to help conserve more energy, saving you a lot of money in the process.
Other Features
6 wash programs

Extra rinse option

See-through glass lid

Hot and cold water inlets

Pre-programmed cycles

Three load size selections

Three water temperature settings
Pros
Quiet operations

Produces a great smell after every wash cycle

Huge load capacities

Efficient washing

Strong spin speed
Cons
There's nothing wrong to say about the product
3. Danby DWM055A1WDB6 Compact Portable WAsher with 1.6 cu. ft Capacity
People often mistake affordable washing machines as not-so-good, thinking they have inferior quality to those priced higher, but that's not always the case. Since most people are on the market looking for budget-friendly washing machines, it's no surprise that brands like Danby have taken it upon themselves to manufacture extremely affordable washing machines without compromising on quality. This Danby washer, despite its price, still comes with great features such as a pulsator, overflow protection system, digital controls, child lock, stainless steel tub, and 4 wash cycles, among many others.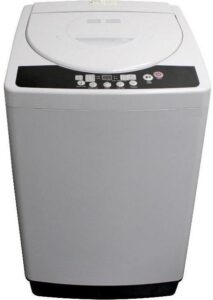 Features
Overflow Protection Technology
The overflow protection technology is featured in the washer to help prevent water leakage while also protecting the machine against untimely damage.
Pulsator
People don't wholly trust washing machines because they believe these machines can destroy their fabrics. However, this is not always true when you invest in a suitable washer. This Danby washer comes with pulsator technology that helps detergent and water go through your fabrics, thanks to its decisive water action, which comes in handy in cleaning heavier and larger clothes.
Child Lock
To prevent accidents, this machine comes with the popular child lock feature.
Other Features
Spin auto-balancing to help correct out-of-balance wash loads

Digital control panel with LED

ISTA 6 Packaging

10 water levels

Delay start
Pros
The Danby washer is very easy to use

It comes with every feature you need in a compact washing machine

A good upgrade for old washers

Extremely affordable

Quiet operations
Cons
You have to be particular about the color you want so you don't have the wrong color delivered to you.
4. Magic Chef MCSTCW20W5 22-inch Compact Portable Washer with 2 cu. ft. Capacity
Another Magic Chef washer featured in this list shows just how much people trust the Magic Chef brand. This is the largest-capacity washer on this list with 2 cu. ft. capacity, which is someplace ahead of the other washers on this list. Despite coming with a small price tag, Magic Chef has done well to pack the washer with quality features like 800 RPM, stainless steel drum, water pump filter, quick connect kit, and 6 washer cycles, among many others.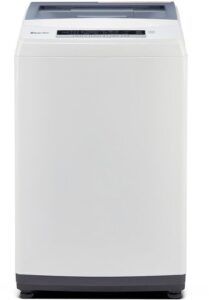 Features
Quick Connect Kit
Since installation is a big part of every home appliance, it is ideal to get your hands on a washer that doesn't have a complicated installation process. This is what you'll get to enjoy if you purchase this Magic Chef portable washer.
Rollers
If you ever wish to move your washing machine from one place to the other, you won't have any problem because it comes with rollers that make it very easy to move around.
Automatic Shut-off
Even if you're not around the washer when the wash cycle ends, the machine will turn off automatically after giving the cycle end signal.
Other Features
6 wash cycles

Convenient control

3 water levels

Pulsator

Delay start

3 temperature settings
Pros
Amazing design

Water pump filter

Faucet hook up

Energy-efficient

Quiet operations

Extremely affordable

Accurate temperature and water levels

Access to different wash cycles
Cons
While the washer is packed with enough features, the child lock feature is missing, and Magic Chef can do better by including this critical feature.
5. Danby DMW065A1WDB6 25-inch Compact Portable Washer with 2 cu. ft. Capacity
One of the largest-capacity washing machines in its class, this Danby washer is loved by many because it is packed with all the features people want in a compact washing machine. Costing a little above $500, you'll be blown away by the perks of this washing machine, such as the child lock feature, a unique inclusion for a washer in this price range.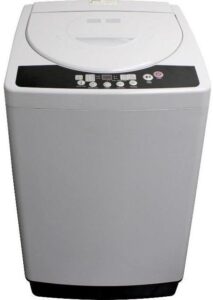 Features
Child Lock
This is a unique safety feature that every washer needs but not every washer has. This Danby washing machine comes with this safety feature for added protection against accidents.
Overflow Protection Technology
To simply put it, this feature helps prevent water leakage.
Other Features
ISTA 6 packaging

Digital control with LED

Delay start

Spin auto-balancing

10 water levels

Pulsator

4 wash cycles
Pros
It comes with great features

It is very affordable

Enough safety features

It is energy-efficient
Cons
The package doesn't include an installation kit
Frequently Asked Questions
1. What is the best top-loader washing machine under $500?
It's hard to tell which one is the best top-loader washing machine within that price range, but we believe we've reviewed the best of them in this article.
2. Are there energy-efficient front-loading washing machines under $500?
Energy efficiency is a great deal for many, so we're not surprised this question is being asked. Thankfully, there are a few energy-efficient front-loading washing machines under $500 you can invest in, some of which are featured in this article.
Wrapping Up
While going on the market with a strict budget can limit you to only a few options, you shouldn't be denied the chance to land your ideal washer with the qualities you need. In this article, we've reviewed the best washing machines under $500, so if you're looking for inexpensive options, you should seriously consider purchasing any of them.
ESTIMATED TIME DESIGNING AND UPLOADING THIS ARTICLE
ESTIMATED TIME RESEARCHING AND WRITING THIS ARTICLE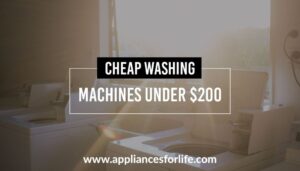 Cheap Washing Machines Under $200 – Our Top 4 Picks
People drawing comparisons between the biggest brands in an industry is no longer a surprise, as we've seen over the years. This article will take the same path as discussing the best GE vs. Whirlpool washing machines.   Cheap Washing Machines Under $200 Comparison Table
Read More »