Samsung 1102764 3-piece Tuscan Kitchen Appliances Package
Top 5 Tuscan Stainless Steel Appliance Package Comparison Table
| Image | | | | | |
| --- | --- | --- | --- | --- | --- |
| Name | Samsung 1102764 3-piece Tuscan Kitchen Appliances Package | Samsung 1050145 4-piece Tuscan Stainless Steel Kitchen Appliances Package | Samsung 1223014 4-piece Tuscan Stainless Steel Kitchen Appliances Package | Samsung 1100911 4-piece Tuscan Stainless Steel Kitchen Appliances Package | Samsung 1050143 4-piece Tuscan Stainless Steel Kitchen Appliances Package |
| Brand | Samsung | Samsung | Samsung | Samsung | Samsung |
| Set | 3-piece | 4-piece | 4-piece | 4-piece | 4-piece |
| Appearance | Tuscan Stainless Steel | Tuscan Stainless Steel | Tuscan Stainless Steel | Tuscan Stainless Steel | Tuscan Stainless Steel |
| Range Style | Slide-in | Slide-in | Slide-in | Slide-in | Slide-in |
| Range Fuel Type | Electric | Electric | Gas | Gas | Electric |
| Editor's Rating | ✸✸✸✸✸ | ✸✸✸✸✸ | ✸✸✸✸✸ | ✸✸✸✸✸ | ✸✸✸✸✸ |
| | | | | | |
Samsung is regarded as one of the best appliance manufacturers ever to grace the industry. The South Korean brand has been very consistent since it broke into the global limelight many years ago. An old brand such as Samsung could only have survived all those years in a highly-competitive industry by producing high-quality products, which the brand is now commonly known for. If you gather appliance experts and consumers alike, 8 out of every 10 people confirm the brand's authenticity by declaring Samsung as one of the best in the game.
According to Ry Crist of C|Net, Americans have a knack for stainless steel appliances in their kitchen, and whether or not that's down to the fact that they haven't been provided with too many options remains to be seen. We know that the stainless steel finish is undoubtedly the most popular finish type and Americans love it because it gives them what they want by adding value to their kitchen. People will argue that black stainless steel has given the solid stainless steel finish a stiff competition lately.
Most appliance manufacturers now produce their appliances in different finish types, including black stainless steel and stainless steel. GE has even taken a little step further by creating less shiny machines with the "slate" finish that have more of that matte finish. We're all left with options that sport the grey color or anything related to that.
Samsung has taken the concept of stainless steel finish to a different level with the production of Tuscan stainless steel appliances, which are regarded as the next-level type of finish. Samsung Tuscan bronze appliances, Tuscan brown appliances, and Tuscan stainless steel kitchen packages are available in many styles. This is why Samsung is now regarded as one of the brands defining the industry in so many ways. As a result, there are now Tuscan stainless steel refrigerators, Tuscan appliances with white cabinets, Samsung Tuscan range hoods, Samsung Tuscan double ovens, and Tuscan stainless steel stoves, among many others.
When Samsung announced back in 2019 that it would be introducing a new finish for its lineup of kitchen appliances that make consumers have a new choice as far as colors are concerned, people were filled with excitement because they knew they would have an exceptional finish to choose from. As at the point of the announcement, the concept was to create a classy-looking kitchen filled with light. The Tuscan stainless finish also sports that dark bronze appearance that gives the appliances a distinctive look that makes them complement the other appliances in the kitchen.
"What is Tuscan stainless steel" has been one of the most asked questions regarding Samsung appliances. In the simplest way possible, it is just a unique stainless steel design by Samsung to give the stainless steel finish a better look than what people are already used to. Thankfully, with sales skyrocketing, it's evident that people are now beginning to pay more attention to these sets of appliances, and Samsung is doing all it can to ensure that things stay that way. According to the information provided on Samsung's official website, the brand's newest is versatile and elegant, making it complement any appliance in your kitchen to give you the perfect kitchen feel.
Tuscan Stainless Steel Appliance Packages
1. Samsung 1102764 3-piece Tuscan Kitchen Appliances Package
If you've been using appliances for a while, then the chances are that you've previously used at least one Samsung appliance. Every brand knows how to give their customers what they love by putting appliances together in packages to make them affordable for their consumers. Samsung has taken it to a whole different level since introducing the Tuscan stainless steel, another finish type for its kitchen appliances. The Samsung 1102764 3-piece Tuscan stainless steel kitchen appliances package comes with a French-door refrigerator, built-in dishwasher, and a slide-in electric range – all of which are also available in other finishes such as black stainless steel.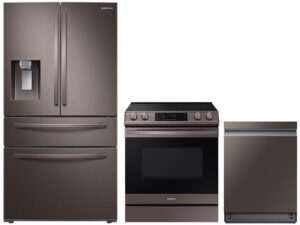 Features
Smart Connection
Modern appliances are now expected to come with modern features. Samsung is very much aware of how important this is in staying relevant in the industry, and that's why this appliances package comes with an intelligent connection. This allows you to control your appliances from any room in your house as long as you have a smartphone connected to the Wi-Fi. This makes every machine in the package very easy to use, and the convenience you'll get to enjoy is one of the reasons many people invest in it.
Adjustable Glass Shelves
Remember that this Samsung package comes with a Samsung French-door refrigerator with a Tuscan stainless steel finish? To make the fridge's operation more manageable for you, Samsung has included adjustable glass shelves in the appliance. With these adjustable glass shelves, you have access to a stable platform. At the same time, the light can also move through and provide illumination at the bottom section of the refrigerator where the freezer is located. They are adjustable because they can be removed or rearranged to provide flexible storage means and make the compartment easy to clean.
Fingerprint Resistant Coating
People tend to shy away from purchasing stainless steel appliances because they are susceptible to stains, including fingerprints. This is something you don't have to worry about if you're investing in this Samsung 4-piece Tuscan stainless steel appliances package. The package comes with a fingerprint-resistant coating that helps keep your appliances shimmer regardless of how often you have your hands all over them.
Pros
Latest tech-inspired features

External water and ice dispenser for the refrigerator

Extra door storage for the refrigerator

Perfect for complementing other appliances in the kitchen

All the machines are energy efficient, earning them an Energy Star qualified badge.

Affordable

NSF-certified
Cons
The light in the oven can be better, but otherwise, this is a generally decent package.
2. Samsung 1050145 4-piece Tuscan Stainless Steel Kitchen Appliances Package
We should be thankful to Samsung because the brand has always been committed to producing several appliances according to every person's budget, so even if you're on the market for quality appliances without breaking the bank, Samsung has made it very possible easy as well. If you were to purchase the machines in this Samsung Tuscan stainless steel kitchen appliances package separately, you would be spending up to $10,000, if not more. However, Samsung has packed all these quality appliances in one package to make them very easy for you to purchase all at once. Unlike the other Samsung appliances package we discussed earlier, this Samsung 10 1050145 comes with 4 appliances: a French-door refrigerator, an over-the-range microwave, a built-in dishwasher, and a slide-in electric range.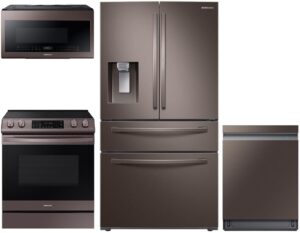 Features
Food ShowCase Fridge Door
Samsung is known for packing its appliances with some of the best features on the market, and the refrigerator that comes with this package is not an exception. The Food Showcase Fridge Door is an innovative feature that helps you organize and display your food most unimaginably. You can visually access the refrigerator's content without opening the refrigerator door, while the inner section can hold large food items.
Eco Mode
The over-the-range microwave oven featured in this package comes with the Eco Mode's modern technology. The Eco Mode feature allows you to use less than 80% of power in standby mode, which means you're saving a lot of energy and money in the process.
Energy Star Rating
In a world where electric appliances dominate, it is widely feared that most of these appliances are not energy efficient, meaning that people are always prepared to spend more money on electricity than other things as far as utility bills are concerned. However, the narrative is changing thanks to most manufacturers paying more attention to this part of their productions. All the appliances in this package come with Energy Star badges. It is displayed on each machine the amount of power it is expected to consume over a given period.
Pros
UL certification

Powerful burners for the slide-in electric range

It is very affordable despite coming with 4 appliances

Tech features

Energy efficiency

Google Assistant

Amazon Alexa

Enough storage drawer

Child lock
Cons
Some consumers complained of leaks on the bottom.

The auto-release feature is not working correctly.
3. Samsung 1223014 4-piece Tuscan Stainless Steel Kitchen Appliances Package
When an appliance package has so many positive reviews online, it only shows that the manufacturer has been doing everything right. There's no doubting what Samsung has achieved in the past years, and the brand is doing all it can to protect that reputation that has earned it a top spot on the global scale for a while now. It comes with high-end, quality appliances like the RF28R7351DT 36-inch Smart Freestanding 4-door French-door Refrigerator, NX60T8511ST 30-inch Slide-in Gas Range, ME21R706BAT 30-inch Over-the-range Microwave, and DW80R9950UT 24-inch Built-in Fully Integrated Dishwasher all in Tuscan stainless steel.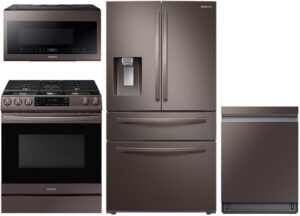 Features
FlexZone Drawer
The 36-inch French-door refrigerator is unarguably the package's most significant appliance. Thankfully, it comes with some of the package's most exciting features, such as the Counter-height Flexzone Drawer used to optimize family organization. The drawer uses an adjustable smart divide to give the kids easy access to the refrigerator's content. The drawer also comes with four temperature control settings that range from soft freeze to chill.
Glass Touch Control
Despite its affordability, the microwave oven in this package manages to be packed with the latest technologies, including glass touch control that allows you to control the microwave. The integrated glass touch control panel is also stylish and highly convenient. It provides a premium look for your kitchen, which makes it an excellent choice for many.
Auto Cook Options
Thanks to the available auto cook options, you can cook conveniently without being there to supervise the process. The auto cook options include Auto Cook, Auto Defrost, and Auto Reheat. All you need to do is press the button and watch the appliance do what it does best.
Pros
A popular option for those who are looking for exciting features

Big enough for its price

The range hood has fantastic ventilation

Way too luxurious for its price tag

The slide-in gas range boils water in minutes.
Cons
You should be prepared for late delivery, although only a few customers have previously complained about it.

The Auto-release features may not function properly at first.
4. Samsung 1100911 4-piece Tuscan Stainless Steel Kitchen Appliances Package
With appliances packages in high demand, it's only standard that Samsung is rolling out as many quality packages as possible, so the brand continues to be rated very highly. Like every other 4-piece Tuscan stainless steel kitchen appliances package on this list, the Samsung 1100911 comes with the RF28R7201DT 36-inch French-door Refrigerator, NX60T8511ST 30-inch Slide-in Gas Range, DW80R9950UT 24-inch Fully Integrated Dishwasher, and ME21R706BAT 30-inch Over-the-range Microwave oven.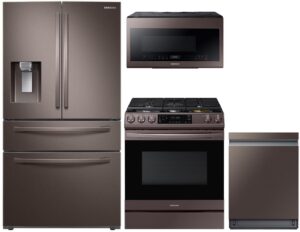 Features
Twin Cooling System
The refrigerator comes with the Twin Cooling System, which helps the refrigerator maintain cool air in the freezer and refrigerator compartments separately. This gives you near-commercial grade humidity levels to help keep those perishable foods in the fridge fresher than ever.
LED Lighting
To ensure that you see everything clearly, Samsung has included LED lighting in the refrigerator's interior. The goal is to help you spot the things you want in the fridge very quickly.
Express60
Express60 is a particular option that comes with the dishwasher, and its job is to help clean your dishes faster than it usually would. It should be used when you load the dishwasher in a small number with delicate items that don't need intense cleaning.
Pros
The refrigerator lasts longer than the other refrigerator in its class

Fast delivery

Enough storage in the refrigerator compartment

Large burners that can handle heavy cooking

A powerful burner that boils water in minutes
Cons
Cycle selection may not function properly
5. Samsung 1050143 4-piece Tuscan Stainless Steel Kitchen Appliances Package
Lastly, this is another Samsung 4-piece Tuscan stainless steel kitchen appliances package loved by many, judging by the many positive reviews the package has online. It features 4 appliances just like every other 4-piece appliances package on this list, such as the refrigerator, dishwasher, over-the-range microwave, and an intelligent slide-in electric range.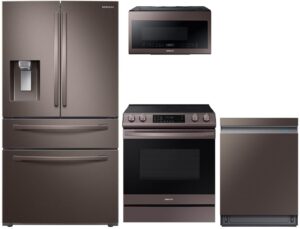 Features
Power Freeze and Power Cool
These are two powerful options that leave you total control of how your refrigerator functions. Thanks to these two powerful options, you get to decide whether you need to fast freezer or fast chill your food. They allow you to drop the temperature in both freezer and refrigerator compartments in minutes with a button.
Simple Clean Filter
You may sometimes find cleaning very difficult if you own a microwave oven. To encourage regular cleaning of your microwave, Samsung has included the Simple Clean Filter feature in the appliance to help you clean the machine's filter easily.
LED Cooktop Light
Cooking doesn't have to be daunting as you can enjoy LED cooktop light that is evenly distributed across your cooktop.
Pros
Voice commands

Large storage drawer

Kitchen minute timer

Hot surface indicator for the electric range

Star-K certification
Cons
Some think Samsung could bring the price a little lower
Frequently Asked Questions
1. What color of cabinets goes with Tuscan appliances?
If you have a kitchen filled with Tuscan appliances, you should opt for distressed black or brown wooden cabinets. This is the perfect combination, according to Home Guides.
2. Is Tuscan stainless steel fingerprint-resistant?
Yes, most manufacturers claim that Tuscan stainless steel is fingerprint-resistant, and that's a sentiment most customers also share as they've given positive reviews about the finish being fingerprint-resistant.
3. Does Tuscan stainless steel scratch?
Any material that is fingerprint-resistant will most likely not be affected by scratches.
Conclusion
The introduction of the stainless steel finish changed how people generally viewed appliances as it brought much-needed fresh air into an industry that needed a significant change. Samsung's Tuscan stainless steel introduced a few eyebrows, but almost two years down the line, it's now clear what the brand is trying to do. Samsung's Tuscan stainless steel line has sold like crazy since it was first introduced, and that's to show how much people appreciate the unique finish. In this article, we've brought you the best Tuscan stainless steel appliance package deals available on the market right now. The good thing about these deals is that they're incredibly affordable, and when you put them side-by-side with most of their competitors, you'll realize they're the best deals available at the moment.
ESTIMATED TIME DESIGNING AND UPLOADING THIS ARTICLE
ESTIMATED TIME RESEARCHING AND WRITING THIS ARTICLE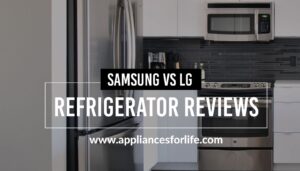 Samsung vs LG Refrigerator Reviews
Samsung refrigerator vs LG refrigerator; Samsung appliances vs LG appliances; comparisons between these two brands have become broader over the years. Undoubtedly, these are two of the biggest appliance brands in the world, and they've both enjoyed massive successes. In this article, we'll be reviewing
Read More »