| | | | |
| --- | --- | --- | --- |
| IMAGES |   |   |   |
| BRAND NAME | | | |
| MANUFACTURER | ELECTROLUX | KITCHENAID  | BREVILLE  |
| COLOR  | WHITE | RED | SILVER |
| DIMENSION | 30.9 x 21.9 x 36.6 CENTIMETERS  | 9.3 x 7.5 x 5.6 CENTIMETERS | 8.5 L x 3.5 W x 10.25 H CENTIMETERS  |
| RATING  | 5 OUT OF 5 | 4.6 OUT OF 5 | 4.7 OUT OF 5 |
Introduction
Hand Mixers are quite effective at mixing your recipes together. Their major function is the combination of ingredients. Although, it is true that there are several alternatives to a hand mixer. Indeed, you will find a couple of replacements for your hand mixer but it is still a doubt that any of those devices work as excellently as a hand mixer. A stand mixer comes very close and may even beat a hand mixer on some occasions where strength is a priority but a stand mixer may not be easily manipulated compared to a hand mixer. A hand mixer, because of its portable design allows you to easily swirl back and forth every corner of your bowl but a stand mixer does not offer that much luxury.
About Electrolux
Electrolux is a multinational home appliance brand, founded in Sweden in 1919 by entrepreneur Axel Wenner-Gren. Since the inception of this company, it has redesigned living for the better for at least 100 years now. The great works of this Swedish company are has given it an incredible reputation in the world of home appliances manufacturers today. For several years now, Electrolux has consistently ranked the world's second-largest appliance maker by units sold, after Whirlpool
Long before the diversification in production and the manufacturing of Hand Mixers, the Electrolux has been founded on the idea of making vacuum cleaners only. The management of this company thought of the ways to re-invent Vacuum Cleaners and came up with Vacuum Cleaners that are lighter and very much easier to use. Electrolux continued on this path for a long and stuck with its belief in promoting and improving health and hygiene around the world, through the use of Vacuum Cleaners. From founder Axel Wenner-Gren's innovation to put runners on the Model V vacuum cleaner to the launch of the world's first robotic vacuum, this journey continues.
From the famous re-invention of Vacuum Cleaners, the Electrolux proceeded to rejuvenate the fabric care world. The washing machine has been considered the greatest invention of the industrial revolution because of the effect it has had on women's role in society. The Electrolux has had a major impact in the manufacturing of washing machines worldwide and particularly in the 1940s, it revolutionized the 'floating wing' washing machine and also equipped newer models with recent technologies that would allow users to focus on other things that matter as opposed to wasting time, monitoring a washing process.
The Electrolux also boasts of a century of reinventing the taste experience and this is where hand mixers come in. The creation of enjoyable eating experiences has always been the driving force behind Electrolux's innovations in the Kitchen. The groundbreaking Assistant food processor, Electrolux hand Mixers, and CombiSteam ovens are only but a few of the incredible creations of this company for the Kitchen.
How do I buy the best hand mixer?
Perhaps, you have heard of the great exploits of a hand mixer in the kitchen and now you are contemplating a purchase yourself, this section will provide an insight into the factors to consider before you make that trip to the store to purchase your hand mixer.
1. The Base of the Hand Mixer
The base of a hand mixer is the side of it that you set down on your counter or kitchen cabinet when the hand mixer is not in use. The base of a hand mixer can not be too small otherwise, it will topple every time you set it down, and trust me, that can become really frustrating over time. Worst case scenario is that it topples, hits the floor from the counter, and splits into pieces. This may sound a little negative but it is also a probable occurrence. 
Therefore, be sure to buy one that doesn't have those crazy curves or rounded edges toward the base. It's best when the body shape of the mixer goes straight down to a completely flat surface. Some manufacturers may put some art into it and add a creative little arch below the base of the mixer. It's so impractical. A slight variation from a completely flat surface might not have too drastic implications. So, before you buy a particular hand mixer, set it down on its base to confirm that it sits comfortably and does not roll over. You may even try to slightly poke the mixer to confirm its firmness. Do this with caution, though. otherwise, you will end up knocking it over yourself. 
Also important!- The stability of the base is also determined by the angle at which the power cord comes out of the hand mixer so you want to ensure that the cord does not interfere with the stability.
2. The Shape of the Beaters
The form of a beater is important if you must get a perfect whip of your ingredients. When choosing your beater, there is a range of accessories you can pick from- one of them is a flat beater which is the main accessory for mixing. Another accessory/ beater you can go for is the whip. The whip is known for its immense power and speed. It achieves such great speed because of the way it is shaped. 
In a nutshell, you have to decide what result you are trying to achieve i.e, the kind of whip that you want for your recipes and from here, you can go on to picking the right beater for the job. That said, you now see the value of a beater and the necessity to purchase a hand mixer with just the right accessory as failure to do this may attract regrets from your choice of purchase.
3. The Weight of the Hand Mixer
Objects, no matter how light, become suddenly heavy and difficult to suspend with the hand if they have been held for too long. Now, imagine an object, heavy in the first place- It will certainly be impossible to handle. This is the pain that a heavy hand mixer will inevitably bring. 
You will only be able to perceive the above statements in the right perspective if you have ever had to make a 7-minute frosting or you have had to make a batter that needs to be beaten for 5 minutes. At this point, even the lightest mixer can feel really heavy. 
On the flip side, it does not really help if you get a super light hand mixer either. Apart from the fact that it does not just feel right when held, it also stands the risk of falling incessantly. Personally, the ideal weight of a hand mixer should be about 680 g (1,5 lbs) without any attachments. You can still go down to 650 g, but anything lighter than that becomes a bit too flimsy.
4. The Wattage of the Mixer
Whether you depend on the electric grid or your home is powered by
solar energy
, it is important for you to know your power input and output. The wattage of your appliances altogether will determine the amount of output that will be placed on your grid. Hence, it is important to know the wattage that your hand mixer will add to your original output.
Also, the wattage of your hand mixer will determine the amount of power that goes into your hand mixer and, in a way, the amount of strength it will possess. Conversely,  a lower watt mixer often means that the gears inside your hand mixer are of higher quality, so they need fewer watts to operate. Therefore, a higher wattage does not necessarily mean higher quality.
5. Speed Settings of the Hand Mixer 
Your hand mixer does not necessarily have to have a turbo speed. The slowest speed to does really great
6.  The Price of the Hand Mixer
Nothing to say here than- Know your budget!. Hand Mixers vary in price. Go for the one that best fits your budget 
7. Storage 
Keeping tabs on your beaters may be tricky if your kitchen drawers are a little chaotic. In that case, you may want to opt for a hand mixer with its own storage box or snap-on storage container.
This Hand Mixer is one of the beautiful products of the Electrolux. This product is powerful and economical as it consumes only 450 watts. It also has varying speed settings that you can switch between from time to time. This Hand mixer measures approximately 30.9 Centimeters in Length, 21.9 in width, and 36.6 centimeters in height. Remember, one of the factors to consider when buying a hand mixer is its weight, you may be happy to know that this hand mixer is not heavy at all as it weighs 2.92kg. However, it is important for you to know that it may be too light and you may want to handle it with care to prevent it from rolling over from your counter. 
In a nutshell,
The Electrolux ESM3300AR
  Handheld Mixer provides everything you need to turn fresh ingredients into fresh pastries. It offers a powerful 450 Watt power that ensures convenient processing and more rigid dough. Its further advantage is a 3.5-liter stainless steel whisk, supplemented by the standard equipment of two whiskers and two kneading hooks. 
To wrap this up, remember that it has 5 different speed options that you can switch between.
The best hand mixer on the market
This Hand Mixer is just mind-blowing. One of its most impressive features is its nine-speed feature. Imagine being able to switch between nine different speed settings- incredible. To add to that, it is equipped with the technology that detects and identifies the attachment you have inserted, whether it is the beater, dough hooks, or a whisk, and guess what- It automatically adjusts its speed to the optimal level for each task, I bet you did imagine that. This beater IQ Technology is what makes this Breville machine stand out among others. 
It has radiant silver color and measures approximately 8.5 inches in length, 10.25 inches in width, and 3.5 inches in height. just like the Electrolux hand mixer above, it is not too heavy as it weighs 4 pounds.
It is crucial to mention also that this Hand Mixer has a QUIET SCRAPER BEATER that prevents it from making any clinging or clanging in the kitchen. More importantly,  the rubber Scraper Beater maximizes contact with the bowl while minimizing sound, to ensure you incorporate all ingredients for more thorough mixing. 
Lastly, the exquisite
Breville BHM800SIL
has a pretty comfortable design. Its ergonomic handle creates a natural hand position that makes mixing a pleasurable experience. It is also a compact storage with a  detachable storage compartment that houses all the attachments and swivel cord so you'll love this mixer even when it's turned off.
It is safe to say that this KitchenAid Ultra Power hand mixer is light-weight and small but it tackles dense doughs and kneads them comfortably. It can knead as fine as a Stand Mixer and it whips perfectly fine too. 
The KitchenAid Ultra Power hand mixer
has five incredible speed options that mix your recipes to perfect tastes. On the flip side, this Hand Mixer includes only beater attachments (and no storage container)-sad! but it still does the mixing and whipping tasks pretty fine. 
The motor of this Hand Mixer motor is quieter than other hand mixers.
The beaters are dishwasher safe
, and the power cord also swivels, making it easy to maneuver whether you are left- or right-handed. Finally, its dimensions are 9.3 inches in length, 7.5 inches in width, and 5.6 inches in height. It is extremely lightweight as measures 2.95 pounds in weight
FAQs
What is the best hand mixer in the market?
I believe it is common knowledge that the best Handmixer in the market right now is the Breville
BHM800SIL. It is the best, majorly because it Aced every Kitchen Lab test from bread to cookies and more. It has nine speeds and three attachment options and it automatically adjusts speed for the task at hand.
How do I buy the best hand mixer?
It is completely normal to wait a while and do your homework on certain products before you dash out to the stores for purchase. This will save you a lot of pain and cost that may arise from purchasing an inappropriate product. You may want to look out for the accessories attached to a hand mixer before you make a purchase, you also want to consider other factors like; its speed variables, its weight, and whether it is corded or cordless.
What is the difference between Hand Mixers and Immersion blenders?
Hand Mixers are strictly built for combining recipes together, sometimes, they puree too but their primary function is the mixing and whipping of ingredients till they become like pastries. They are also good for kneading dough. On the flip side, an immersion blender is just like a regular blender but portable- It is as good as your
Vitamix immersion blender
. They are immersed in a bowl of recipes, swirled around and they blend, perfectly. Read on the
differences between an immersion blender and a hand mixer
here.
ESTIMATED TIME DESIGNING AND UPLOADING THIS ARTICLE
ESTIMATED TIME RESEARCHING AND WRITING THIS ARTICLE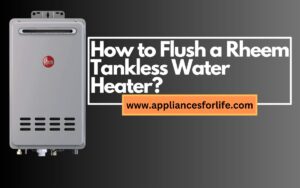 How to Flush a Rheem Tankless Water Heater
What makes a home modern in the world we live in today? Is it defined by the number of chic pieces of furniture in the living room? The automation of voice control that makes you say a word, and your window blinds open up? Or
Read More »