Every appliance in the home is a solution to some problems. Long before the modern age, some of these appliances were never thought of because people didn't see how the world could be improved at the time. Technology was just coming up but the sooner people began to realize how the world could be made better, innovations began leading the race, and this move paved the way for some of the appliances we are enjoying in our homes today. The modern age has ushered in a new way of getting all our domestic chores done. The convenience that these modern appliances bring is one of the things that make them indispensable in the world we live in today. This also explains why the United States appliance market has become the biggest appliance market in the world with a market value of $37.6 billion as of 2018.
A Wikipedia post defines vacuum packing "as a method of packaging that removes air from the package before sealing." The process is simple and straightforward as it involves removing air from the inside of the package before sealing it after the items must have been placed in a plastic film package. The idea is to get rid of oxygen from the container which will, in turn, prolong the life of the food items you've placed in the film package, making them last longer than usual. Once oxygen has been removed from the package, this method of preserving food also prevents atmospheric oxygen from getting into the package. This way, the growth of fungi or aerobic bacteria will be limited, and that means that your food's volatile components will not be able to evaporate, leaving the food with all its nutrients. The method is ideal for both long and short terms. For the long-term, foods like smoked fish, crisps, cured meats, and many more can last many months in the vacuum package without getting spoiled.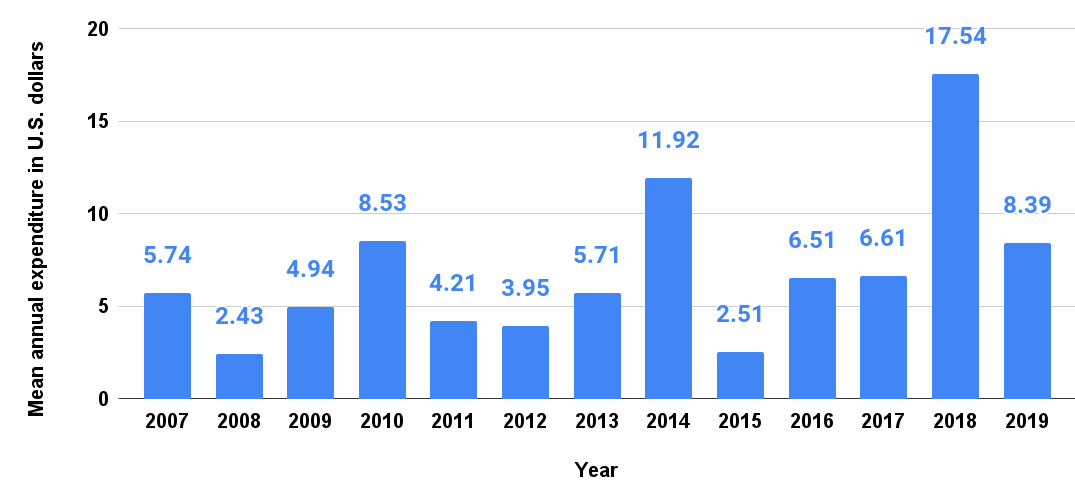 The chart above was created based on the statistics provided by Arne Holst of Statista, and it shows the mean annual expenditure on miscellaneous household appliances per consumer unit in the country from 2007 to 2019. These statistics show just how much people in the country spend on miscellaneous household appliances over this period, and you can see from the chart above, the numbers have never been stable. $5.74 was recorded in 2007 before a record low-point was reached a year later with $2.43. The trend continued in 2009 with a slight increase to $4.94 and almost double that figure in 2010 with $8.53. The number reduced back to $4.21 in 2011 and further dropped to $3.95 the year after that. An all-time high was recorded in 2018 with a record-breaking $17.54 before dropping by almost 50% in 2019 to $8.39.
A lot of people have invested heavily in vacuum sealers because they provide additional cover for refrigerators when it comes to food preservation. This way, you will be saving yourself a lot of money as these vacuum sealers will help you preserve your food such that it will stay fresher for longer. The process that involves the sealer sucking the air out of the film package is the one that makes your food stay fresher for longer. You will find this packing particularly helpful if you're the type that loves to do bulk shopping. Investing in a vacuum sealer will do you a lot of good because the basic job of a vacuum sealer is to help you seal and preserve your food products, but not only those but also household items too. Technically, refrigerators can preserve food, but for how long? Vacuum packing/sealing just seems like the best way to get this done. This is why topics like "Chambers vacuum sealers vs Foodsaver vacuum sealers" have trended for years.
According to Eat With Chef, vacuum sealers are not just meant for food. The fact that they are meant for short and long-term storage means that you can use them to preserve other things rather than only food. You can prevent your silverware or even your jewelry from losing its luster by putting them in a vacuum-sealed bag. A vacuum sealer can also prevent papers from deteriorating, which means your important documents can be preserved using a vacuum sealer. Knowing that even a restaurant vacuum sealer does more than preserving food is enough reason to want to invest in these vacuum sealers. Versatility, efficiency, durability, are all some of the things you'll get to enjoy if you make the bold move of taking chances with these sealers. The good thing about them is that they don't cost much compared to what will be lost if your food items get perished.
Types of Vacuum Sealers
There are three types of vacuum sealers you can get in the market at the moment, and we're going to be discussing them below;
External Vacuum Sealers
External vacuum sealers operate by having a bag attached to the machine externally rather than from within. These are the sealer types that are common in many households across the country, and that's because people find them very easy to use compared to the other types of vacuum sealers. External vacuum sealers come in compact designs. This explains why people find them very appealing and easy to use. They are called external vacuum sealers because the vacuum packaging is done outside the machine. From air removal to sealing the bag, all these things are done externally with the help of a heat sealer which is mostly used to seal the film package.
Ease of use is one of the reasons why people prefer to opt for them over the other vacuum sealers. While using an external vacuum sealer, you can hold the bag. This leaves you in total control over the package you're trying to seal. Also, since most of them come in compact designs, it means they can be operated using batteries. Regardless of the size of the vacuum channel, you can use an external vacuum sealer to seal any size of the bag because, with it, size doesn't matter. If you own an external vacuum sealer, the cost of maintenance is not as high as if you're operating any of the other types of vacuum sealers.
Single Vacuum Chamber Sealer
Chamber vacuum sealers, unlike external vacuum sealers, are meant for industrial or commercial purposes. This type of vacuum sealer operates by having the entire product placed in the machine. This is contrary to how an external vacuum sealer works. The similarity is that a plastic bag is needed for packaging. The plastic bag containing the product is then placed in the machine after which the lid will close and air will be removed. The sealing of the bag is done by the heat produced from within the chamber. Single vacuum chamber sealers look more like a mega microwave oven, or even a dishwasher, so they're nothing compared to an external vacuum sealer which has a more compact design. We mentioned earlier that this machine is adopted for low-to-medium volume packaging. It is also used to seal liquids as a result of the equal pressure present in the chamber.
Double vacuum chamber sealer
A double vacuum chamber sealer is more like the one we've just discussed (single chamber). It features two chambers instead of one, and it operates almost the same way as its single chamber counterpart. It is the best vacuum sealer for larger items, and that's why it's regarded as a commercial vacuum sealer.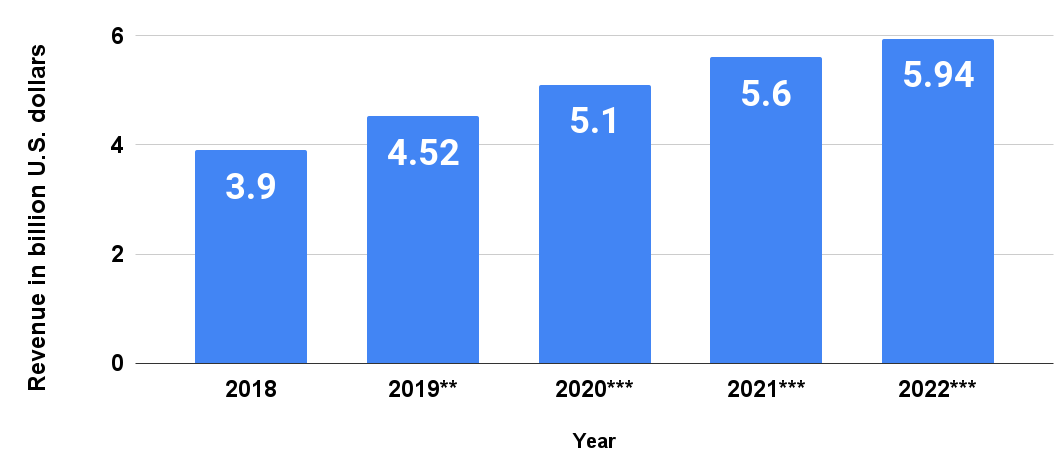 The chart above was created using the information provided by Lionel Sujay Vailshery of Statista on the 24th of March, 2021. The chart shows the revenue generated from connected home products in the United States in 2018 which amounted to a total of $3.9 billion. 2019 had an estimated $4.52 billion while figures for 2020, 2021, and 2022 have been predicted to stand at $5.1 billion, $5.6 billion, and $5.94 billion respectively. This further proves that the United States is undoubtedly the biggest appliance market in the world at the moment.
What to look for in a vacuum sealer
You'll be making a great mistake if you go into the market in search of an ideal vacuum sealer without conducting proper research. Just like with every other household machine, there are certain things you need to put into consideration before purchasing a vacuum sealer. Each factor needs to be seriously considered before you decide on which vacuum sealer to buy. We have outlined the most important factors below;
Efficiency/Power
An efficient vacuum sealer has a powerful motor that is capable of giving you what you want. That's the kind of vacuum sealer you should be after. More power means the vacuum sealer will be able to efficiently draw out more air so your food can stay fresher for longer. Purchasing an efficient vacuum sealer packed with a strong motor which means more power, the shelf life of your food can be as long as 12 months. However, manufacturers seldom indicate how much power a vacuum sealer is packed with but one of the best ways to know is from the cost. If a vacuum sealer seems to be in the same category as the other ones you can find there but seem slightly more expensive for no clear reasons, then it should be because it has more power than the other vacuum sealers.
Seal
The seal is another important factor to consider before deciding on what vacuum sealer to purchase. Kitchen Reviewed thinks the seal is just as important as power when you're deciding on which vacuum sealer to settle for. If you don't get a vacuum sealer with a good seal, the shelf life of your food will be destroyed and that forfeits the whole purpose of having a vacuum sealer in the first place. You want a vacuum sealer with a large, strong seal bar with multiple sealing wires.
Ease of use
Ask 100 machine operators and 95% will tell you they'd rather operate a machine that is easy to use. Nobody likes to go through stress before operating a machine successfully, and that's why ease of use is also an important thing to consider when you're purchasing a new vacuum sealer. You want a vacuum sealer that is easy to control and has all its control buttons labeled properly, so you can have a clear idea of what each button is meant to do.
Durability
Even if you're going to compromise on some of these factors, durability is not something you should compromise on. Getting the best value for your money is not something you should take chances with. Whether it's an external vacuum sealer or a chamber vacuum sealer, you should always look to get the one that will last longer. Nobody purchases a vacuum cleaner and hopes to spend extra money replacing it in a matter of months. The best way to know which vacuum sealer is durable is the material it is made of. If a vacuum sealer has all its body parts made of plastic, then you should know it's one to avoid, unless, of course, you're on a budget that limits you to get a vacuum sealer that is not all that durable. Otherwise, you should look to get a vacuum sealer made of steel because you know you will get the best value for your money.
Other things to look for in a vacuum sealer
Frequently Asked Questions
1. Where can I buy a vacuum sealer?
Vacuum sealers are not hard to get, and they are always available at most local appliance stores. You can also purchase them online, but before you do, try to read reviews of the products from people who have used the machine. That's the only way to have more information (pros and cons) of the product.
Check out our article on the best vacuum sealers for food here.
2. Why do people vacuum-seal food?
The concept of vacuum-sealing is very clear, and it's to help preserve food items so they can last longer.
3. What is the newest Foodsaver model?
You can check our latest models of Foodsaver vacuum sealers here
4 .Does vacuum sealing work?
Vacuum sealing works effectively if you can get your hands on a powerful vacuum sealer with a powerful motor.
5. Are vacuum sealers worth it?
Yes, they are worth it, depending on the quality of the vacuum sealer you decide to invest in. We've discussed some important factors to consider before purchasing a vacuum sealer, and once you put those factors into consideration and the vacuum cleaner you choose tick all the boxes, it's always worth it.
Conclusion
Vacuum sealers are also significant investments, so you need to be careful when you're settling for one. We've highlighted what to look for in a vacuum sealer before deciding to invest in one. Without a doubt, vacuum sealers do more than they get credits for, and that's how efficient they are. Putting all these factors in check before purchasing any vacuum sealer is extremely important and will help you decide what's best for you.
ESTIMATED TIME DESIGNING AND UPLOADING THIS ARTICLE
ESTIMATED TIME RESEARCHING AND WRITING THIS ARTICLE