Long before vacuum sealers were made, people didn't think that a day would come when people would embrace a new machine inspired by technology. Most people were so used to the traditional methods of preserving food that they didn't think machines that would make food preservation a whole lot better would ever be made. Andrew Aaronson pointed out in one of his posts for Medium that vacuum sealers have been around since the Second World War. He said these vacuum sealers were invented to preserve food for soldiers who were going to be away for a long time. This move was made to ensure the soldiers had enough food to keep them in good shape so they could be in peak conditions. Before this time, people had several ways of preserving their food items, but none of these methods was effective enough to keep their food fresher for a longer period.
Since its invention, the vacuum sealer has made a worldwide statement, presenting itself as an effective solution for a problem that had survived many decades without being solved. Some people would argue that refrigerators can provide the same preservation a vacuum sealer can provide, but we all know that's not a good point. The refrigerator will also play its role in keeping the vacuum bag sealed by a vacuum sealer protected, but without a vacuum sealer, some things could happen to perishable foods when they're placed in the freezer without protection. We're talking freezer burns, the food losing its taste, not staying fresh, and many more. If refrigerators could preserve food for a longer period on their own without needing a vacuum sealer, then maybe vacuum sealers would not have been invented after all.
We've now gone from traditional methods of food preservation to counting on vacuum sealers to get the job done for us. That's one of the easiest transitions in the history of home appliances because the problem of food preservation was a big issue until vacuum sealers came to the rescue. Thanks to Karl Busch who is credited for inventing the first vacuum sealer, we now have things to count on whenever we think of food preservation in the modern world we live in today. He is just one of the many reasons why we are where we are in the world today, alongside many inventors whose genius ideas are paving the way for new innovations today. In the world we live in today, we can't afford not to have innovative appliances that would ease the pressure from the other aspects of our lives.
Modern appliances have played a huge role in our lives, and it's no surprise why people keep investing heavily in them every day. You can tell because modern homes are now defined by the modern appliances in them. People do not just purchase these appliances for the many functions they can offer, although, those seem to be the primary objectives. However, many people are blown away by how beautiful modern appliances can make their kitchen look. The flair that comes with having a stainless steel or matte black appliance in your home for a functional, as well as a decorative reason, is exactly why people don't mind the cost but would land their dream appliances regardless.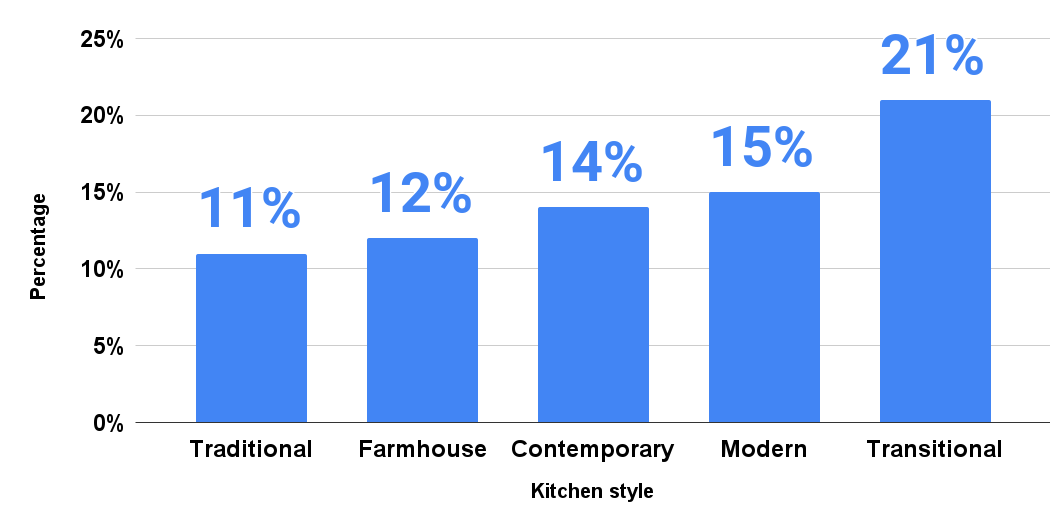 The chart above was created by the information provided by Koen van Gelder, a research expert for Statista, and it shows the top kitchen styles in the United States in 2020. This further proves that the modern style is taking over every household across the United States, making it one of the most popular kitchen styles in the country as seen in the chart above. In 2020, only 11% of households in the United States opted for the traditional style. The farmhouse kitchen style accounted for 12%, proving that traditional was the least kitchen style in the United States in 2020. The contemporary kitchen style took slightly more space than the other kitchen styles as it accounted for 14% of the kitchen styles across the country. 15% of U.S. respondents had the modern kitchen style in 2020, which further shows how people in the country love to have that modern style in their homes. Taking the lead in 2020 was the transitional style amounted to 21%, making it the leading kitchen style across the country.
What you need in a vacuum sealer
Earlier in this article, we discussed the importance of having a clear idea of what you want in a vacuum sealer before heading out to make a purchase. The real mistake is when you decide on which vacuum sealer to buy without knowing if that's what's needed in your house. This is a common mistake, and we always try to make our readers avoid it whenever we're reviewing some products. Some factors need to be put into serious consideration before settling for a product. In the case of a vacuum sealer, you need to know if there are things you need in the vacuum sealer before purchasing it. Below are some of the most important factors we think you need to look for in a vacuum sealer before purchasing it.
Sealing
Sealing is an important part of every vacuum sealer, and if you're purchasing one, you need to be sure its sealing functionality is exactly what you need. To decide on the sealing power you need, you'll have to look at your needs. You need to ask yourself questions like; what am I going to be doing with my vacuum sealer? What kind of food will I use my vacuum sealer to process? Do I need my vacuum sealer for other things apart from food? Once you find the answers to these questions, you'll be able to tell which vacuum sealer you need as far as sealing is concerned. Some vacuum sealers for wet foods have special sealing modes that let you choose if you're processing delicate foods or normal foods, and that's very important knowing that you have those options.
Power
When purchasing a new vacuum sealer, you need all the power you can get, especially if you're going to be using it very often for other things apart from food. The efficiency of a vacuum sealer lies in how powerful its motor is, so if you want an efficient vacuum sealer, you need to get the one that has a powerful motor. It's hard to know which vacuum sealer is powerful and which one is not. Some manufacturers don't indicate these specs on their products, and it might be hard to figure how powerful they are without those specs. However, a great way to determine how powerful a vacuum sealer is its price tag. If many vacuum sealers seem to be in the same category but one is priced higher than the others, you should know that it is the most powerful one. That is where the secret lies.
Cost
This is one of the most important factors people look to put into serious consideration when purchasing a new vacuum sealer. The quality of the vacuum sealer you're getting indeed depends on how the product is priced. A stainless steel vacuum sealer will be priced higher than the one that is made of plastic because the quality of the former is far superior to the latter. However, the fact that the quality of a vacuum sealer depends on its price doesn't mean that you will not find a quality vacuum sealer that fits right into your budget. If you're looking for a quality product, you need to be prepared to spend the money. Thankfully, there are lots of budget-friendly vacuum sealers in the market today. Later in this article, we'll be looking at the best vacuum sealers under $100, and we hope you find the one that best fits your budget.
As an Amazon Associate we earn from qualifying purchases. We may earn a small commission for our endorsement, recommendation, testimonial and/or link to any products or services from this website. Thank you, your qualifying purchases help support our work in bringing you real daily gift ideas.
Best vacuum sealer under $100
This Nesco VS-02 food vacuum sealing system is one of the best affordable vacuum sealers you can get your hands on at the moment. Despite being an inexpensive machine, the vacuum sealer has been lauded by many for its quality and smooth operation. A happy customer raved about the product online, "Nesco sealed very well and with separately purchased canisters, sealed sugar and flour very well." Its high ratings all across several online markets show just how much people find it very helpful. People particularly love that with all the qualities it comes with, it has managed not to compromise on quality, which is how you identify a great vacuum sealer.
Features
Automatic Operation
One of the many benefits of modern vacuum sealers is that they operate automatically, and the ease of use is one thing people find very appealing. Its one-touch vacuum sealer operation makes it a great option for those who want a machine that can easily be controlled.
Roll Storage Compartment
This Nesco vacuum sealer comes with a roll storage compartment that features a sealing tray that can fit up to 11.8 inches of roll bag material as well as a bag cutter.
Additional Accessories
If you invest in this machine, you'll also enjoy 5 11 x 11.8 inches bags, 5 8.66 x 11.8 inches bags, and 2 rolls of 8.66 x 9.8 inches bags.
With many tagging this vacuum sealer the "best budget vacuum sealer," Geryon vacuum sealer is one of the best vacuum sealers under $50.You would be making a big mistake if you judge the quality of the machine by its relatively cheap price. Despite carrying that price tag, its quality is one thing people love about the machine, and they haven't hidden their love for it. Its multi-layer heat helps seal to get the air out of your food, prevent freezer burn and food waste.
Features
Separated Design
What makes this vacuum sealer special is not just its functionality, but also its design. It is designed such that you can take off the upper lid when it's time to clean. This ensures that you can clean the machine safely and easily.
Works with bags from other brands
We don't have too many brands that produce vacuum sealers that can work with bags manufactured by other brands. This is another big reason why this machine is loved by many. As long as you can figure out the right size of bags and rolls, you shouldn't have a problem using this machine with other bags.
Two Sealing Modes
The fact that different foods have different natures and require different modes of preservation makes food preservation a complicated process in the first place. However, you don't have to go through this complication when you have this Geryon machine that comes with two sealing modes.
Looking for the best vacuum sealer under $75? This Megawise vacuum sealer should be one of the first options on your list. For a vacuum sealer that falls under this category, it is surprising that it comes with all the exciting features you can think of in a quality vacuum sealer; one-touch operation, bags and cutters, different seal modes, and many more.
Features
Efficiency
We discussed how important power is in a vacuum sealer. This Megawise vacuum sealer is one of the first machines you should turn to if power is your priority. Its 80kPa powerful suction guarantees quality heating wire and airtight seal that can happen within 20 seconds.
BPA-free Bags
This vacuum sealer is packed with BPA-free bags plus an external vacuum system that you can use to manage all your foods. It is always nice to have free bags available to you whenever you purchase a new vacuum sealer. With this machine, you'll have access to 10 high-quality bags.
Built-in Sliding Cutter
You'll also get to enjoy the built-in sliding cutter that'll give you a chance to smother bags quickly without making much effort.
Mueller produces some of the best appliances on the appliance market at the moment, so it's no surprise that the brand's vacuum sealer is worthy of a spot on this list. The reviews online show just how much of a quality you'll get to enjoy if you decide to invest in this vacuum sealer. From its compact design to its functionality, there's so much to be excited about in this vacuum sealer.
Features
Dual Sealing Modes
While this is a feature that is mostly found on vacuum sealers, it's great that this vacuum sealer happens to be in that category despite coming with a fair price tag. Its dual sealing modes leave you with enough options and give you total control over how your food is processed.
Additional Accessories
Purchasing this Mueller vacuum sealing means that you'll also have access to a suction hose, a long waterproof vacuum bag roll, and 5 medium reusable vacuum bags.
Automatic Operation
You'll also get to enjoy automatic operation when you decide to purchase this vacuum sealer. It means you don't have to stress yourself while operating it.
Frequently Asked Questions
1. What is the best inexpensive vacuum sealer?
All the vacuum sealers we've reviewed in this article would seamlessly fit into the category of the best inexpensive vacuum sealer.
2. Are vacuum sealers worth the money?
You may never know how much money a vacuum sealer is saving for you until you find yourself in a situation where a vacuum sealer would be the ideal solution.
Conclusion
The best vacuum sealers under $100 have been reviewed having highlighted the features that come with each vacuum sealer. Every vacuum sealer has its strengths and weaknesses, but we've focused more on the strengths of each vacuum sealer. You can read reviews of each of these products so you can have a better idea of what people who have used each product in the past have said about them.
ESTIMATED TIME DESIGNING AND UPLOADING THIS ARTICLE
ESTIMATED TIME RESEARCHING AND WRITING THIS ARTICLE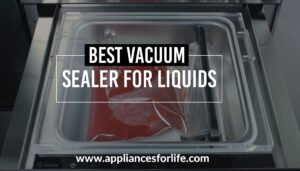 Top 5 Best Vacuum Sealers for Liquids
Different people invest in vacuum sealers for different reasons. For some, it is to preserve their food, which is considered to be an ultimate reason for anyone to get a vacuum sealer, especially in a world that is filled with environmental factors that can affect
Read More »