It's one of those summer nights when the air is hot from the effect of the superhot sun that had ravaged the day. Your air conditioner is meant to save the night, but even it can't cool the room because it's leaking water and it's not functioning properly. 
You're stuck in your room, sweating in the heat, thinking of the things you could be doing if the AC had come through for you rather than just hoping the day comes to save you from the scorching heat. And you could truly have been doing something else. You could have taken a long journey into the dreamland having some sweet dreams because the temperature of your room is cool enough to ensure you have a great sleep. Instead, you're stuck in a room with a hot temperature and there's no way you're having a good relaxation time. Picture yourself in this scenario and come up with a more frustrating situation than this.
The AC industry in the United States is one of the biggest in the appliance market, generating millions of dollars yearly. According to Grand View Research, the total AC market in the United States was worth around $16.54 billion in 2021 and is expected to hit a whopping $26.93 billion by 2030, with the increasing use of air conditioners. The AC industry is dominated by the big names: General Electric, LG, Samsung, Haier, and Carrier to mention but a few.
The main market for AC units is the residential sector, with the commercial sector a distant second. Over the next few years, the AC industry in the United States is expected to continue its growth, with demand for air conditioning in the residential, commercial, and automotive sectors. This has led to the development of new and efficient AC technologies.
The air conditioner, as an appliance, is a big deal in the United States. It is the most common household appliance and is found in most homes. Nearly half of Americans have an air conditioner in their homes, and almost everyone who lives in the United States has used one at some point. The number of air conditioners in the United States has increased dramatically since the early 20th century when most homes had no air conditioning. Today, almost every home in the United States has an air conditioner.
Having an air conditioner in your space will definitely save you from a lot of trouble, especially in the summer. Not only will it make your space feel much more comfortable, but it will also help you save energy and money. There are a variety of models available, so it is easy to find one that suits your needs. Generally speaking, the larger the unit, the better the cooling power. In addition to that, there are also smaller portable AC units that are great for when you need to cool down a small area, such as your bedroom or office.
However, not all AC units are created equal, and some can be quite noisy and disruptive. If you want to find the quietest units out there, conduct thorough research on the quietest ACs you can find on the market, which includes reading online reviews. Some companies are known for making some of the quietest AC units on the market, so you will be making a great choice if you invest in one of them.
Portable AC is one of the most popular AC types because it is quite affordable and small, which makes it a great fit for most homes. They are also quiet and energy-efficient, making them an environmentally friendly option. While most portable AC units are designed to cool a single room, some are designed to cool larger spaces, such as a whole home. This allows you to save energy by adjusting the temperature in just one room instead of cooling an entire home. Some portable AC units also come with features such as a remote control, which allows you to control the AC from anywhere in the room, and a timer, which automatically turns the AC off after a set amount of time so it doesn't waste energy.
Current AC units use technology to cool the air, but they have limitations like not being able to cool large areas, and being loud. Because of these limitations, portable AC has become a popular choice for those looking to cool their spaces without breaking the bank.
Anticipating AC problems and knowing what to do to fix them is essential if you want to get your AC to last for many years. With so much information available, it's hard to find even the simplest solutions. There is so much information about various components of your AC that it can take weeks to find the right parts. For that reason, it's important to take some time to learn about how the AC works and to get familiar with the parts you need to replace.
Anticipating AC problems and knowing what to do to fix them is essential if you want to get your AC to last for many years. The first thing you should do after you notice your AC is not working is call a technician to come out and fix it. AC repairs are typically costly and sometimes require a visit to the indoor or outdoor unit, but they'll keep your home comfortable and the unit from getting worse. Not only will an AC repair keep your unit from getting worse, but it will also keep your energy costs down and your AC from failing again.   Anticipating AC problems and knowing what to do to fix them is essential if you want to get your AC to last for many years.
There are a few things you can do to ensure your AC runs efficiently, is cool enough, and won't leak. This article will teach you the basics of AC repair, so you can save money on repairs and keep your AC running for as long as possible. Maybe you're thinking of getting an AC unit for your home, or maybe you already have one and are ready to repair it. Regardless of where you are in the process, you'll want to know how to repair an AC unit.
Before we get into AC water leaking problems, we want to quickly look at why portable ACs are growing more popular, so if you're thinking of getting one in your room, you should pay attention to the benefits below.
Why You Should Get A Portable AC
There's a lot to be loved about portable air conditioners. Not only do they provide a cool breeze in the stale summer heat, but with their great versatility, they are almost infinitely customizable, and can be set up in almost any place. For those looking to save a little money, they are a great budget option, and they're easier to carry than traditional window units, and can even be purchased and installed for less than $100, a great deal for a portable unit.
They're easy to use, they provide cooling, and they save you money on your power bill. They're air conditioners that travel around with you. You can have reliable cooling in even the worst weather conditions and transport it just about anywhere. Portable air conditioners have a host of advantages and offer a variety of benefits, whether you're in an office, a home office, a dorm room, or any other indoor space.
Let's explore some of the benefits of a portable AC below;
They're Extremely Affordable
People who are on a budget may not have the luxury of spending a lot of money on an air conditioner. As a result, they often opt for a portable air conditioner because it is extremely affordable and will get the job done at the end of the day. These units are easy to move and can be used in a variety of settings. They are also energy-efficient, so they can help to save on energy bills. Generally speaking, portable air conditioners are a great option for those who are on a budget and want to keep cool in their spaces. They also come in a wide range of styles and sizes so that they can meet the needs of virtually any space.
The only downside is that they don't offer the same level of comfort or quality as a traditional AC unit. However, there are a number of features available on portable air conditioners that can make them just as comfortable as their traditional counterparts. Some of the most popular features include heat and cool settings, quiet operation, auto or program modes, and energy-saving modes. All of these features make portable air conditioners an excellent option for people on a budget.
Available In Different Models
Today, there are a variety of different models of portable air conditioners on the market, and each one offers a different level of comfort and performance. Some of the more popular portable air conditioners are those that are battery-operated, while others are electric. The best portable air conditioners will depend on the needs of the individual, and the best way to find out which model is right for you is to research the different options.
They're Very Easy To Move Around
Unlike a traditional air conditioning unit, a portable air conditioner is small and lightweight, making them easy to move from one room to another. These units also have a much smaller footprint than traditional AC units, allowing you to place them almost anywhere in your home. They also consume less energy, making them a great choice for those looking to save money on their energy bill. Unlike a traditional air conditioner, a portable air conditioner doesn't require a separate cooling unit. This means that you won't need to purchase two separate units to get the cooling you need.
Portable air conditioners are so mobile that even when you're going on a trip, you can take them along with you. Most of them don't need electricity as they're battery-powered, so you don't have to worry about whether or not there's electricity where you're going. If you're looking for an air conditioner that you can take on trips with you, then a portable air conditioner is a great option to consider.
They're Energy-efficient
Portable air conditioners use less energy than traditional air conditioning units, so they help save on costs. They can also be used anywhere, so they are convenient. But the biggest reason to consider portable air conditioning units is that they are more energy-efficient than traditional air conditioning units.
They can also be used in a wide range of settings from offices to outdoor spaces. Some even come equipped with a heater to keep you warm on cooler days. They can be used in single rooms or whole houses, and they are easy to move from place to place. They also offer a host of additional features, including remote controls and programmable settings.
Easy Installation
Another thing people love about air conditioners is that the installation is not complicated as you'll only need a window for the exhaust hose and an electrical outlet. All you have to do is pull up to the unit, take off the cover, attach the hoses, and plug it in. Some units also include a remote, so you can turn it on and off from anywhere inside your home. This is especially convenient if you want to keep the unit on even when you're not directly close to the air conditioner.
Why Is My Portable AC Leaking Water?
With all the benefits that come with using a portable air conditioner, if you don't maintain it properly, it's only a matter of time before it breaks down. If you've been using a portable air conditioner for a long time, you likely understand how important it is to make sure that your air conditioner is in good condition.
That's why keeping your unit in good condition is so important. It doesn't matter whether you're using a regular unit or getting a unit with an aqua-blend filter, there are plenty of ways to keep your unit working as efficiently as possible.
If your portable air conditioner starts leaking water, you should know there's a problem that needs to be fixed as soon as possible. We're going to be exploring some of the possible causes and how you can solve them.
Cracked Condensate Tank
When the condensate tank is your AC's drainage method, it takes moisture captured by your AC from the air. This tank needs to be regularly emptied, even when you set your AC to regularly drain moisture. If the tank is full or is cracked, it will definitely leak water, so you have to check it out as soon as possible.
To troubleshoot the condensate for leaks, turn off the AC and ensure it's unplugged from the electric outlet it was plugged in. You'll need to place the AC on an elevated surface – a stool can help in this case, just ensure it is strong enough to hold the weight of the portable AC. Set the AC such that the drain spout is exactly over the edge of the stool. Place a container under the drain spout and allow the water in the tank to drain properly before replacing the drain cap.
Now that the condensate tank is empty, plug the AC back in and let it start running. If you notice that water is leaking, it's possible the condensate tank has cracked. In this case, you'll need to contact a skilled technician to help you fix it. According to HVAC Traning Shop, condensate tanks are not user-serviceable, but identifying the problem will help reduce the workload on the technician and give them enough information to work with.
Damaged Drain Hose
If you're wondering why your portable AC is leaking water, just take a quick look at the drain hose if it's in its perfect working condition. It's simple: if that drain hose is clogged, or has been punctured and isn't being repaired, water is backing up into the unit. That's bad. It happens because the drain hose is often hidden away behind a false wall or under a baseboard or other cover, and the water can't drain out as it should. It often ends up getting back up into the wall itself or even dripping through the baseboard and onto the floor, making a huge mess that takes forever to clean up.
If you've opted for a drain hose instead of a condensate tank, you don't have to ever worry about emptying any tank when it's full. The drain hose will take water directly outside, but if it's clogged or punctured, the water passing through it may make a mess of your room. You need to make an instant move when this happens – solving the problem should always be a priority.
If the drain hose is clogged, it'll be almost impossible for water to pass through it to be drained. This will result in the water accumulating in the AC and it's only a matter of time before it starts leaking. Routine maintenance could help you prevent buildups and clogs. Every month, take out the drain hose and run some bleach through it. This will eliminate anything that could cause any growth in the drain hose.
The drain hose can also be cracked. In most cases, you'll have to replace the hose, especially if it's not long enough for the affected part to be cut out.
Frequently Asked Questions
Why is my LG portable AC leaking water?
A host of things could cause your portable air conditioner to leak water. There are at least five: refrigerant leaks, improper maintenance, a damaged air conditioner, an empty water bottle, and incorrect installation. Early detection is the key to preventing water damage, so you should always watch out for the signs so you can fix them as soon as possible.
Is dealing with AC water problems difficult?
AC water leaks can give put you in a difficult position. However, if you can detect them early and find the source of the problem, you can always solve them before they cause more havoc.
Wrapping Up
Portable ACs are your best bet if you're on a very strict budget yet you still want something that will work very efficiently. However, these portable air conditioners need routine maintenance if you want them to keep functioning properly. To ensure this, make sure to schedule a portable AC repair service. This will ensure that your AC is serviced on a periodic basis and that nothing is overlooked.
If your portable AC has water leak problems, you will need to identify the source of the leak and repair it as soon as possible. You can easily isolate the source of the leak if you have a trained eye, by checking the air conditioning filter for holes and checking the airflow in the ducting. If the airflow is too restricted, you might need to clean the filter further and replace the filter. If the airflow is restricted and the AC is not working, the most likely cause is a clogged vent or a clogged air filter. You may also need to check the evaporator coil, the condensate drain, the vent duct, and the blower fan.
Why is my LG portable AC leaking water? We've addressed some of the causes and the best solutions in this article.
ESTIMATED TIME DESIGNING AND UPLOADING THIS ARTICLE
ESTIMATED TIME RESEARCHING AND WRITING THIS ARTICLE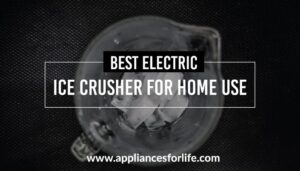 Top 3 Best Electric Ice Crushers for Home Use
Summer madness can be very hard to keep up with sometimes, especially having to keep your body hydrated with cold drinks, which is the only thing some people can think of as the best solution. Having a machine you can use to crush ice at
Read More »