Top 5 Best 27-inch Electric and Gas Wall Ovens Comparison Table
| Image | | | | | |
| --- | --- | --- | --- | --- | --- |
| Name | GE JKS3000SNSS 27-inch Stainless Steel Wall Oven | Frigidaire FGET2766UF 27-inch Stainless Steel Double Electric Wall Oven | Viking VDOE527SS Professional 5 Series Stainless Steel Double Oven | KitchenAid KOCE507ESS 27-inch Electric Microwave Combination Oven | GE JKD5000DNWW 27-inch White Built-in Convection Double Wall Oven |
| Brand | General Appliances | Frigidaire | Viking | KitchenAid | General Appliances |
| Total Oven Capacity | 4.3 cu. ft. | 7.6 cu. ft. | 8.2 cu. ft. | 5.7 cu. ft. | 8.6 cu. ft. |
| Voltage | 240 V | 240 V | 240 V | 240 V | 240 V |
| Timer | Yes | Yes | Yes | Yes | Yes |
| Color | Stainless Steel | Stainless Steel | Stainless Steel | Stainless Steel | White |
| Self Clean | Yes | Yes | Yes | Yes | Yes |
| Special Features | Scan-to-cook | Quick Preheat | Large Oven Capacity | EasyConvect Conversion System | Hidden Backlit LCD Control |
| Editor's Rating | ✸✸✸✸✸ | ✸✸✸✸✸ | ✸✸✸✸✸ | ✸✸✸✸✸ | ✸✸✸✸✸ |
| | | | | | |
With the holiday season fast approaching, it is normal that people are actively searching for the best kitchen appliance deals they can put their money on, including dishwashers, blenders, refrigerators, cooking ranges, and many more. Thankfully, this is also the time manufacturers and dealers offer mouthwatering deals and discounts on most of their products, making them very affordable for consumers to purchase. In a bid to ensure that their consumers get the best deals possible, manufacturers and dealers are working so hard that they make most of their products available to their consumers at very affordable prices.
With Christmas barely a month away, and New Year's a few days just after Christmas, it is only normal that people are beginning to make preparations for those family get-togethers, big dinner parties, and the functions we're all used to this season. It's also the time most families evaluate the appliances around their homes and decide which ones need to be upgraded, fine-tuned, or completely replaced. According to US News, many appliance brands around the world release newer models of their products between September to December, making the period the best time to find the most amazing appliance deals.
Wall ovens are understandably gaining more prominence on the market around the time where people are looking for how to comfortably cook big meals for big families with the holiday season coming thick and fast. Thankfully, just like with every other appliance on the market, people can get cooktops that are perfect for their kitchen spaces as well as their budgets. Wall ovens exist in different sizes and types, leaving people with enough options to choose from, although that might be a whole lot to do at the end of the day because of the thousands of options to choose from.
Choosing the perfect wall oven for your kitchen can be daunting as you'll have to put a lot of factors into consideration if you're to make the best purchase. You need to get your assignment done before going on the market in search of an ideal wall oven for your kitchen, regardless of the type you're looking to get. Factors like types, sizes, your kitchen space, budget, features, and power, are all things you can't avoid when purchasing a new wall oven.
It doesn't matter if you're a great cook, your skills will only get you as far without the right tools to bring your ideas to life. According to Fine Cooking, despite your skill playing a huge role in cooking, it's not the only thing you need to make a great cook. Other factors such as the recipes you adopt, the cookware you use, the ingredients you choose as well as the cooktop you have in your kitchen all come together to play a collective role in helping you achieve the best results.
There are always wall oven sizes for every kitchen, regardless of how big or small the space is. If you have a small kitchen space, you can invest in a 27-inch single wall oven and or a 27-inch double wall oven. With a 27" wall oven, you can get a 27-inch wall oven microwave combo, a 27-inch double wall oven with microwave, or a 27-inch convection wall oven.
If you own a small kitchen, then you'll most likely need a small-sized wall oven like a 27-inch electric and gas wall oven that is enough to handle cooking needs efficiently. Because choosing can be daunting as there are many options on the market, but we've done the hard work for you by researching the best 27-inch electric and gas wall oven on the market at the moment. Without further ado, below is a list of the best 27-inch electric and gas wall ovens you can get on the market today.
The Best 27-inch Electric and Gas Wall Oven
1. GE JKS3000SNSS 27-inch Stainless Steel Wall Oven
General Appliances, popularly known as GE, is a global brand that is ranked amongst the best, not just in the United States, but the rest of the world. The reputable brand is well respected around the world, thanks to the production of only quality appliances which mostly get high ratings and positive reviews from buyers across the world. The production of wall ovens like the JKS3000SNSS is one of the reasons GE will always be ranked as one of the best in the industry.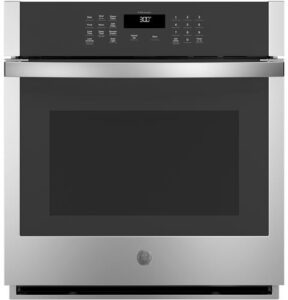 Features
Fit Guarantee
If you are replacing the wall oven in your kitchen whether from the same brand or other brands, as long as you're doing it with this GE 27-inch stainless steel wall oven, you're guaranteed an exact fit. If this doesn't happen, GE Appliances will help cover up to $300 in modifications to make sure the new appliance fits in perfectly.
Self-clean with Optional Steam Clean
Cleaning can be very difficult and it can even discourage people from opting for the appliances of their dreams. However, things are different with this GE wall oven as it features a technology that makes it clean itself. There are two cleaning options featured in the machine to make cleaning easier for you.
Scan-to-cook
People expect modern appliances to be packed with the latest technology, and that's what you'll enjoy if you invest in this GE wall oven. With the wall oven, you can prepare your favorite foods by simply scanning the barcode on the package of the food with your smartphone and letting the oven adjust its settings automatically to help you prepare the food.
Pros
It is easy to clean
One of the many good comments people have given about this wall oven is that it is very easy to clean because it comes with several self-cleaning features. Knowing that you don't have to do a lot when cleaning your wall oven, you'll be more than happy to know there's an appliance that guarantees that stress-free operation.
High-tech features
Operations are easier if you have access to the latest tech features, especially in this modern age. With this GE oven, you'll get to enjoy features like Glass Touch Controls, Remote Notifications, Self-cleaning Options, and many more.
Oven light
Despite being a much-needed feature in every oven, not every oven comes with it. Another thing you'll get to enjoy with your GE wall oven is the oven light.
Cons
Door does match with the upper control panel
Sometimes, you may get your hands on a GE wall oven whose door doesn't match with the upper control panel, and that may look very weird. You need to pay attention to details before deciding on which wall oven to put your money on.
2. Frigidaire FGET2766UF 27-inch Stainless Steel Double Electric Wall Oven
It's no news that Frigidaire has worked to the top of the appliance industry and is now regarded as one of the best appliance brands to ever exist. This Frigidaire 27-inch double wall oven is always widely regarded as one of the best you can get on the market today because apart from being a double wall oven, you can get your desired results with the oven's true convection as it can cook faster with both ovens, thanks to its powerful convection fan and an extra heating element.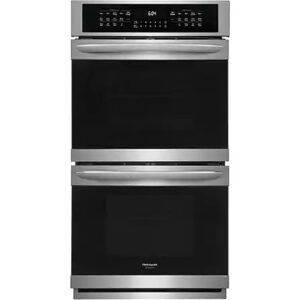 Features
Quick Preheat
The idea behind having a wall oven is to get things done as quickly as possible, and that's what you'll get with this Frigidaire wall oven, thanks to its Quick Preheat feature that can help you preheat in just a few minutes.
Large Oven Capacity
Each oven has a 5.1 cu. ft. oven capacity, making it one of the largest capacity ovens available on the market at the moment. The oven is large enough to accommodate large cookware, which means you can cook large meals in the oven without the fear of not getting your desired results.
Ready-select Controls
People who have bought and used this Frigidaire double wall oven have heavily praised the brand for creating such an easy-to-use wall oven. The wall oven comes with ready-select controls that you can easily use to control cooking temperatures.
Pros
Sleek design
People purchase appliances for many reasons other than the basic purposes the appliances are meant to serve. If you're looking for a wall oven that can add more beauty to your kitchen space, then this is such a great appliance to have around as its stainless steel finish will ensure that the other appliances are complemented.
Produces great results
A happy buyer, when asked to leave a review of the product, said "The cook it produces is spot on! I would recommend the wall oven to anyone looking to purchase a double oven."
Amazing Features
If you're looking to get a worthy upgrade on your old wall oven, this is a great way to go modern. This Frigidaire is packed with every necessary feature from Sabbath Mode to Delay Clean Option.
Pros
Initial price may discourage some people
For a double wall oven, the price tag seems a little decent, but some folks may still find it super high because some double wall ovens don't cost as much.
3. Viking VDOE527SS Professional 5 Series Stainless Steel Double Oven
If you want performance and luxury in one appliance, Viking is the go-to brand people often turn to, and the brand has been very consistent with producing quality appliances for its consumers, although pricing has been a major issue over the years. Viking claims this is the largest oven capacity in the industry as it is big enough to make room for all your cooking needs and we share that sentiment. It has a total oven capacity of 8.2 cu. ft., one of the largest capacity ovens you'll find in the industry today, with each oven boasting a capacity of 4.1 cu. ft. each.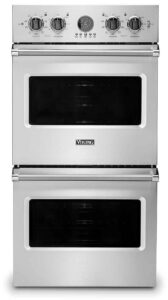 Features
Large Oven Capacity
It doesn't matter the size of what you're cooking, having this large oven in your space will always give you that confidence that your cooking needs can be achieved without fear. 
Patented Vari-speed Dual Flow Convection System
This dual flow convection system allows you to cook efficiently, thanks to what Viking claims to be the largest fan in the industry. The fan is an 8-½ two-speed fan that works bi-directionally to create maximum airflow, giving you the best cooking results at the end of the day.
Rapid Ready
Rapid Ready is Viking's preheat special feature that provides one of the fastest preheat times. This means that you can get your oven ready even before you begin cooking in it.
Pros
High performance
The Viking 27-inch double wall oven comes with a hefty price tag that can scare people off, but if you can afford it, you'll be getting your hands on one of the best-performing wall ovens of all time. It comes with high-performance cooking modes such as Convection Roast, Three-level Convection Broil, Convection Cooking, Convection Broil, Convection Bake, and Conventional Bake. The good thing is that this oven has high-performance convection modes in both ovens.
Halogen Lights
Cooking at night can pose a problem for many people, especially when the lighting in the kitchen is not enough to brighten up everywhere. With this Viking 27-inch double wall oven, you'll have access to three halogen lights that offer better visibility of the oven and its content.
Concealed 10-pass Dual Bake Element
Everything about this Viking wall oven is geared towards high performance as it also comes with the concealed 10-pass dual bake element that makes the oven cavity very easy to clean while constantly providing steady and precise temperatures.
Rated over other double wall ovens from other brands
Another thing people love about this double wall oven, minus the hefty price tag, is the fact that it is rated over 27-inch double wall ovens like the Bosch 27-inch double wall oven, Whirlpool 27-inch double wall oven, LG 27-inch double wall oven, Samsung 27-inch double wall oven, and Dacor 27-inch double wall oven among many others.
Con
Hefty price tag
For a double wall oven to be priced over the $8000 mark is somewhat unreasonable, but since Viking is a luxury brand, we're not surprised. A lot of people believe they can invest in equally quality double wall ovens that don't even cost half of what this Viking 27-inch double oven costs.
4. KitchenAid KOCE507ESS 27-inch Electric Microwave Combination Oven
If there's any wall oven people love and rate very highly, it's this KitchenAid electric wall oven with the combination of a microwave with an oven. It's not unusual that you see the combination of a microwave with a wall oven, but KitchenAid has found a way to make things look very special, and that's the effect the brand has given this oven. The oven also managed to feature a stylish design that gives a great balance of elegance without compromising on functionality. KitchenAid has packed the oven with convection options that can be used for either section of the oven to make sure that your food is cooked evenly.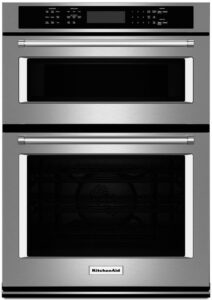 Features
Two Oven Sections
If you're investing in this wall oven, you should know you're purchasing a wall oven that also comes with a microwave oven, so you'll enjoy two oven sections; the upper and low sections. In the upper section, you can enjoy the Crispwave Microwave Technology together with a Crisper Fan. These features allow you to grill, cook, and fry with convection without having to use the oven section. In the lower section, you can prepare your favorite dishes, thanks to the included temperature probe.
Automatic Shut Down
Even when you're not anywhere near your oven while processing a meal, the machine will automatically shut down and signal that your meal is ready. This means that you don't have to worry about overcooking or undercooking your meal.
Even-heat True Convection Oven
To help you cook more efficiently, this KitchenAid 27-inch double wall oven is packed with an Even-heat True Convection Oven on the lower oven that helps provide consistent heating and even cooking.
Pros
Ease of use

Amazing features

Great oven combo
Cons
Loud operation

Microwave can't be separated from the oven even when faulty.
5. GE JKD5000DNWW 27-inch White Built-in Convection Double Wall Oven
The General Appliances brand has been one of the top picks of this generation and the ones before because the brand has survived so many years due to the production of quality appliances. This GE 27-inch double wall oven is highly rated on the market because it is packed with the right features that help make cooking easier and more convenient. You can achieve faster results thanks to its convection fan that comes with a third heating element to help circulate air for more efficient cooking. Although there are many options on the market, it is evident from the online reviews that this is one of the best double ovens you can get your hands on right now.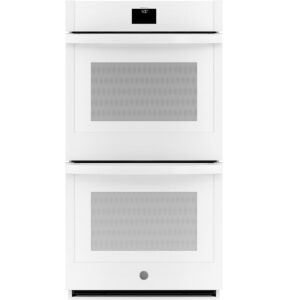 Features
Hidden Backlit LCD Control
To make your double wall oven easier to operate, it comes with a hidden backlit LCD control that makes the display easy to read while showing the clock when not in use.
Precision Temperature Probe
The GE 27-inch double wall oven also features an internal probe that allows you to monitor your meats and roasts to make sure that they are thoroughly cooked without having to open the oven door.
Scan-to-cook
You don't have to brainstorm to get through the tough cooking process with GE's Scan-to-cook which saves you time by allowing you to scan the barcode on the package with your smartphone while the oven automatically adjusts the settings of the oven to match the food you're looking to prepare.
Pros
White finish

Amazing features

Large oven capacity
Cons
Too pricey for some people

Fan is too loud
Frequently Asked Questions
1. Are wall ovens worth it?
The concept behind wall ovens is to have enough flexibility and convenience. This means that you can customize your cooktop and the oven to best suit your cooking needs, although you need to consider a lot of factors before making this decision. Some people would rather just buy one appliance (rangetop plus oven – range) than purchase two appliances that can cost more money.
2. Are wall ovens better?
Most people invest in wall ovens because they're a great way to maximize space in their kitchen.
Conclusion
Wall ovens are becoming more popular because people are actively looking for ways to maximize their kitchen spaces, allowing them to have a greater storage space under their cooktops at the end of the day. That's the kind of thing you'll get to enjoy when you invest in wall ovens and cooktops rather than a cooking range that is too hefty sometimes and takes all the space in your kitchen. If you've been looking for the best 27-inch electric and gas wall ovens to invest in, we've reviewed some amazing and highly-rated options in this article, and we believe you'll not regret choosing any of them. However, you can research each product specially before making your decision to ensure that you're purchasing the right product.
ESTIMATED TIME DESIGNING AND UPLOADING THIS ARTICLE
ESTIMATED TIME RESEARCHING AND WRITING THIS ARTICLE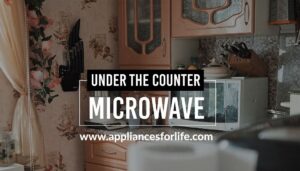 All About Under The Counter Microwaves
Microwaves were invented to make reheating and cooking a simple pleasure in life. Under the counter microwaves are designed to keep your kitchen as modern and simple looking as possible while still being practical. There are many reasons why you should think about putting your
Read More »