An air conditioner freezing up can really put a dent in your budget or your emergency savings, not to mention make for a horribly uncomfortable summer. There are certain things you can do to solve the problem without having to dip too far into your wallet.
Not knowing what to do in the event of an air conditioner that keeps freezing up could cost you a ton in the long run. You need to assess the problem that caused your air conditioner to freeze up quickly and then manage solutions based on your budget and level of expertise. Then, after assessing the problem and fixing it, make plans and a budget for buying a new unit so you'll be prepared when you do eventually have to replace your unit could save you a lot of stress in the long term.
Below are five choices for air conditioners.
Comparison Table of the Best Air Conditioner
| Image | | | | | |
| --- | --- | --- | --- | --- | --- |
| Name | Frigidaire GHWW063WB1 Smart Window Air Conditioner | LG LW2516ER Window-Air Cooling Unit | Frigidaire FHWW103WB1 Smart Window Air Conditioner | LG LW1816ER Window Air Conditioner | Frigidaire FFRE053ZA1 Window Air Conditioner |
| Manufacturer | Frigidaire | LG | Frigidaire | LG | Frigidaire |
| Product Dimensions | 21.25 x 13.4 x 19 inches | 28 x 17 x 26 inches | 19 x 14.5 x 21.5 inches | 28 x 17 x 26 inches | 18.6 x 12.75 x 15.7 inches |
| BTU | 6,000 | 24,500 | 10,000 | 18,000 | 5,000 |
| Product Weight | 62 lbs | 136 lbs | 64 lbs | 130 lbs | 64 lbs |
| Cooling Speed | 3 | 3 | 3 | 3 | 2 |
| Voltage | 115 | 230/208 | 115 | 230/208 | 115 |
| Special Feature | Clean Filter Alert | Power Failure Auto Restart | WiFi Connection | Slide-out Washable Filter | Sleep Mode |
| | | | | | |
BEST WINDOW-MOUNTED AIR CONDITIONERS
Frigidaire GHWW063WB1 Smart Window Air Conditioner with 6000 BTU
This Frigidaire air conditioner is widely spoken high of, proved by the positive ratings and reviews it is receiving in the market. People mostly love its WiFi connectivity which makes the unit controllable from your smart devices via the Frigidaire App. Other features include the multi-direction airflow, automatic restart, washable filter, and many more. Let's take a lot at some of them;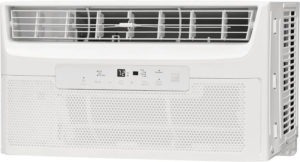 FEATURES
WIFI CONNECTIVITY
No matter where you are in the house, you can remotely turn your unit on or off from your smart device via the Frigidaire app using WiFi connectivity. This gives you convenient access to control temperatures, create schedules, adjust fan speed, and switch between different modes.
EASY-TO-CLEAN WASHABLE FILTER
With this Frigidaire air conditioner, the possibility of it being damaged by dust is less than likely, provided one stays true to the cleaning process, which is as easy as ABC. The filter is washable, and this helps keep your unit from dust.
REMOTE CONTROL
A remote control which allows you to control the temperature, as well as the fan speed, also comes with this unit.
LG LW2516ER WINDOW-AIR COOLING UNIT WITH 24,500 BTU
The standout feature in this window-mounted air conditioner by Amana remains the powerful 24,500 BTU of cooling capacity which is a feat that can only be matched by a few units in the market. Additionally, the air conditioner also features on-board electronic controls, a washable filter that makes maintenance easier than you'd imagine, and many more.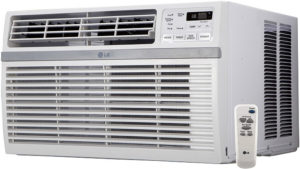 FEATURES
24-HOUR ON/OFF TIMER
The unit features a programmable timer that lets you set the on/off timer to suit your schedule.
SLEEP MODE
When the sleep mode is activated, the room temperature gradually increases. This is usually put into use when the room seems too cool and the occupants feel a little bit of cold.
AUTO RESTART
Considered as one of the unit's most important features. Power is sometimes not dependable and when this happens, you can count on your air conditioner to automatically restart once power is restored without the fears of it encountering damage
Frigidaire FHWW103WB1 Smart Window Air Conditioner with 10000 Cooling BTU
Just like the other Frigidaire smart air conditioner, FHWW103WBI is also packed with high-tech features like WiFi connectivity, which allows you to control your unit from your smart devices via the exclusive Frigidaire app. Other features include a washable filter, automatic restart, multi-direction airflow, Alexa and Google Assistant compatibility, and many more.
FEATURES
REMOTE CONTROL
Everybody loves a unit that gives them not just comfort, but also convenient usage and maintenance. This unit comes with a remote control that allows you to control the fan speed and temperature.
MULTI-DIRECTION AIRFLOW
With 3 fan speeds and 6-way directional airflow, the unit maximizes its ability to circulate airflow all across the room.
COMPATIBLE WITH AMAZON ALEXA AND GOOGLE ASSISTANT
Apart from being able to control some of the cool features straight from your smart device using WiFi, you can also use voice commands to set temperature by using Amazon Alexa or Google Assistant.
LG LW1816ER WINDOW-AIR COOLING UNIT WITH 18,000 BTU
This is the second LG air conditioner to feature on this list, and that further explains why Amana is one of the best electronics brands in the market today. The Amana LG1816ER air conditioning unit features an air filter that's washable, making the whole maintenance process very easy and convenient.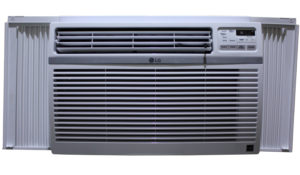 FEATURES
ELECTRONIC CONTROLS
The air conditioner features an on-board electronic panel where most of the unit's operations are made. A digital display is also featured on the unit to show the temperature level and other vital information.
DEHUMIDIFICATION
This air conditioning unit can cool the room up to 1,000 sq. ft. with dehumidification of up to 4.75 pints per hour.
ECO MODE
This is not a feature you will say on every air conditioner but this unit has the powerful Eco Mode feature that helps reduce the amount of energy the air conditioner consumes. This way, energy is saved and that reduces the cost on your utility bills.
Frigidaire FFRE053ZA1 Window Air Conditioner with 2 Cooling Speed
With 5000 BTU cooling capacity, this Air Conditioner might be the least powerful on this least but it's still one of the most powerful units you can get your hands on in the market. Air swing, auto restart, fixed chassis, and a remote control are all some of this unit's features.
FEATURES
MULTI-SPEED FAN
The window-mounted air conditioner by Frigidaire features three different fan speeds which help aid cooling flexibility.
SLEEP MODE
Turn on the sleep mode and experience an increased temperature when everywhere seems too cold.
SPACEWISE ADJUSTABLE DESIGN OPTIONAL SIDE PANELS
You also have the option to opt for adjustable side panels which allow you to extend the air conditioner to best fit your window.
Getting Started
The first thing you need to do once your air conditioner freezes up is figure out what precisely is causing the problem. According to Angie's List, ASM Air, Bryd Heating and Air, and Doug's, there are a few reasons why your air conditioner is having a malfunction:
Blocked air flow

Refrigerant Leaks

The Joule Thomson Effect

Outdoor temperature

Closed supply registers

Drainage problems

Improper installation

Malfunctioning fan

Nighttime use
Blocked Air Flow
If you're having problems with your air conditioner freezing up, it may be due to a dirty air filter. If no air is blowing through, then your air conditioner won't be able to do its job to cool down your house. Making sure this is clear and free of dust and other particles that can prevent air flow usually solves this problem.
Refrigerant leaks
Unfortunately, this is the "engine" version of an air conditioner. If your refrigerant is leaking, you will probably have to replace the unit.
The Joule-Thomson Effect
This effect is a theory in thermodynamics that states if all other variables remain constant, then as gas expands and its pressure decreases its temperature will also decrease, according to Tim of ASM.
This is how an air conditioner works, the evaporator coil expands the refrigerant inside it causing the coil to cool rapidly. Once the cooled coil comes into contact with the air in your home, it cools it down and repeats the cycle while cooling your home.
Outdoor temperature
According to Horizon Services, air conditioners do not do well in low temperatures that are below 60 degrees Fahrenheit.
Closed supply registers
This deals with the vents you keep open and closed. You should never have no more than one-quarter of your house's air vents closed. If you have too many air vents closed, that could put a strain on air flow and a strain on your wallet when you have to get your air conditioner fixed.
Drainage problems
The evaporator coil removes heat and moisture from the air before cooling your home. The air conditioner condenses a lot of vapor into condensation that may not be properly draining outside and the collected condensate could be causing the issue.
Improper installation
The proper way for your air conditioner to be installed is to be tilted slightly so the part that goes indoors is a little higher than the part that goes on the outside. If this doesn't happen, then water can't exit which will lead to a collection of water and your air conditioner freezing up.
Malfunctioning fan
Just check the speed of the fan to ensure that it's going fast enough (high speed) so the air conditioner won't freeze up.
Nighttime use
Don't let the conditioner run all night because it will waste energy, money, and also be at more of a risk of freezing up in the future.
Now that you have an idea of why your air conditioner is freezing up, there are some solutions to get your home cooled again in no time. Once you see that the airflow from the air conditioner is minimal, you should take these steps, according to Doug's:
Turn off the air conditioner.

Make sure your window unit is tilted downward so the melting ice will drip on the ground instead of in your home.

If you can reach the air conditioner, make sure the drain hole isn't being blocked by anything.

Run the air conditioner's compressor fan to expedite the thawing process.

Consider removing water with a shop vacuum.

After taking these steps, you should be able to turn your air conditioner on and it should work properly.

Also keep a close eye on it in case it happens again.
There are also preventative measures to make sure you lower the risk of your air conditioner freezing up, according to Byrd Heating and Air:
Check refrigerant levels

Change the air filter monthly

Keep at least more than one-quarter of all the vents open

Have the fan speed increased

Have the thermostat checked

Inspect the condensate drain weekly

Make sure your unit is installed properly
FREQUENTLY ASKED QUESTIONS
How often do I need to get my unit serviced?
Maintaining electronic items is not always easy, and they always require regular check-ups in order to keep functioning at the highest level. Air conditioners, like every other highly-rated electronic item, need to be checked at least once a year by a professional technician.
What is referred to as a Zoning System?
A zoning system is a system that allows your air conditioner to work more efficiently. It allows you to direct more cold air to where air is needed the most.
Cool Down
Now that you know how your air conditioner cools your home, the problems that could cause an air conditioner freezing up, and the solutions to allow you time to prepare yourself for making a new purchase, you're equipped to become handy and resourceful and wise about your air conditioner.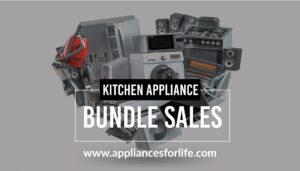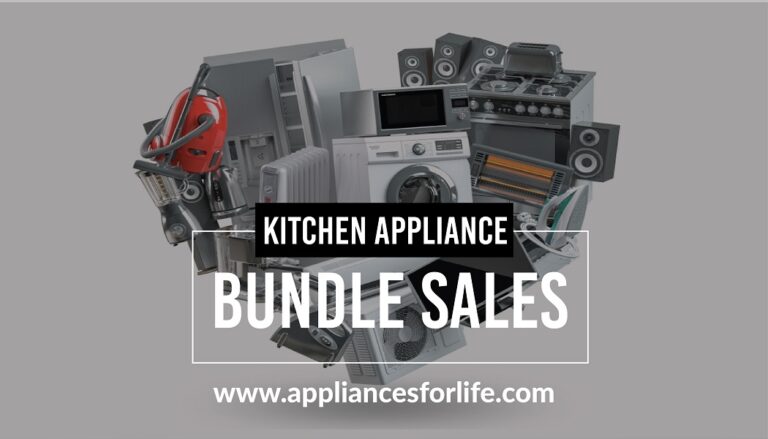 Kitchen Appliance Bundle Sales To Fit Your Home
Starting Out Kitchen appliance bundle sales are a great way to get everything (or almost everything) you need for your kitchen. However, a lot of new homeowners don't know how to shop for major appliances, when to buy major appliances, how to shop smart, and
Read More »