Everyone needs a microwave for basic cooking, but those with little space may be limited to purchasing the best small microwave they can afford. The great thing about a small microwave is the amount of counter space it saves you while still cooking your food thoroughly. These useful microwaves can change your routine in the kitchen immediately!
Below are five affordable small microwave choices.
As an Amazon Associate, we earn from qualifying purchases. We may earn a small commission for our endorsement, recommendation, testimonial, and/or link to any products or services from this website. Thank you, your qualifying purchases help support our work in bringing you real daily gift ideas.
| Image | | | | |
| --- | --- | --- | --- | --- |
| Name | Avanti MO7103SST 0.7 cu. ft. Capacity Microwave | GE JES1072SHSS 0.7 cu. ft. Capacity Microwave | Danby DBMW0720BBB MIcrowave | Magic Chef MCD770CB Microwave with Dial Controls |
| Manufacturer | Avanti | GE Appliances | Danby | Magic Chef |
| Style | Countertop | Countertop | Countertop | Countertop |
| Product Dimensions | 11 x 13 x 18 inches | 10.18 x 12.75 x 17.31 inches | 17.3 x 13 x 10.2 inches | 13.98 x 17.32 x 10.18 inches |
| Wattage | 700 Watts | 700 Watts | 700 Watts | 700 Watts |
| Weight | 25 pounds | 24 pounds | 23.15 pounds | 21.6 pounds |
BEST SMALL MICROWAVE
Avanti MO7103SST 0.7 cu. ft. Capacity Countertop Microwave with 700 Cooking Watts
Small microwaves are always rated very highly because owning them does not need to break the bank. Small microwaves are important in every home, especially for those on a tight budget for kitchen appliances. They can serve as great alternatives for large countertop microwave ovens, and not only can they perform that stand-in role efficiently, but they will also serve the purpose for which they were acquired. The microwave is ideal for reheating and safe for dishes. The Avanti MO7103SST is one of those small microwaves that can perform the stand-in role and its 0.7 cu. ft. cooling capacity is enough evidence that it's a great quick-fix microwave. Let's look at some of its powerful features;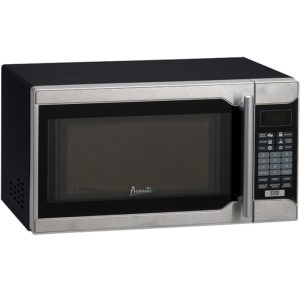 FEATURES
700 WATTS OF COOKING POWER
With your microwave, you always want your food to be ready as fast as possible, and that's exactly what this Avanti microwave offers with its 700 watts of cooking power. With this feature, the rate at which your food is going to be cooked will not be one of the things you'll be bothered about.
6 ONE-TOUCH COOKING MENUS
One of the reasons these machines exist is to make life easier for everybody. The 6 one-touch cooking menus are there to make the cooking experience easy with just one touch. They help you save time and cook your meals faster. These presets will make cooking very easy as you can cook with different modes. This is one of the best small countertop microwaves, thanks to its one-touch cooking menu, including the eco mode.
OTHER FEATURES
Electronic control panel
Cook/Defrost by weight option
Timer
GE JES1072SHSS 0.7 cu. ft. Capacity Countertop Microwave
GE is a very popular brand all across the globe, and its products are trusted by billions of people from different parts of the world. The JES1072SHSS small compact microwave oven features a 0.7 cu. ft. space which is quite enough for heating your meals up. It also features a timer that displays how long it will take for food to be ready, which means you can study this timer and use your time on other important things instead of babysitting the microwave. Additionally, if you think the time given by the machine to cook the food thoroughly won't be enough, you can add 30 seconds to the time you have left by pressing the 30-second button.
FEATURES
AUTO AND TIME DEFROST
This GE is one of the best small microwaves and the power levels and defrosting times are programmed to work manually and automatically to achieve the best results.
CHILD LOCK
Safety measures are very important, especially in electronic devices. In this microwave, there's a "child lock," a safety feature that prevents the microwave from being opened while in operation.
OTHER FEATURES
Kitchen timer
One-touch controls
Turntable
Cooking controls
Stainless steel material
Danby DBMW0720BBB Countertop MIcrowave with 700 Watts
Danby DBMW0720BBB is arguably the best compact microwave with 0.7 cu. ft. of capacity (like almost every other microwave on this list) and up to 700 cooking watts, all accompanied by 10 power levels, sealing this machine's place as one of the best money can get you in the market. It also features a safety feature, a child control lock, and other important features like 6 auto cook options, express buttons, and a time cook.
FEATURES
FEATURES
6 AUTO COOK OPTIONS
Considered one of the best compact microwaves, this Danby microwave is designed to meet your every need with every meal that comes to your mind. The 6 auto cook options are Pizza, Frozen Vegetables, Beverage, Dinner Plate, Potato, and Popcorn.
CHILD/CONTROL LOCK-OUT OPTION
Stay in total control of this microwave without taking chances with your child/children's safety. The microwave features a control lockout that shuts down all the buttons except the STOP button in the control panel so that when they are touched by children ( or even adults ), the control panel won't respond. To activate this, you'll need to press and hold the 'STOP' button for about 3 seconds.
OTHER FEATURES
Time cook
10" glass turntable
Auto defrost options
Cord length
Sensor cooking
Magic Chef MCD770CB Countertop Microwave with Dial Controls
Magic Chef MCD770CB is a retro-style countertop microwave, the only one on the list, and there's no doubt it deserves a spot. Its cooking power might be the same as the others, but the stylish mint color, which perfectly compliments the retro style, gives it a different vibe, look, and concept. The microwave features dial controls, 7 power levels ( 3 lesser than what other microwaves on this last have ), and a timer knob that you can set up to 35 minutes.
FEATURES
DIAL CONTROLS
The microwave features Dial Controls that make the overall usage of the machine easy and convenient.
TIMER KNOB
With this timer knob, you can set your machine to operate for up to 35 minutes, which can be extended when not enough.
OTHER FEATURES
7 Power Levels
Interior Light
Pull-handle door
Child safety lock
You may be a college student, house owner, or apartment owner who wants something that isn't as heavy as a mid-sized and large microwave but still gets the job done. Any and every purchase is important because it is something you're going to place your time, energy, and money into getting for your living area. Appliances, and microwave sales by extension, are even more significant because of how long the consumer typically expects them to last and how expensive each appliance is. Even though you may just want to get the long process of comparing prices, there are a few things you may want to consider before jumping straight into making a purchase.
You should ask yourself these questions before buying the best small microwave:
What is the power rating?
What is the size in cubic feet?
What is the wattage?
Does it have a good sensor to prevent overcooking and undercooking of the food?
What are all the shortcut keys?
Does it have a good numeric keypad that doesn't break easily?
Is the turntable working properly?
How long will it last?
It's important to ask all of these questions because you want to know how your microwave will perform before you buy. It is also a good idea to look at customer reviews and compare several options to immediately rule out the ones that aren't compatible with your needs and price range. It is very important to know how long your purchase will last so if you have to buy a new one, you can save money by buying one at the time when the prices are the lowest, as well as giving yourself the longest amount of time possible to save!
According to Wise Geek, you want to get a small microwave that is at least 0.7 cubic feet (cu. ft.). Determining the amount of wattage you need for your cooking needs depends on what you plan to do with your microwave. If you're only using it for small things, 600 or 700 watts will do, but for other needs you may need something with more watts to properly cook your meals.
To better know which best small microwave you want to purchase, it's good to know the science behind how the food you digest is being heated and cooked, according to Chris Woodford of Explain That Stuff.
Microwaves cook food quickly because it channels heat energy directly to the molecules that make up the food you're cooking! Inside the microwave is a magnetron, microwave generator, that takes electricity from the power outlet and converts it into high-powered radio waves. These radio waves are sent through a channel known as a waveguide to your food. This is where the turntable comes in because it turns your food slowly so it cooks evenly. The microwaves bounce off the inside until they hit the food and penetrate it to cause the molecules to vibrate quickly which generates heat, and voila! The microwave dings and your food is hot, ready, and safe to eat.
Now that you know the scientific side of how microwaves heat your food, you need to also know how to stay safe because they are harmful to living organisms (i.e. us). Here are few tips to exercise microwave safety, according to Home Wizard:
Make sure your food cooks evenly and thoroughly so there are no cold spots in your food where bacteria can survive.
Make sure your food isn't overheated enough to burn you and harm your tongue, lips, or hands.
Refrain from using bottles or jars with narrow necks in the microwave because too much pressure can build up inside the container and make it explode.
Always turn off or cancel the program timer on your microwave before opening the door on your microwave so a fuse doesn't blow.
Regularly clean and inspect your microwave's door seal to prevent any radiation from leaking out because microwaves are dangerous to living organisms.
Do not use plastic containers or any other container that isn't specified for microwave use.
Do not store anything directly on top of your microwave.
Be sparing with using aluminum foil in the microwave or use none at all so you don't damage your microwave.
Never use recycled paper products unless it is specified as safe to use in a microwave.
Do not heat water or any other liquid for more than two minutes because if it gets too hot, it can explode out of the container.
In case of a fire inside of the convection microwave oven, turn it off and unplug it to suffocate the fire because fire needs oxygen to grow.
Lift container lids that have been in the microwave carefully so you don't burn yourself with the hot steam escaping the container.
Do not let plastic wrap touch your food while it's being cooked to lessen the chance of chemicals getting in your food.
Keep your face away from the microwave while it's cooking.
Do not fry foods in your microwave.
Never try to repair a microwave yourself unless you just happen to be a professional who normally fixes microwaves.
FREQUENTLY ASKED QUESTIONS
1. Are there nutritional changes when food is microwaved?
Without doubts, yes. According to an article published by Health Line, some nutrients break down regardless of how a food is cooked (whether by a stove, oven or microwave).
2. Are there any negative effects of microwaving food?
Presently, there is no evidence that a microwave might negatively impact one's health. The only effect (which is not considered negative) it can have on your food is the change in temperature. Other than that, there's nothing else.
Small Microwave, Big Decision
Now that you're equipped with questions to consider before buying the best small microwave and with safety tips to always have a pleasurable experience. Happy purchasing!
The Best Microwaves Under $100 A good, powerful microwave can make all the difference in how a kitchen works and usually high-end priced microwaves can offer a lot of functions for the modern day kitchen. If you can't afford the more expensive models then there
The United States of America doesn't often get the credits it deserves when it comes to the production of kitchen appliances. Some of you might have noticed that most of the appliances you have in your homes often come with the "Made in China" tag,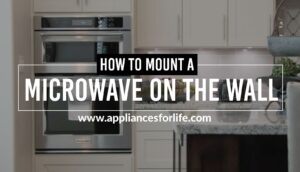 HOW TO MOUNT A MICROWAVE ON THE WALL
This is a step-by-step guide on how to mount a microwave oven on the wall in a bid to create enough space in your kitchen for other appliances. In this article, we'll be taking a deep look at each step you're to take as we
Read More »