Best Dual Ice Maker Refrigerators Comparison Table
| Image | | | | |
| --- | --- | --- | --- | --- |
| Name | Whirlpool WRF767SDHV Dual Ice Maker Refrigerator | LG LFXS26973D Stainless Steel Smart French Door Refrigerator | Frigidaire Professional FPBC2278UF French Door Counter-depth Refrigerator | Samsung RF23A9071SR/AA Dual Ice Maker Refrigerator |
| Manufacturer | Whirlpool | LG | Frigidaire Professional | Samsung |
| Refrigerator Style | French door | French door | French door | 4-door French door |
| Total Capacity (cu. ft.) | 26.8 | 26.2 | 21.6 | 22.9 |
| Interior Lighting Type | LED | LED | LED | LED |
| Special Feature | SpillProof Glass Shelves | Smart Cooling System | Automatic Alerts | Autofill Water Pitcher |
| Editor's Rating | ✸✸✸✸✸ | ✸✸✸✸✸ | ✸✸✸✸✸ | ✸✸✸✸✸ |
| | | | | |
People love appliances that bring them convenience and comfort. When you think of the evolution of modern appliances, you'll realize that people embraced them, regardless of the cost, because of how much convenience and comfort they can get out of these appliances. The world today is now filled with lots of activities. Coming out of the pandemic, which the world hasn't even healed from yet, but way better than the situation last year. One thing we have taken seriously is how to adapt to new ways of approaching life. People love to have refrigerators in their spaces, making almost 100% of American households owning at least one refrigerator, according to the information provided by the United States Government. These stats show just how much people living in the country are so much into owning a refrigerator.
When it comes to modern refrigerators, there are so many things to love and admire about them. The price tags they come with used to be a big factor that hindered people from going all in, but that's not the case anymore; at least not entirely. People know the importance of modern refrigerators and how much they can get out of them, and this is why price tags don't even put them off. Instead, they always make sure they have the right amount of money to buy a modern refrigerator because they are aware of its importance. How Stuff Works defines the fundamental purpose of a refrigerator as keeping food cold. The refrigerators that are in production today do more than just their basic tasks. The initial concept behind refrigeration is to slow down the activity of bacteria, which every food has, to prevent the food from getting spoiled in a short while. Modern refrigerators can do this, and so much more because of how far technology has taken us.
According to Tyler Wells Lynch of Reviewed, manufacturers are under an obligation to produce quality refrigerators, and in the end, consumers are going to emerge as winners because they're enjoying all that is to be enjoyed. The production of high-end and quality refrigerators has led to insane turnovers for refrigerator manufacturers in the United States. This has been met with the natural love for refrigeration in the country that is famous for having about 23% of households that use more than one refrigerating unit. Refrigerators are an indispensable appliance because some of them operate every hour of the day, all week long. This feat has earned them an important status in every modern home.
For those who have asked how modern refrigerators have changed the world. The fact that they have defied climate and seasonal barriers over the past few decades is something to be happy about. They've become an industry, making manufacturers rake in millions of dollars for every model year. This has, in turn, improved the global economy. Now that they come with features like ice makers and water dispensers, things haven't been easier than they are now because, in one unit, we have several units that are coming together to perform different functions.
Refrigerators with dual ice makers have become so popular over the years. A refrigerator with a large capacity ice maker is loved by many because of the convenience that comes with being able to produce lots of ice cubes. If you're in the market in search of the best dual ice maker refrigerator, our dual ice maker refrigerator review will tell you all you need to know about the very best dual ice maker refrigerators. Before we get into that, what is a dual ice maker refrigerator?
Click here to read our detailed guide on how to install an ice maker on an LG refrigerator.
What is a dual ice maker refrigerator?
A refrigerator with a dual ice maker is a refrigerator that comes with the conventional in-door ice maker and an additional ice maker in the freezer. This means that ice cubes are produced through the in-door ice maker but not just there because the freezer compartment also features a separate ice maker where ice cubes are made and stored. The concept is to create more convenience for users to have more ice cubes available to them, especially those with large families or commercial purposes. Being able to get ice from both the door and the freezer is what makes a dual ice maker refrigerator a great option.
Benefits of modern refrigerators
You can tell from some of the statistics in this article that modern refrigerators have become very popular over the years. Manufacturers are under an obligation to produce only quality products, and the benefactors have been the consumers who always cough out huge sums to land their dream refrigerating units. Modern refrigerators are not just popular because they are modern refrigerators. Some perks come with using a modern refrigerator, and we're sure if you're the type that pays attention, you would have noticed some of these perks. These perks are what people see in these refrigerators before recommending them to other people.
They are energy efficient
The refrigerator is one of the appliances that consume the most energy in every household. Thankfully, 80% of the new refrigerators in production qualify for an Energy Star rating. This means that compared to some decades ago, the refrigerators in production now consume less energy. The Energy Information Administration released data that confirmed that in 1993, the average BTUs of energy consumed by American homes stood at 103.6 million. The figure dropped drastically by the time the same body released data confirming that in 2009, the numbers now stood at 89.6 million BTUs of energy, which was about a 14% decrease in energy consumption. Considering that there are more housing units now compared to when the data was first published in 1993, you can imagine how much progress has been achieved between that time and now.
They are durable
Modern refrigerators are built to last for many years, so if you're purchasing one, you should look for it to last for at least 7 years if you maintain it properly. Durability is one of the reasons modern refrigerators have become so popular over the years. Usually, when people are purchasing a new refrigerator, they look for one that can last for many years because purchasing a refrigerator means that you're planning for the long-term. In a modern refrigerator, you have a refrigerator that can serve you for about a decade, or even more than that if you maintain it properly. If you're not looking to replace a refrigerator in a long time, you should look to purchase one of these modern refrigerators because they are durable.
They are efficient
The fundamental task of a refrigerator is to keep your food cool so it doesn't get destroyed sooner rather than later. Modern refrigerators do more than just keeping food cool. They come with the latest tech-inspired features that allow you to do a whole lot like streaming your favorite TV shows, sending notes to your family members, having the refrigerator read out recipes out to you, and many more. The efficiency has been lauded as top-notch because not only do modern refrigerators get the job done, but they get it done more efficiently than their traditional counterparts.
They can be controlled even when you're not home
Smart refrigerators have features that allow you to control things like temperatures, monitor your house, and do other things from your smartphone. If you ever happen to be at the grocery store without having an idea of the things you need to buy, you can just access the inside of your refrigerator from your smartphones to know which food items are running low and need to be stocked.
Best Dual Ice Maker Refrigerator
This Whirlpool dual ice maker refrigerator is not just popular because it features two ice makers. Its 36 inches space means that you have more storage space for your food items including snacks and drinks. This French door refrigerator with dual ice makers comes with LED lighting that provides clear access to what's inside the refrigerator as soon as you open the doors.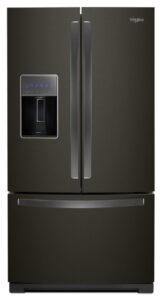 Features
FINGERPRINT RESISTANT
The refrigerator features a black stainless steel finish which resists fingerprints and smudges, making it very easy for you to clean.
DUAL ICEMAKERS
This is one of the most exciting features of this refrigerator. Dual ice makers mean that you will not only have an ice maker in the refrigerator door but also in the freezer compartment, leaving you with lots of ice cubes.
ADJUSTABLE DOOR BINS
There's always enough space to store your food items, and that's an interesting thing about this refrigerator. It is packed with adjustable door bins that offer storage flexibility.
The 26 cu. ft. fridge offers a lot of storage space, but that's only one out of the many benefits of this LG dual ice maker refrigerator. Its Slim SpacePlus Ice System is what makes it different from other French door refrigerators by other brands because it is carefully placed in the refrigerator door such that it doesn't take space that will affect storage in the refrigerator.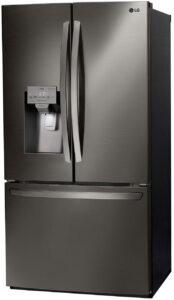 Features
SMART COOLING SYSTEM
This LG dual ice maker refrigerator comes with a smart cooling system that quickly reacts to irregularities in temperature, thanks to the linear compressor. It also places vents in strategic places to keep your food fresher for longer.
FINGERPRINT RESISTANT
Stainless steel is the industry's most popular finish, and that is exactly what this LG refrigerator features. With this stainless steel finish, smudges and fingerprints can easily be wiped off with a soft, dry cloth.
DOUBLE ICE MAKERS
Apart from the ice maker in the refrigerator door, this LG refrigerator features another ice maker in the freezer. These double options will come in handy on those hot summer days as you'll have lots of ice cubes available to you.
With this Frigidaire dual ice maker refrigerator, there's always enough space to keep your food items organized and accessible, thanks to Frigidaire's SpaceWise Organization System. The system is packed with adjustable shelves and door bins that offer more storage flexibility, leaving you in total control of how to keep your refrigerator organized.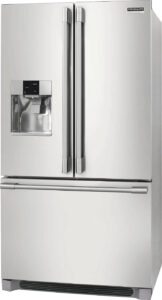 Features
PROFESSIONAL-GRADE DESIGN
If you're looking for something durable and professional, this Frigidaire dual ice maker refrigerator should be one of the first options on your list. It features edge-to-edge shelving with metallic trim, smoky door bins, and a quality handle to complement the other appliances in your kitchen.
CRISPSEAL CRISPERS
The refrigerator also features humidity-controlled crispers that help you keep your food items fresher for longer, saving you a lot of money in the process.
MULTI-LEVEL LED LIGHTING
Every level of the refrigerator features LED lighting that brightens up the inside of the refrigerator once you open the doors.
If you're talking about the driving force behind the tech evolution in the appliance industry, you have to talk about Samsung. The brand is famous for always packing its appliances with the latest technology, and this Samsung dual ice maker refrigerator is not an exception.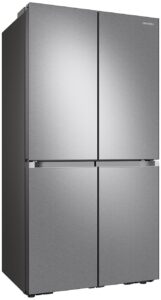 Features
AUTOFILL WATER PITCHER
This Samsung counter-depth French door refrigerator with dual ice makers comes with a built-in autofill water pitcher that is tasked with automatically refilling filtered water with an option to add any flavor of your choice.
DUAL ICE MAKER WITH ICE BITES
The two ice makers in the refrigerator can produce up to 6 pounds of ice per day and also store up to 6.8 pounds of ice.
WI-FI ENABLED
Being a smart refrigerator, you can connect the refrigerator to your smartphone via Wi-Fi and do a lot of things like controlling the temperatures or monitoring the interior of the refrigerator if you have a camera installed in it.
Frequently Asked Questions
1. What is the difference between single and dual ice makers?
Refrigerators with single ice makers usually have their ice makers in the refrigerator doors while refrigerators with double ice makers usually have one in the refrigerator doors and the other in the freezer compartments.
2. Which refrigerator has the best ice maker?
All the refrigerators we've reviewed in this article have quality ice makers, not just one, but two each.
Wrapping up
From Maytag dual ice maker fridge to Kenmore dual ice maker fridge, there's never a shortage of options when you're looking for the best dual ice maker refrigerator. We've only been able to review products by Samsung, Frigidaire, LG, and Whirlpool, but there are tons of other options online. Perhaps at your leisure, you may look up a few more options to further bolster your options.
ESTIMATED TIME DESIGNING AND UPLOADING THIS ARTICLE
ESTIMATED TIME RESEARCHING AND WRITING THIS ARTICLE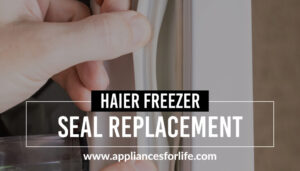 Replacing  Your Damaged Haier Refrigerator Door Seal
A refrigerator door seal is oftentimes called refrigerator door gasket. The major function of a refrigerator door gasket is to help it lock appropriately. Without a good gasket, the cold air that preserves your produce will innevitably leak out. On the other hand, the hot
Read More »