LED Light Bulbs For Refrigerators Comparison Table
| Image | | | |
| --- | --- | --- | --- |
| Name | Sunlite 80175-SU LED A15 Refrigerator Bulb | GE LED A150 4.5W Refrigerator Bulb | Whirlpool 4396833 Appliance LED Light Bulb |
| Brand | Sunlight | GE Lighting | Whirlpool |
| Watt | 5.5 Watts | 4.5 Watts | 6 Watts |
| Voltage | 120 Volts | 120 Volts | N/A |
| Type of Bulb | LED | LED | LED |
| Product Dimension | 1.96 x 1.96 x 3.34 inches | 4.53 x 1.87 x 1.87 | 4.75 x 4.25 x 5.88 |
| Editor's Rating | ✸✸✸✸✸ | ✸✸✸✸✸ | ✸✸✸✸✸ |
| | | | |
Most folks who use modern refrigerators are always concerned about what to do if the LED lighting in their refrigerators goes out someday; after all, bulbs can go out, and you can replace them if you find suitable replacements. Refrigerator lighting is a big deal for many people because they want everything to be clear as soon as possible, which explains why most folks would spend thousands of dollars on high-end refrigerators with a freezer LED light bulb. Thankfully, most refrigerators in production today are packed with LED lights that are already correctly fitted and ready to work as soon as the refrigerators are plugged in.
To have modern appliances to help us keep up with most of the things we have to do in the contemporary world we live in is indeed a blessing. The top appliance manufacturers in the industry have worked so hard to ensure that we have the best appliances at this particular point in history available to us. Think about modern refrigerators that you can control from a smartphone or an intelligent wall oven that allows you to scan the barcode of the food package you have to cook efficiently.
According to Kitchens HQ, some refrigerators are packed with incandescent bulbs, while some feature old-fashioned light bulbs. The goal is to provide you with easy access to the content of your refrigerator while also giving you the control you need over the things you have in there. However, while it is normal for refrigerators to have LED lights, some folks still worry about that as they believe the temperature of a refrigerator is not ideal enough for LED light bulbs.
Whether or not LED light bulbs are ideal for refrigerators has always been a significant concern for me, especially when it's time to replace the damaged ones. People start panicking about whether or not that is okay or how they should go about it, without even talking about the best LED light bulbs for refrigerators they can purchase on the market. To get the ideal light bulb for a refrigerator, you should know it's a daunting process as, like every other accessory, there are lots of options on the market, and that might make purchasing a bit hard because you can't quite choose which ones are the best except you do your homework right.
The truth is refrigerators have frigid temperatures that can cause the LED lights in the fridge to break, but this is most common amongst old refrigerators. Still, new refrigerators don't often do that. Old refrigerators are often too old to have LED bulbs integrated adequately. Thankfully, new refrigerators don't come with issues like this. If you already own a modern refrigerator or want to invest in one, you should not worry about finding the best option to replace the refrigerator light bulb.
Nothing lasts forever, which everybody needs to embrace to avoid disappointments, especially regarding the type of expectations people place on their appliances. If you've been using a modern refrigerator for a while, sooner or later, the LED bulbs will start wearing out, indicating immediate replacements. The thing is that most people ignore the little things, changing what needs to be changed before extensive damage is done to the appliance in question, causing them to spend a lot of money than they're supposed to.
Every appliance owner must be aware of the bulb shape, voltage, and wattage each appliance in the home needs. If there are no signs around the machine to indicate the numbers you need, get the owner's manual which usually contains all the information about your appliance. If you can't get hold of the owner's manual, 1000 Bulbs advises that you should search the web for the specifications of your machine or reach out to the manufacturers for the answers you need.
What Kitchen Appliances Use Light Bulbs?
Appliances are growing very popular globally because people are beginning to realize just how essential these appliances are and how they can help them achieve so much in so little time. In the world we live in today, not many people have the time to focus on domestic obligations because other things need their attention more than anything else. While this may sometimes be a case of misplaced priorities, we can't deny that people live their lives by the day, and there's almost no time to spend in the kitchen.
If you're getting these appliances, you need to ensure you're protecting your investment by knowing every detail of what you're putting your money on, how they operate, and how they can help improve your life. Many people are not aware that most of the appliances they have in their homes feature light bulbs, and at some point, the light bulbs need to be changed to keep visibility in check. If you're wondering which of the appliances in your house uses light bulbs, check below to find the correct answers.
Microwave Ovens
You don't have to pay attention to details before you know the microwave oven features a light bulb that helps brighten the interior up so you can easily access the content of the appliance. Imagine trying to process food in your microwave oven at night without an interior light bulb to help you brighten the whole place up. You'll get frustrated; although it's improbable that a modern microwave will come without an internal light bulb, we can't also rule out that that light bulb may get damaged and need to be replaced.
The bottom line is that a microwave oven is one of those appliances packed with light bulbs such as a small incandescent T7 bulb which is popular among many microwaves to help illuminate their interiors. Naturally, the T7 bulbs are usually not more than 2.5 inches long and about 0.9 inches wide, according to the numbers provided by 1000 Bulbs. The T7 bulbs come with an intermediate base with a 17-millimeter diameter, but you can't rule out a T7 bulb with a candelabra base rather than a medium base.
Ovens
Like microwave ovens, wall ovens, or range ovens are naturally eligible for light bulbs, so you should be surprised and disappointed if you purchase a supposed new oven without light bulbs. Naturally, since the range is always hot, manufacturers have found new ways to ensure that the bulbs in the oven are always built to thrive in those seemingly unfavorable conditions. The light bulb you'll find in your range is the popular incandescent A-shape light bulb like the A15, which is appliance-rated.
If a light bulb is appliance-rated, it is designed to be consistently used in hot and cold temperatures. The conditions in the oven are not all that ideal for humans, but that's not the same for light bulbs. The integration of LED light bulbs into kitchen appliances has been excellent so far, and the popularity of LEDs in appliances shows just how much people find the idea very welcoming. However, the concept of LEDs in ovens or microwaves has not been all that great because higher temperatures ruin their lifespan.
Refrigerators
Without being told, the refrigerator is unarguably one of the most essential kitchen appliances today. Sales have skyrocketed as people begin to see how vital the appliance is. It is one of those appliances that genuinely need a light bulb to give you clear visibility of whatever you put in it.
It's hard to imagine a refrigerator without light because you'll sometimes need the light coming out of the refrigerator to help give clear access to the refrigerator's content. French-door refrigerators are very popular because they come with enough lighting that makes it very easy for you to look into your refrigerator and pick whatever you want from it. LED light bulbs thrive more in the refrigerator than in the oven because the temperatures are favorable. Putting a LED bulb in your oven with constant heating will only cause the bulb to dim and fall soon enough.
If you keep up this practice, you may damage your oven at the end of the day. To avoid this, always ensure you check the rating and whether or not you can use the bulb with your appliance before putting your money on it.
LED Light Bulb For Refrigerators
1. Sunlite 80175-SU LED A15 Refrigerator Bulb
The Sunlight is focused on helping replace power-sapping bulbs with more energy-saving LED bulbs. The brand is all about upgrading to LED bulbs to make operations more straightforward and save you a lot of money on electricity. These A15 bulbs have an E26 medium base, making them ideal for major kitchen appliances such as range hoods, refrigerators, freezers, and many more.
Features
Energy Efficient
This Sunlight LED A15 refrigerator bulb is one of the most energy-efficient bulbs you can get your hands on. Get the best value for your money by investing in energy-efficient bulbs that won't make you spend more money on electricity due to excessive power consumption.
Longevity
The Sunlight brand claims that LED light bulbs can last up to 25,000 hours if appropriately maintained. If you invest in them, you should expect them to last longer than an average light bulb.
Safe to Use
This Sunlight LED bulb doesn't have mercury or chemicals harmful to your health, so you should not be afraid of getting affected by unhealthy substances.
Pros
Safe to use

Great

mini fridge light bulb

replacement

Great light emittance
Cons
It may get damaged if used wrongly
2. GE LED A150 4.5W Refrigerator Bulb
The GE Lighting store helps you save a lot of money as the brand produces fantastic alternatives to 40-watt LED appliance bulbs that consume more energy. This GE freezer bulb only uses 4.5 wattages to provide you with the visibility to access your refrigerator and other appliances anytime you want. The A15 bulb is known to be very energy-efficient, hence why many consumers have only had positive reviews about the product.
Features
Energy-saving Daylight
If you're installing this LED light bulb in your refrigerator, you should expect the coolness provided by the illumination of the bright white light in the refrigerator.
Affordable
Purchasing this LED bulb rather than a 40-watt appliance bulb for the refrigerator means that you're already saving up to $50. This is a good investment considering you'll get the best value for your money at the end of the day.
Pros
Loved by many

The right size of bulb for most standard refrigerators

Bright lighting

Energy efficient

Long lasting

Best value for your money
Cons
According to reviews, it might not be a suitable replacement for some incandescent bulbs.
3. Whirlpool 4396833 Appliance LED Light Bulb
It's not unusual for a big brand like Whirlpool to focus on this part of the market; it only shows how much the brand has to lose in the high-competitive market, hence why it can go as far as producing LED light bulbs for its appliances. Before you purchase this bulb, Whirlpool advises that you make sure it'll fit into your refrigerator by entering the model number of your refrigerator to check the compatibility.
Features
Enough Power
To make it stand out from the others, Whirlpool has packed this LED light bulb with enough power (6 watts).
Quiet Light
If you don't like your refrigerator to look too flashy, this is the LED bulb you need. The light is delightful to the eyes.
Pros
Works well with Whirlpool freezers

Excellent light for those who don't love flashy lights
Cons
People have complained that it only works with Whirlpool appliances

May not work with cooking ranges or other appliances perfectly
Frequently Asked Questions
1. Can I use an LED bulb in the refrigerator?
The idea behind the creation of this article is to ensure that readers are aware that they can use LED bulbs in their refrigerators as long as the bulb they're using is compatible with the refrigerator.
2. Can any light bulb be used in the refrigerator?
Trying any light bulb with your refrigerator will cause the light bulb to be damaged and may also cause some damage to your refrigerator. You need to be sure the light bulb you're using is perfect for the refrigerator before proceeding with the process.
3. Can you use a regular light bulb in the refrigerator?
You can not use regular light bulbs in your refrigerator. You need to purchase one of those special light bulbs for refrigerators.
Final Thoughts
Since your refrigerator is one of the most potent and vital appliances in your home, you might as well want to try your best to keep it functioning at the highest level. Most modern refrigerators come with LED light bulbs, but you shouldn't expect them to outlive the refrigerators they work in. In this case, we've highlighted some of the best replacement LED light bulbs for refrigerators so you can have some options at your disposal when it's time to choose the ideal LED light bulb replacement for your refrigerator.
ESTIMATED TIME DESIGNING AND UPLOADING THIS ARTICLE
ESTIMATED TIME RESEARCHING AND WRITING THIS ARTICLE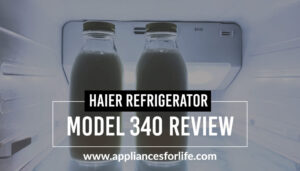 Haier refrigerator model 340 review
The Haier brand is one of the best in the business of refrigerator manufacturing and this fact is incontestable. With brands like this building top-quality refrigerators, buying a refrigerator becomes much less tasking. The Haier refrigerator model 340 is one of the best technologies invented
Read More »